Hi, I'm Peter Caslava, originally a board game journalist who is currently working for Czech Games Edition. If you send us a prototype of your game, you will probably get an answer from me. I live in the Czech Republic and I have been working in the gaming industry for many years. I've seen the success of Codenames from the outside as well as from the inside. I'm very happy that I have been given a chance to do so.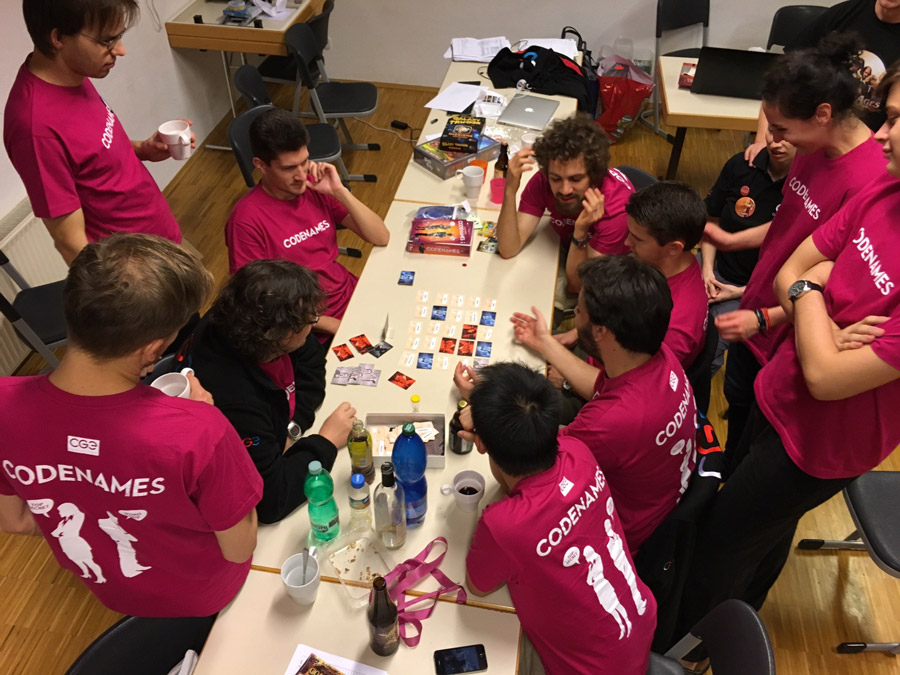 Photo by Czech Games Edition. Used with permission.
Vlaada Chvátil, the author of Codenames, came up with the very first sketch of Codenames within a few hours during a game event. The game has not changed much since. Vlaada has always liked this kind of word association game. When he felt he had an idea for one, he did not hesitate to carry out his idea: The first game of Codenames was played the very same evening.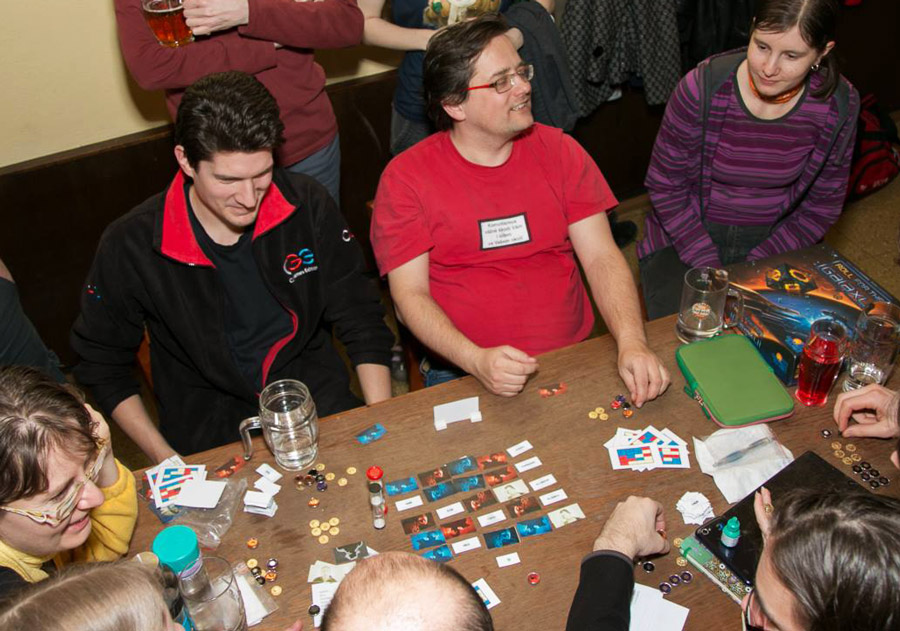 Photo by Czech Games Edition. Used with permission.
Vlaada believes the most important element of a game is not the theme or mechanics. It's the final feeling of the game—what players experience. For most of his games, the theme is an important part of this feeling. But in the case of Codenames, it was rather the fact that players have to use their imagination and try to find clues from all areas of their knowledge—and then hope their teammates are on the same level.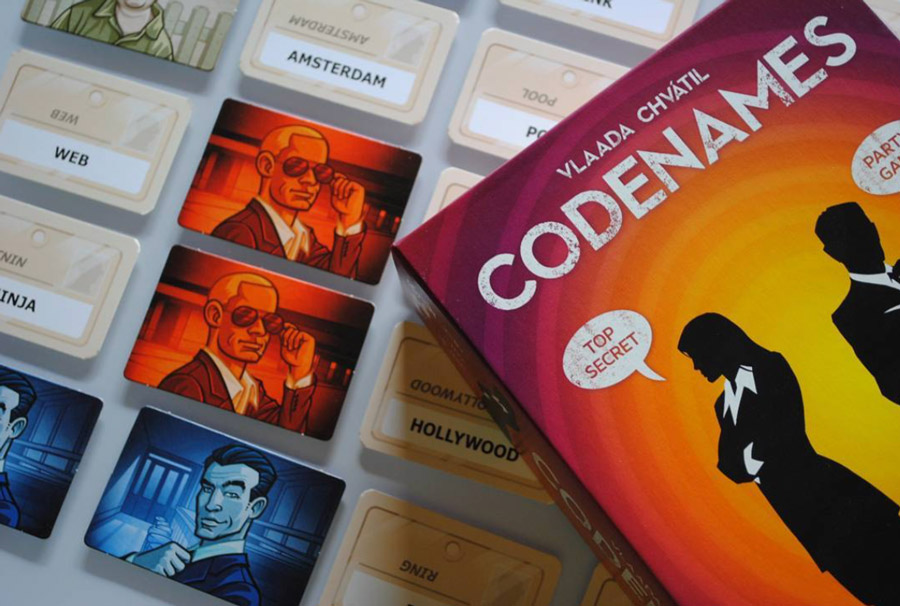 Photo by @theboardgeek. Used with permission.
When Vlaada presented the prototype to us, we were confident that it would become a great game. Why? Because most people wanted to play it again and again. Actually, the game was played almost non-stop during our playtesting event, with new players coming and joining the games in progress and replacing those who had enough. If that happens, you know you have something to build upon.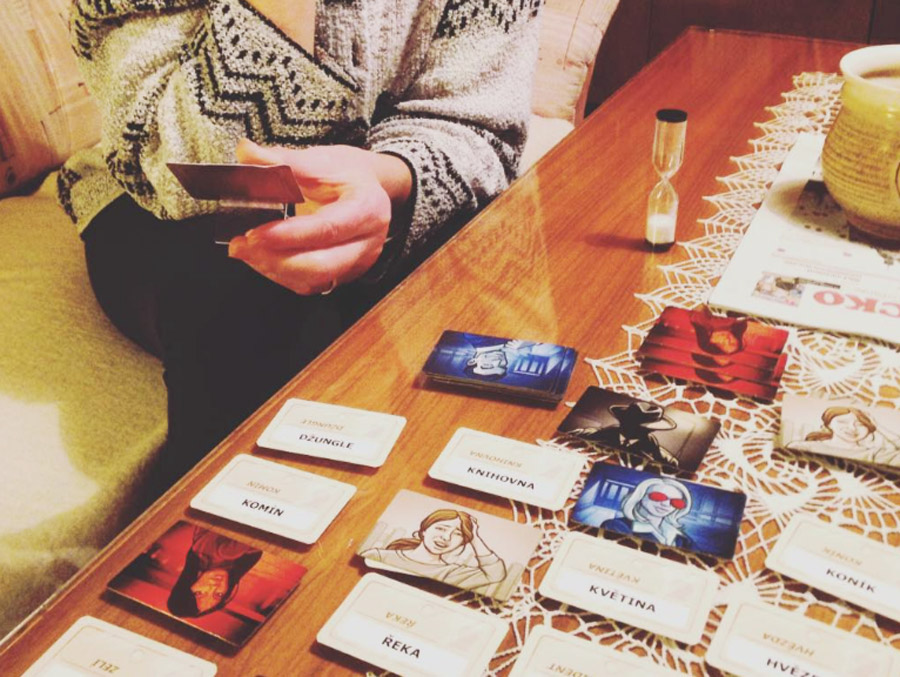 Photo by Czech Games Edition. Used with permission.
The creation of a board game is a complex process, you can spend one year working on one title and still not finish it. But Codenames was a bright idea and Vlaada knew how the game should work from the very beginning. But that doesn't mean the job was done. It was a long journey from the first prototype until the final product that won Spiel des Jahres.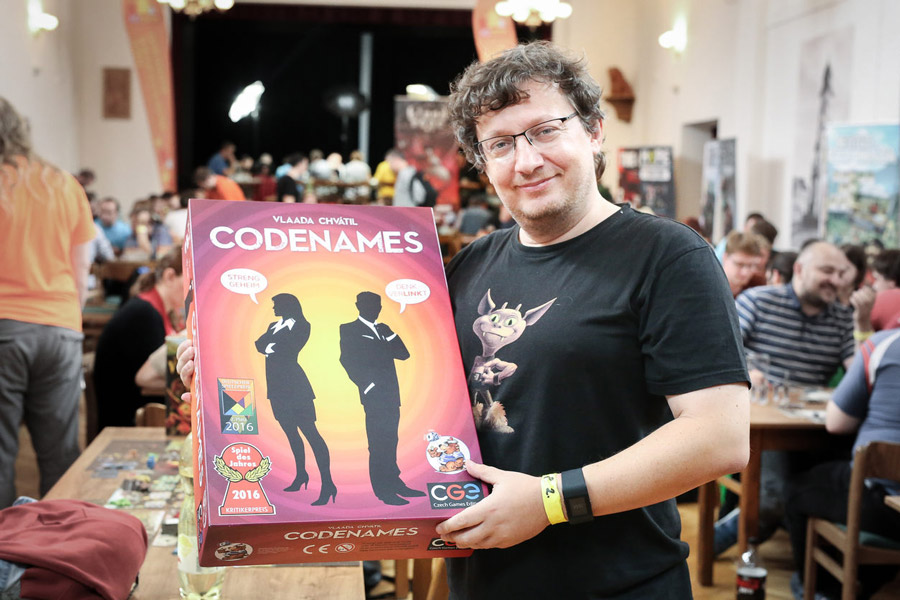 Photo by Czech Games Edition. Used with permission.
Czech Games Edition is based in the Czech Republic and we produce our games here in the heart of Europe, though we release them in English. This is not just because English-speaking territories are our biggest market. It's also because it's easier to find a good translator that is able to translate from English than from Czech. So we make sure the game works perfectly in English—hoping not much is lost during all the various translations.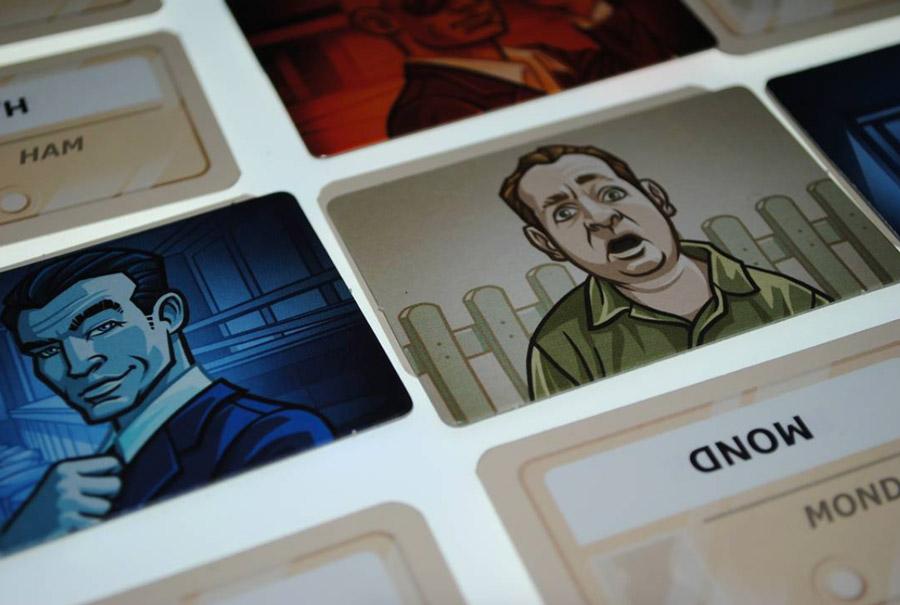 Photo by @theboardgeek. Used with permission.
It was even more important with Codenames, that now has more than 30 language variants. Language is an integral part of this game, and every language is different. For example, English has lots of simple words with multiple meanings, German uses many compound words, Slavic languages are inflected with many forms of each word etc. Not only do the translators have to create lists of words that work well in their languages, they also have to adjust the rules. For Codenames, from the beginning, Vlaada cooperated with Jason Holt, our American friend that helps us to polish the English in our games. On top of shaping the rules for giving clues and the final list of English words, Jason wrote down his ideas behind the list, creating a guide for translations to come.

But of course, at the start of this whole story, we did not know that it would become this big. After all… Codenames is a small game. It is just a word-association game and Vlaada usually says that if he had not invented it, someone else would have done so. He simply states it like that. The truth is, we were very surprised that Codenames was nominated for Spiel des Jahres. It feels almost like winning an Oscar for gaming and our competitors had produced wonderful games like
Karuba
and
Imhotep
. Both of these games are great and we were not sure Codenames had a chance to win.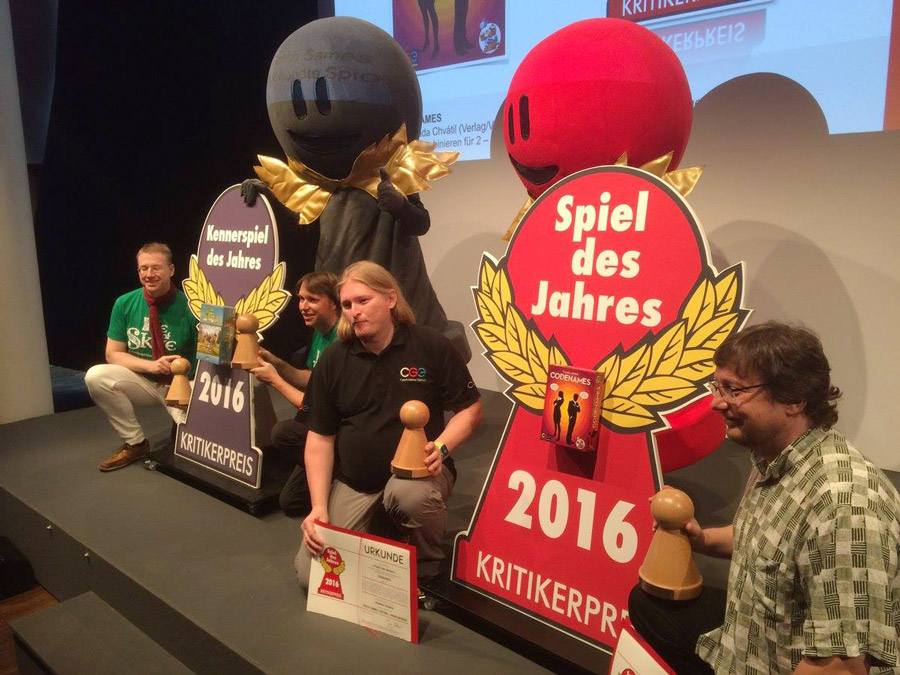 Photo by Czech Games Edition. Used with permission.
It was a huge surprise that Codenames actually did win the award. Believe it or not, but everybody in our office watched the online stream and we celebrated our victory right after the announcement. We were so happy. When Codenames was in development, no one thought about Spiel des Jahres. It was just a little game about words. We knew it would become a cool game, but Spiel des Jahres? Wow! You can't plan something like that.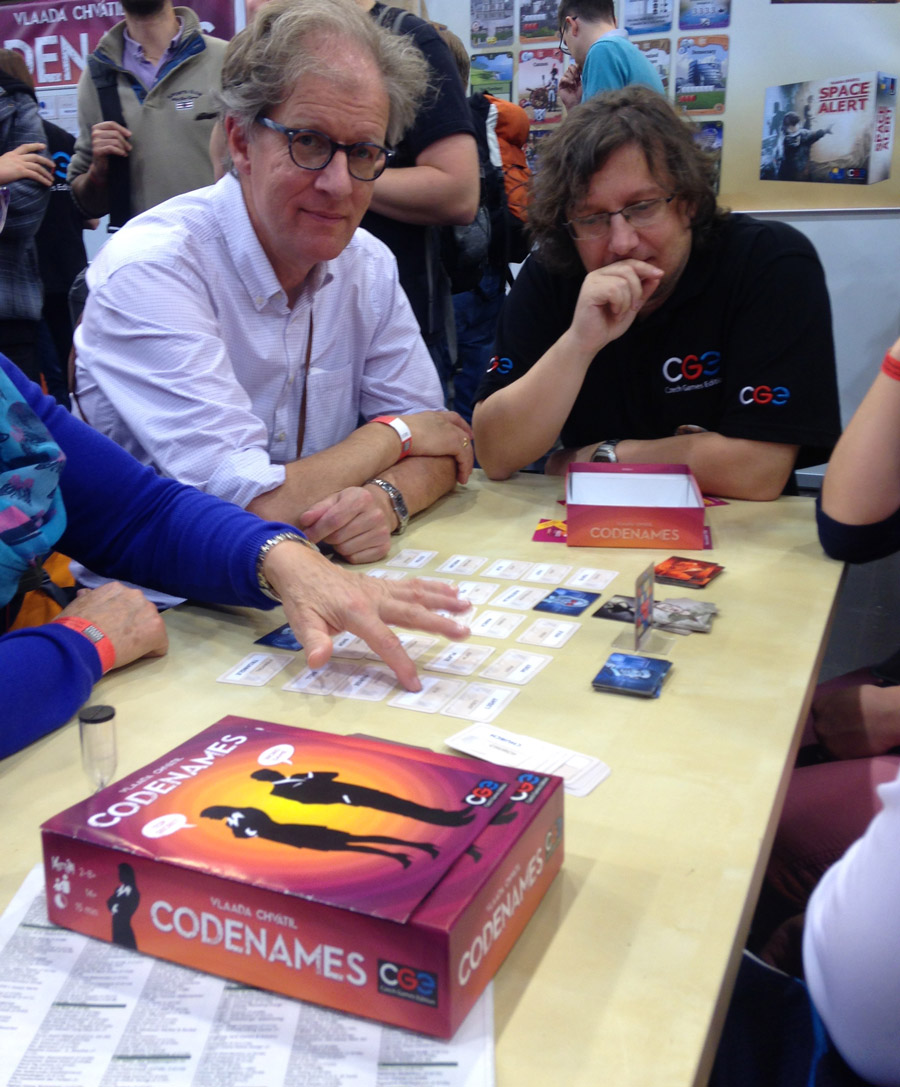 Photo by Czech Games Edition. Used with permission.
From the start we knew that there would be more, and the success of this game gives us a lot of opportunities to expand the Codenames family. Step one, logically, was Pictures. People already played Codenames with Dixit
cards or Rory's Story Cubes
but we wanted our own product. The creation of Codenames: Pictures
was a little bit more complicated than you might have expected. Despite the fact that the rules are almost identical, the creation of Pictures was a long process. We experimented with various levels of picture complexity, various artistic styles etc. In the end, we went for pictures in shades of gray (to avoid easy references to colors) that combine multiple elements, often in an unusual or funny way. You can refer to any element in the picture, but also to the overall meaning of the combination. That actually makes it easier to find connections between your words—and harder to avoid unwanted connections with other words. That's why we opted for a 4×5 grid instead of the original 5×5. We feel the game flows better with this adjustment, but if you miss the bigger grid, you can always use the key cards from the original game.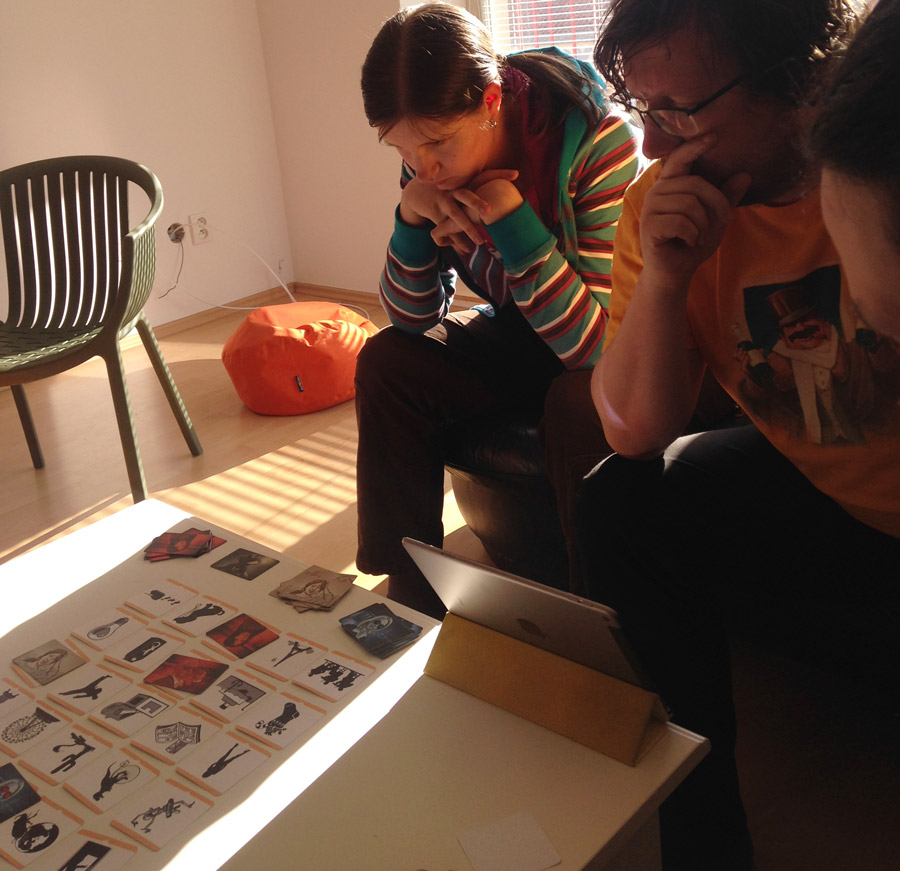 Photo by Czech Games Edition. Used with permission.
Codenames: Pictures is now #4 in party games (source: boardgamegeek.com rating) and we are very happy about that. You can even mix the version with pictures and the version with words and create something in between these universes!
I am confident there will be even more in the future. We are already working on 'Codenames: Moves' and 'Codenames: Sounds'.
Ok. Just kidding.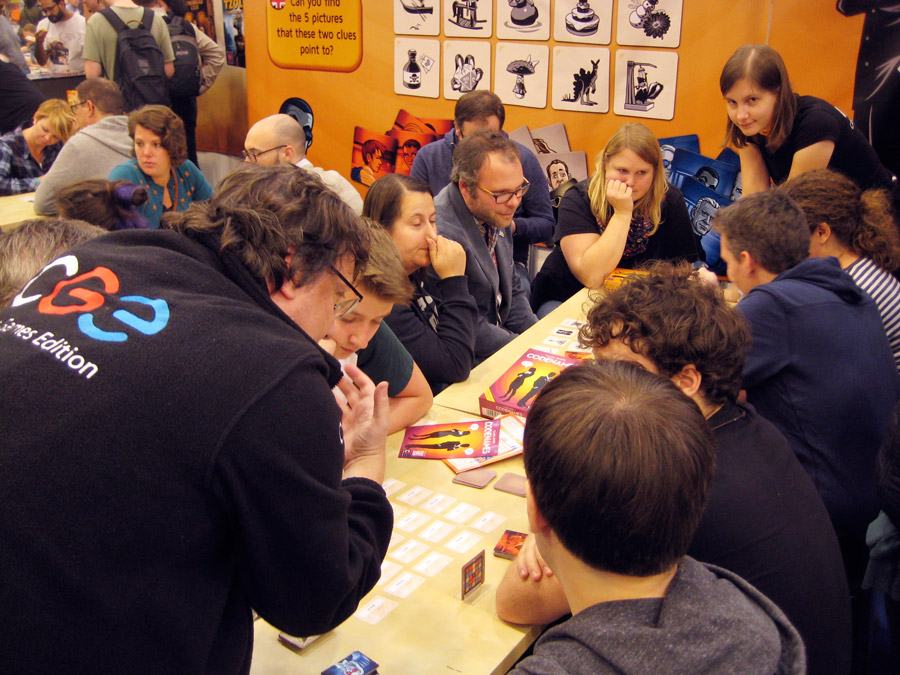 Photo by Czech Games Edition. Used with permission.
But yes, there will be even more. But I can not say anymore at the moment. Just stay tuned and I hope you will like what we are preparing for you. Anyway, I would like to send a huge thank you from the Czech Games Edition team to all of you, for supporting our games, not just Codenames
but the other titles like Adrenaline, Alchemists: The Kings Golem
, Through the Ages
, Dungeon Lords
… You know what I am talking about. We are all gamers and it is great to be part of that fun. Thank you very much one more time and see you at some gaming convention!
Photo credits: Czech Games Edition / @theboardgeek. Used with permission.
Get Codenames
or Codenames: Pictures
on Amazon.

Did you like this story? Please share or comment. Go to this page to submit a story yourself. Subscribe to our online magazine here!