My name is Shaz Yong and I'm 25 years old. I'm from Malaysia, specifically from Ampang, Selangor. I'm a child of mixed Malay/Chinese parentage, which would explain my slightly uncommon name, and I was raised by my grandparents.
Board game artist Shaz Yong. Used with permission.
I dabbled in drawing as a child but was never particularly great at it. I mostly had aspirations of becoming a 'game designer' when I was a kid. All of that changed in my teenage years when I started reading a series of books, the Legend of Drizzt to be exact. I was particularly taken by the cover art by Todd Lockwood and it gave me the desire to make such beautiful images. Images of dragons and warriors, of dark dungeons and mystical beasts. It astounded me that fantasy creatures and worlds that do not exist in reality can be painted and brought to life with such beauty.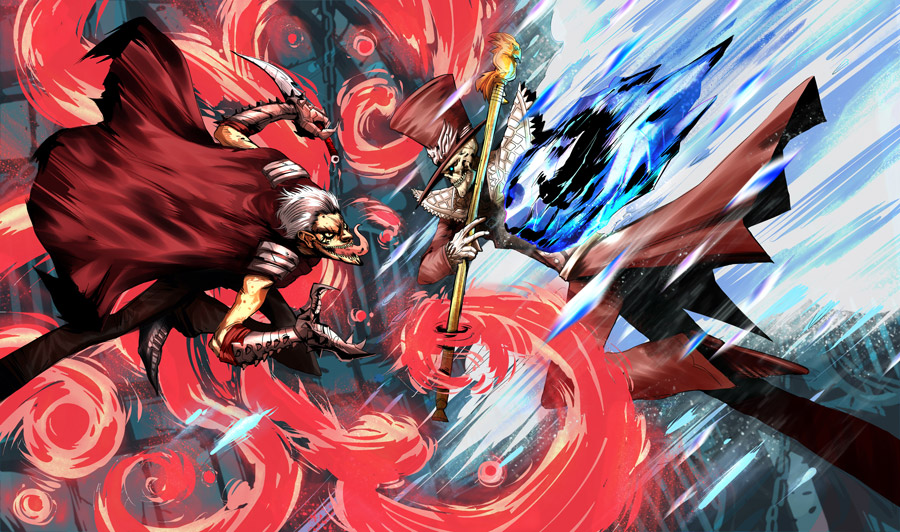 Art by Shaz Yong. Used with permission.
My very traditional Chinese grandparents were not enthusiastic about my insistence in pursuing art as a career. In Malaysia, 'artist' means the guy on the sidewalk doing caricatures, so it wasn't a particularly coveted profession. Thankfully, my mother who has worked in advertising convinced them to allow me on the condition that I procure a full scholarship to an art college.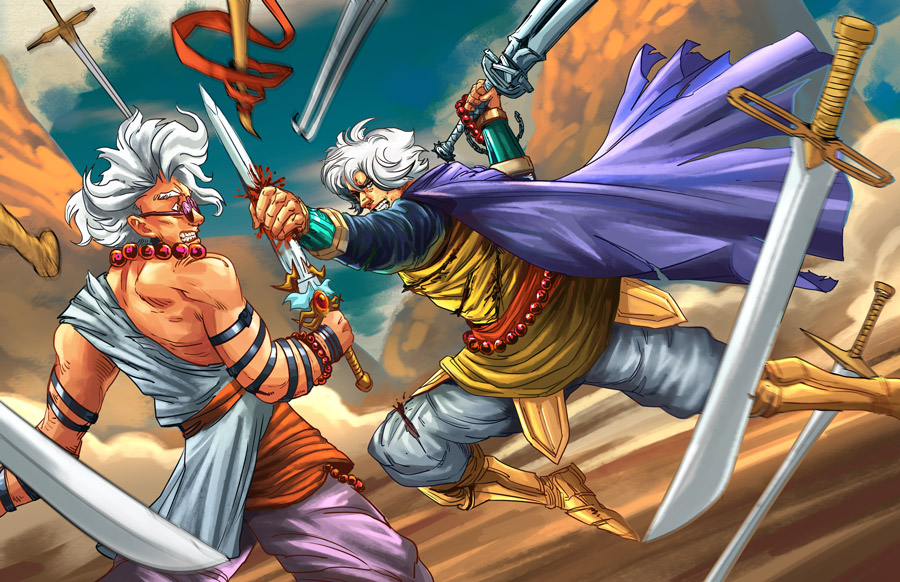 Art by Shaz Yong. Used with permission.
I applied for a scholarship for The One Academy and 3 years later I was out with a Diploma in Illustration. I did not immediately get work as an illustrator as such jobs were very rare in Malaysia. For a period of 3 years, I worked as a storyboard artist for two local animation studios. Around the third year, I was pushed by a fellow artist to check out Boardgamegeek as he had gotten a few jobs on there. This heavily piqued my interest as I've picked up Magic the Gathering as a hobby during my college years and have been quite smitten with physical games. The opportunity to work on such games felt like a dream to me so I immediately jumped onto the BGG forums and posted my work.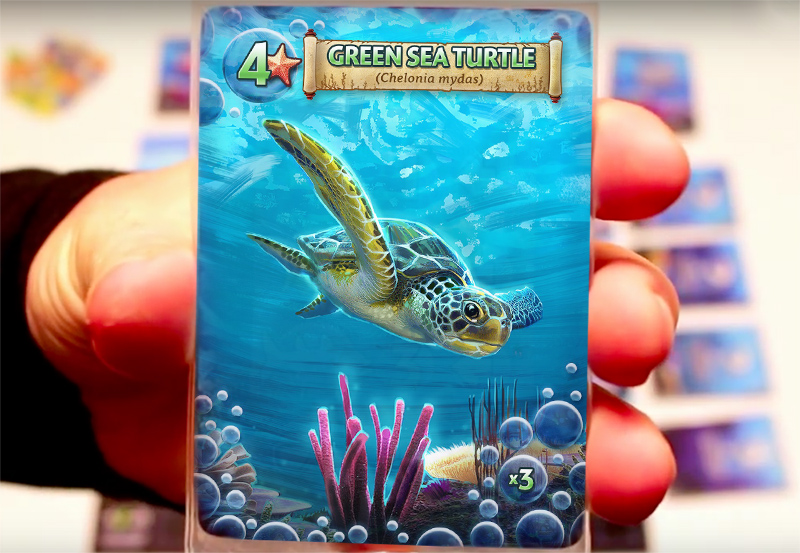 Scuba The Board Game. Art by Shaz Yong.
My first client was Ryan Cowler, he commissioned me to work on a currently unreleased project and every other game he has designed since. We've had successful kickstarters for JurassAttack!
, Outlawed!
, and Super Pocket League Wrestling. I owe most of my freelance career to him as his projects opened a lot of doors for me. Many designers discovered me through the attention that his projects received.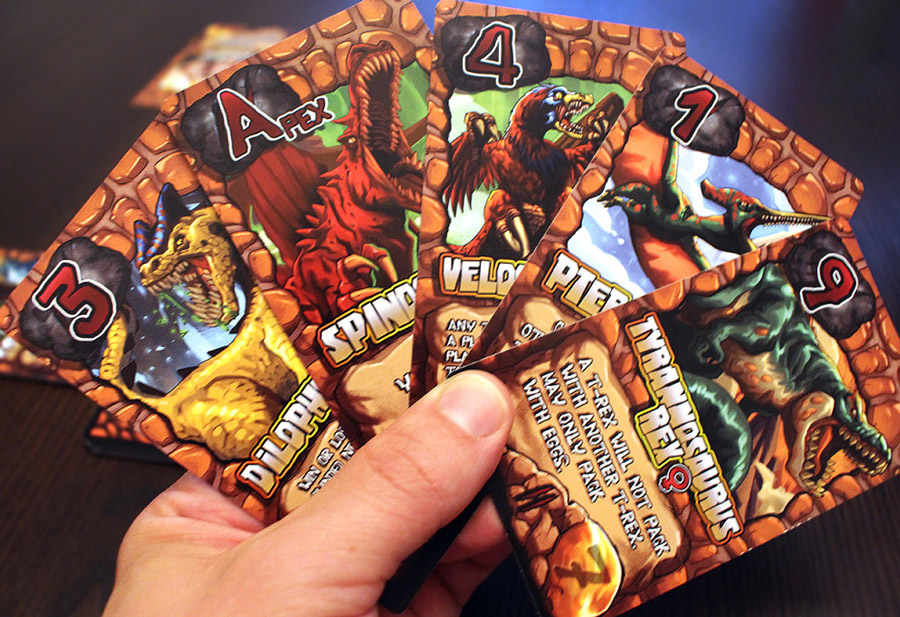 JurassAttack! Photo by The League of Nonsensical Gamers.
One of my favorite projects I worked on was definitely JurassAttack! as it was my first published game with Ryan Cowler and I love drawing dinosaurs! 
After a year of handling both a full time job and doing freelance illustrations I made the choice to do illustration full time. It was around this time that I managed to get work from Level99 games on their Battlecon
series. I have been making art for them ever since on Battlecon and their other projects.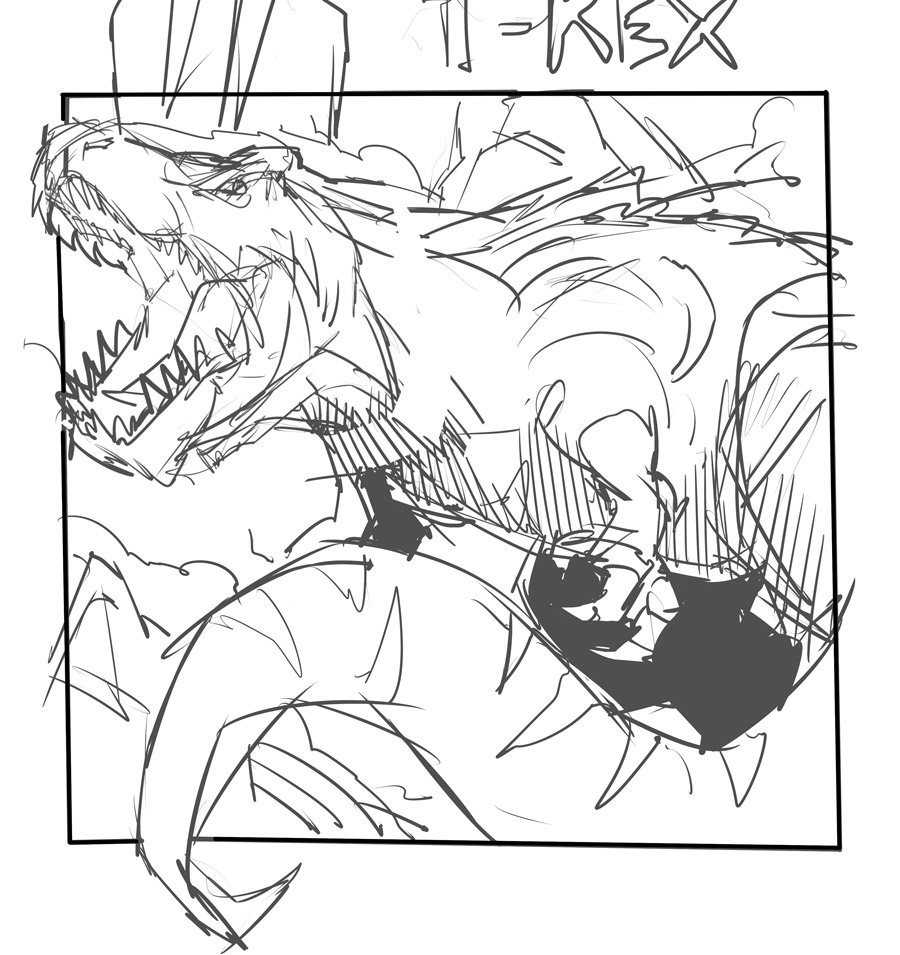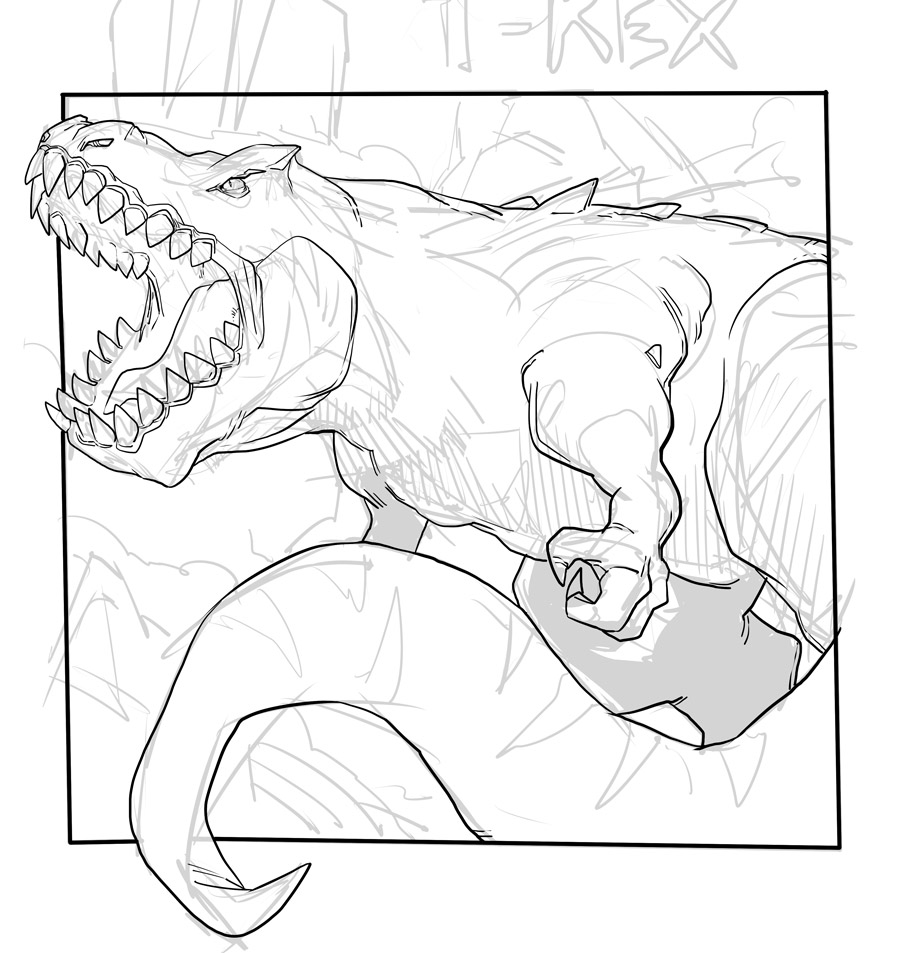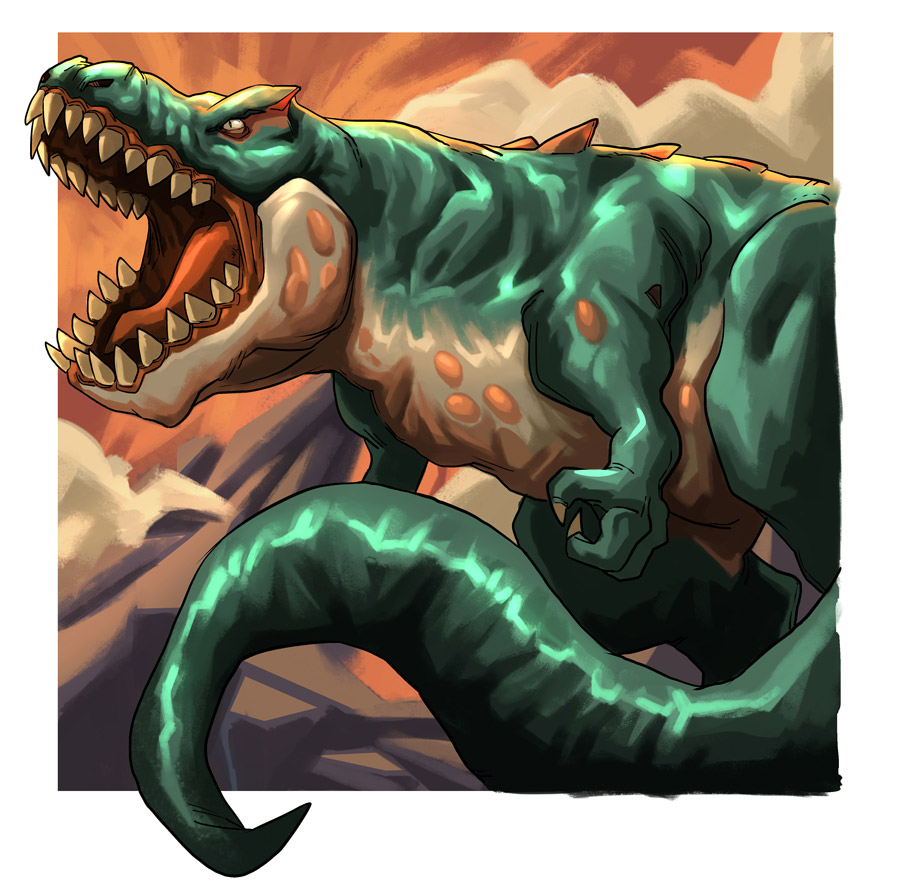 Art by Shaz Yong. Used with permission.
I was trained traditionally in pencils, acrylics and color pencils in college but most of my current works are done digitally. It is mostly a choice of convenience as well as an economical choice. Art supplies are very expensive in my country because all the tools and materials are imported and expensive. Adobe Photoshop and Manga Studio are much more manageable while still allowing me to put to use my training from college. Color, composition and design are still applicable regardless of medium.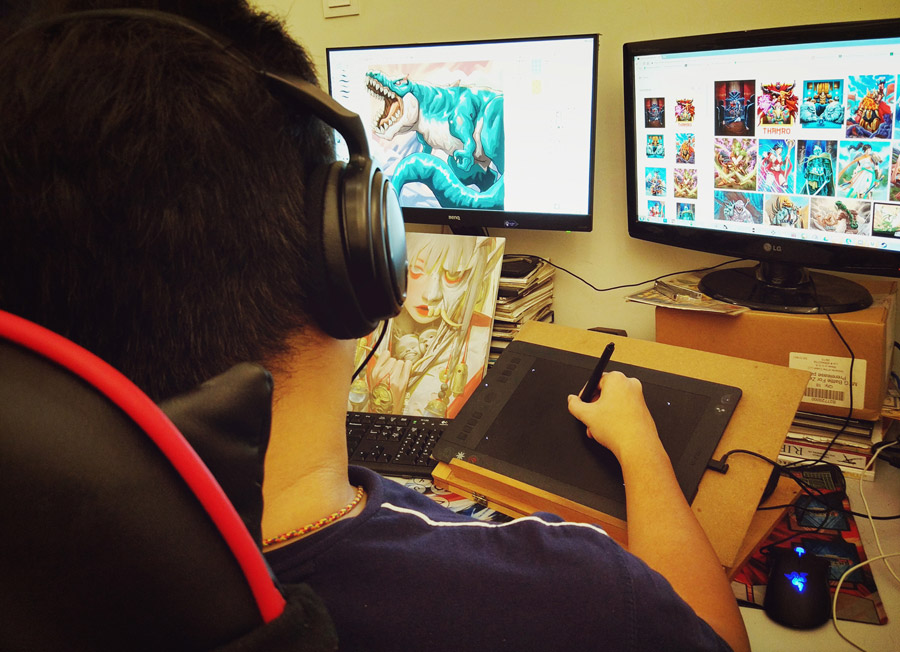 The workspace. Used with permission.
I'm a big fan of Star Wars, Lord of the Rings, basically any sci-fi or fantasy movie done well, so my inspiration mostly comes from these places. Artists I admire include Frank Frazetta, Simon Bisley, Gerald Brom and the numerous artists who are responsible for the Magic trading card art. I hope to achieve the level of illustration that is exemplified by these artists.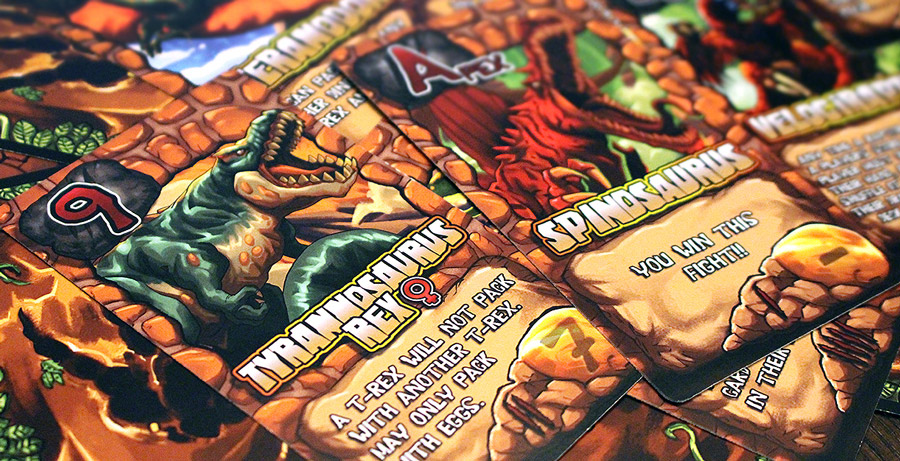 JurassAttack! Photo by The League of Nonsensical Gamers.
I think board games as a whole are a wonderful medium. The pieces, the cards and the boards are painstaking labors of love by artist and designer. Beyond aesthetic reasons I can also describe myself as a game geek. I have a sizeable collection of board games, as well as a dangerous addiction to trading card games. You can often find me sorting my too large collection of Magic cards when I am not busy working on a project.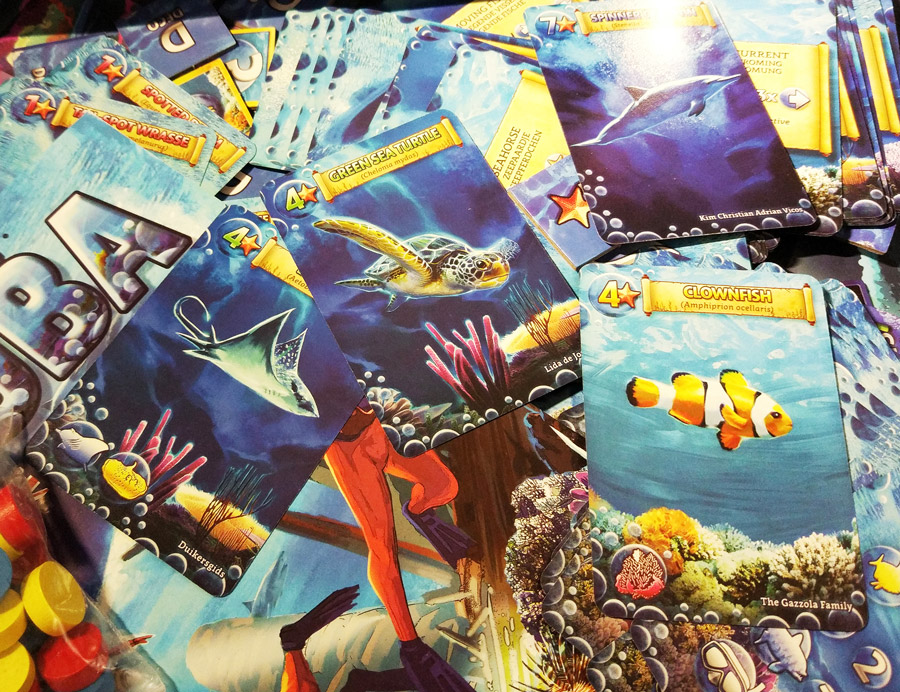 Scuba The Board Game. Photo by Shaz Yong.
Board and Cardgaming is the one space where I can sit down with fellow humans who are also as geeky as me and have a great time. Most of my closest friends have been found through this hobby and it is something I never want to give up on. I guess I'm lucky to be able to play board games and to make illustrations for them as well. 
Photo credits: Shaz Yong / The League of Nonsensical Gamers. Used with permission.
Did you like this story? Please share or comment. Go to this page to submit a story yourself. Subscribe to our online magazine here!