I am a kind of nerdy city girl living in Taipei. I like static activities, such as: drawing, playing games, reading comics and novels, listening music and singing.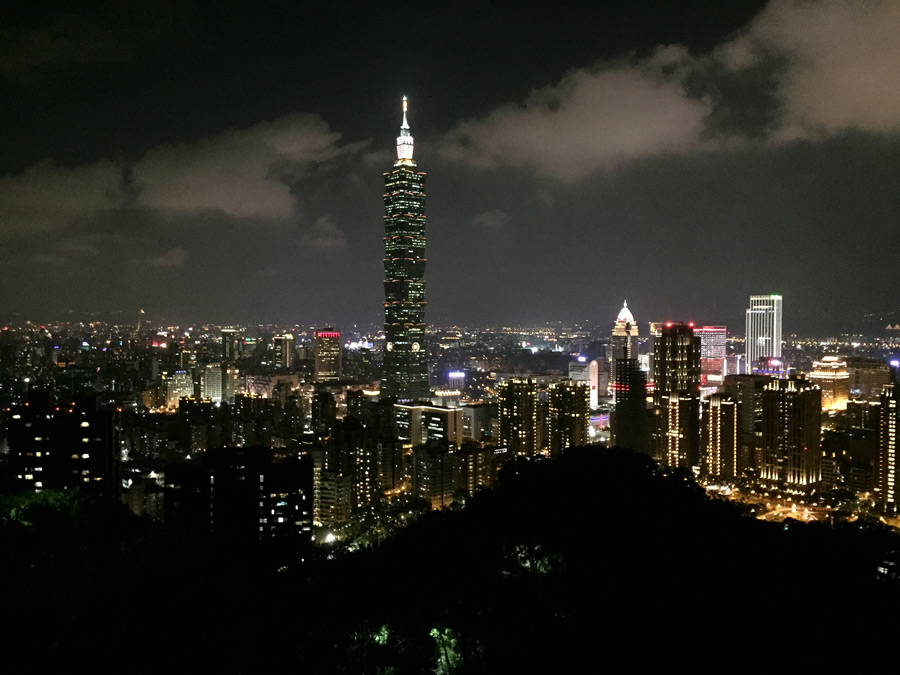 This is the big city I live in, Taipei.
When I was a freshman, I walked through the booth of a board game club in the student club expo. I was attracted by the colorful covers and components of board games. After the first try, I felt these games are very interesting, so I dived into the world of board games. This was around 10 years ago, and board games were not popular in Taiwan at that time.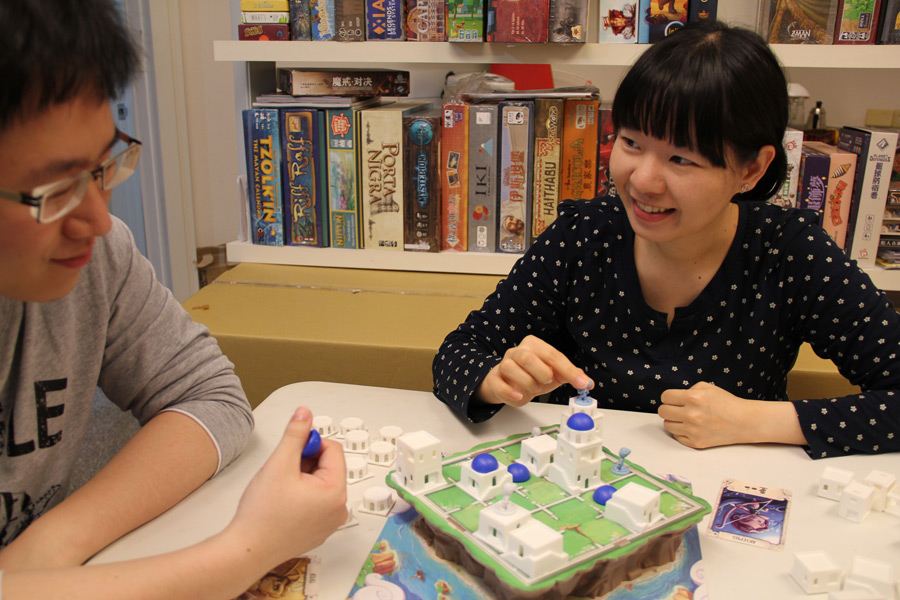 It is always interesting to try some new games and see how they do their art.
The beginning of my artwork for games was from the end of 2014. I met Wei-Min during a game night. He is one of the founders of EmperorS4 Games. Wei-Min was interested in my artwork. Then, he invited me to do some artwork for their board games (Hanamikoji
is one of the games). I agreed, because that is an interesting part time job, isn't it?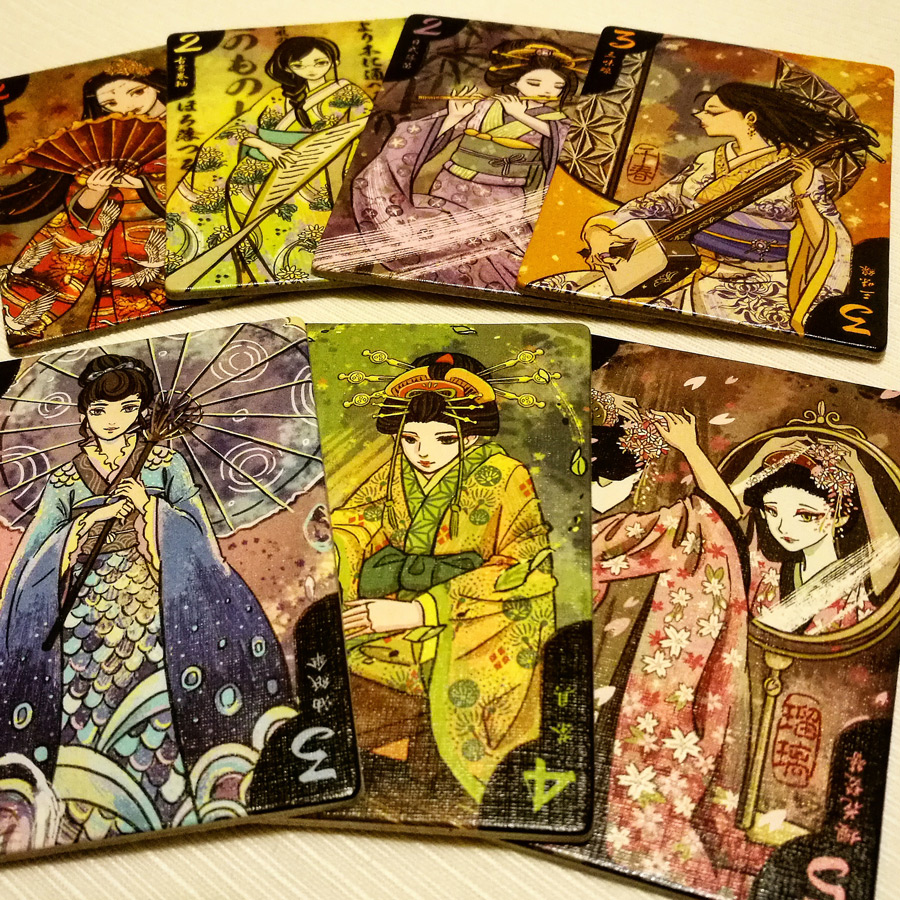 Hanamikoji. Photo by @boardgamingworld
I was very excited in the beginning, but soon I found out I was not familiar with the culture of Geisha at all. I didn't even know how to wear a Kimono.
I spent a lot of time collecting related information, including images, books, DVD's, etc. Wei-Min supported me as I was collecting information.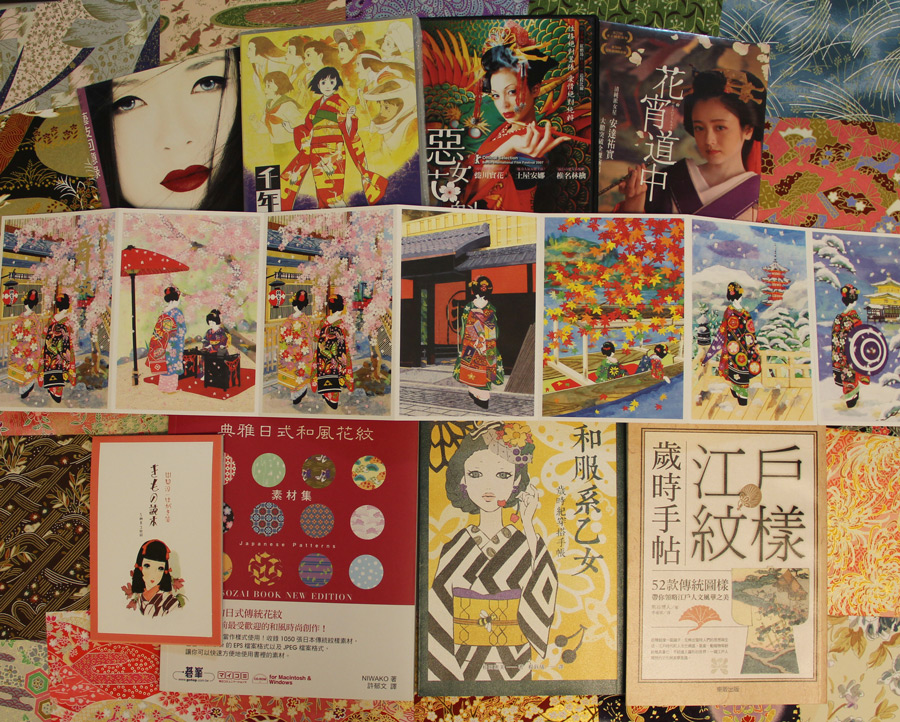 These are some materials we collected for the art of Hanamikoji
In addition, the most time consuming thing in this case was to decide the art style for Hanamikoji, while it was also the most interesting part. For choosing the art style, Wei-Min and I have lots of arguments since we have different opinions. After several iterations, we finally agreed on the current version which we thought to be the best.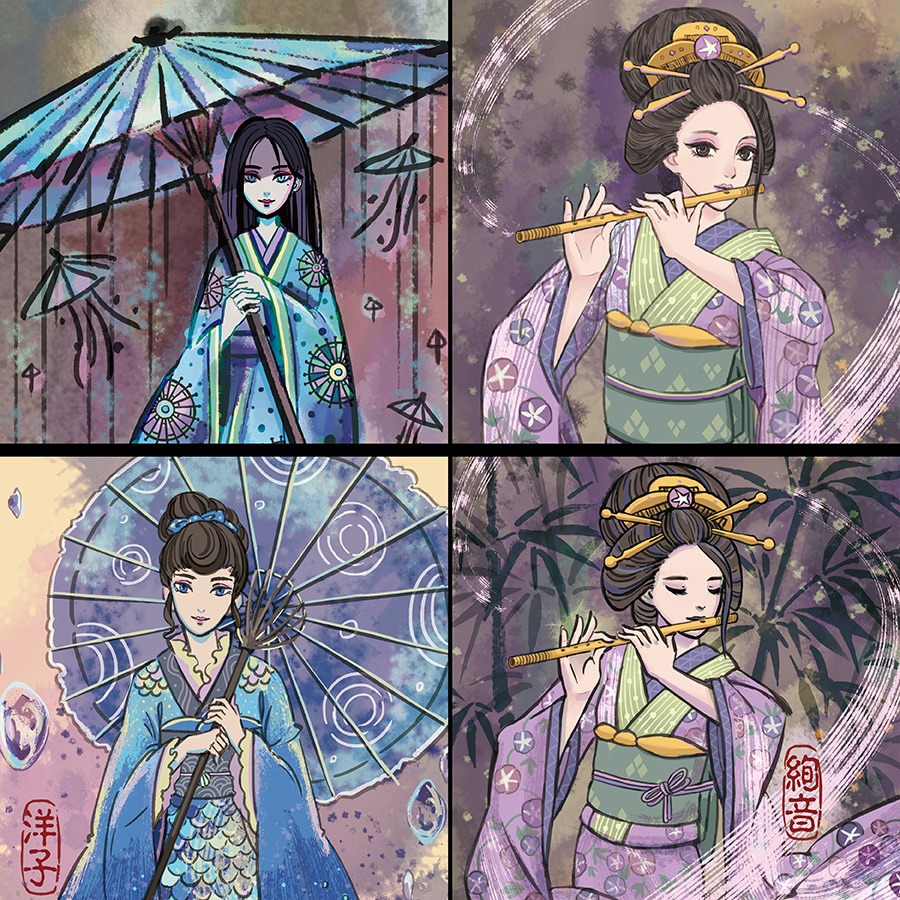 The upper left is the initial style I tried. It seems to be a little creepy, and the face looks a bit young. I also put in some imaginary things, like the jelly-umbrella creatures flying around. The upper right looks a little bit like the style being used in Japanese Manga for girls. I think the eyes might be too big. The images below are the final version.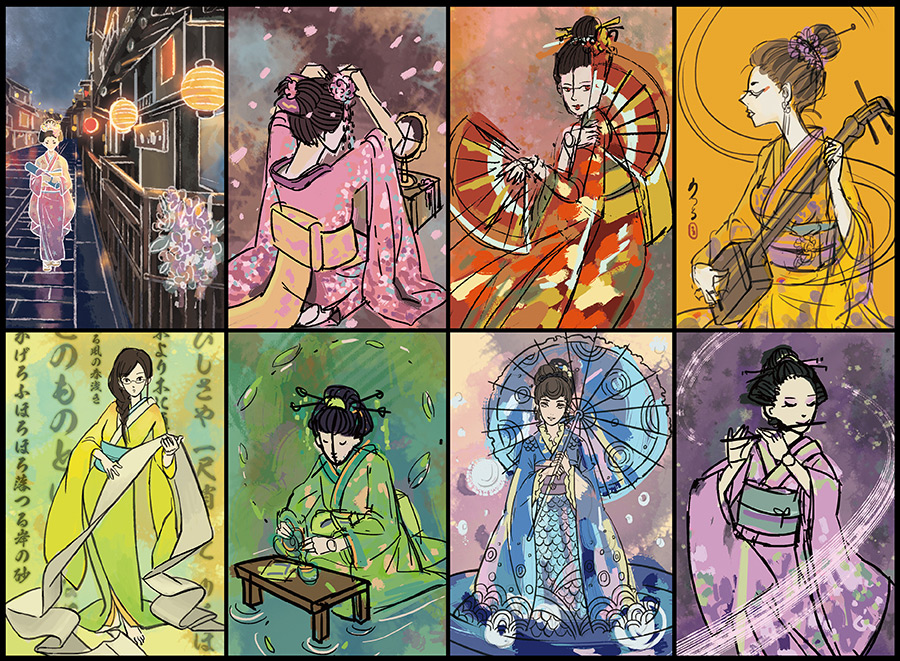 Here are some drafts.
After finishing the artwork for Hanamikoji, I found out creating art (especially for board games!) is my real passion, certainly not creating boring tables and figures for newspapers. I was working at a newspaper publisher as a graphic designer at that time.
So I quitted my job without any hesitation, and then worked for EmperorS4 Games as a full-time artist. Recently, I have done the art for two games "Planet Defenders" and "Dark Castle." It has been busy every day, especially during the days close to the release date. Although I have to sacri