Board game enthusiasts from all over the world express their passion for the hobby in various creative ways on Instagram. On our Instagram channel, one of our most liked features is the awesome motorcyclist made by Beardgamer. Cleverly stacked board and card games form the bearded man's motorbike, who's riding it complete with helmet and leather jacket. As a true pioneer, he has inspired many people to build similar board game structures around the world. Reason enough to get to know Beardgamer a little bit better.
Hello Beardgamer, please introduce yourself.
Hi! My name is Andrea Bianchin and I'm from Italy (near the Venice area). I'm a 35-year-old freelance motiongrapher and, of course, a hardcore board gamer! I also make some reviews of board games on my Youtube channel called Sgananzium. The reviews are in Italian, sorry non-Italian folks, my English is awful!
How did you get into this world of non-digital games?
Certainly when HeroQuest came out when I was 10 years old, it was a mind-blowing experience to me! I'm also a role-player; I've played for many years Warhammer Fantasy Roleplay and Cyberpunk 2020.
How did you come up with the idea to create a motorcycle of stacked board and card games?
Well, every year in April there's in Italy a big convention for gamers (Modena Play), and every year the biggest boardgamers community in Italy (La Tana dei Goblin – www.goblins.net) proclaim a competition on Instagram ('Instagoblin') with the theme "I'm going to Modena Play". So, I take my motorcycle—what else could I do?
You inspired a lot of board game enthusiast around the world to make these kinds of stacked structures themselves. Did you expect this?
Wow, really? I didn't know this, it's amazing! Be careful with your boxes!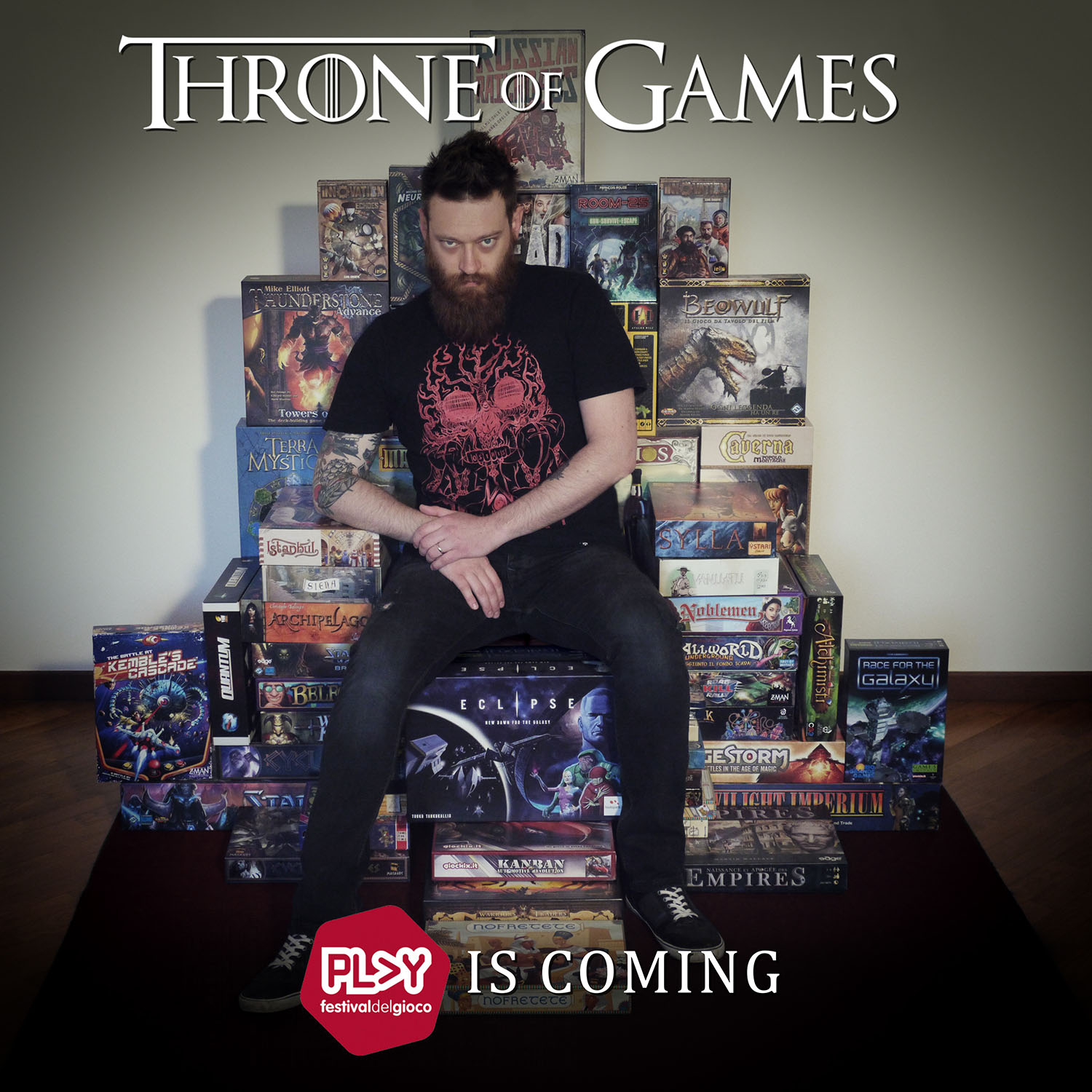 You recently built Throne of Games. Can you tell us something about it?
I love puns and I'm a big fan of the books of George R.R. Martin. I always imagined that by reversing the words 'throne' and 'game' instead of the Iron Throne there would be a throne made of board game boxes, the throne of a real gamer!
In the picture I'm sitting in a chair that you can't see, so no box was harmed in the making of this photo 🙂
What is your favorite game at the moment?
It's a struggle between Blood Rage and Dojo Kun. But my favorite game of all times is without any doubt StarCraft: The Board Game.
Thanks a lot! Something you would like to add?
Thanks to you Analog Games! I'm very glad and you surprised me with this interview, I'm smiling even right now 🙂

Did you like this board game structure? Please share or comment. Subscribe to our online magazine here!