Hi. This is Simon Junker, the author of the board game Heldentaufe. Finally, after more than six years of development, I proudly present you my 'baby' in its final form. I started working on Heldentaufe in 2009, when this game has been part of my master thesis for becoming a teacher in secondary education. My objective has always been to create a board game with the potential to bring gaming teenagers from PC back to the table. As a big fan of digital adventure games like for example The Legend of Zelda, I wanted to implement this kind of atmospheres into a board game, because playing physically with others has much more social learning effects than the single-player experience in front of a monitor.
Thus, Heldentaufe had to become a higly interactive, easy to learn board game, containing all the key ingredients of a true adventure game (discovering treasures, collecting items, completing missions, and battling monsters).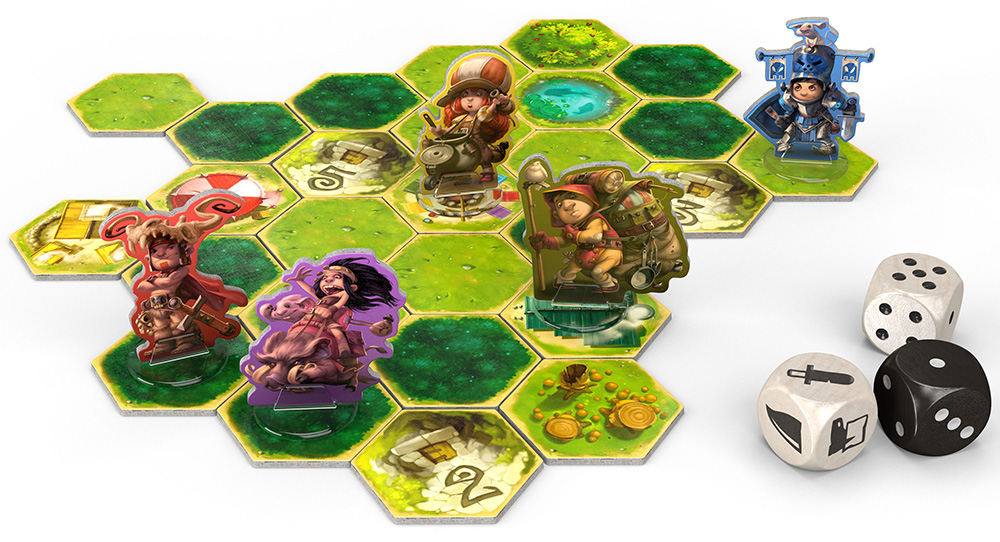 Heldentaufe is a competitive adventure board game for 2-5 players ages 10+ and plays in 60-90 minutes. Players explore the Upper World completing missions and enter the Netherworld fighting monsters to gain monster teeth and graduate from aspirant to grown up hero.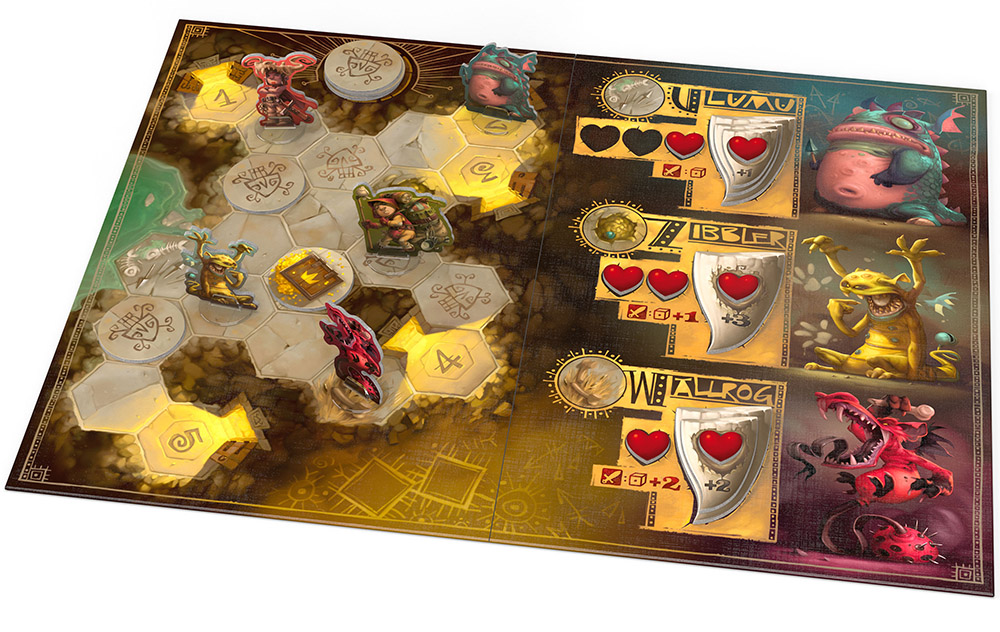 The unique experience of Heldentaufe arises from two distinct but connected realms: The Upper World and the Netherworld. Heroes can travel back and forth to the separate worlds through portals. Events and activities in the Upper World are mostly serene and peaceful. You will harvest natural goods, carry out missions and trade items that you find. Somewhere hidden in the Netherworld lies a bright and shiny treasure—but what underworld would be complete without monsters and traps?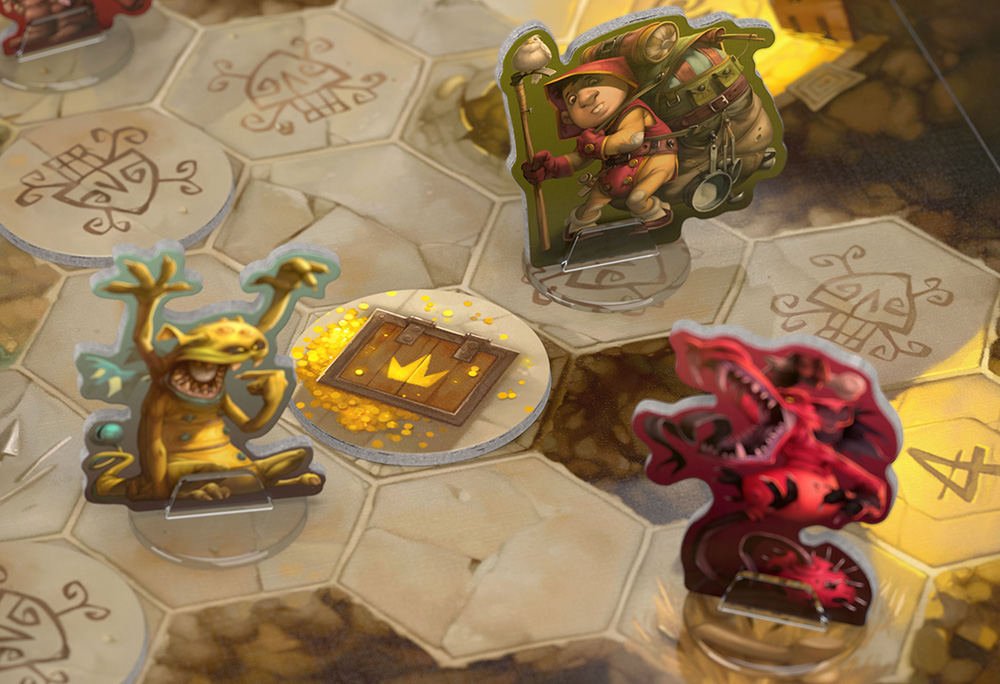 Players will change perspective frequently since they not only control the fate of their own heroes, but also command the monster activities, as soon as an opponent enters the Netherworld.

 In a game with three or four players, forging an alliance to increase a player's odds in combat against monsters can be a smart choice. However, players should choose their sword-mates wisely—once unearthed, the treasures of the Netherworld might lead even their most trusted allies to suddenly turn against them…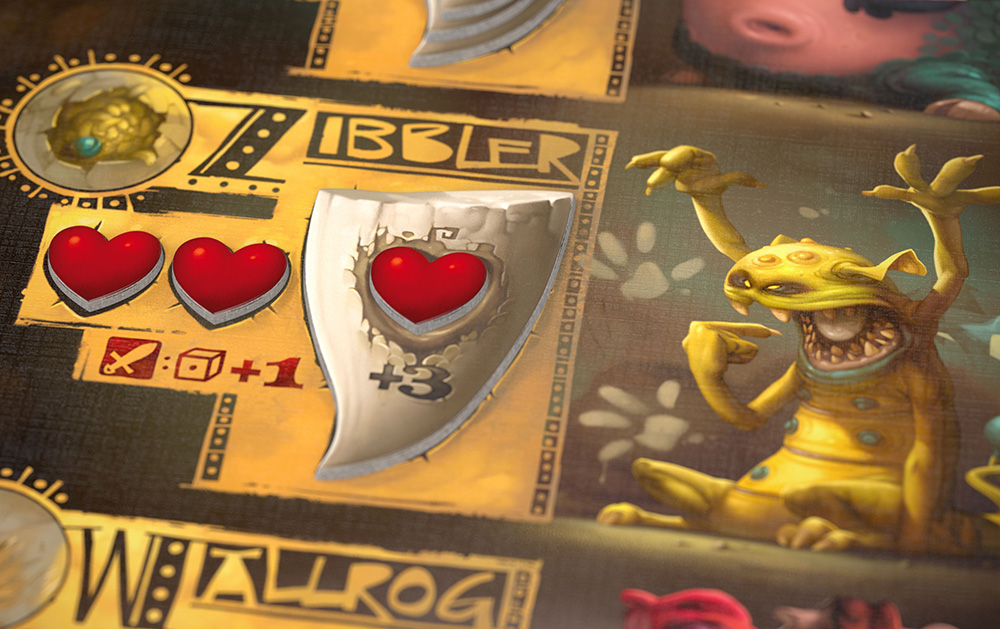 Due to the two distinctly different worlds, both aggressive warmongers and pacifistic characters will embrace the gameplay of Heldentaufe. A game for tactical players who can count on their luck in critical situations.

Being able to lead the project Heldentaufe so far, I always had the luck to count on my great fellow campaigners: Team Heldentaufe is a group of four people from Switzerland and Germany. We are Simon (game designer), Bastian (game developement, online version), Kaspar (game developement, art director) and Daniel (campaign developement, marketing). Our illustrator is Mathieu Leyssenne, whom some of you might know from wonderful board games such as Jamaica, The Hare & the Tortoise and many more. It is his beautiful artwork that brings the story of Heldentaufe to life.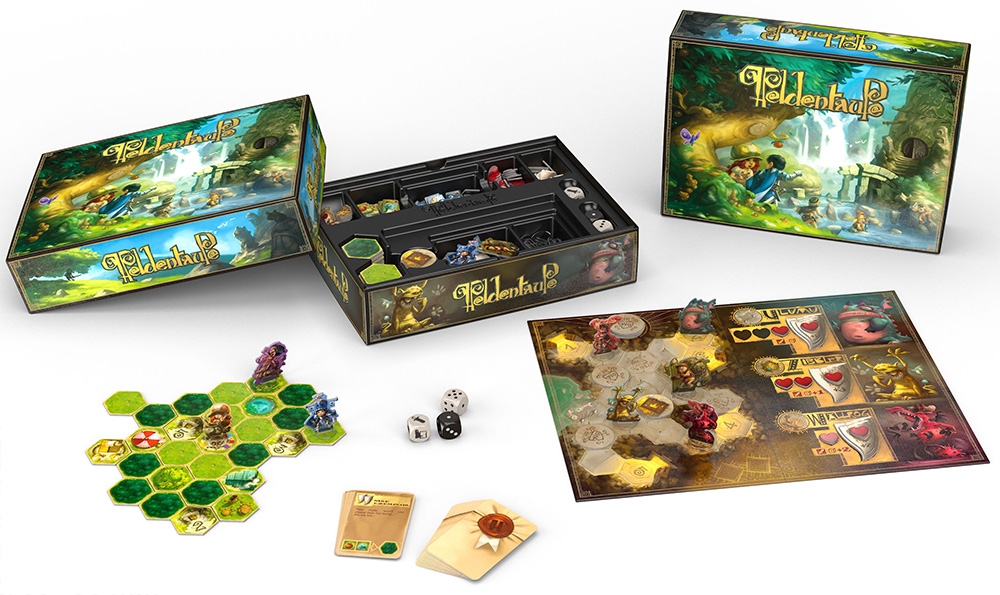 Hopefully, I will soon be able to proceed writing the story of Heldentaufe with your support.
Heldentaufe is now live on Kickstarter.

Did you like this story? Please share or comment. Go to this page to submit a story yourself. Subscribe to our online magazine here!