Analog Games aren't just fun. They also often come in interesting boxes featuring beautiful artwork. It's no surprise that a lot of us love to proudly showcase our board game collection on a shelf. In this series, every week one of our fellow board game enthusiasts will exhibit their board game shelves and tell us something about their favorite board and card games. Today we are going to look at the board game shelves of Annette from San Francisco!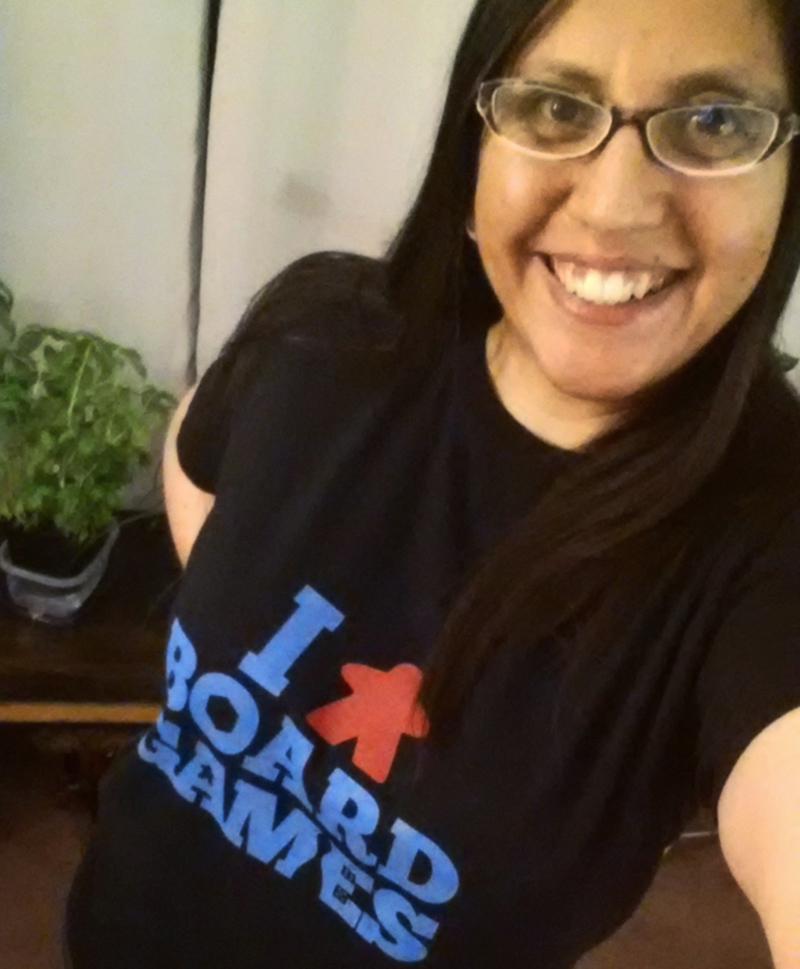 Hi Annette, please introduce yourself.
"My name is Annette aka Nettersplays. I currently live in one of the most beautiful cities in the world, San Francisco. I'm an avid boardgamer and I love sharing my gaming experiences through images with the gaming community online. During the weekdays I work at UCSF as a physicist, but at night I transform into a tabletop gamer. Instead of coming home from work and sitting in front of a television or computer screen, I enjoy opening a game box and setting it between myself and my gaming partner/group."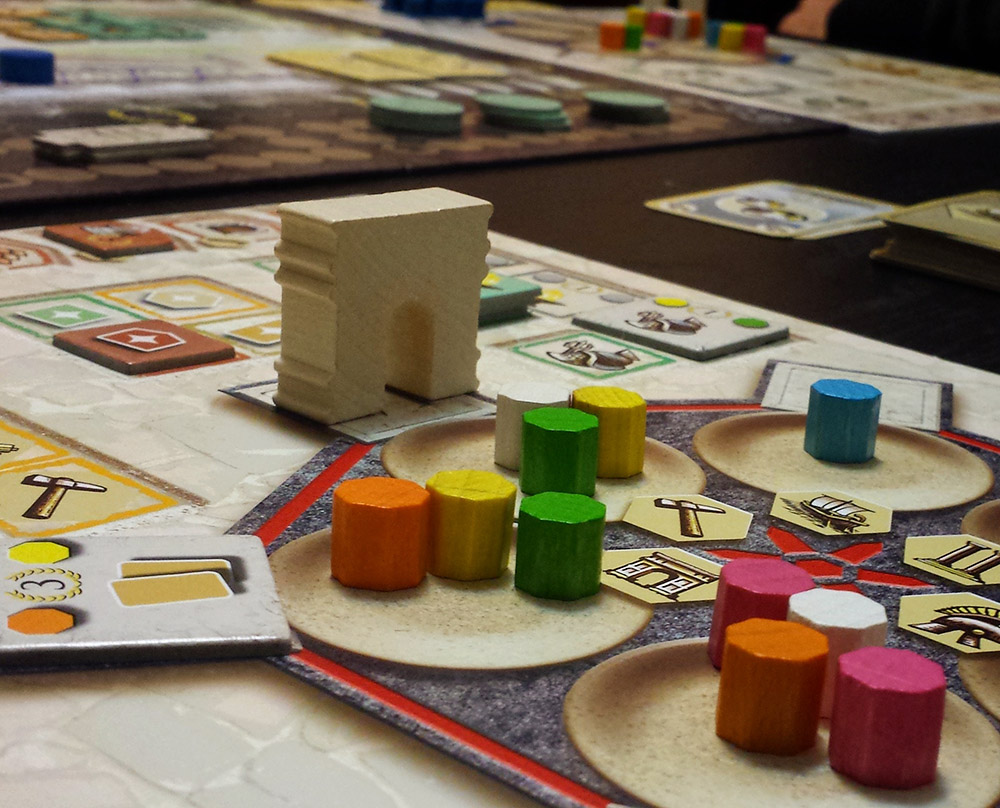 How did you get into this world of non-digital games?
"When I was young, I would go on vacation to visit my great grandmother in Mexico and I would always look forward to playing Parcheesi or Chinese Checkers with her. Growing up, I have always enjoyed playing Dominoes, Chess and Backgammon with my family. These classic games hold a special place in my heart largely because of the memories of the people that I played them with; however, they were all fun, but then one game ruined it for me: Monopoly. I still cringe when I hear someone mention that game. I had several bad experiences playing that game, to the point of tears. Besides continuing to play Chess throughout High School, I pretty much avoided playing board games. One night (11 years ago) when some friends brought over The Settlers of Catan
my presumptions about gaming changed. It was unlike anything I had ever seen: there were sheep cards, wooden houses and hexagonal tiles. After the rules were explained, I was excited to start. We ended up having a blast and it was nice to try something new. One night a few years back, I gathered with friends again and played some Dominion
. I had never heard of a deck building game and I was excited to try something different. After this experience my curiosity lead me down the path of contemporary designer games. It also lead me to my friendly local game store (FLGS). I started looking up games on Youtube and then discovered Tabletop, The Dice Tower, Watch It Played and Rahdo. That discovery opened a whole new door and I walked right in. Since 2014, I have been an avid board game collector."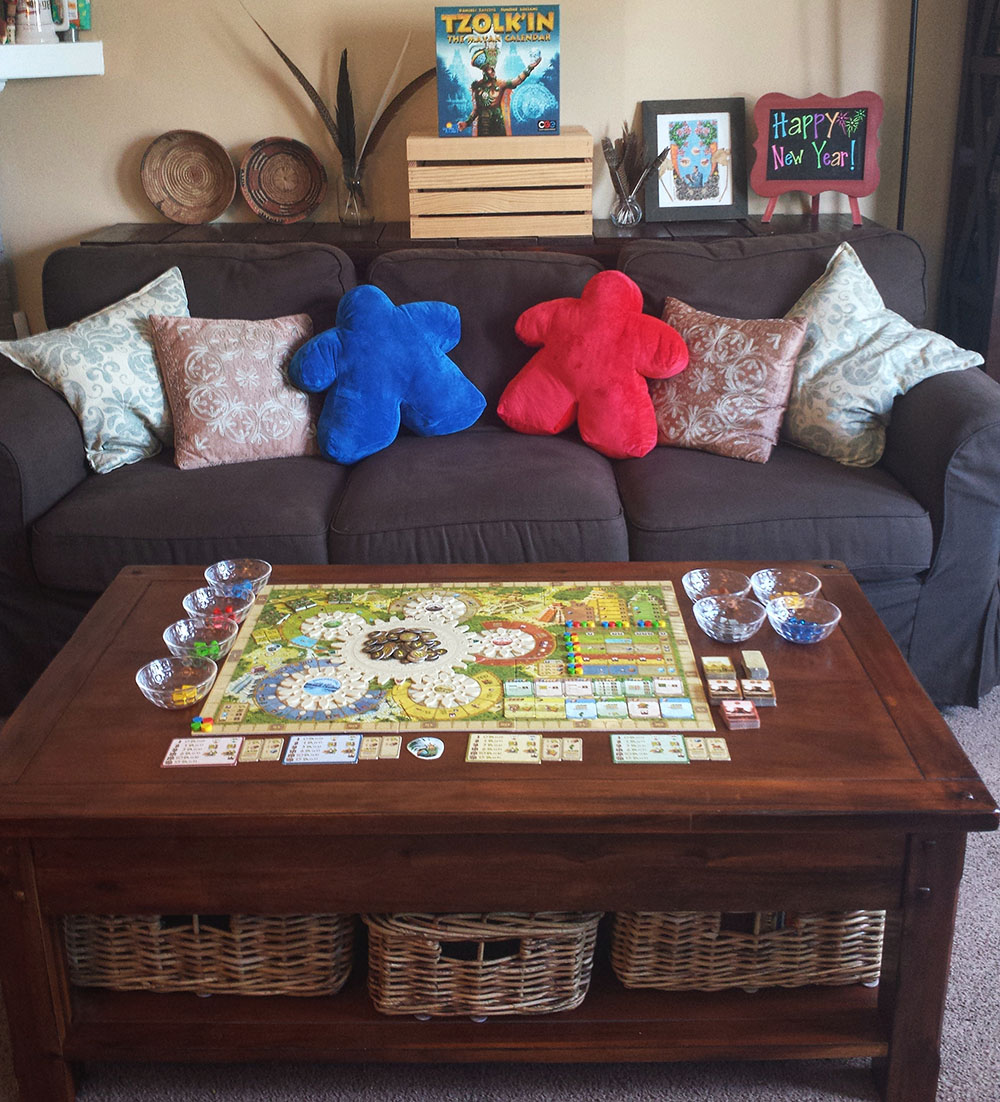 How often do you play?
"One of my favorite things to do everyday is come home and meet with my partner. He and I share the same interest of gaming, so we tend to sit to a game every night. I'm pretty lucky to have a gaming partner so close to home. Once a week (if I'm not too busy), I meet with a coworker to play a light game while having lunch. On the weekends, we usually meet up with our friends to share some games and drinks. Not all our friends are as involved in the hobby, so we tend to purchase a variety of games for any occasion: from Eurogames to party games to thematic deck builders to dexterity. I've also held special gaming events for Tabletop Day and Extra Life at my house throughout the year. As many as 20+ friends have all come over to play together and have fun."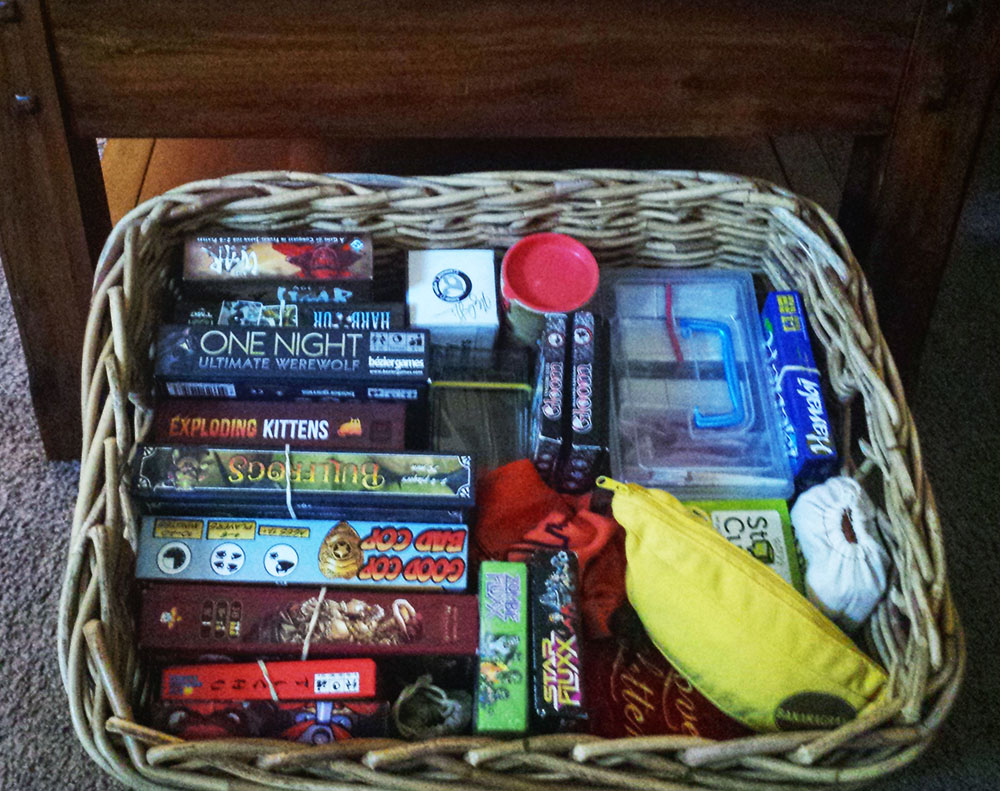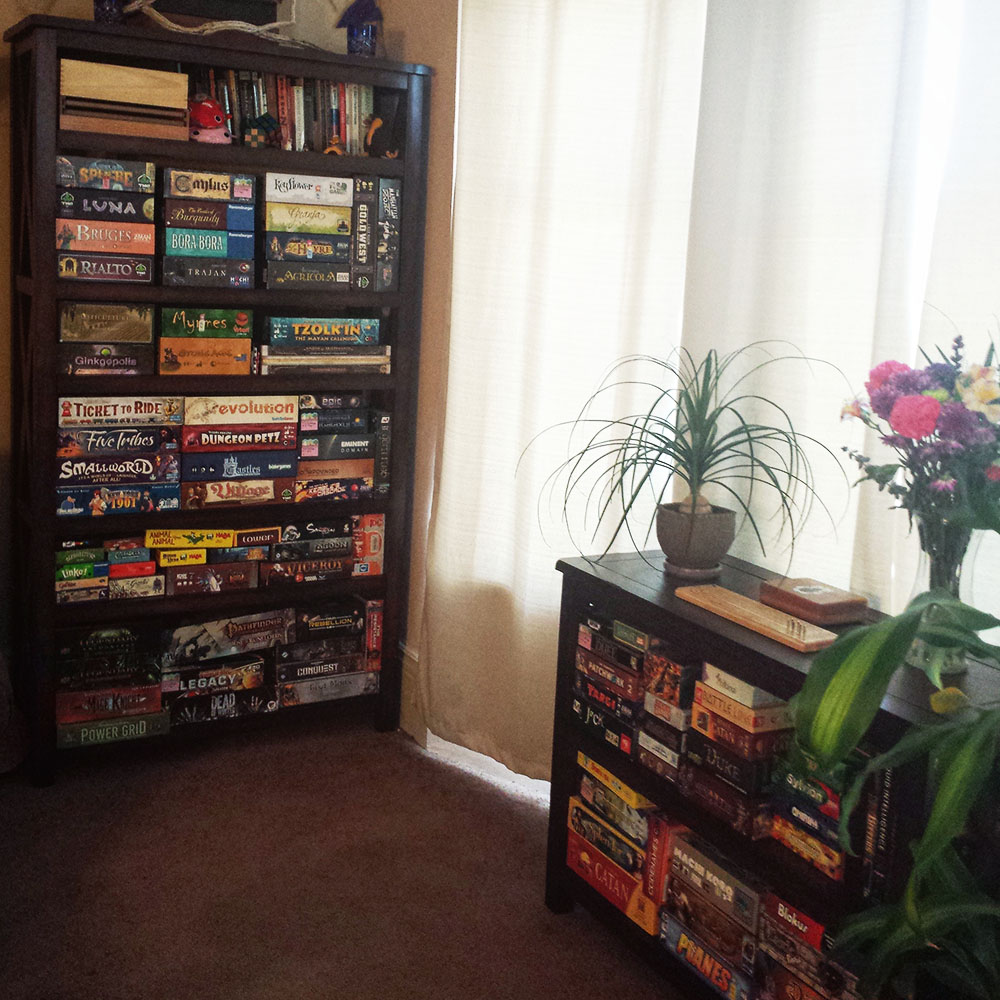 Can you tell us something about your shelves?
"When I first started collecting games, I would store them in my armoire. They weren't a big part of my everyday lifestyle, so I kept them out of sight. As I started to expand my collection and became more involved in the hobby I had to get a gaming table. I purchased a coffee table with storage options. The table had a drawer to store small things like gaming accessories. The table also had a bottom shelf, so I purchased baskets to store small box games. That worked for a while, but my collection began to expand and I needed a large bookshelf. Gaming is such a big part of my life and I wanted to display all of my games, so I bought two shelves. The first thing that guests notice when they enter my house is my collection of board games. I organize my shelves usually by difficulty and type: Euros, Gateway, Party, Thematic, Two Player, Solo, Cards, Classics, Dexterity and Collectable Card/Dice Games. I'm not sure if I have any more space for another shelf, so I might have to cull some games in the future. I'll try not to worry about that for now."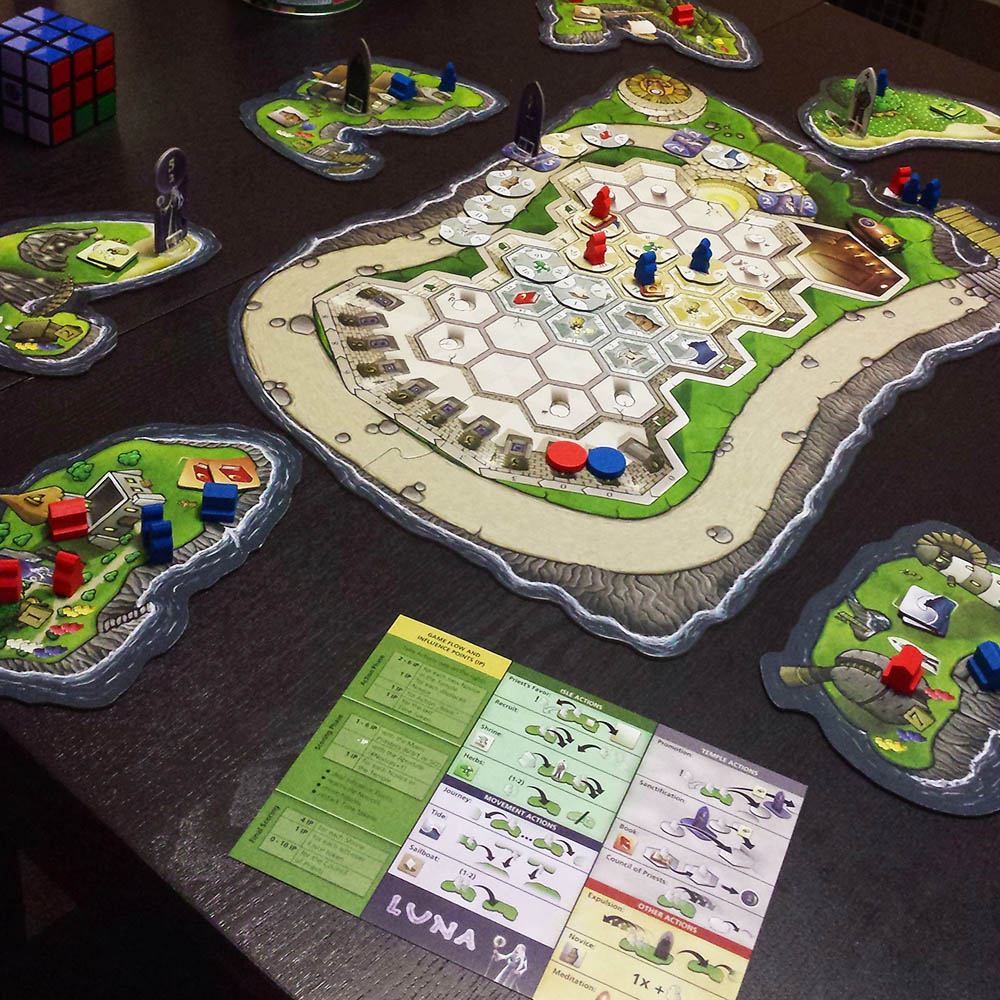 What is your favorite game at the moment?
"Since this question is so hard for me to answer, I'm going to cheat a little by saying that anything by Stefan Feld is my favorite game. Currently I own Bora Bora
, Castles of Burgundy
, Bruges
, AquaSphere
, Rialto
and Luna
. I will play anyone of these games anytime. His games are considered to be "point salads," but I don't see that as a bad thing. Yes, you may get points from any movement or action, but most games still tend to finish so tightly among players. I love the amount of creativity and strategy that is involved with Feld games. My goal is to one day own all of his games. Honourable mentions are Race For The Galaxy
, La Granja
, Mottainai
, Ginkgopolis
and Pandemic Legacy
."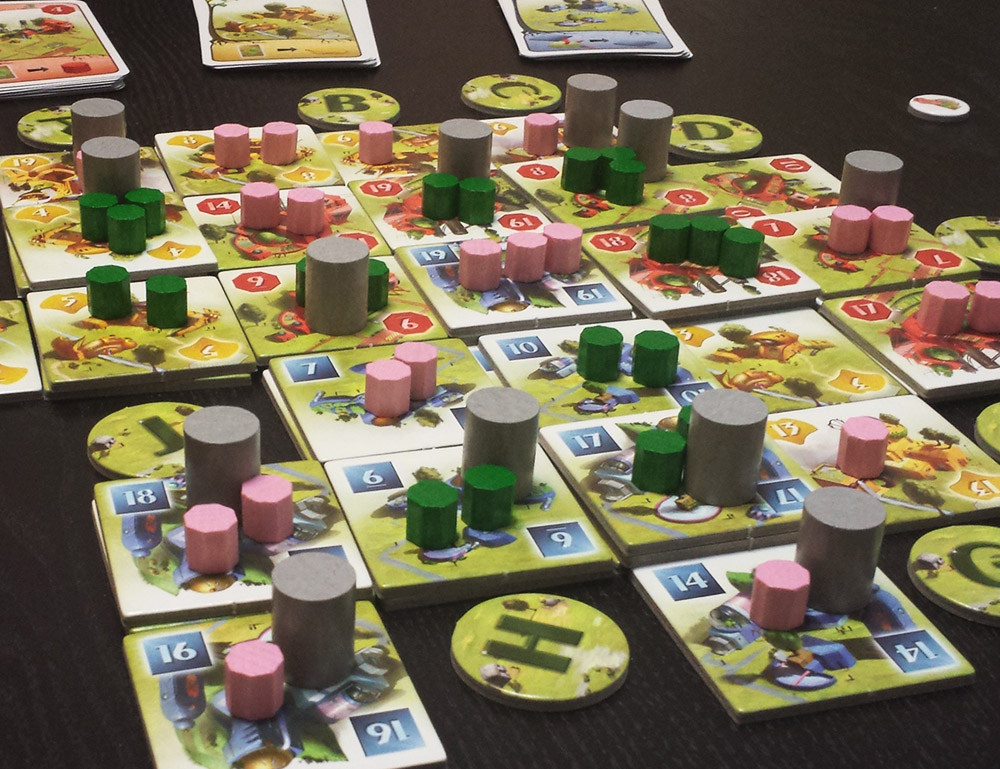 What is your most special or obscure game?
"My most special and obscure game that I own is my German copy of Ginkgopolis
. I discovered Ginkgopolis at my FLGS, but they only had the expansion, The Experts. I looked it up on Board Game Geek and it peaked my curiosity since it's an abstract, city building, tile laying, resource management, area control, simultaneous action selection and card drafting game. It has all the gaming mechanisms that I love to play with in one box. I looked all over the Internet for this game and it was out of print. I spoke with several people from Instagram and Twitter regarding my dilemma and someone suggested that I could order the game from Germany. The rulebook is in German, but I downloaded and printed the English rules from BGG. The tiles and cards are non-language based. I absolutely love this game, not only because it's fun to play, but also how the gaming community helped me to find this game."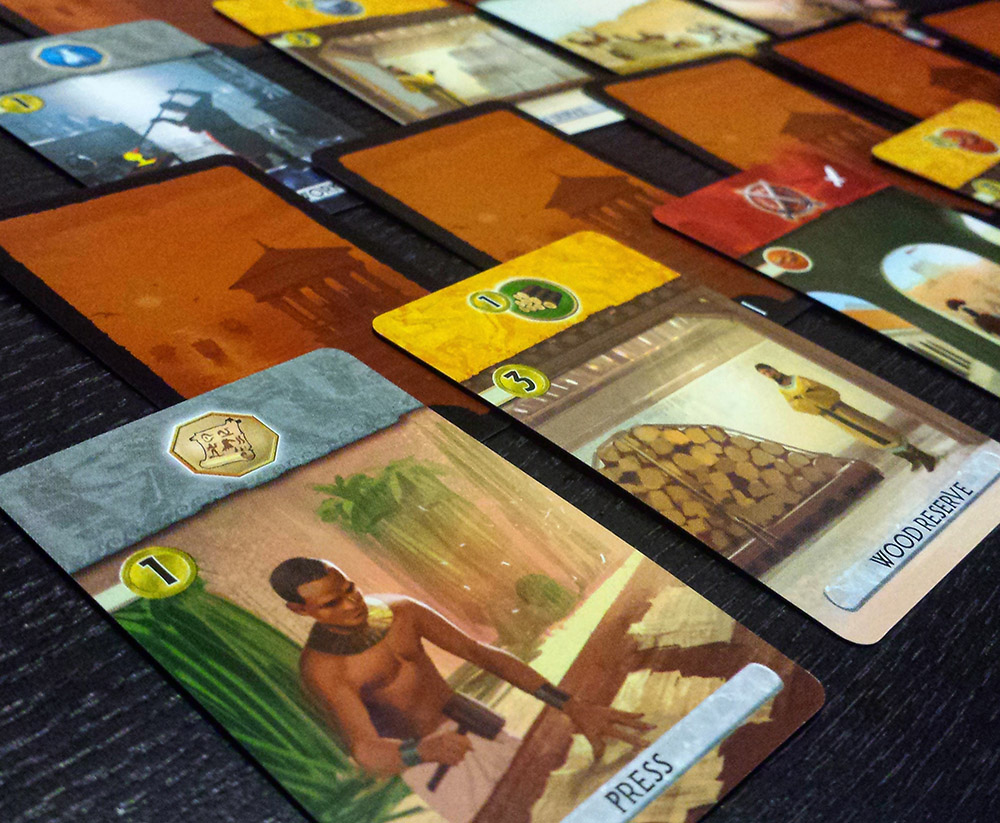 Thank you so much for sharing your story! Something you would like to add?
"I really appreciate the opportunity you have given me to share my life as a board game enthusiast. One of the best things about the hobby are the gamers and the sense of community. I have met fun and genuinely nice people since I have started this hobby. I am working on my blog, Netterplays. I plan to share topics and discussions, reviews, monthly hauls, top 5 lists, Arts and Crafts plus more. You can currently follow me on Instagram, Twitter and Facebook as Nettersplays. Feel free to say hello. Thanks again!"
*This article contains affiliate links. For more details, please read our Affiliate Disclosure.
Would you like to present your board game shelf to the world? Please answer the above questions and include some good quality pictures to your story. Go to this page to submit your story. Subscribe to our online magazine here!