I am Alex Rivas, designer and Marketing professional from Florida. I have a passion for tabletop games and a very special interest in medieval times. Story telling is also part of my tool kit and come along well with both my profession and my hobby.
I can trace back my enthusiasm for board games back to my college days living in the UK as close as medieval heritage as one can get. I got my first collection game, "The Viking game", Hnefatafl
, a game that has endured and lived through ages. So simple, but at the same time tactical and challenging. Games like this tell a story and make you the protagonist.
It was during my time in the UK when I learned the watercolor technique and with two or three paintings I discovered my new pastime, especially during those dark winter days.
Even when my major is in engineering, my design vain was always dominant and so I shifted my career towards marketing, where art and creativity had a little more space. In no time I was developing creative pieces, and managing the digital marketing team.
About a year and a half ago I joined what we now call the international poker guild. Really a fictional name given to our poker group meeting after work twice a week. We run a tournament scheme with one significant variation. There is no money involved. However, the looser(s) pays for pizza. During this time I've been able to test rive multiple card games and that's where the idea of the Right of Kings game came about.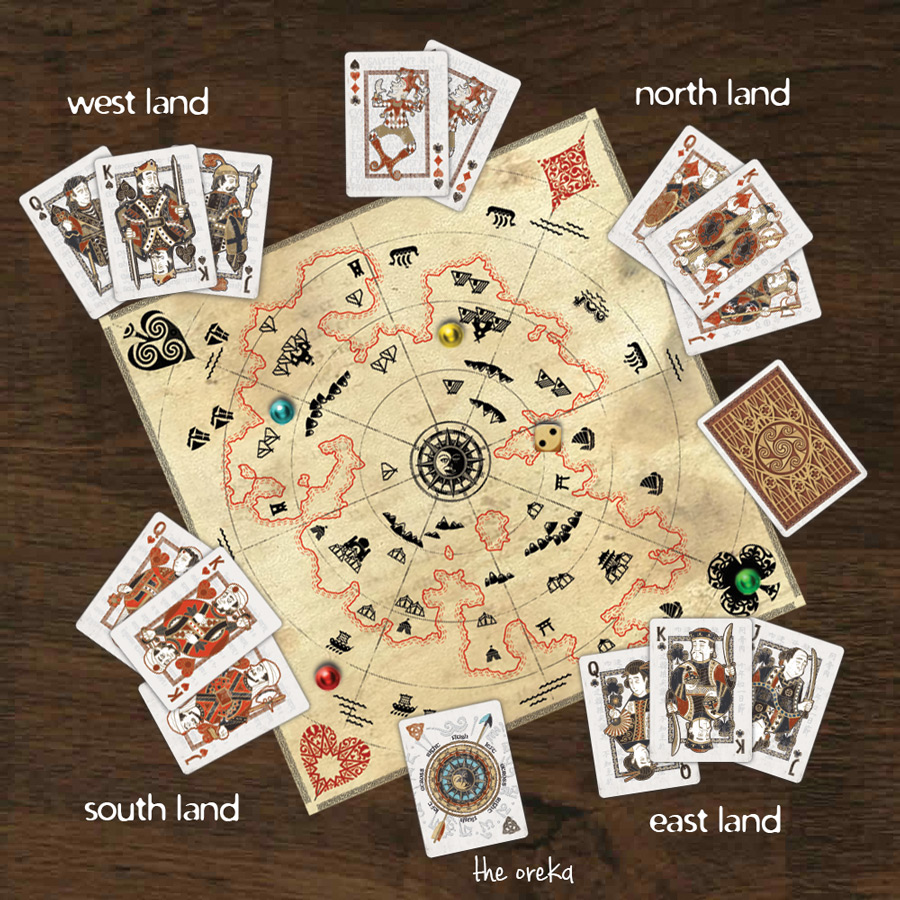 My new project, The Right of Kings is a board game and playing cards set that promises to bring your clan back to the table. You have to assemble your court, build your army and unveil the rightful king. It is a 2 to 4 player game that combines intuitive strategy, diplomacy, memory and luck.
I wanted to make use of a standard set of 52 playing cards and add some additional cards and elements that would round up the playing experience. Therefore you can play the board game, play the card game or just play any game you want.
I came up with the idea of 4 kingdoms fighting to get to the Oreka, a magical medallion that will deliver absolute power to whoever holds it. The flexible map, the pawns, towers and other elements bring an additional dimension to a simple and fun game of cards.

We've tested and refined the game with the help our our poker guild, family & friends play nights and forum feedback, to a point where we decided that it was time to launch on Kickstarter.
Here is the game in a nutshell:
The game is played in rounds that we call campaigns
Each player represents a kingdom and gets a king card facing down and two additional cards to each side to start the game
Players will always have two cards on hand
With every turn they have to acquire their own suit face cards to assemble the royal court and sequential number cards to build up their army
A full court a strong army and an Ace in hand would allow you to unveil the king card
When the king is not the right suit, the quest for the right one continues
If the unveiled king matches kingdom the player wins the crusade
The winner kingdom will then roll the dice and advance their pawn, moving from the suited corner of the map to the middle where the Oreka is placed
The player that gets to the Oreka first wins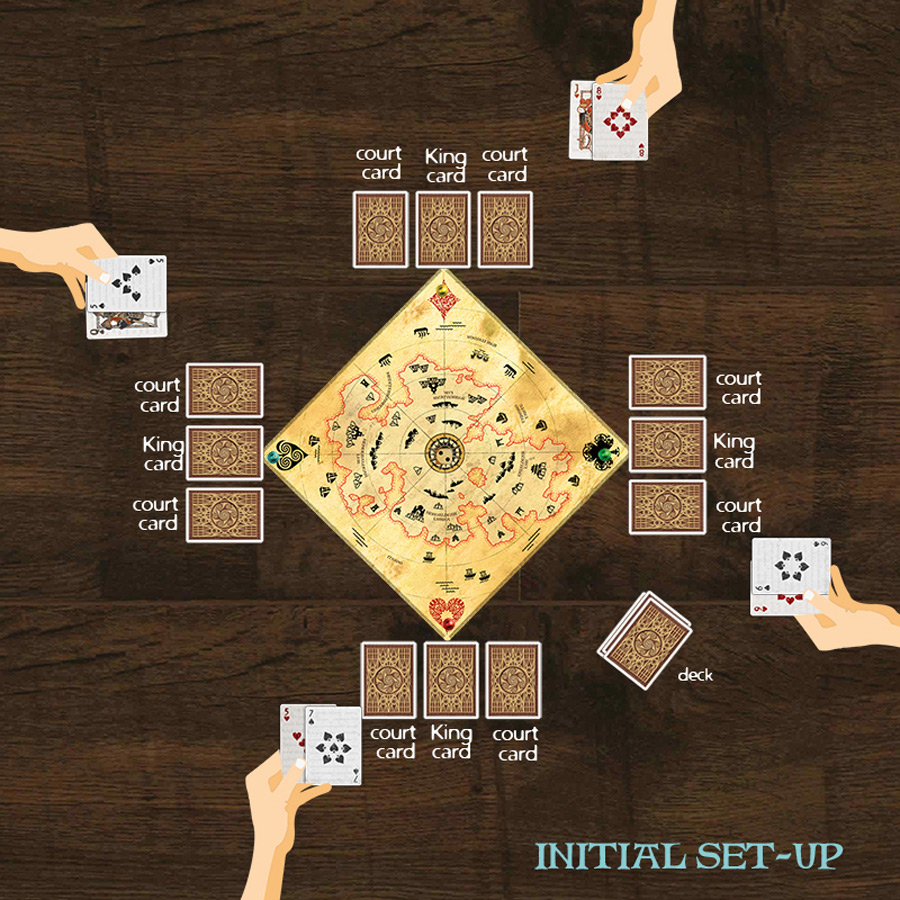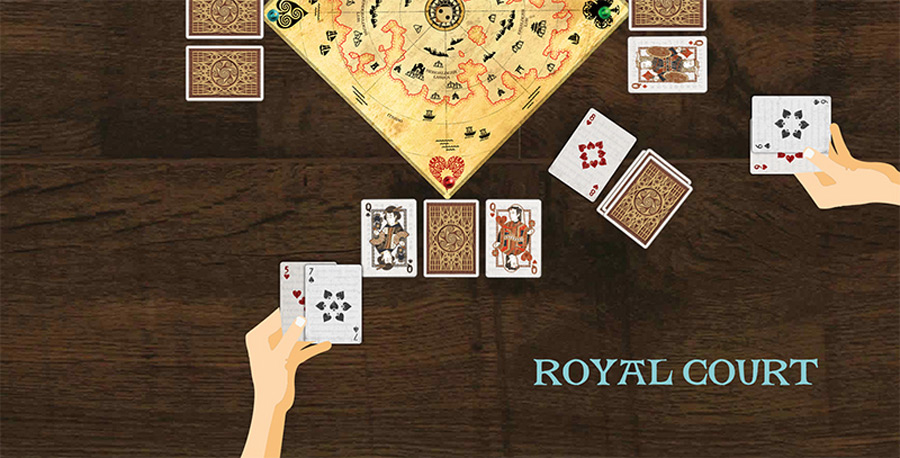 The game includes the following elements: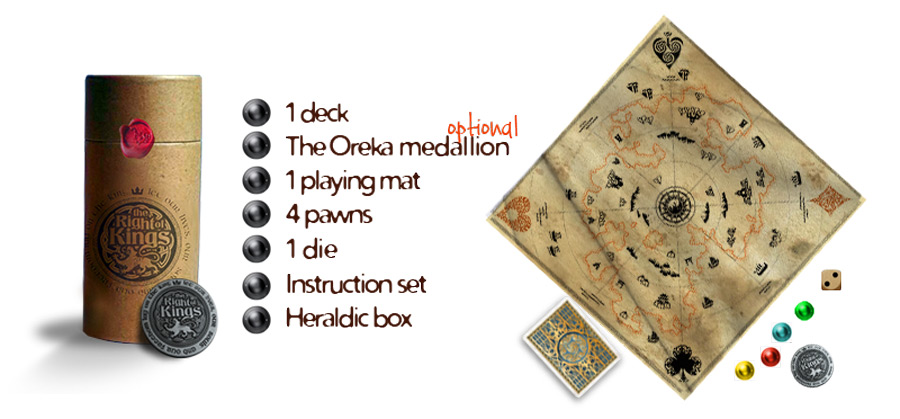 Our creative journey began a little more than a year ago as they dug deep into the origins and history of poker and playing cards. Their research embarked them on a creative journey that touched multiples myths and deeds of fearless Northern tribes, Celtic armies, Middle Eastern legends and the millennial Oriental wisdom. All of these Kingdoms always fought fearlessly to gain absolute power.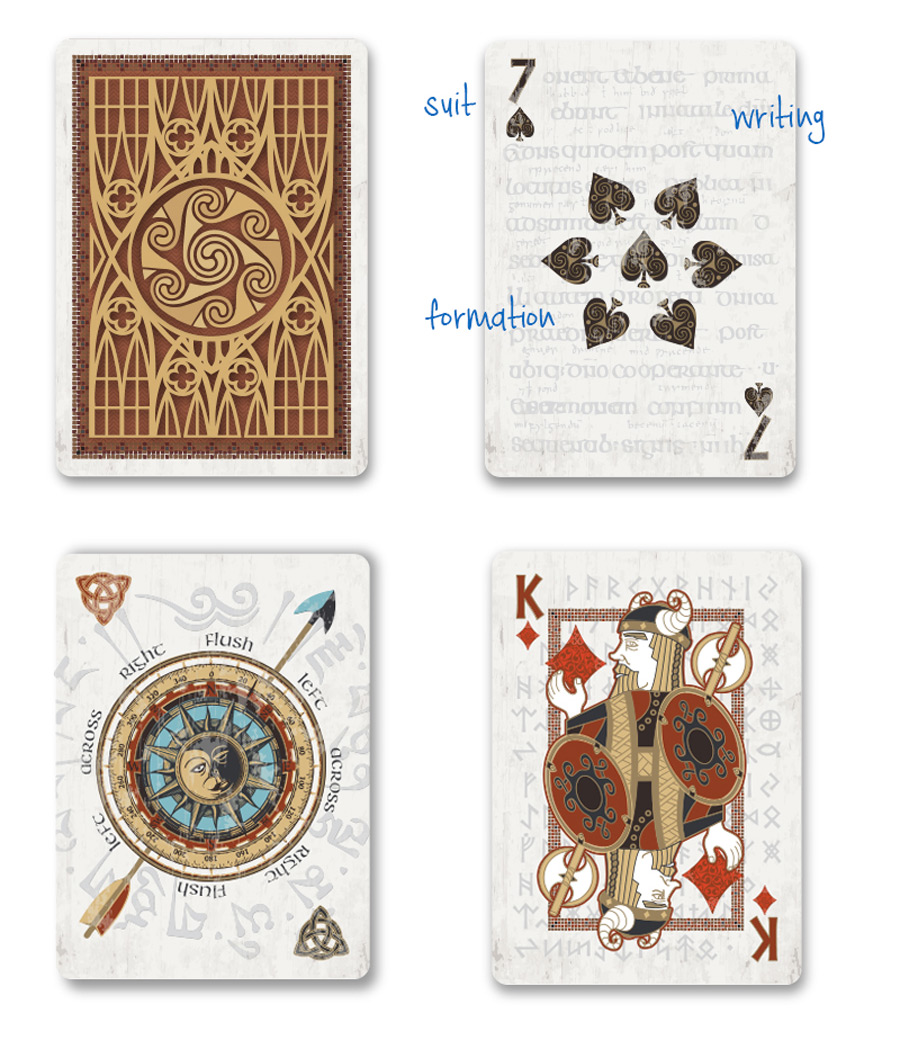 The Right of Kings comes in two versions. Medieval and the Renaissance. The Medieval set was designed using a color tone according to middle age pigments and maintains a more classic look and feel. Suits are represented in their traditional black and red combination that results in a more antique finish.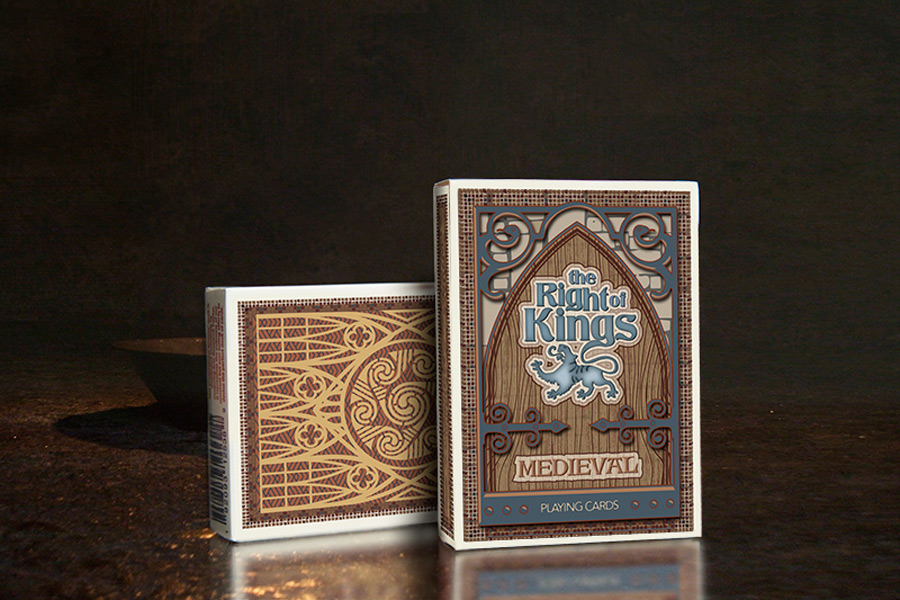 The ROK Renaissance set was conceived to enhance the ROK experience. Every suit comes in a different lively color that can easily differentiate the kingdoms. This brings a fresh look without affecting any of the classical elements of the playing set.
I strongly believe that analog games promote real human interaction, eye-to-eye contact and verbal communication, things that most virtual entertainment disregards. The ubiquity that digital game promises is always encapsulated in your own little experience, your points, your rank, your self. That is why bringing family and friends to the table has always been and will always be memorable, rewarding and collectively enriching.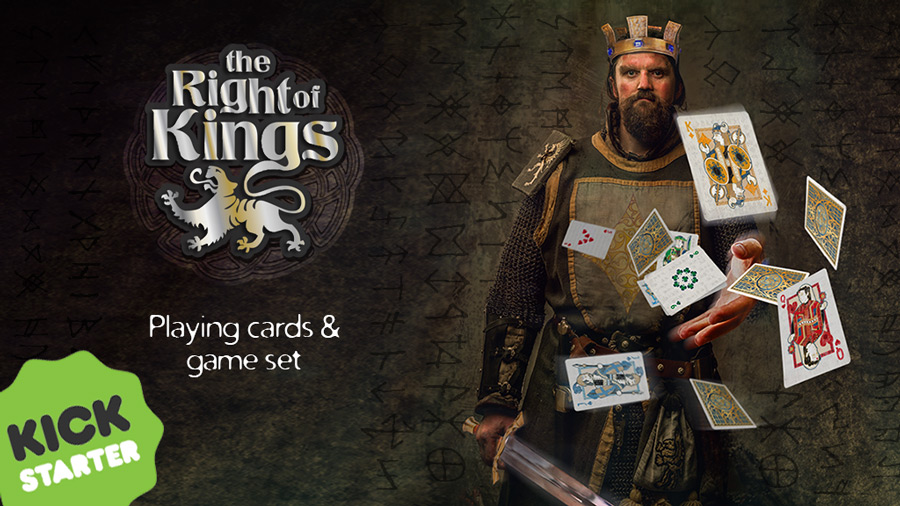 If you are looking for a great pastime or simple enjoy some quality time with friends and family, The Right of Kings will provide hours of entertainment for ages to come. I invite you to visit our Kickstarter project in its last days. Pledge before April 10 and help us make this project happen.

Did you like this story? Please share or comment. Go to this page to submit a story yourself. Subscribe to our online magazine here!