Analog Games aren't just fun. They also often come in interesting boxes featuring beautiful artwork. It's no surprise that a lot of us love to proudly showcase our board game collection on a shelf. In this series, every week one of our fellow board game enthusiasts will exhibit their board game shelves and tell us something about their favorite board and card games. Today we are going to look at the board game shelves of Arsan from Canada!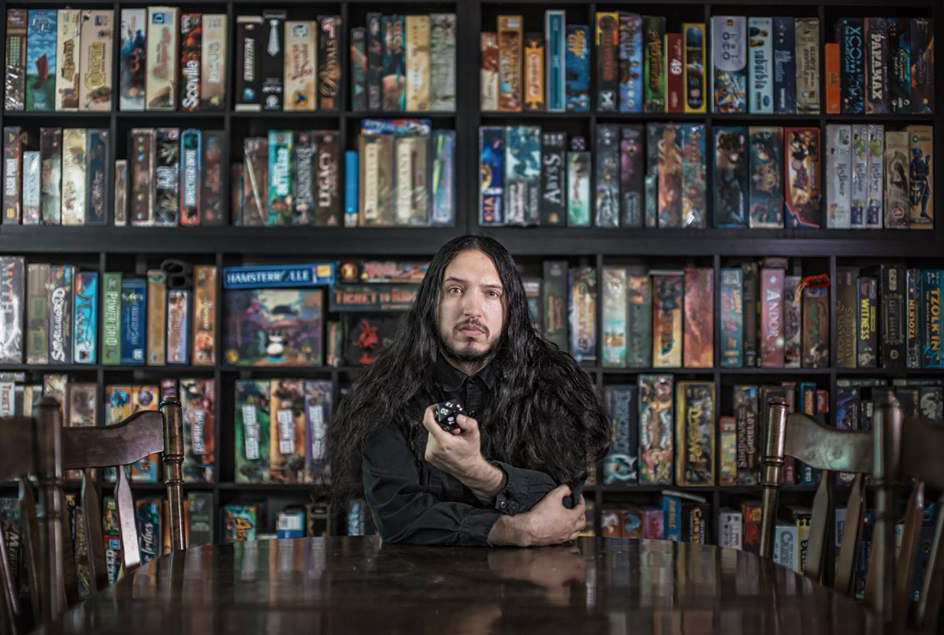 Hi Arsan, please introduce yourself.
"Hi! My name is Arsan Buffin, I hail from the winter city, Edmonton Alberta Canada. I have 3 kids, 4 cats, an ancient dog, and around 280 board games. I founded a board game convention called, KEFCon which stands for Keeping Evenings Fun. 2016 will be our 2nd year hosting this event, of which we'll have 2 events: a summer 1-day affair we're calling, 'KEFCon – The Expansion' and a 3 day winter event in November. I just grabbed a team of my friends who are professionals in their own fields but most importantly, dependable. Because of this we were able to make our first event successful with 47 attendees! I am also a photographer, of which I've been doing that for 12 years now. Only recently I've started snapping images of board games! I use this modest skill to highlight which board games I'm usually playing on my Instagram account @existencezero. Board games are beautiful and each time you crack open a game the landscape of the board changes and I just find that fascinating. So much so I gotta take images!"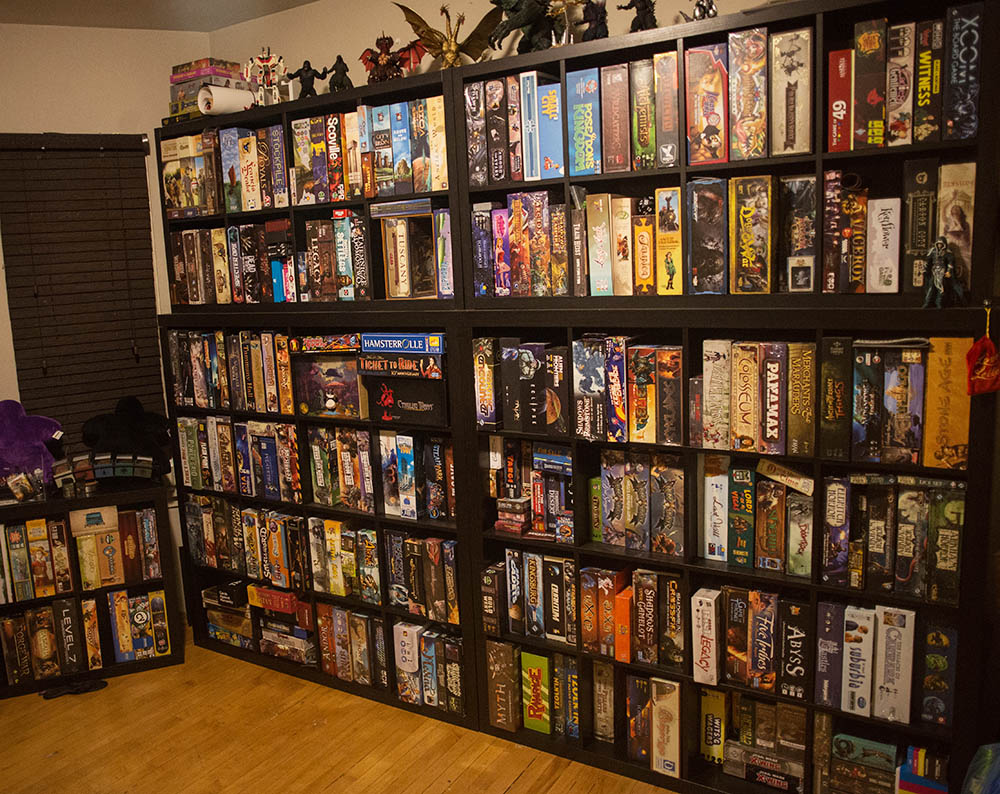 How did you get into this world of non-digital games?
"I've always sort of had interest in it. When I was young I used to do jigsaw puzzles with my grandparents a lot. Along the way I played a round or two of Monopoly and HATED it! Such a mean game! Advanced forward to 3 years ago when Cards Against Humanity
came out. I played it and enjoyed it for what it was. Unfortunately the only time it was really any fun playing was at parties with drunken people. Eventually I wondered, there's gotta be more fun games than this and thus began my journey. I did a LOT of research because for my 30th birthday I wanted to have a board game party and bought a bunch of the basics in preparation for it, Dixit
, Pandemic
, and Ticket To Ride
. It just took off from there, I'm an obsessive individual so when something peaks my interest I'm all in. Naturally I was like a decade behind the hobby and spent a lot of time increasing my library in a quest to own all the coolest games! 2.5 years later my collection has most of the staples."

"I also really like the community; it's been an extremely rare occurrence when I've gamed with people whom I didn't get along with. Those that I didn't? Well there are plenty of others to play board games with. The hardest part of getting into this hobby I believe is finding people to play with. It took me at least a year to have a solid group of at least 4 people to play games with. Nowadays through smoozing and high-charisma I have a pool of around 14 people I invite to game days."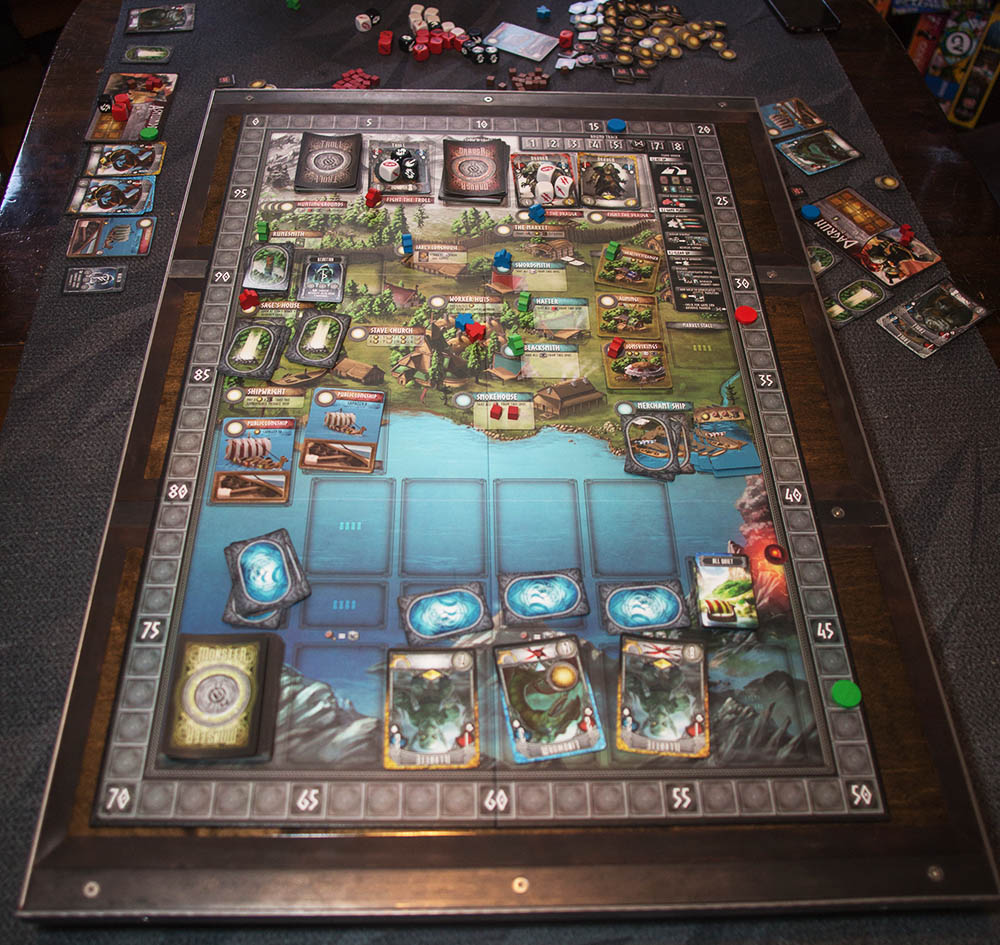 How often do you play?
"Speaking of game days, because I wrangle 3 kids, job, and photography I don't have all the time in the world to invest into playing games. So I have a board game weekend every 2nd weekend. Usually this'll consist of starting at 9 am and going till 12 am or later! Since the BEST games are only 4 players what I do is I invite 2 groups of people. One group for the morning 'shift' and one for the evening. That way everyone gets to play! If more show up then I anticipate then we either play games with more players or I sit out and teach. In my game circle I'm pretty much the guy that buys the games and thus have to teach games most of the time. So I spent my free time learning how to play the games I own via Youtube videos, or on the rare occasion have a friend come over weekdays to do 2 player run-throughs of games."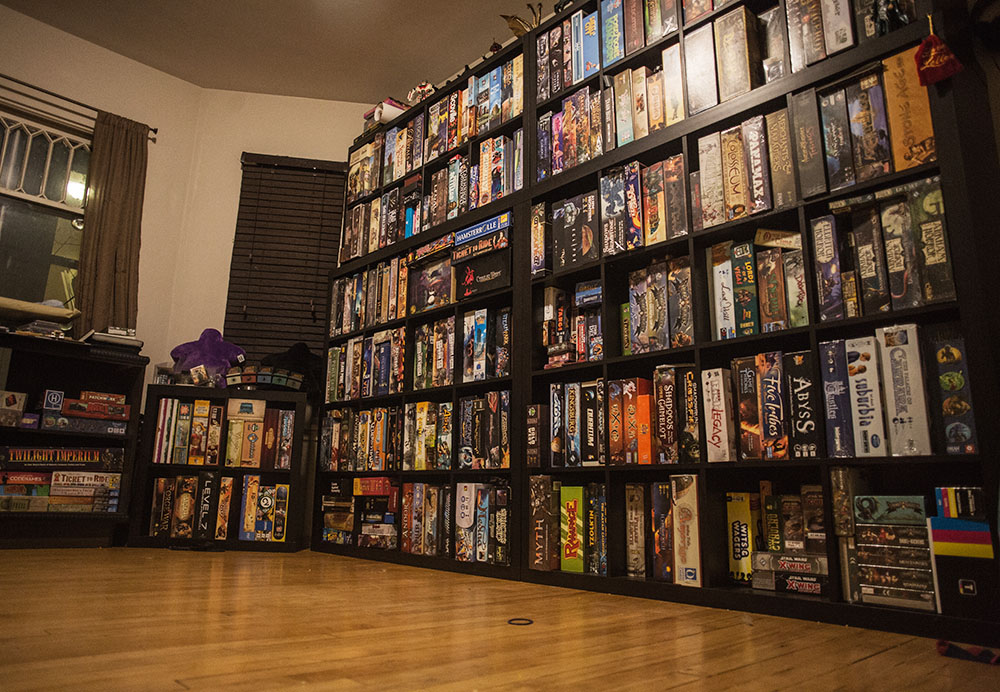 Can you tell us something about your shelves?
"Right now I'm sitting at two 4×4 expedit shelves with two 2×4 Kallax shelves on top of them, and I have 1 2×2 expedit next to them. Very soon I'm either going to buy 1 more 2×4 shelf or a 4×4. After that, NO MORE! In terms of actual organization there's really no specific way that they're organized. I have some games organized by publishers and designer but mostly I keep the games that get played the most in the center of the shelves and the neglected and shameful purchases on the very bottom corners. I'm like a librarian so when people ask where a title is or where it goes I know exactly where because I spent so much time consolidating space to make as many games fit as possible. When it comes to expansions I just recycle the boxes and throw the contents in the core boxes. As for Cool Mini or Not games I keep them in drawers until I figure out a way to house the ridiculous amounts of minis they tend to come with."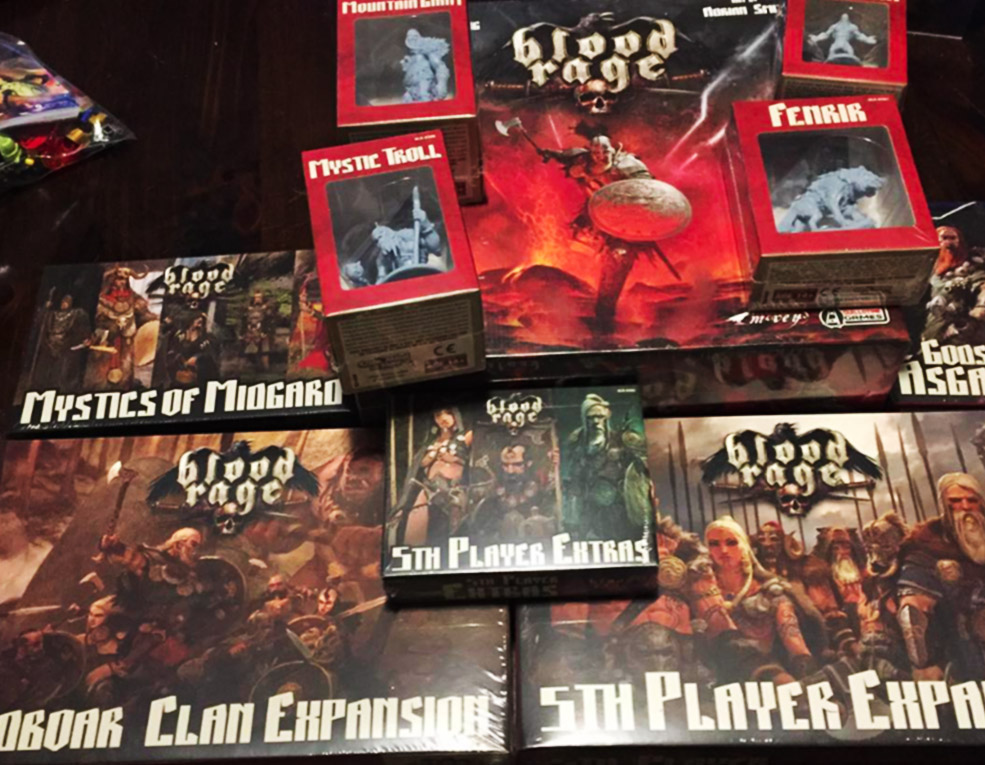 What is your favorite game at the moment?
"My favorite game currently would have to be Voyages of Marco Polo
. Euro games are my favorite and rolling dice is the best! Combined they form this awesome game! It looks like a lot is going on initially but it's pretty easy to play once you get going. I love that there's multiple paths to victory and it's always such a close race when it comes to end points. Other current favorites are of course, Blood Rage
, Mombasa
, and The Gallerist
."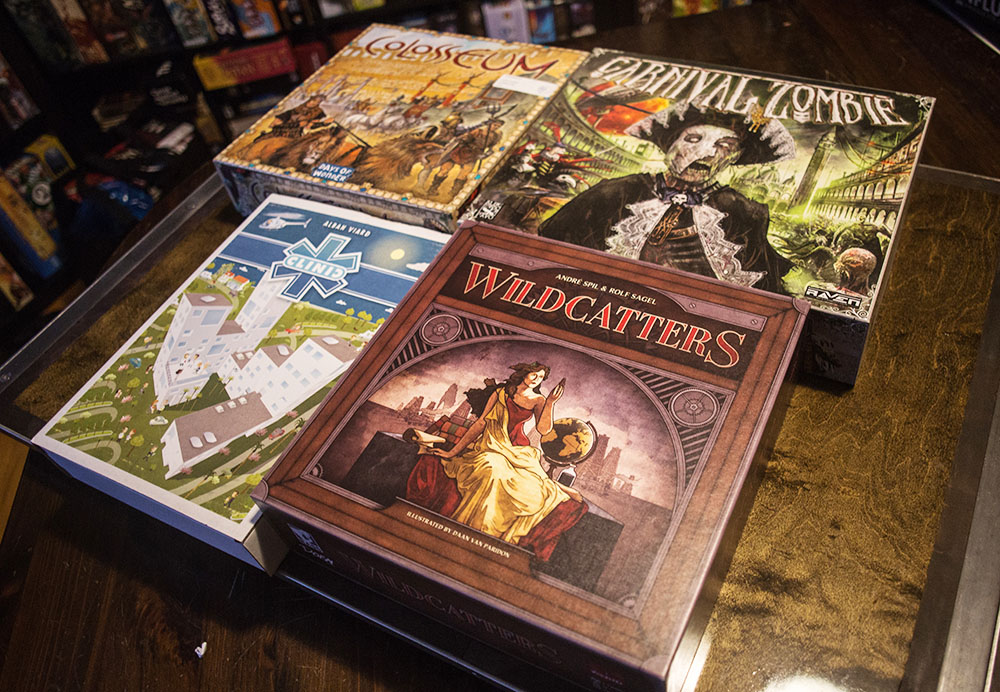 What is your most special or obscure game?
"4 games! First is Colosseum
! I've wanted that game forever, and I finally got my hands on a copy at last year's FallCon board game convention held in Calgary, Alberta. Each year they have a massive auction which features 400 games. Colosseum was the one game I told myself I was walking out with no matter the price. 94 bucks later and it was mine after some intense bidding. Of course TMG (Tasty Minstrel Games) are doing a deluxe edition but by the time that game is out I could have played the copy I got at least a dozen times. So far I'm at 6 plays! So I've got my monies worth. 2nd on my list is Carnival Zombie
, which is the ultimate Tower Defense game. After watching both Rahdo and Tom Vasel praise this game I ordered a copy directly from the publisher way over in Italy. I've played the game 3 times and each time it's a blast. It's tough and I love the table talk that goes on where everyone says that they're stressed and can't do anything. Getting stress in the game gets you additional actions. Such a great game that's out of print and also soon getting a deluxe Kickstarter campaign. The other 2 are tied, which also both come from Rahdo recommendations, CliniC, and Wildcatters. Both are gorgeous games and are only available through purchase through the designers. Wildcatters was limited to 1000 copies, and CliniC was limited to even less. Though you can still buy copies through Board Game Bliss! Probably one of my favorite things about board games is hunting down the exclusive rare games. Next on my list is the Coal Trilogy: Ruhrschifffahrt
, Kohle & Kolonie (featuring my favorite board game cover art ever), and Haspelknecht."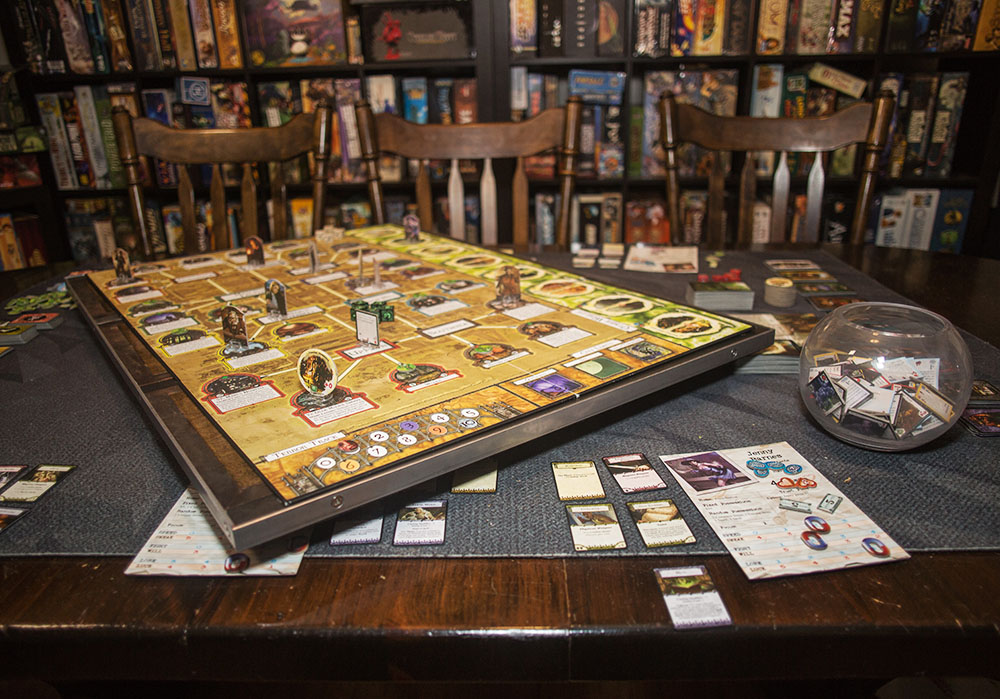 Thank you so much for sharing your story! Something you would like to add?
"I live amongst a community that's rich with tabletop gamers. Edmonton has 2 twitch streams dedicated to board games, the first is PlayingBoardGames which is run by a couple of guys named Justin and Mike. I believe they're one of the first folks on twitch to actually stream board games using that service! Then there's Devon who does TabletopTrials which started not too long after the other guys. Edmonton has 4 board game cafes as of this year and I believe they all do pretty well which shows just how big the community is here."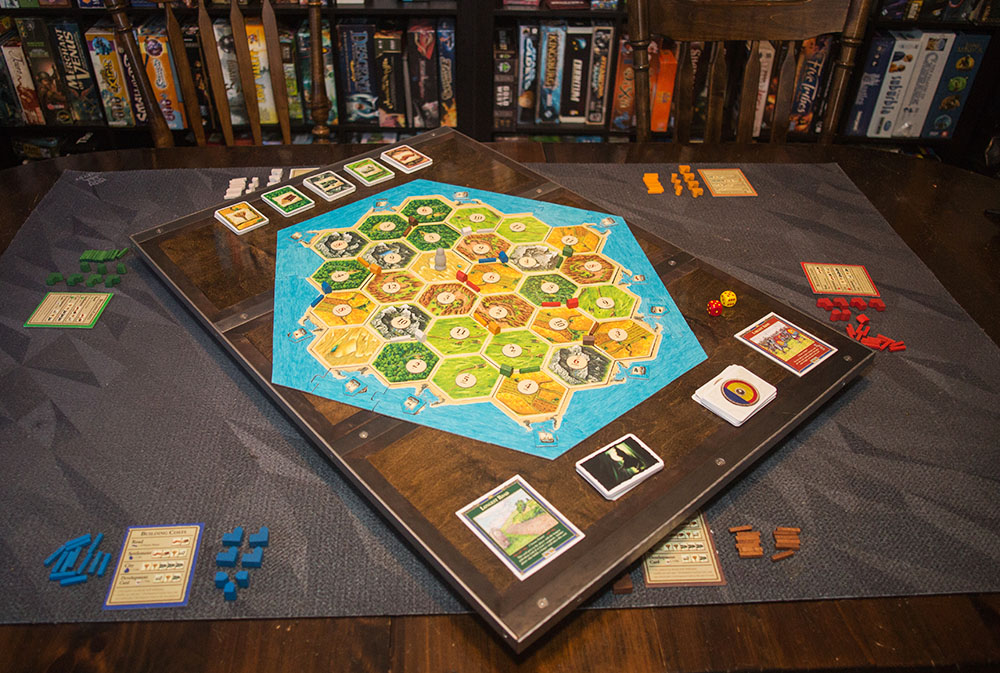 "When it comes to my interests I like to enterprise if I can and considering it's the golden age of board games I teamed up with a friend and we came up with The Lazy Gamer! One day I was sitting around playing board games and I thought, "You know what I need? A lazy susan for my games." Naturally there isn't really an option in retail for a susan that would be that big so I asked Jorden if he could produce me one. 3 weeks later it was sitting on my table. My girlfriend actually coined the term 'Lazy Gamer' and it stuck. In no time at all we launched the Kickstarter campaign for the Lazy Gamer, which you can see here."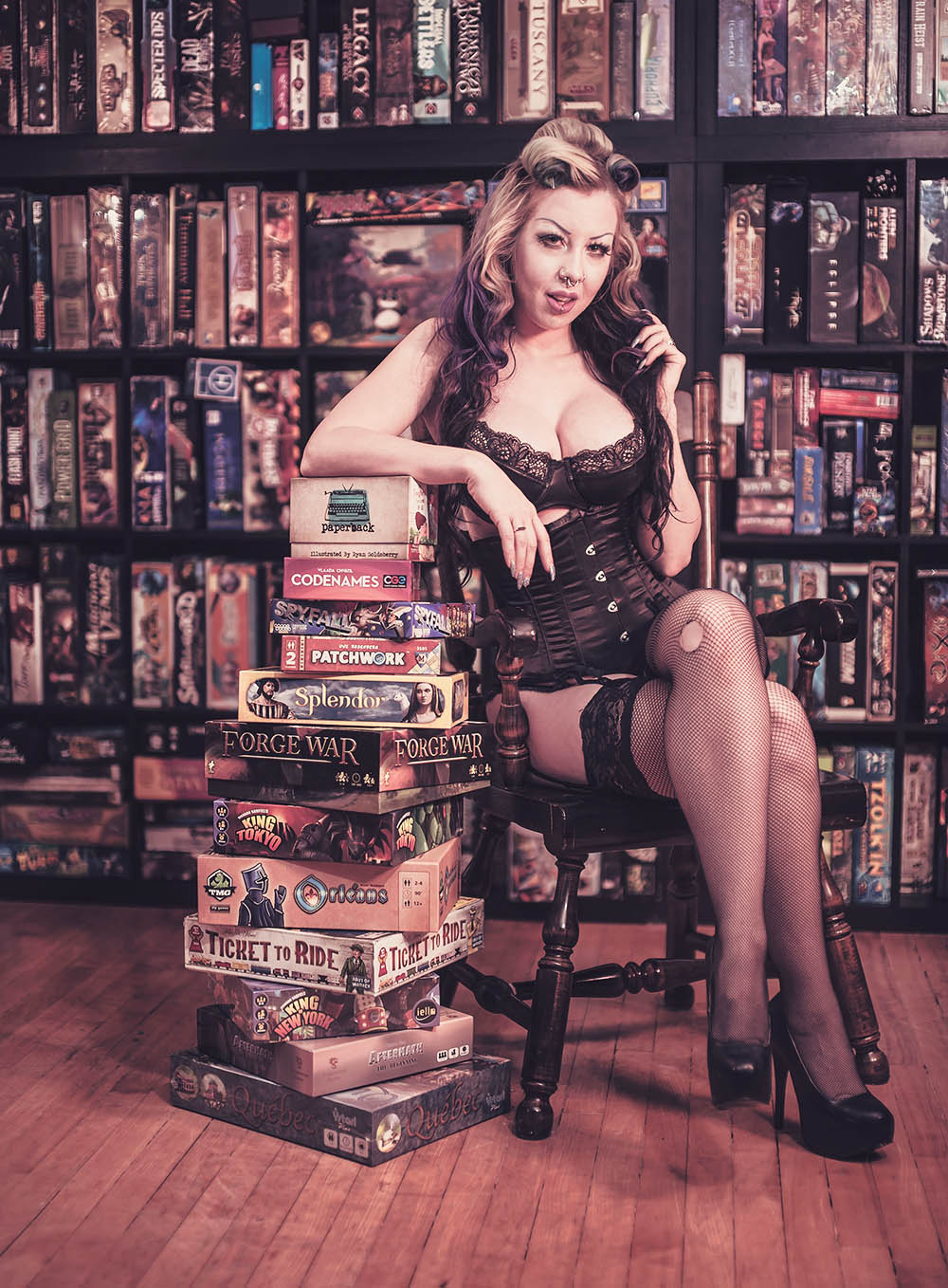 "The response has been incredible and I'm pretty excited that we can offer the tabletop community this luxury item that will make any game room look slick. After the Lazy Gamer campaign I plan to start work on my next crowdfunding journey which will be a Board Game Pin-up Girls calendar! A few months ago I did like a proof of concept shoot and posted an image on The Boardgame Group, group on Facebook. The response there was awesome too, I had a few negative comments but some people mistook my intent. The images will be fun, classy, and thematic of the games they're showcasing. My plan is to launch the Kickstarter by June at least and have them ready and in Folks hands well before next year! So stay tuned!"
*This article contains affiliate links. For more details, please read our Affiliate Disclosure.
Would you like to present your board game shelf to the world? Please answer the above questions and include some good quality pictures to your story. Go to this page to submit your story. Subscribe to our online magazine here!