My name is Sean Han, and the original idea for Dogtag started from board game nights hosted at my friend's downtown Los Angeles apartments. We spent many nights over board games such as Coup and Munchkin, and I became curious about how game mechanics and each creator's unique story made each game feel so much more immersive. This feeling left me wondering how much of the creator's premises I was missing out on as I played these games night after night. What began as an exercise in dissecting game design became the foundation for Dogtag in May 2017, when I decided to make my own card game.
My main inspiration came from going to school in Los Angeles, where I found that every scene was a photo op. Anywhere you go you'll see people posing in front of walls, taking pictures of food, and sneaking selfies with dogs. Showing off the highlights of our lives is a trend we all can relate to, and we thought it would be funny to poke fun at these themes. A splash of pop culture here, a bucketload of dog puns there, and this is what we get: a fun satire packaged into a heckin' cute card game.

Dogtag is a casual game for just about anyone. It takes less than 10 minutes to explain the game, and you never know who's going to win. All mechanics are designed with the audience and theme in mind, where you're a dog person who posts pictures on social media to gain fame as a specific type of online influencer.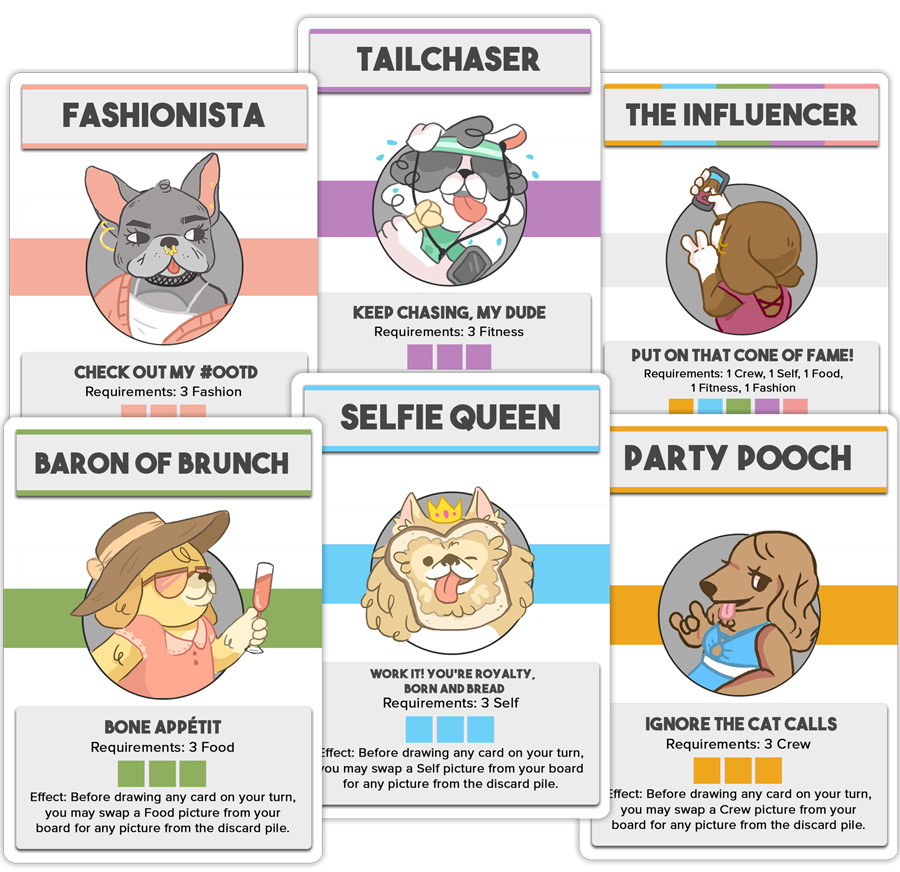 The goal is to earn three achievements that are laid out in the beginning of the game, drawn from the Achievement deck. One at a time, players take their two-phased turn to populate their profile with pictures and comments in the hopes that these cards satisfy the Achievement requirements.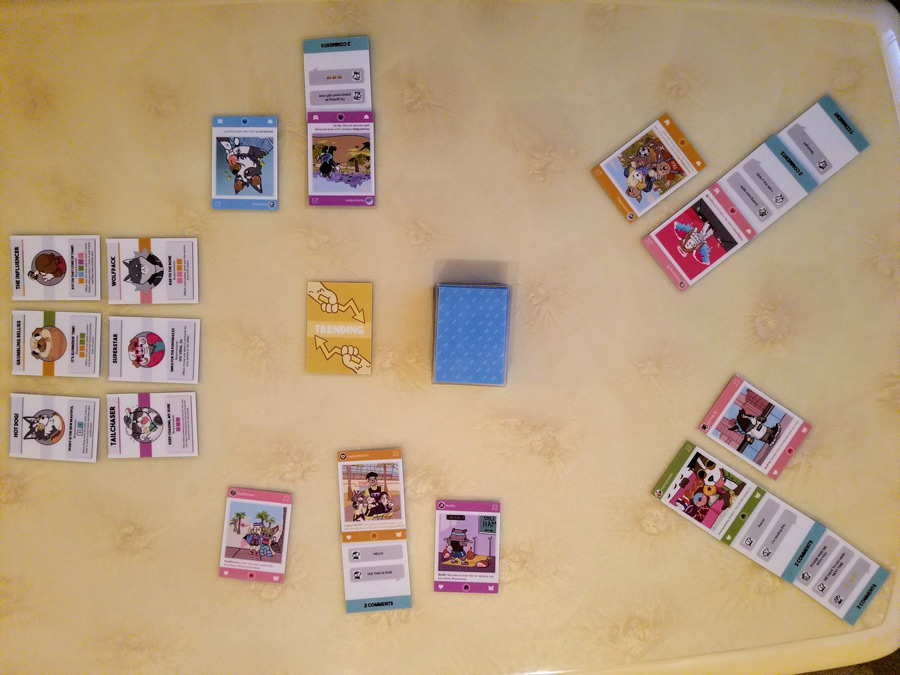 The first phase is called the open draw phase, where you must play the top card of the Main deck. If the card is a picture, you may place it on your profile. If it's an action, you must play it to your own detriment. However bad this may sound for you, this is quite the opportunity to help out someone else in hopes that they return the favor, or to give a boost to a player down on their luck.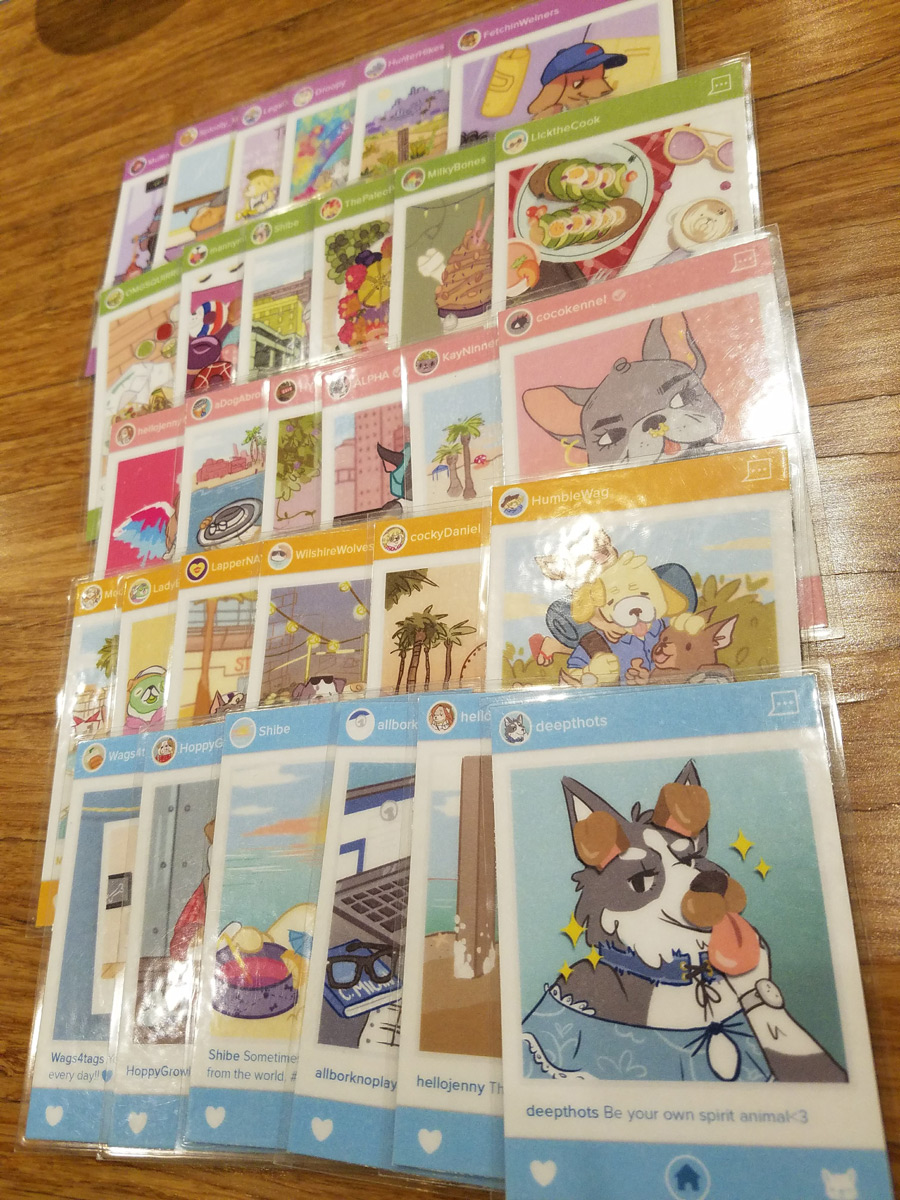 The second phase is called the posting phase, where you draw 2 cards, then play up to 3. This is your chance to snag an achievement by posting and sharing pictures, screw your opponents, and go viral to draw more cards. Each achievement grabbed has special bonuses, so you can string together small combos to quickly change the tide of the game.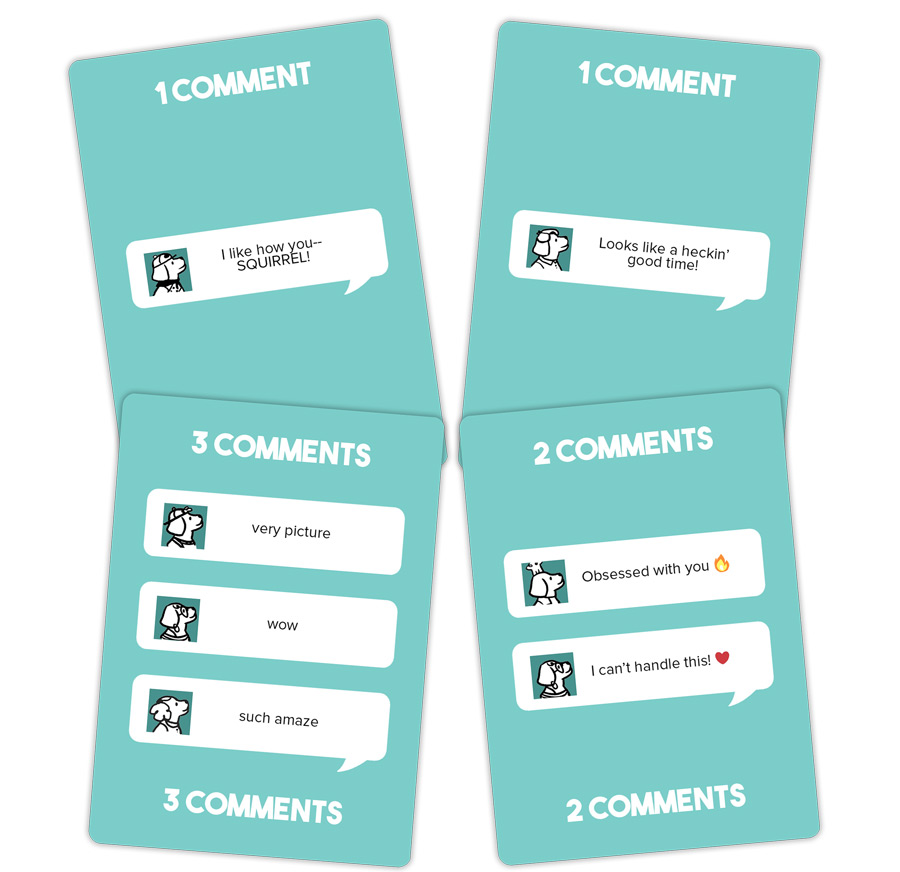 The mechanics encourage players to actively create opportunities by posting as many pictures as possible while random elements introduce both moments of serendipity and fury. At the end of it all, dynamic interaction, and relevant themes tie the game together as the light gaming experience that will keep the whole table laughing.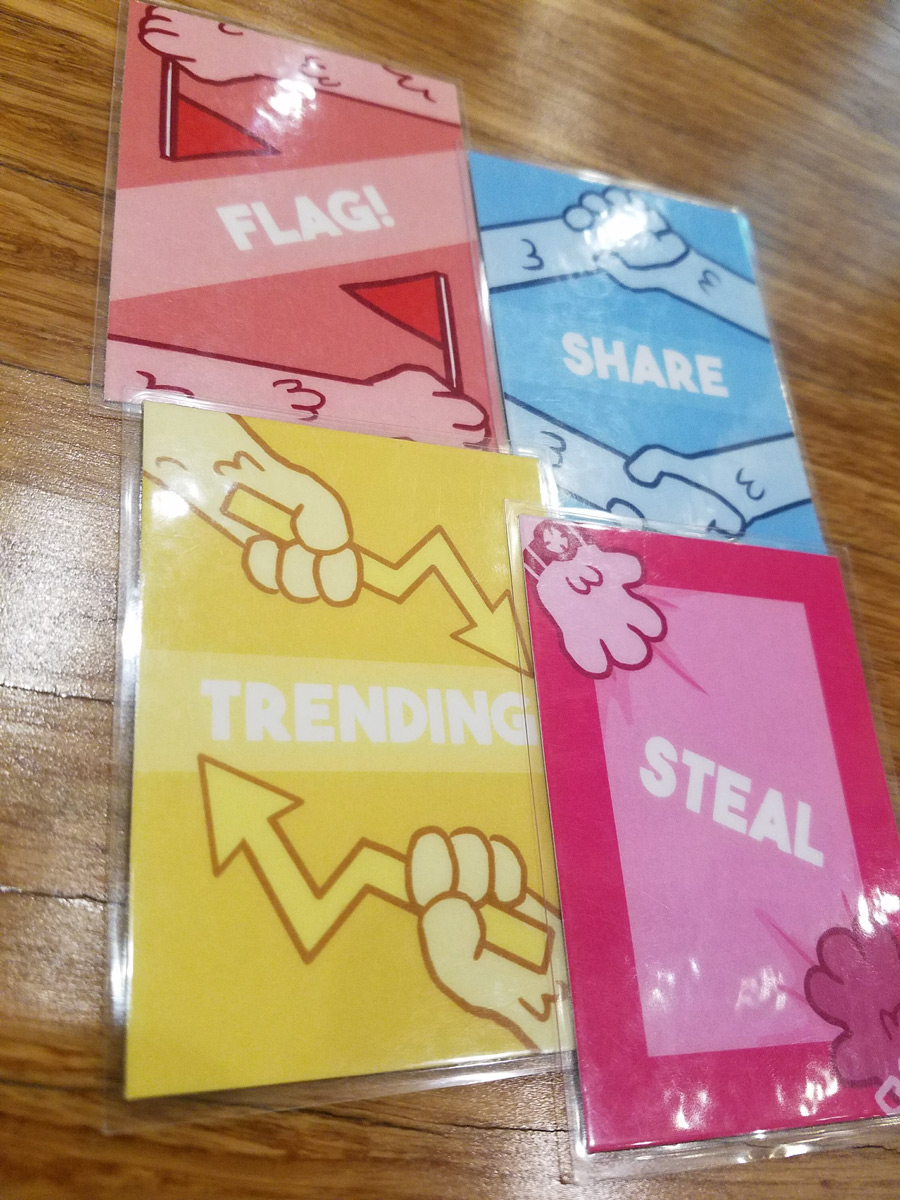 The fun visuals are key to Dogtag's themes, so we placed our characters in fun places to show off the highlights of their lives. Using lots of bright colors, we designed each dog to have a unique in-your-face personality and style. Many long sessions of detailing original illustrations ensured the game's characters are brought to life.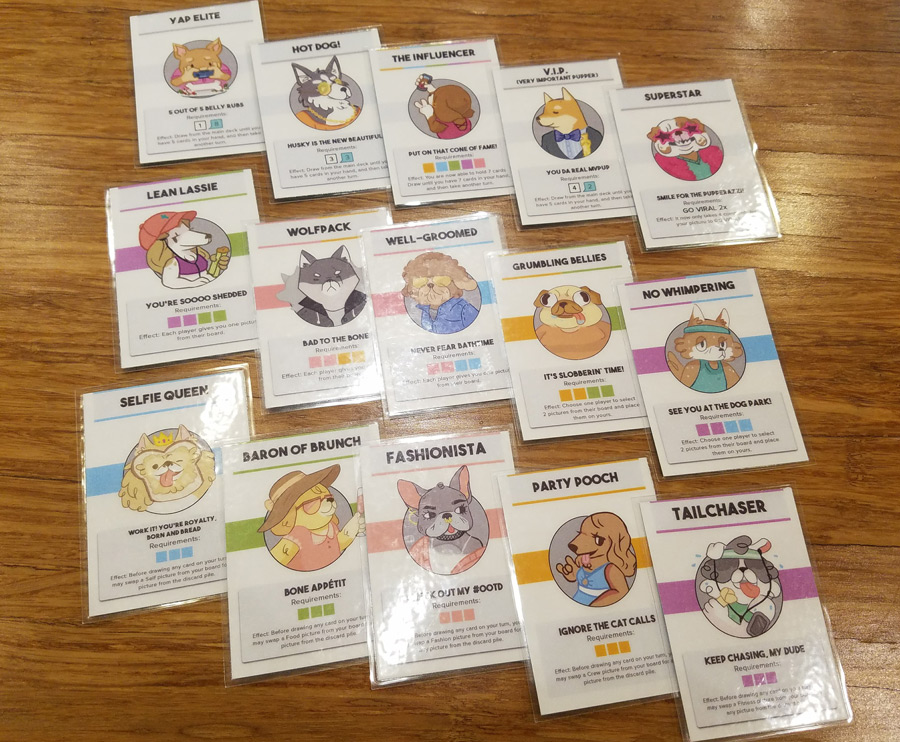 Emilie (IG: @emilieevo) is my illustrator whose style matches what I had envisioned for Dogtag. Once we discussed the look and feel for each drawing beforehand, her drawings blew me away every time. I thought about the most common types of pictures on Instagram and crammed the visuals and the captions with as many pop culture references as I could. Male romper bros in front of the Coachella ferris wheel? Check. Misspelled name on a Starbarks unicorn Frappuccino? Check. Some of the drawings are ripped straight from my friend's Instagram and repurposed for an updated vibe. Since people portray themselves online as caricatures anyway, it was easy to create personas for each of the characters. Whenever I need inspiration, I'll go on Instagram to scroll through @overheardla, @brosbeingbasic, and @weratedogs.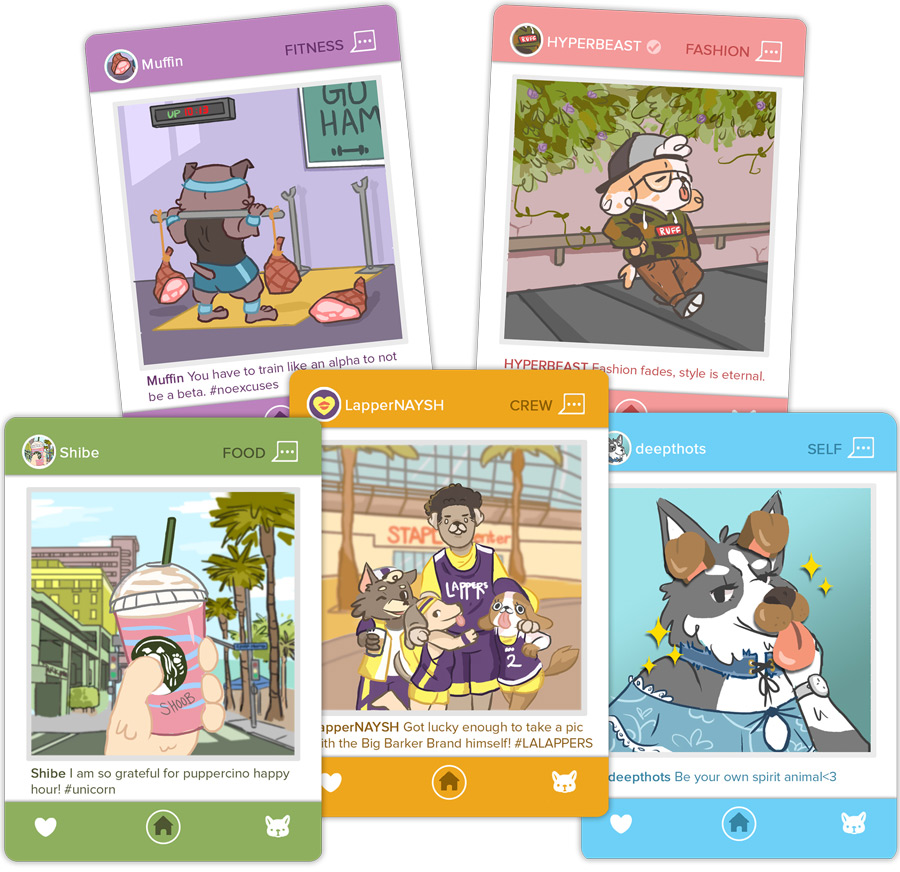 This is my first time designing a game, so I took certain aspects that make casual games interesting for me, and used those into the mechanics of Dogtag. A few of my favorite games include Codenames, Coup, and Munchkin. The open faced draw mechanic came from "knocking down the door" in Munchkin to add a lot of uncertainty, and throughout there's a ton of screwing over other players with most of the action cards.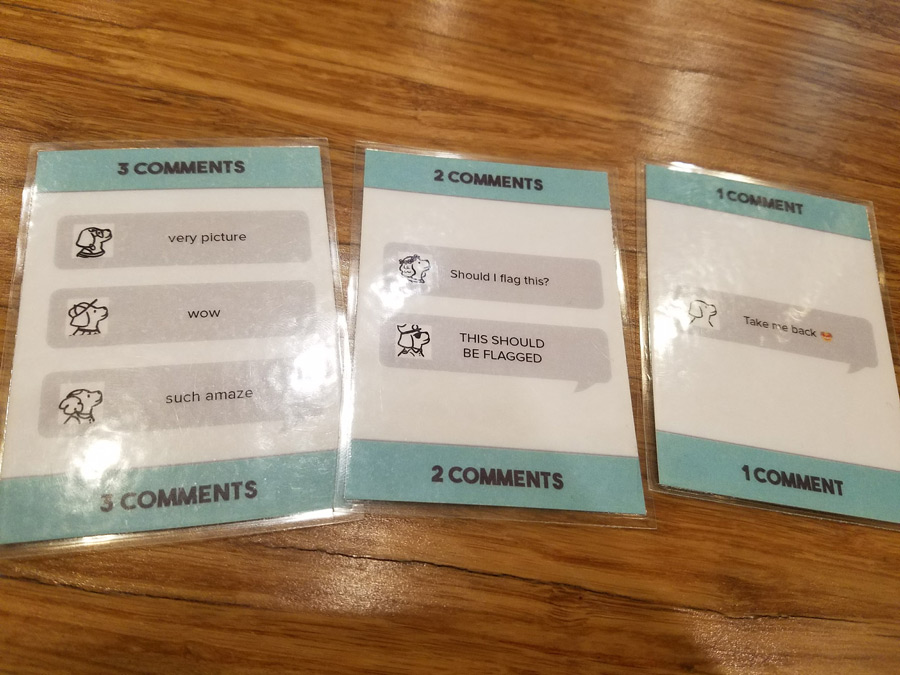 My game is unique in that it is a very current game that has the power to get non-gamers into tabletop games. What grabs you first is the art and silly theme, and as you play the game you can't help but draw parallels between real life and how the mechanics align with our interactions with each other on social media. This is a light satire, so there's a lot to be said from each card and how you use them to gain personal success through these Achievements.
Dogtag is seeking funding on Kickstarter until January 16 2018!
Did you like this story? Please share or comment. Go to this page to submit a story yourself. Subscribe to our online magazine here!