I'm Greg Loring-Albright, and usually, I'm making real-world (sometimes called 'pervasive') games like scavenger hunts, party games, and treasure hunts. I've done this work in both Chicago, where I learned at Waxwing Puzzle Company, and in Philadelphia, where I live now. But the world of board games, ever a hobby, never a serious business opportunity, was too intriguing to ignore for very long.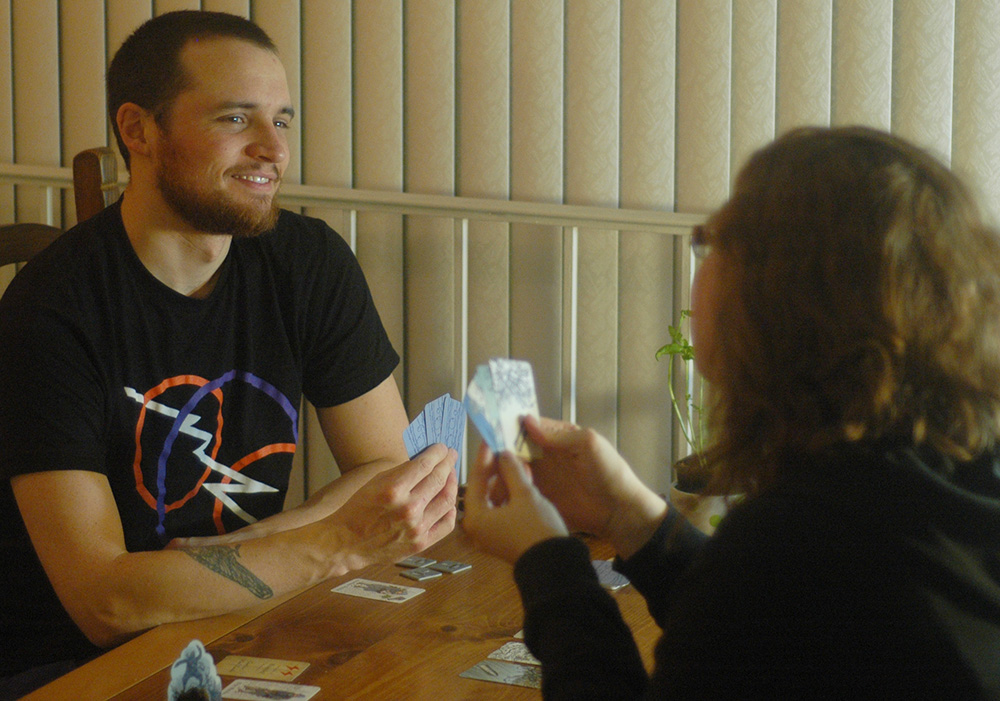 So I made a board game.
First I played a ton of board games, starting with the usual entry points to the hobby (a childhood filled with Monopoly, Sorry, and card games, introduced to Settlers of Catan and Ticket to Ride, and quickly ramped from there, till I was sitting down to play Merchants & Marauders).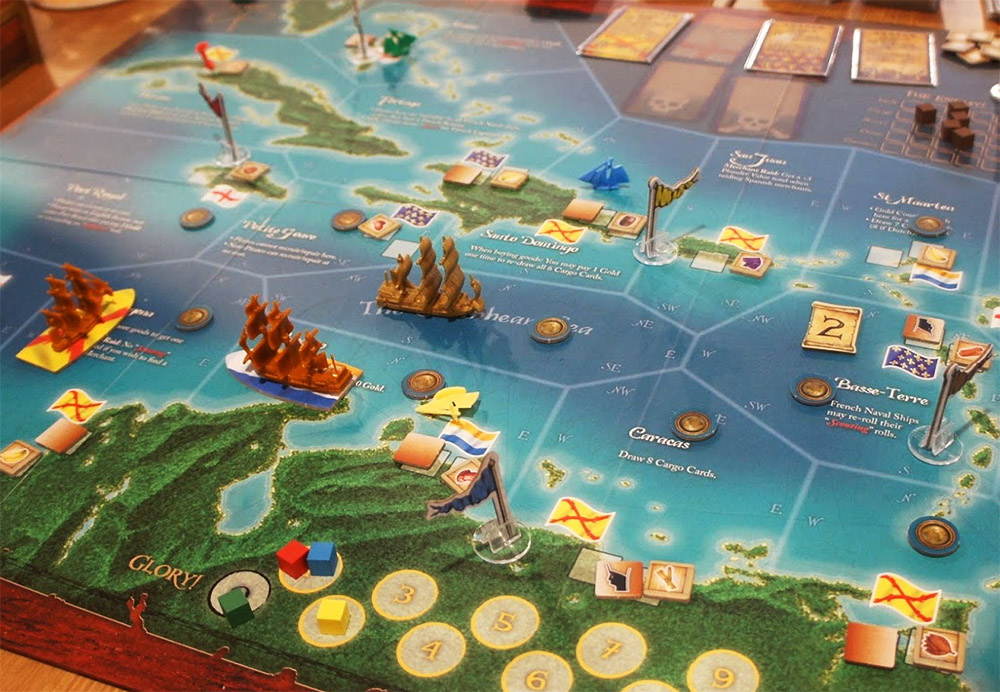 Merchants & Marauders is a big-box pirate game that promises the freedom of the high seas. Want to live as an honest trader? Great! This game provides a complex market economy, letting you ship goods between islands and make a profit. Want to do a little raiding on the side? Great! Buy a fast ship with a few guns and mix legitimate cargo running with the occasional attack on those suckers the merchants. Want to go full pirate? Of course you do! But watch out—the game sends fearsome naval ships across the board, and once they lock onto you, they're hard to shake! You can, in short, do everything that Errol Flynn or Johnny Depp can do in a pirate movie. The downside? TONS of rules.
I've only played this game once, but I loved it, and knew what my game design challenge would be: Make a game that promised the same freedom as M&M (in the same theme, because, for real, PIRATES!), but with fewer rules.
I started without a board—I wanted the game to have a sense of exploration, so I copped a mechanic from another one of my favorite games, Betrayal at House on the Hill: When you leave the tiles that are out, you place a new tile from the top of the stack. This way, the 'board' unfolds as players move farther out from the center, ensuring a new distribution of tiles every game.
This core mechanic led quickly to the game's biggest problem: Once you'd sailed your pirate ship out to the far seas and found something interesting, all the other players had done the same, probably in a different direction, meaning no epic sea battles! I created a mechanic to motivate everyone to return to the center, but that just meant that players took twenty minutes to go out and twenty minutes to come back.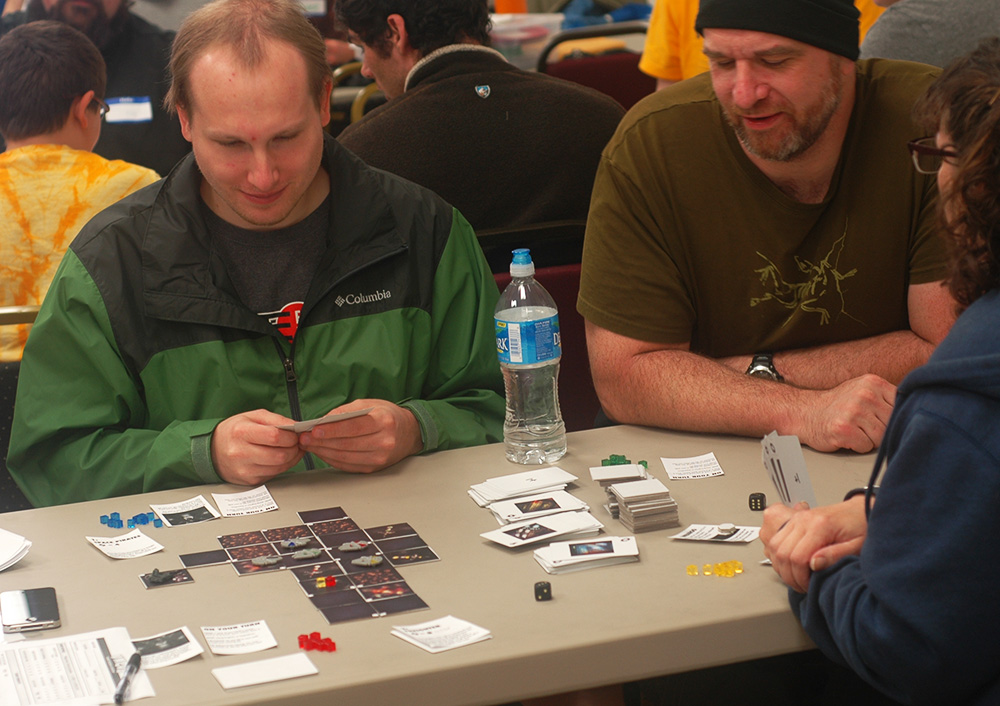 One of my astute playtester friends said: "You need hyperspace gates."
Immediately, the game had changed. Loath as I was to part with the pirate theme, I realized that my friend had provided an elegant solution that deepened the game immensely.
By assigning each tile a symbol (I used the faces of a 6-sided die to start), and stipulating that players' ships could move between tiles with matching symbols, I had created a whole new topology: A tile with a 3 on it on the farthest edge of the board was now adjacent to another tile with a 3, a mere 2 spaces from the center! This alternative topology not only solved the transit time problem, but the randomized nature of the board: Now, in addition to generating a new 'map' of outer space every game, players were also generating new networks of hyperspace connectivity!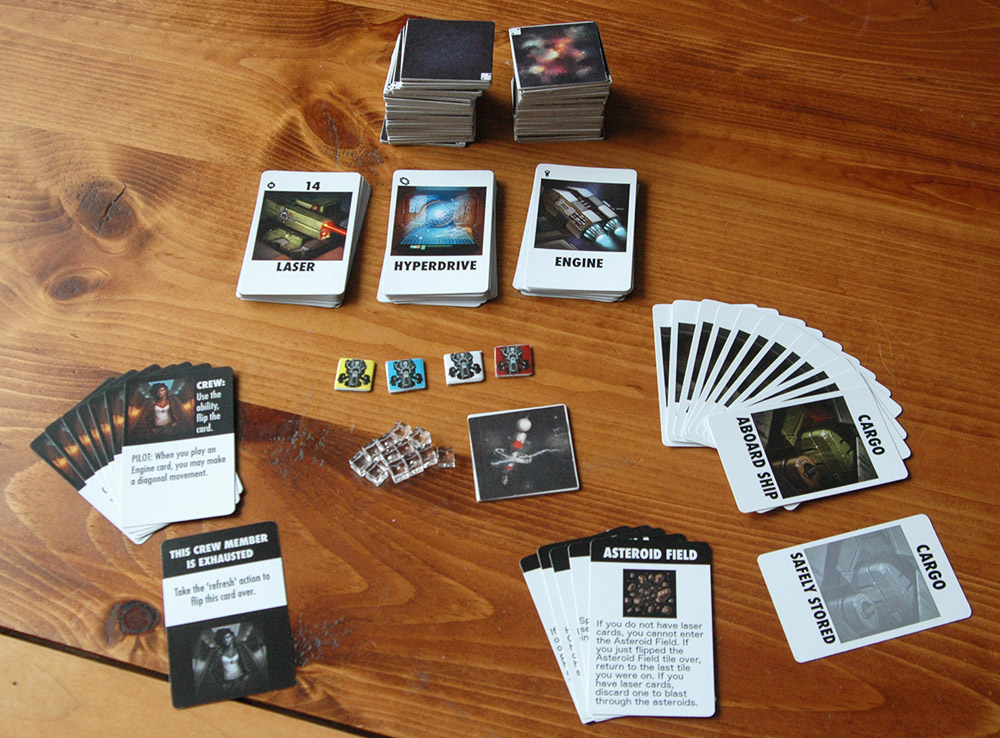 This single change has become the core of the game, and all because of a willingness to ditch the theme that I loved.
Once I had this core mechanic locked down, and had played it with a few trusted friends, I decided that this was a game that was unique enough and fun enough to be published. That was a daunting decision in and of itself, but even more daunting was when I wrote the first check to the game's artist, John Ariosa. Aside from buying prototype components and the occasional beer for a playtesting friend, that was the first money I put into the game.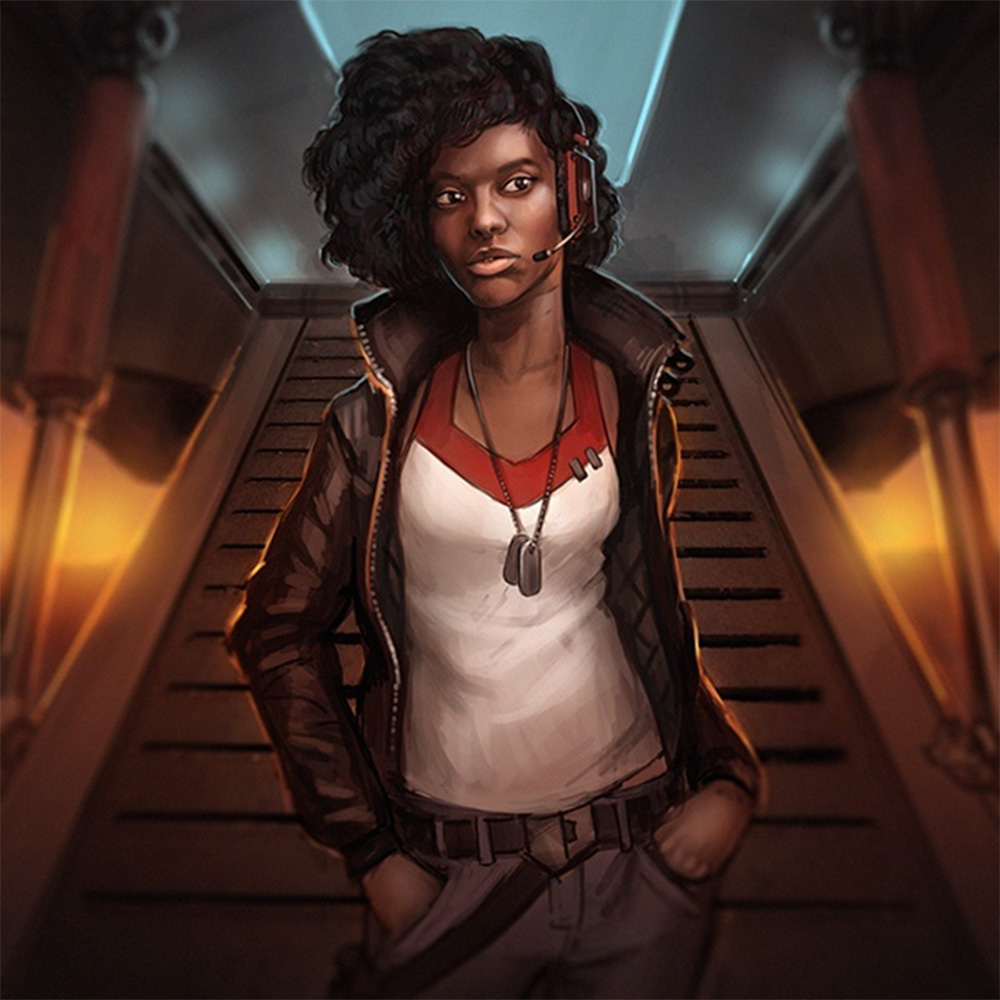 It was incredibly worth it. John is a professional artist, having worked closely with Plaid Hat Games on Summoner Wars and Mice and Mystics, among others. John also works for hire for other Kickstarter projects, which is incredible. The work he did on this game was invaluable in creating the feel for the universe. As soon as I had his art on my demonstration copy, people would inevitably crowd around the table, soaking in the beautiful space-scapes on the tiles. Art, especially John Ariosa's art, may seem like mere window dressing, but it helps players immerse themselves in the game, and for a game like Hyperspace Smuggler, that immersion is priceless.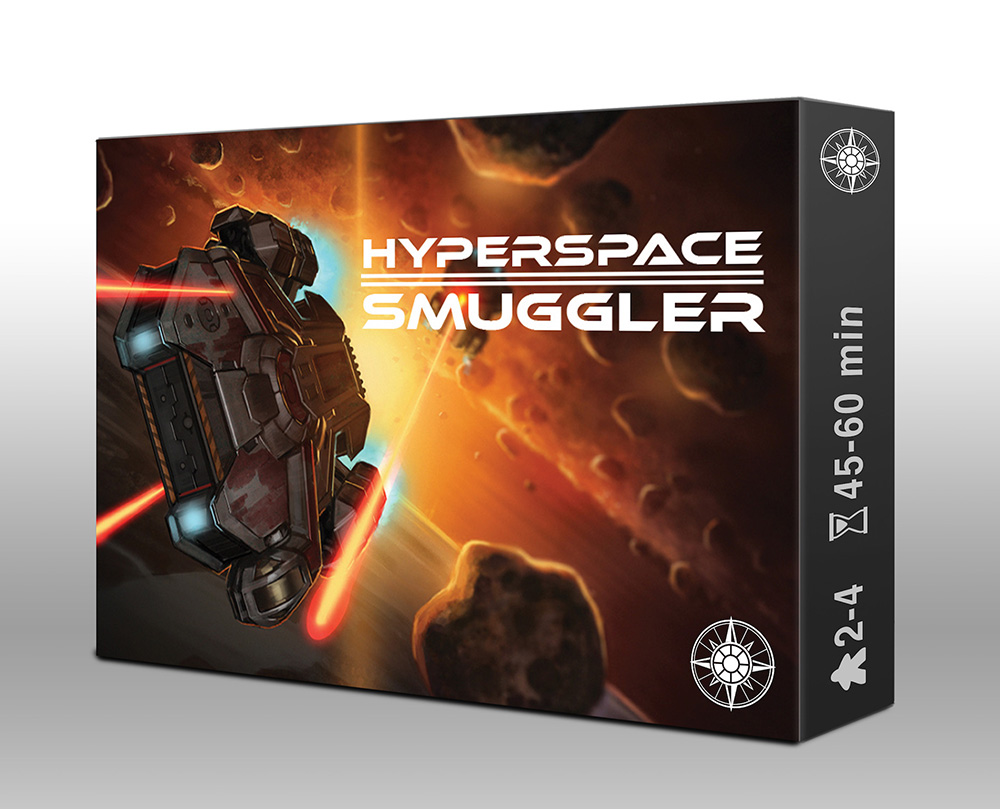 The game has gone through about a full year's worth of revisions since that fateful playtest. It's a simple, easy-to-learn game, whose core mechanic (pick stuff up, drop it off, faster than anyone else) is complicated by a system that encourages players to attack each others' ships, a board that facilitates that attacking (what, you're close to home and I'm across the galaxy? NOPE, I'll drop out of hyperspace right on top of you!), and an exploration system that generates new risks whenever you leave known space.
Does it have the sense of total freedom that Merchants & Marauders has? No. Does it have a rulebook the length of a novella? Absolutely not. Does it generate exciting, immersive, dramatic play? I think so, and so do my playtesters.
In short, the game has changed. A lot. It started as a pirate game whose goal was a sense of total freedom, and it became a space game whose goal was a high ratio of excitement-to-rules. And that's OK. The game where you're a pirate and can really feel the wind in your hair is still out there. I'll make it someday.
Hyperspace Smuggler is now live on Kickstarter.

Did you like this story? Please share or comment. Go to this page to submit a story yourself. Subscribe to our online magazine here!