Analog Games aren't just fun. They also often come in interesting boxes featuring beautiful artwork. It's no surprise that a lot of us love to proudly showcase our board game collection on a shelf. In this series, every week one of our fellow board game enthusiasts will exhibit their board game shelves and tell us something about their favorite board and card games. Today we are going to look at the board game shelves of Jeroen from Norway!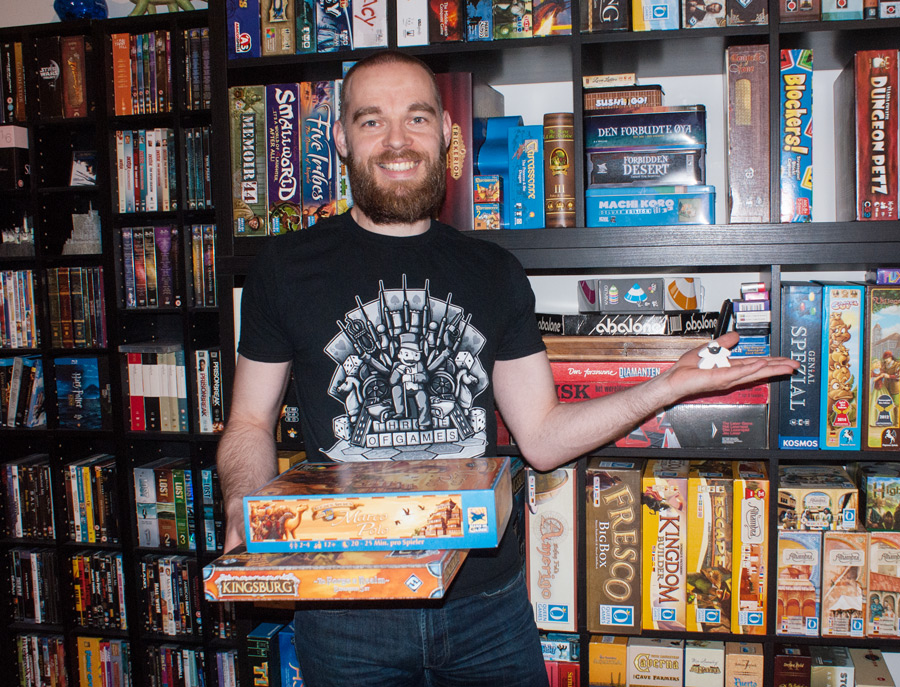 Hi Jeroen, please introduce yourself.
"Hi, my name is Jeroen and I was born and raised in Belgium. My wife Nina is Norwegian and for the last few years we've been living in Norway, more specifically in Oslo. Norway is incredibly beautiful and a great place to live, but unfortunately, prices are high for everything including board games and shipping games from abroad (as Norway is not part of the EU). This has made our annual pilgrimage to Spiel in Essen even more important to stock up on the latest games."
"My main hobby is board games, and I try to follow all the latest board game news on a daily basis. I'm also quite active on Instagram where I have a dedicated board game account @theBeardgamer. Other than that, I also play quite a bit of video games and like to geek out on comics and movies."
How did you get into this world of non-digital games?
"I've loved board games for as long as I can remember it. When I was a kid, my brother and I played the traditional main stream games like Monopoly, Mouse Trap and Ghost Castle. As we got older, that became Risk
, and later on Catan
. Around the same time, I discovered Tikal
and Mexica
through a friend and with it the fact that there were games out there that had more to offer than the classic luck based games with a roll and move mechanism."
"My main hobby was still video games at that point, but once I met my wife and found out she was into board games as well, the balance kept shifting towards analog games. We still enjoy playing video games together, but I definitely prefer board games these days."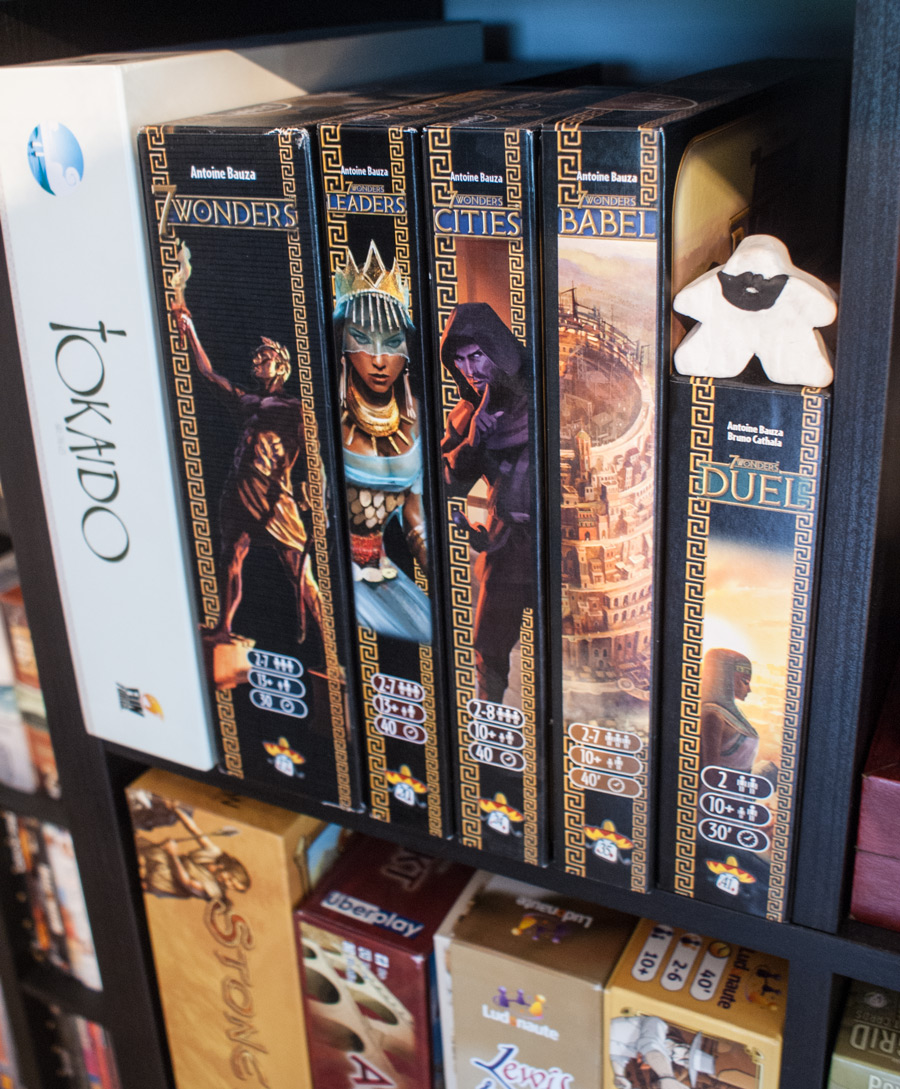 How often do you play?
"My answer will be all too familiar for most of us with jobs and families: Not enough. My wife and I like board games, but our working hours don't fully match so by the time we both have time to sit down and relax together on weekdays, there isn't a lot of time left to play a game. Usually, we end up playing a video game then, since then there is no set up and clean up time whatsoever. We do try to play a few games during weekends and holidays."
"I have quite the collection of digital board games on our tablet as well, but they are just not the same in my opinion. They are great to learn a game or to play while travelling, but I don't really play them that often. If there is no time for a physical board game, I'd rather play a normal video game."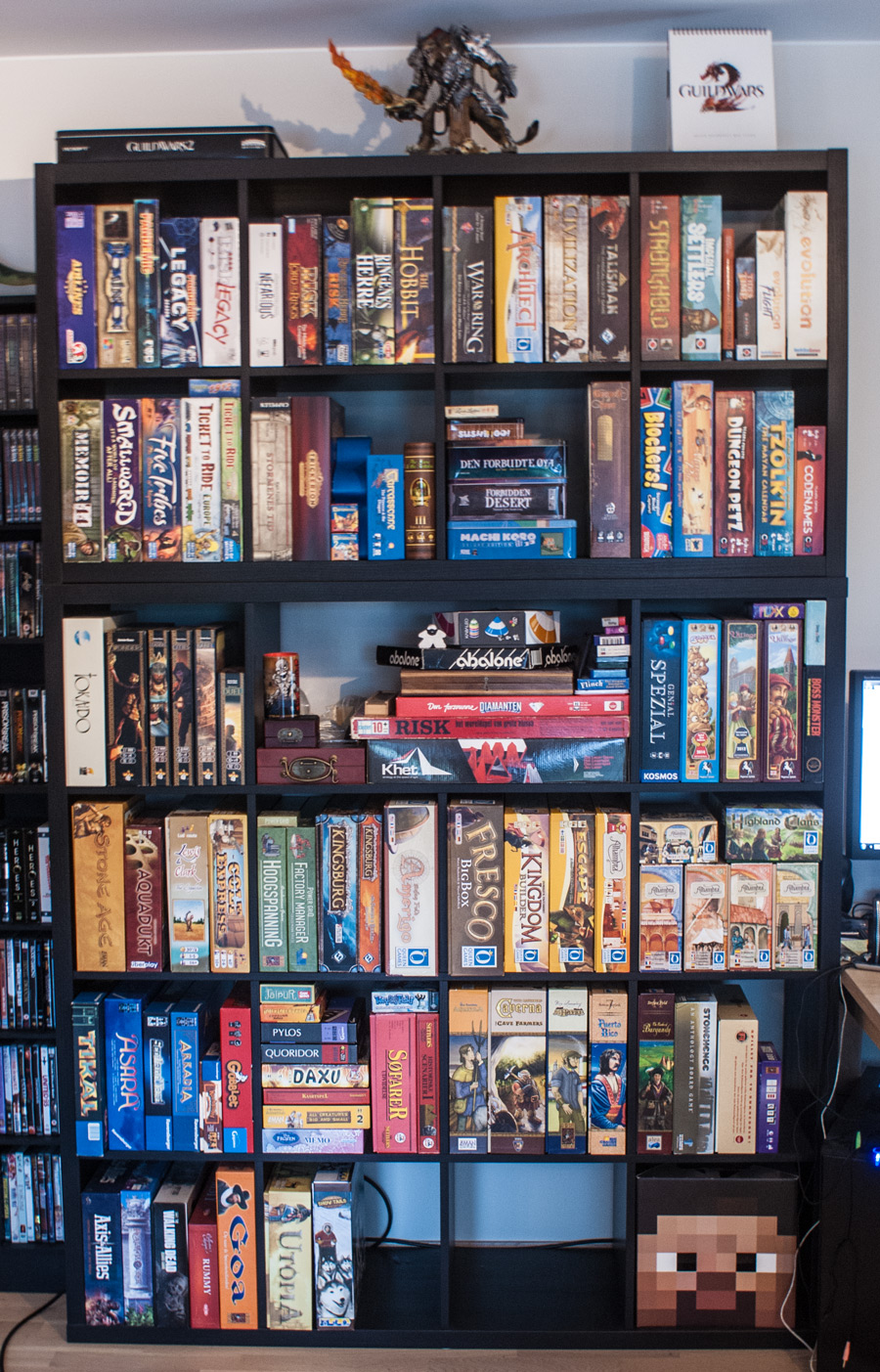 Can you tell us something about your shelves?
"I use the dark brown Kallax (Expedit) shelves from Ikea. In the US they sell the big 5×5 units, but I haven't seen those in Europe yet. So I have a big 4×4, and when that filled up last year, I placed a 2×4 on top. There are a few more Kallax shelves in the rest of the living room as well, so you could say I like that unit. Some board games don't fit in the squares though, so on the top row of the 4×4 I left out 1 divider to create a space twice as big for all the irregular sized games."
"When these shelves are full, I'll have to start storing some of my games in a spare bedroom of our apartment, because we won't have more free space for another Kallax in the living room. I used to buy more games while we lived in Belgium because I have to watch my budget a bit more these days, but the empty spaces still fill up quite quickly. I have thought about trading away games I like less, but so far I haven't been able to bring myself to such drastic steps yet. My collection is still pretty manageable."

What is your favorite game at the moment?
"I like abstract 2 player games a lot, but since my wife isn't into those, they rarely see play. The games we both like a lot and therefore see play the most are currently
Kingsburg
&
Voyages of Marco Polo
. We are both also fans of the
7 Wonders
series and now with
Duel
, it's a great game to quickly play when there is less time."
"I'm really looking forward to continue our Pandemic Legacy
game as well. We have to start with May now, but of course we can only play it when we got that whole group together. I was never a huge fan of Pandemic
, but Legacy has been keeping me on the edge of my seat."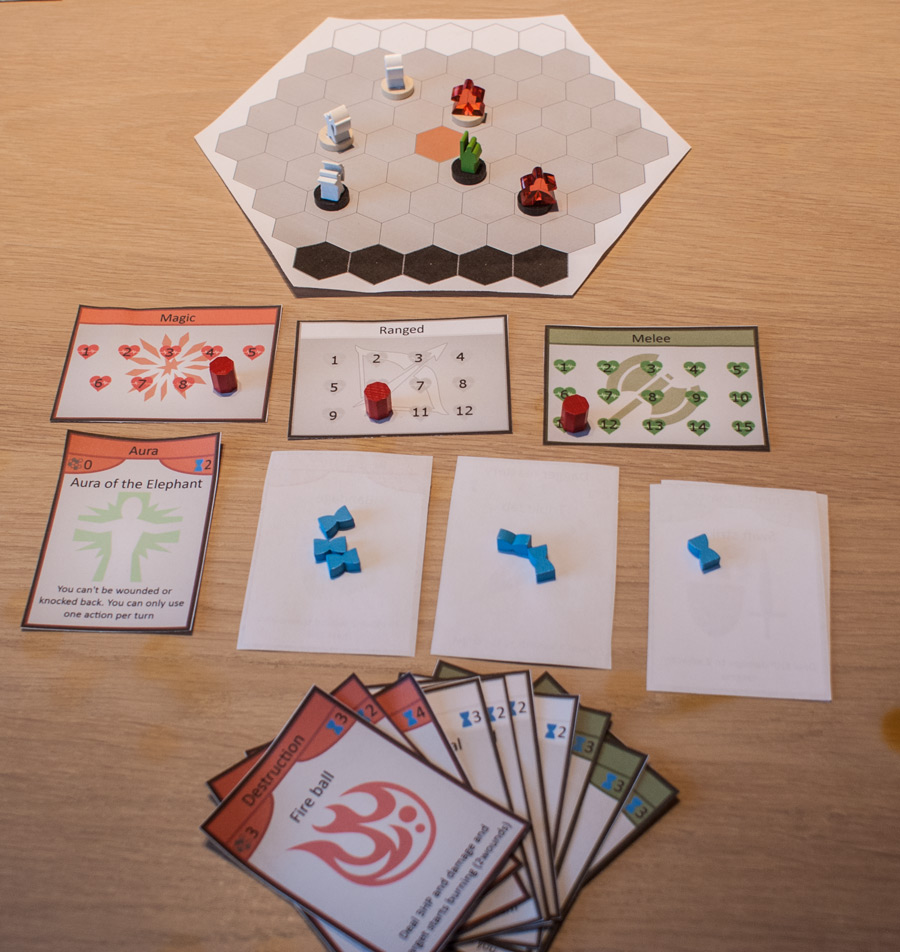 What is your most special or obscure game?
"The most obscure game in my collection must be the prototype I'm currently working on, although that hardly counts since it's not on BGG. Only 3 players have ever played it so far."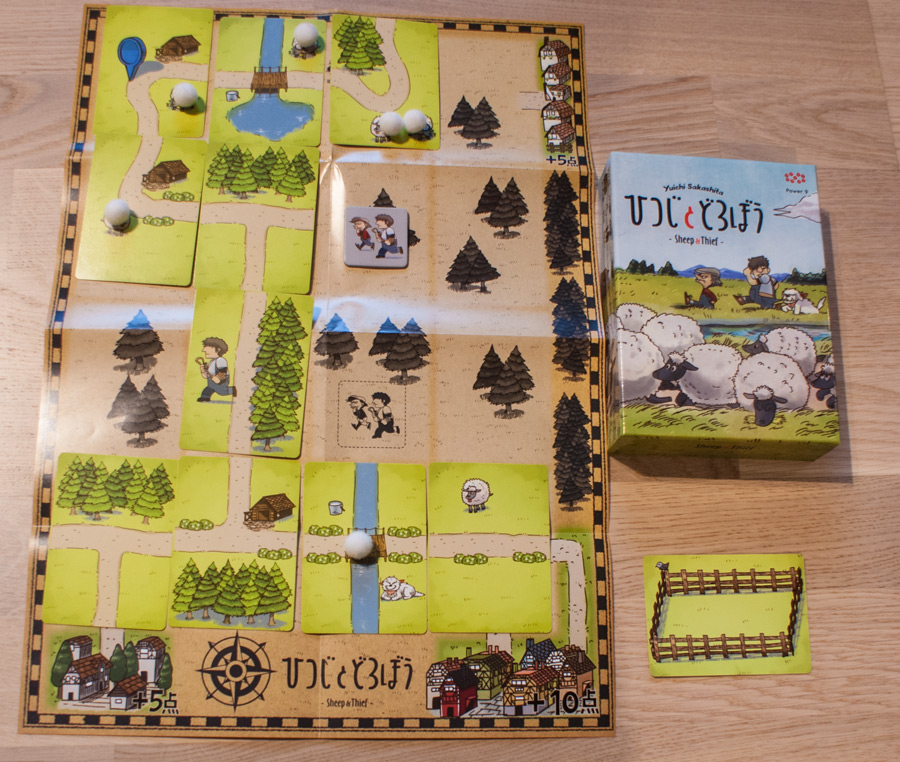 "Another lesser known game might be Sheep & Thief from Japon Games. I preordered it before Spiel last year and was happy I secured a copy that way, as they didn't seem to have any extra copies with them. It's a fun card drafting and tile laying game in a small box. The player boards are foldable posters and they feel flimsy, but the tiny adorable cotton balls for sheep more than make up for it as far as components go."
"My wife and I are also pretty excited that we finally got a hold of the Kingsburg expansion To Forge a Realm
a few weeks ago. We had been searching it for ages and finally found a website that still had 1 copy in stock and as a bonus they even had reasonable shipping to Oslo. Similarly, I've been looking for a reasonably priced copy of Troyes
for years, but I haven't found it yet. So it's great news the game is getting a reprint."
Thank you so much for sharing your story! Something you would like to add?
"Yes, of course I want to offer my gratitude to you for asking me for this awesome series. I also want to thank the fantastic board game community on Instagram. I started my account a little over a year ago and it still blows my mind that more than 4000 people are interested in seeing what games I've been playing. I saw a steady increase of followers after my wife started taking the pictures, so obviously I owe her an official thank you as well."
*This article contains affiliate links. For more details, please read our Affiliate Disclosure.
Would you like to present your board game shelf to the world? Please answer the above questions and include some good quality pictures to your story. Go to this page to submit your story. Subscribe to our online magazine here!