Analog Games aren't just fun. They also often come in interesting boxes featuring beautiful artwork. It's no surprise that a lot of us love to proudly showcase our board game collection on a shelf. In this series, every week one of our fellow board game enthusiasts will exhibit their board game shelf and tell us something about their favorite board and card games. Today we are going to look at the board game shelf of Dave from Australia!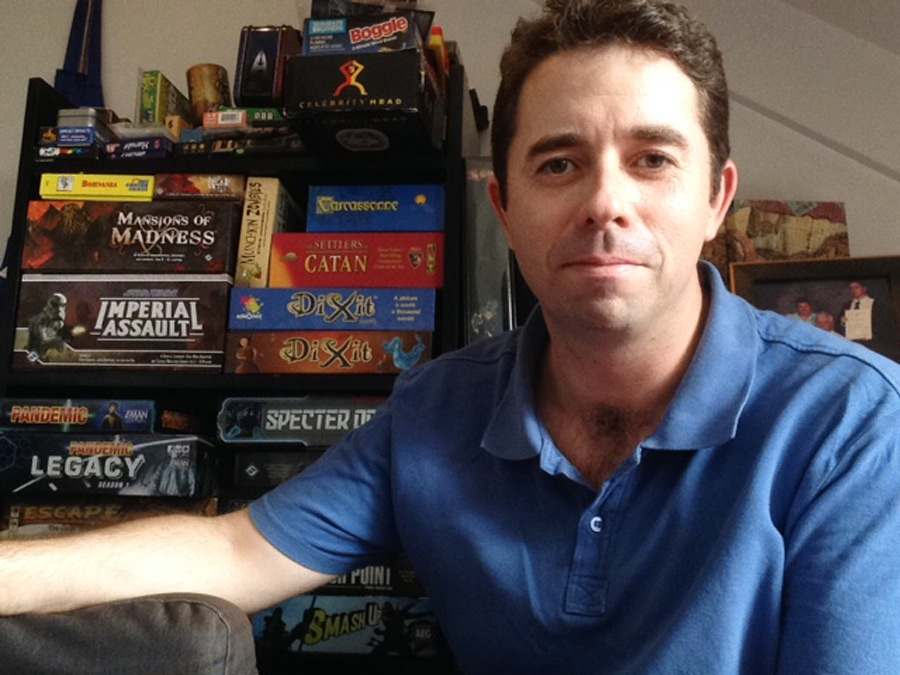 Hi Dave, please introduce yourself.
"I am a school teacher that dedicates as much spare time to not just gaming, but seeking to understand the hobby better. I enjoy learning about game design and as well as the theory behind building engagement, some of which I find useful for improving my classroom. I am the father of a beautiful 2 year old girl who I regularly dream about sharing my games with one day, and a husband of a wife who manages to tolerate my obsession."
How did you get into this world of non-digital games?
"I have worked with young people for most of my working life and board and card games have always been a big part of entertaining children. This usually involved endless sessions of Uno and Guess Who. That was until one day the kids at my centre started playing a game called Yugioh. I went and got a starter deck so I could learn and support the students in their play. Two others from my church heard about what I was doing and got their own decks. I discovered a local store hosted Yugioh nights and took myself along. I lost myself in the game from there. I learned about competitive play, I got involved with multiple store tournaments, I helped build a group of people who supported each other in travel and play. We would go to nationals each year and share accommodation and hang out. It was a hugely fun time in my life. Though I never really rose to the ranks of expert, I am still proud of my competitive gaming time and very pleased to have rank 12th in a national tournament. The best part for me really was the people and community I was part of and active in building. I even did a stint in the original DC and Marvel VS System before the market dried up in Australia. Unfortunately I was not capable of financially keeping up with each new release and every new chase card and had to cut back on my involvement. Not long afterwards I moved to Central Australia where I worked in a remote Indigenous community. The shop owner introduced me to a game called Five Crowns. Together with the nurse and police we would play that game weekly, often many nights a week, round after round, never tiring of the game. When I moved back to Brisbane I got married and the husband of my wife's best friend is from Finland and he introduced me to a game popular among his friends back home called Dominion
. From there the rest was a flurry of Table Top episodes, Dice tower Reviews, BoardGameGeek, and most recently, Instagram where I discovered Analog Games. I have very happily found myself once again connected to a wonderful gaming community with passionate and exciting people. Social media has helped expand the circle of friends to an international level that I enjoy."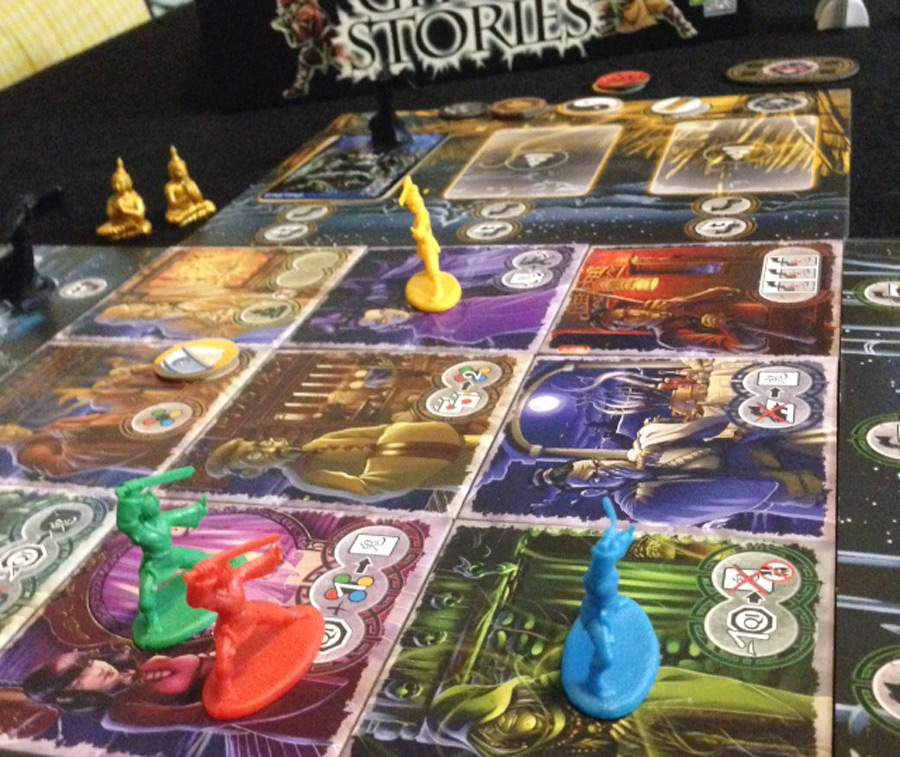 How often do you play?
"At my school I started a board game group with a friend. As I am primary trained I also started a junior school board game club. So even if I do not get to play with my fiends I at least get a game with the students at least twice a week during term time. I do try to get my friends together for a session at least twice a month for our Pathfinder
campaign, and then whenever and wherever I can from there. I have recently been learning to play board games online and am even starting a Skype DnD group. I feel that gaming is not just about the challenge of the game, it really is focused on the people I play with. Solitaire gaming lacks something for me so without my friends it would not be nearly as fun. By hosting gaming days at my home I managed to get several friends and family into the hobby, each now sporting very impressive collections themselves. Plus I love the mechanics of games and want to play as many as I can to deepen my working knowledge of how games work and why they are fun. That last part is my teacher brain activating I think."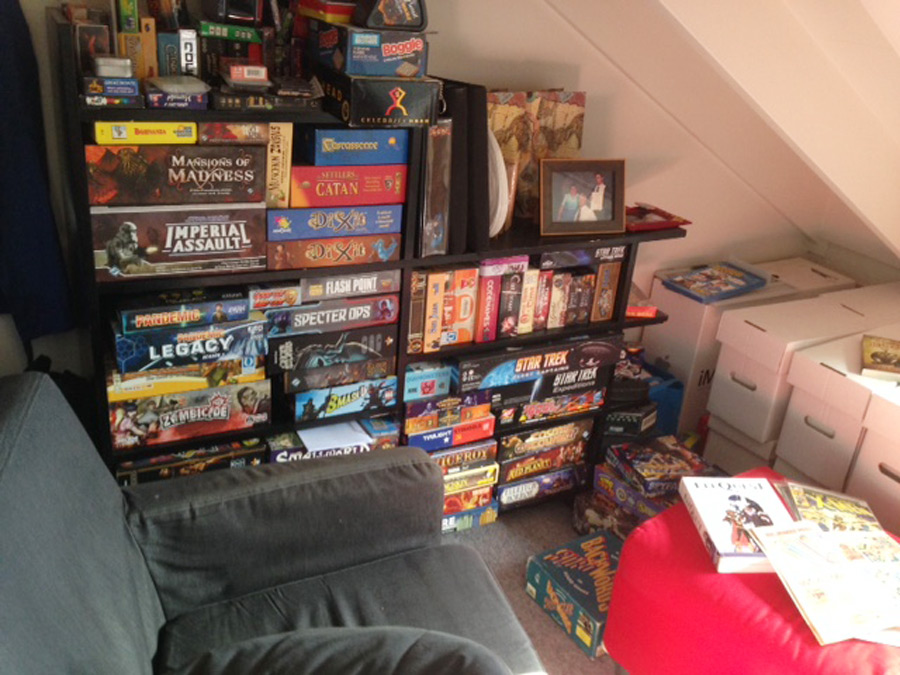 Can you tell us something about your shelves?
"The shelves are small and restrictive. We do not have a large house and with a little one room is premium around here. Despite the amount of room I have still managed to get 100 games on there with only minor spill over. The lack of space means I have had to work really hard at finding games that suit my personal gaming needs. I have researched and tested games so that when they make it into my collection I know they are good. If not, I trade them away for games I want to keep. I am really happy with the games I have and can honestly say I get a lot of play out of most of my collection. There are some games I am yet to play, but part of my goal setting for this year included intentionally organising game nights to give those unplayed games a go. So far this year I have ticked many off my list. The only deficiency in my collection at the moment is Eurogames, or at Euro-styled games. I know I want to add such games as Castles of Burgundy
, Lords of Waterdeep
, Russian Railroads
, Caverna
, Puerto Rico
, and Le Havre
to bolster out that section. The office is primarily my space because my nerdiness does not suit the decor elsewhere, so in the office is where I get to express myself. The games take pride of place between my book shelves and comic book collection. Unfortunately the games are stacked using the Tetris system. The best place for each game is the one that leaves the fewest gaps and uses the space in the best possible way. This is a big contrast to my book shelves which are alphabetised and organised according to genre, and my comics which are boxed according month and year. But I still love looking at it."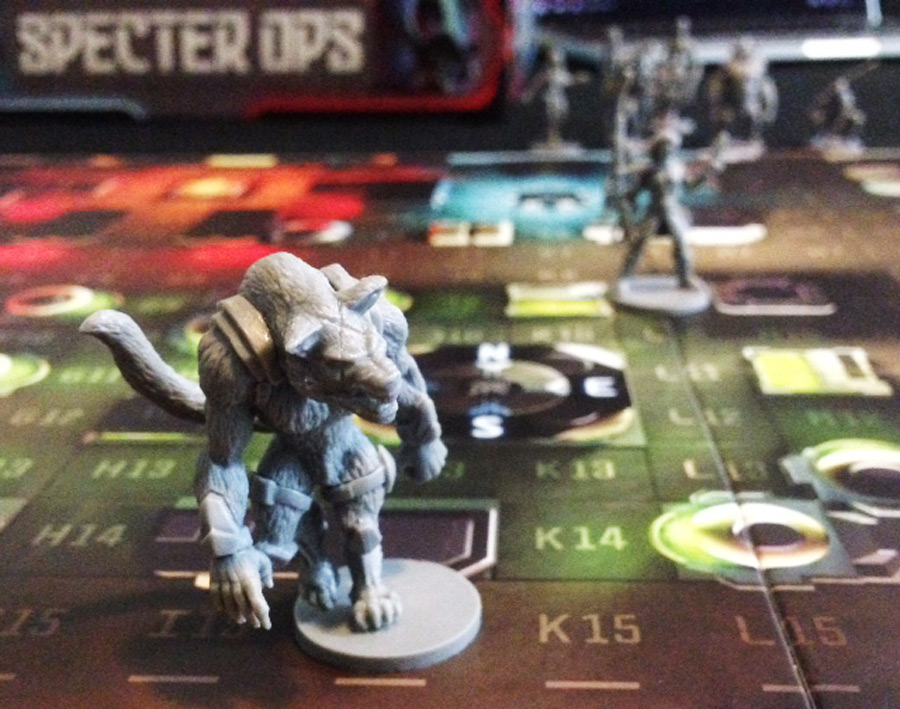 What is your favorite game at the moment?
"I am a big fan of Twilight Struggle
and Small World
, which probably indicates that I like area control games. This is true, but I recently noticed how many social deduction games I own and how often I play them. Recently I played Specter Ops
and since the game my mind has not stopped buzzing with ideas for how I would play next time, building new strategies, evaluating where I could improve on my last game. So it has me hooked right now."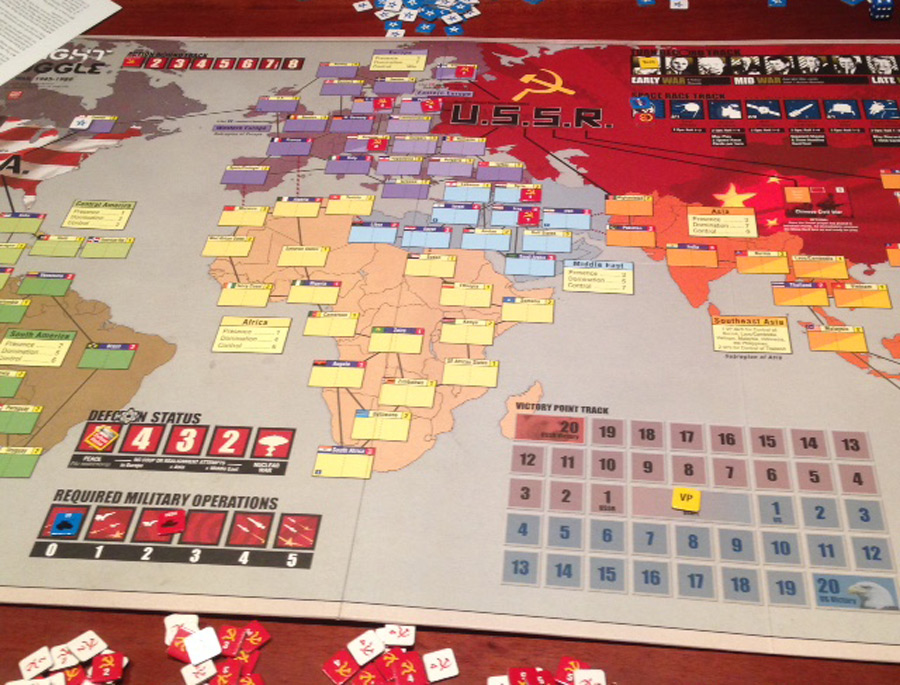 What is your most special or obscure game?
"The games that are most special to me are the ones I receive from people as gifts. I have been very fortunate to have some wonderful friends who not only bought me games, but really thought about what I like and chose excellent games that I have loved playing and sharing with others. That list includes Betrayal At House On The Hill
, Star Trek Fleet Captains and Expeditions, Zombicide
, Legendary Encounters
, and most recently Pandemic Legacy
. However, I am not sure I have a most obscure, but I do love my Mansions of Madness
. I have not played it yet as I only recently acquired it, but the fun part for me was that I payed for it using my spare change jar. There are few things more satisfying than walking into a game store and paying for a $119 game using mostly 20cent pieces that I had collected over a period of about 3 years."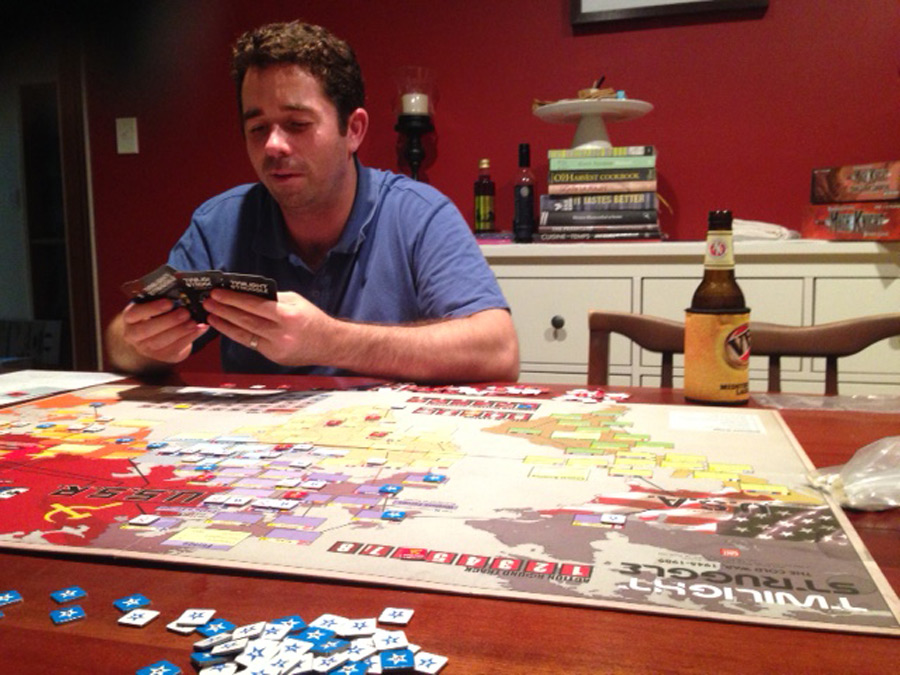 Thank you so much for sharing your story! Something you would like to add?
"Only that I love connecting with new gamers and sharing in their gaming experience. Please look me up on Instagram (@nerdofwisdom) or twitter (@nerdsofwisdom12)."
*This article contains affiliate links. For more details, please read our Affiliate Disclosure.
Would you like to present your board game shelf to the world? Please answer the above questions and include some good quality pictures to your story. Go to this page to submit your story. Subscribe to our online magazine here!