Analog Games aren't just fun. They also often come in interesting boxes featuring beautiful artwork. It's no surprise that a lot of us love to proudly showcase our board game collection on a shelf. In this series, every week one of our fellow board game enthusiasts will exhibit their board game shelves and tell us something about their favorite board and card games. Today we are going to look at the board game shelf of Vince from Hong Kong!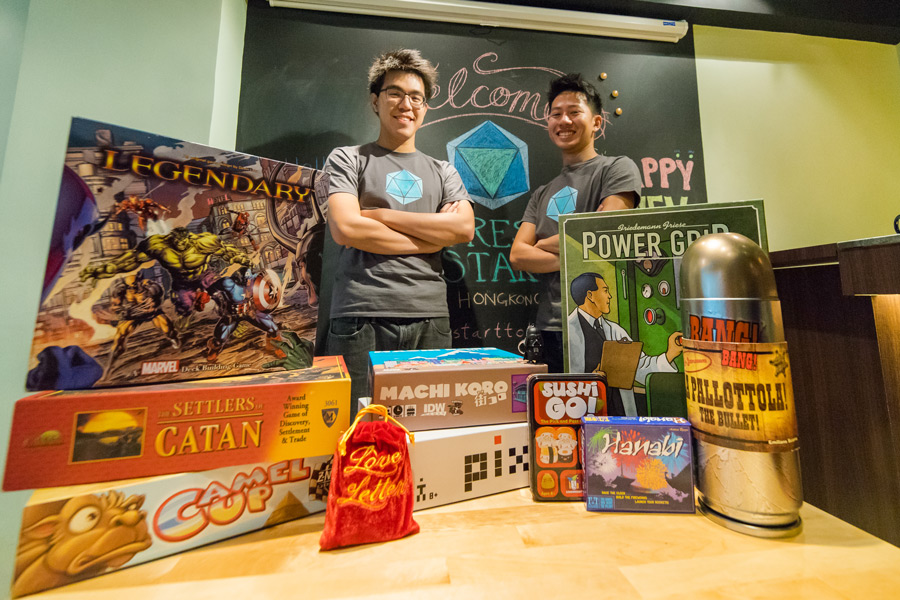 Hi Vince, please introduce yourself.
"I'm Vince from Hong Kong, and I run a board games startup called Press Start Hong Kong together with my buddy Wes, who I met back in high school in the US. Press Start Hong Kong is a board games event-planning venture that curates games-centric experiences for events, and we have a growing collection of awesome games at our space right in the heart of Hong Kong!"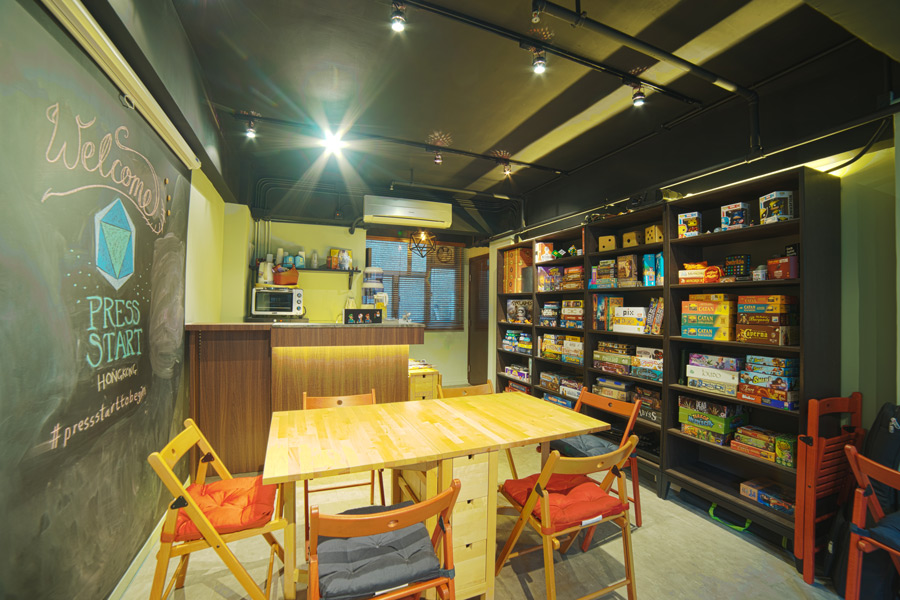 How did you get into this world of non-digital games?
"I've been playing non-digital games since I was a kid. My dad used to like buying simple thematic games made to showcase landmarks in Hong Kong—there was one about a hiking trail here, and another based on our best theme park called Ocean Park. This obviously led into games like Monopoly and Scrabble—little did I know he was subconsciously priming me into the world of board games so early on!"
"Wes and I used to play simple Flash games online when we formed together at school—back when the likes of Text Twist and Family Feud were all the rage. But we really got started playing non-digital games together when a Korean friend of ours introduced us to a card game called Go-Stop
, and we've never looked back. When Wes moved back to Hong Kong a couple of years ago, he brought back a collection of around 20 board games and introduced me to some modern classics that I'd missed throughout the years—the likes of Ticket To Ride
, Catan
, Dominion
etc. —and that got us on our way to eventually opening a space for us to continue playing!"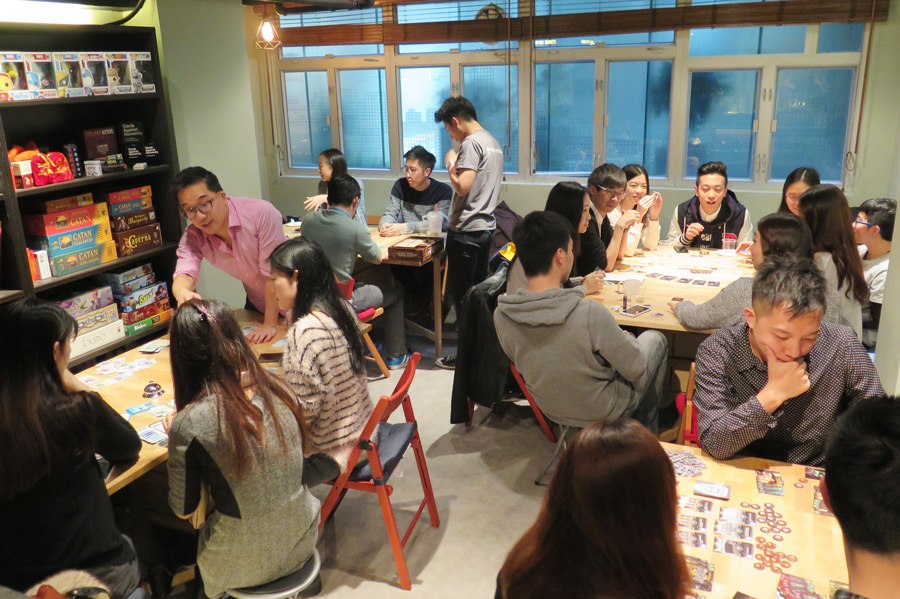 How often do you play?
"At Press Start Hong Kong we host public board game socials as well as plan private games parties and corporate team-building events, so most of the time we're introducing, teaching and facilitating games these days. On the playing side, I'd say we get a game to the table about twice a week—either to play a game we always love to go back to or to unbox and learn a new game together."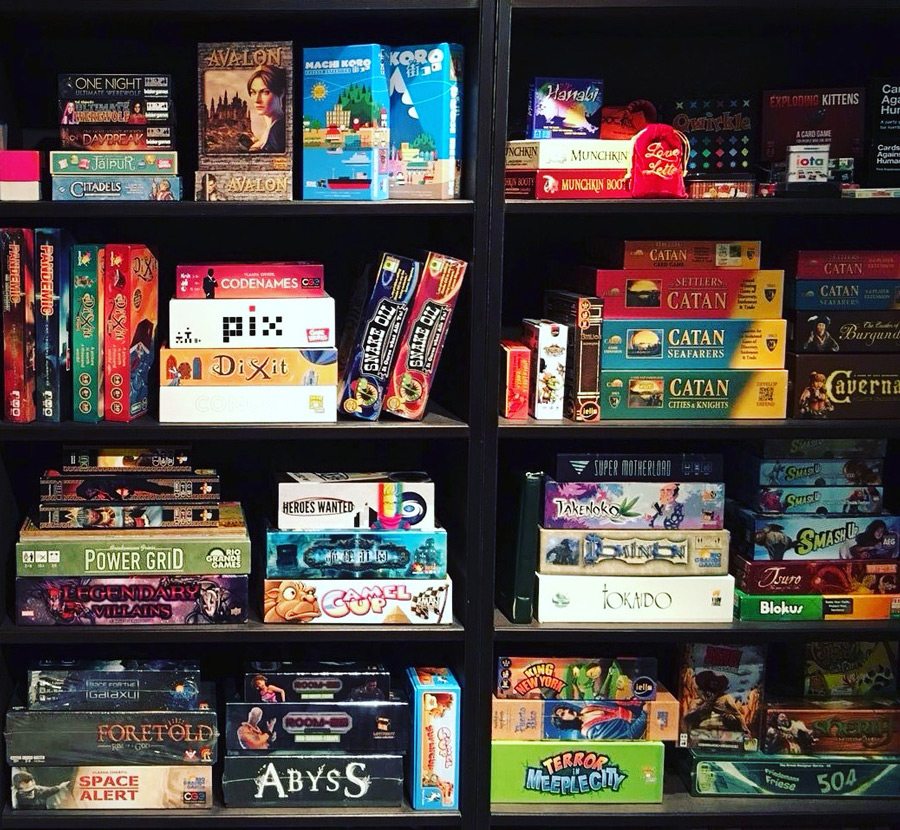 Can you tell us something about your shelves?
"Front and center is the 'party' shelf—with the likes of Dixit
, Codenames
, PIX, Concept
and Snake Oil
—one thing we're passionate about is to put games at the heart of social experiences, and you can't get more social, interactive and rowdy than these games! We also carry what we believe is a good mix of classic and new titles—board games are going through a renaissance period right now and we're very excited to get our hands on new games to introduce to our guests who might otherwise not have access to these new innovative games here in Hong Kong. (But that's mostly an excuse for us to learn cool new games!)"

"It might not come through clearly in the picture, but many of the boxes along the bottom shelves are still shrink-wrapped—one thing we love doing is to invite our friends and customers to take part in unboxing sessions with us, where together we open the game for the first time, punch out the pieces and learn it together. It's a great way for us to get to meet new friends, grow the community and of course continue exploring the world of board games."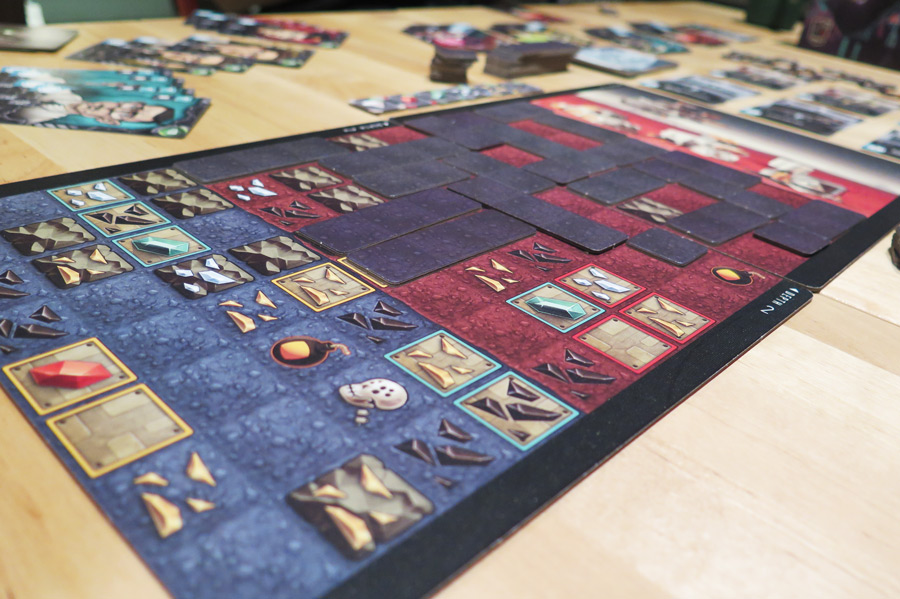 What is your favorite game at the moment?
"We just picked up Super Motherload
a couple of months back, and it's been an ever-present at our board game socials since! The theme—digging through Mars and mining for valuable minerals—is very cool, the mix of deck-building and tile-playing mechanisms on an actual board is unique, and it's a strategy game that doesn't actually play too long, which all combines into a perfect game to introduce to the community."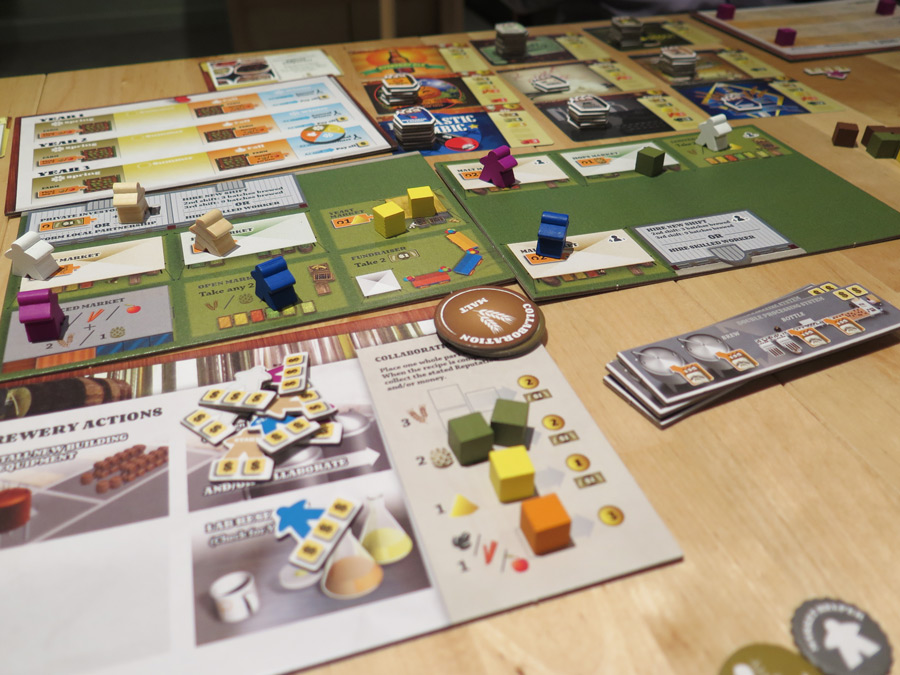 What is your most special or obscure game?
"I'm a huge, huge fan of Brewcrafters
. It's an awesome thematic strategy game where you're running your own microbrewery and trying to become the most reputable brewer around, and the worker placement, resource management and bidding mechanisms combine so well for a sophisticated but supremely addicting experience. (Also helps that it's a perfect excuse to drink plenty of craft beers while playing a game!) Hats off to Dice Hate Me Games for this title—we're proud to say that we love supporting and trying games from smaller game publishers who might not have the reach to distribute internationally (yet!), and coming across one that is truly memorable makes it very special for ourselves as well."
Thank you so much for sharing your story! Something you would like to add?
"Press Start Hong Kong might be a business, but at the heart of it Wes and myself started this out of a love for games. Most board game cafes we know, especially the ones here in Hong Kong, focus on the games and providing a space for people to play games they know, but we're so much more about a great social experience—and it just so happens that games are perfect for that! If you're reading this in Hong Kong and want to join our growing community of gamers, come on over for one of our board game socials! And if you're an indie game publisher anywhere in the world looking for two enthusiastic gamers to try, review and ultimately introduce your game to a whole new audience, do reach out—we'd love to hear from you! Hit me up at vince@pressstart.com.hk or check out our Facebook and Instagram."
*This article contains affiliate links. For more details, please read our Affiliate Disclosure.
Would you like to present your board game shelf to the world? Please answer the above questions and include some good quality pictures to your story. Go to this page to submit your story. Subscribe to our online magazine here!