For those who do not know me yet, my name is Thibaud de la Touanne and I'm the founder of my board game studio Triton Noir, whose first title was the cooperative V-Commandos (I talked about this amazing project two years ago here on Analog Games). While this tabletop game was all about infiltration, combat and sabotage during WWII, my team's new project Assassin's Creed: Brotherhood of Venice is set up in a completely different background: Assassin's Creed (Ubisoft's video game license, yes!) during Italian Renaissance in Venice.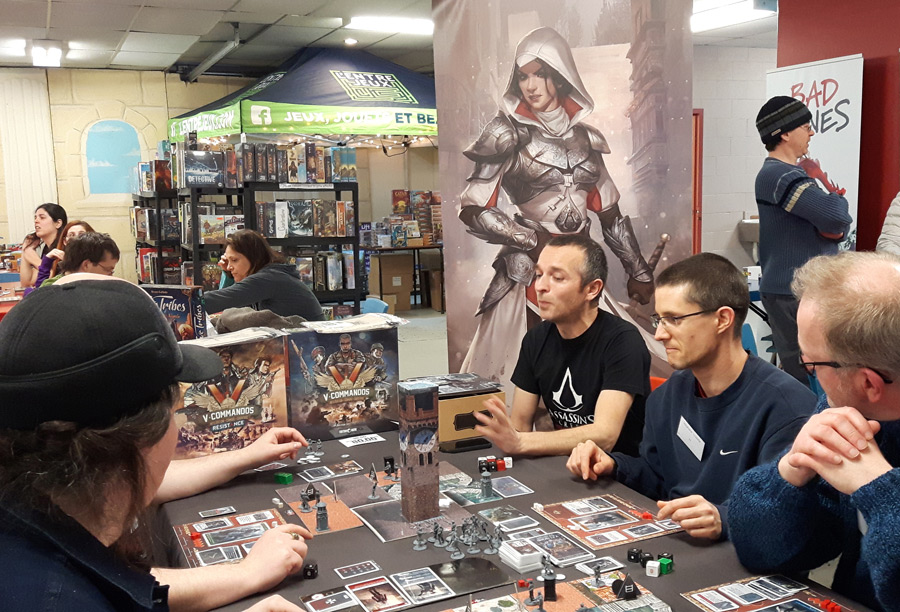 Even though the narrative settings of both games have nothing in common, Assassin's Creed: Brotherhood of Venice is meant to be the rightful heir of V-Commandos. This tabletop board game with miniatures aims to capture the essence of Assassin's Creed and to turn it into a fully cooperative game for 1 to 4 players. Accessible yet smart game mechanics, beautiful designs, great themes, historical research and passion are what make it so close to what we experienced whilst creating V-Commandos.
You will play Assassin's Creed: Brotherhood of Venice in a campaign spanning several months in 1509; solo or with your playmates, you will have a small team of Assassins in charge of developing the Headquarters of the Brotherhood of Assassins in Venice, after Ezio Auditore defeated Cesare Borgia and his allies. Right between the events of video games Assassin's Creed: Brotherhood and Assassin's Creed: Revelations, the campaign will pit you against Templars, let you explore unknown events of the Brotherhood in Venice, and determine your fate in the famous City of Masks…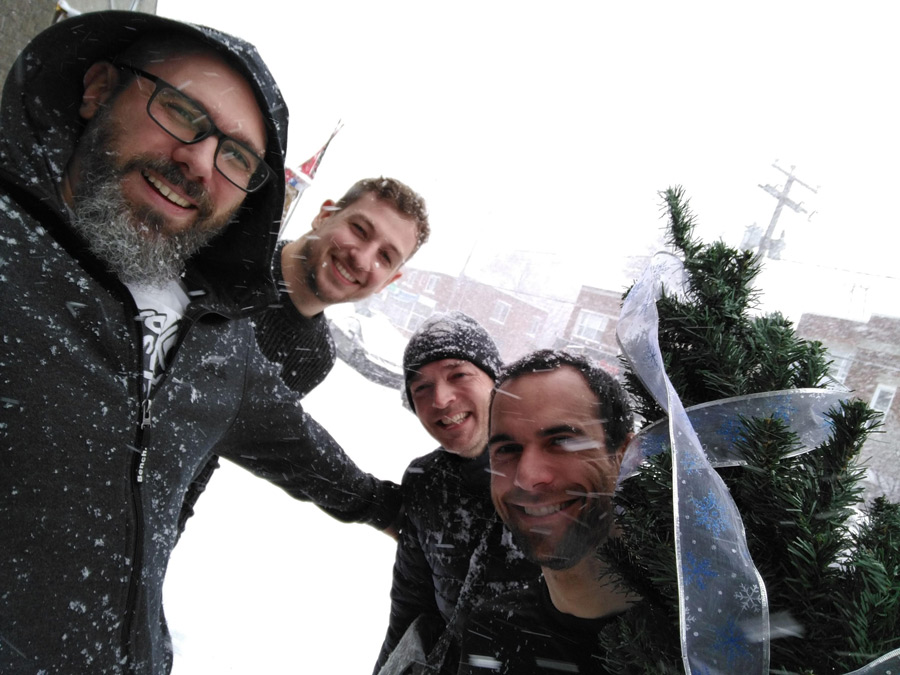 Thanks to a license deal with Ubisoft Montreal, our Triton Noir team has been developing Assassin's Creed: Brotherhood of Venice for months. Our crew is made up of veterans from the video and board game industries: I have worked in the gaming industry – including at Ubisoft Montreal – for 20 years. Same kind of background for two notable figures of the team: Manuel Rozoy, co-author of the game, and Fabrice Lamidey, story designer. To create the game's minis, Triton Noir has also been working with Manuel Sanchez, Art director from the Montreal publisher Le Scorpion Masqué. This guy also builds on a solid background in the industry of minis. What's more, I am very proud of the many worldwide-known artists that are involved in the development of the game, like the sculptors Arnaud Boudoiron, Stéphane Camossetto, Michael Jenkins, Aragorn Marks, Edgar Ramos, Stéphane Simon or Edgar Skomorowski, and the illustrators Tatiana Vetrova, Dimitri Chapuis, Emile Denis and Pascal Quidault.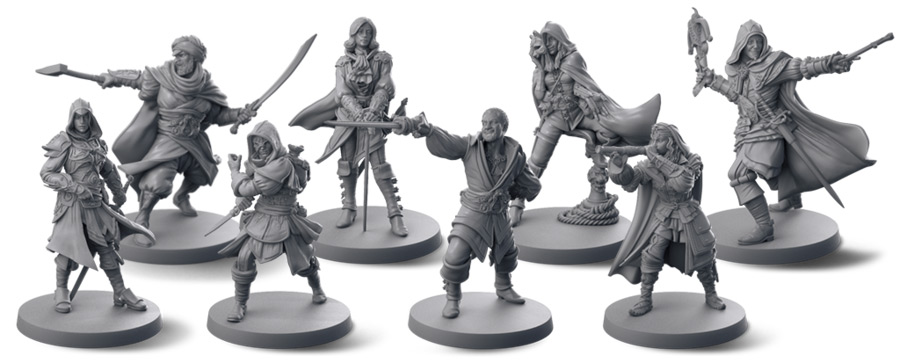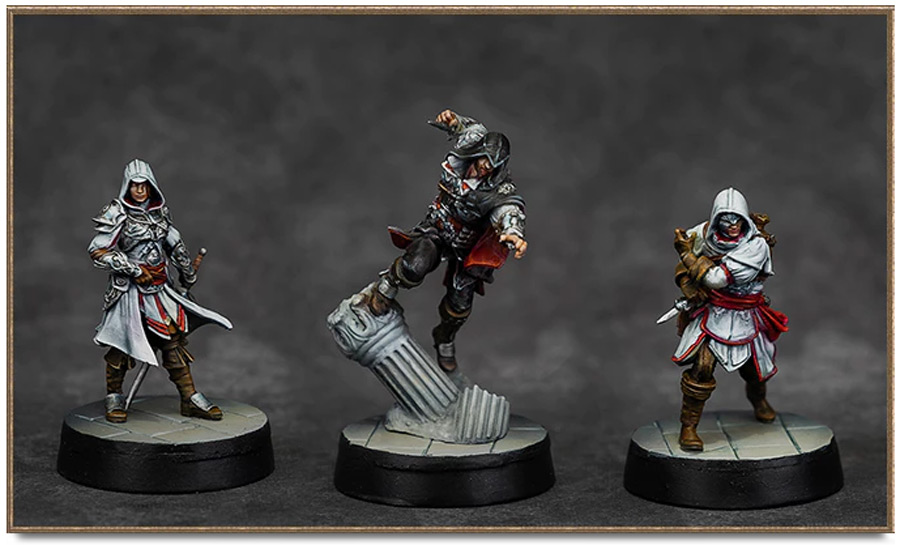 Epic. That's the word to describe the Assassin's Creed: Brotherhood of Venice experience. While the WWII narrative background for V-Commandos was fascinating, this new game gets an even more polished scenario that will please both infiltration board game enthusiasts and Assassin's Creed fans! What's on the menu? Well… Fluent interactions between the players, intense tactical talks and many surprises, I believe.
Besides, links to the video games are not just about respecting the Assassin's Creed DNA. The team is very used to the video gaming experience and deliberately wants to put in into a tabletop board game. The feel has to be quite similar, especially for the players who love Ubisoft's games. So, we worked on the rulebook so that it progressively gets the player into the rules, just like a tutorial sequence in a modern video game, explaining the relevant rules when they come to be useful in the scenario. This bias also helps preserving the surprise effect for the players!
Speaking a bit of the illustration work, we want miniatures and other gaming components to be beautiful, immersive and stunning. Everyone might say so, right? But Assassin's Creed: Brotherhood of Venice will not just be a board game; it has to be something more… something for game collectors and art lovers! We have regular meetings with the Assassin's Creed teams at Ubisoft Montreal (we are neighbors!) to make sure we respect this universe that so many people are in love with. But overall, we can use some big freedom of creativity in the development process!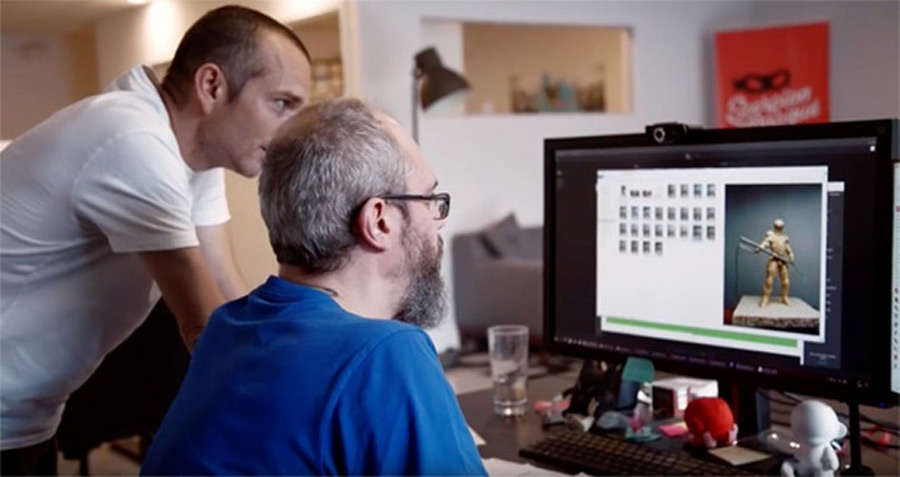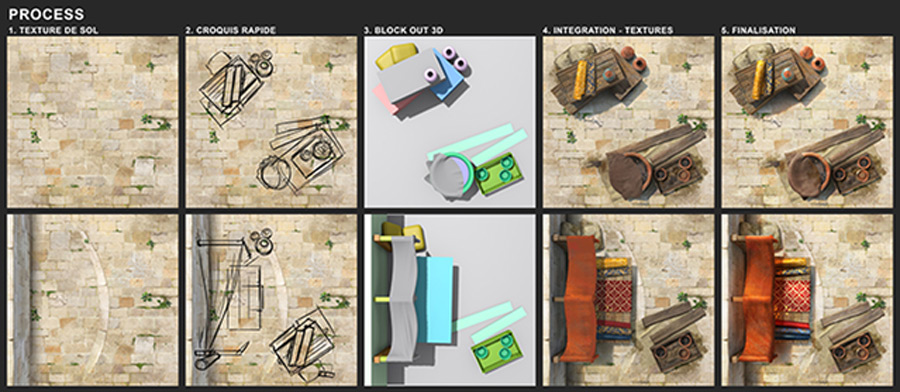 Furthermore, to ensure a top-quality Assassin's Creed tabletop game, we made the call to go on Kickstarter. Having financed the first development steps as an independent publisher, we needed the support of the community – like I said before, fans of the famous Assassin's Creed franchise, but also players who were convinced by their first game V-Commandos, and those who are into cooperative or infiltration games in general. We've been listening to the fans throughout the fund-raising campaign, with several live videos on social media as well as daily discussions with the players. The team then made some content adjustments to meet with the players' expectations, and we're still listening to the feedback during our numerous playtest sessions. This is very important to us.
This is what will make us able to deliver a balanced, rich and immersive gaming experience.
With an initial objective of 100,000 USD that was achieved during the first 24 hours of the campaign, the Kickstarter for Assassin's Creed: Brotherhood of Venice eventually got an overall contribution of 1,046,200 USD. 6,762 people backed the project so far, and the best is yet to come!

Let's heed the creed!
Anyone interested can preorder the game and follow the team's work on Facebook, Twitter and Instagram.
Photo credits: Triton Noir. Used with permission.
Did you like this story? Please share or comment. Go to this page to submit a story yourself. Subscribe to our online magazine here!