Erik Winkelman is my name, a Dutch guy, always creating or thinking about creating. I have written theatre plays, worked as a cartoonist, made animated children television series, played in a band and for the last 5 years I have been busy working on my first board game. It wasn't my plan to launch a game into the world, I just wanted to create a solo game for 'personal use', so I could scratch my itch. You see, I am really into board games, a lot of people call me a board game addict, so I thought, why not design one you can play when no friends are available and your hands start trembling?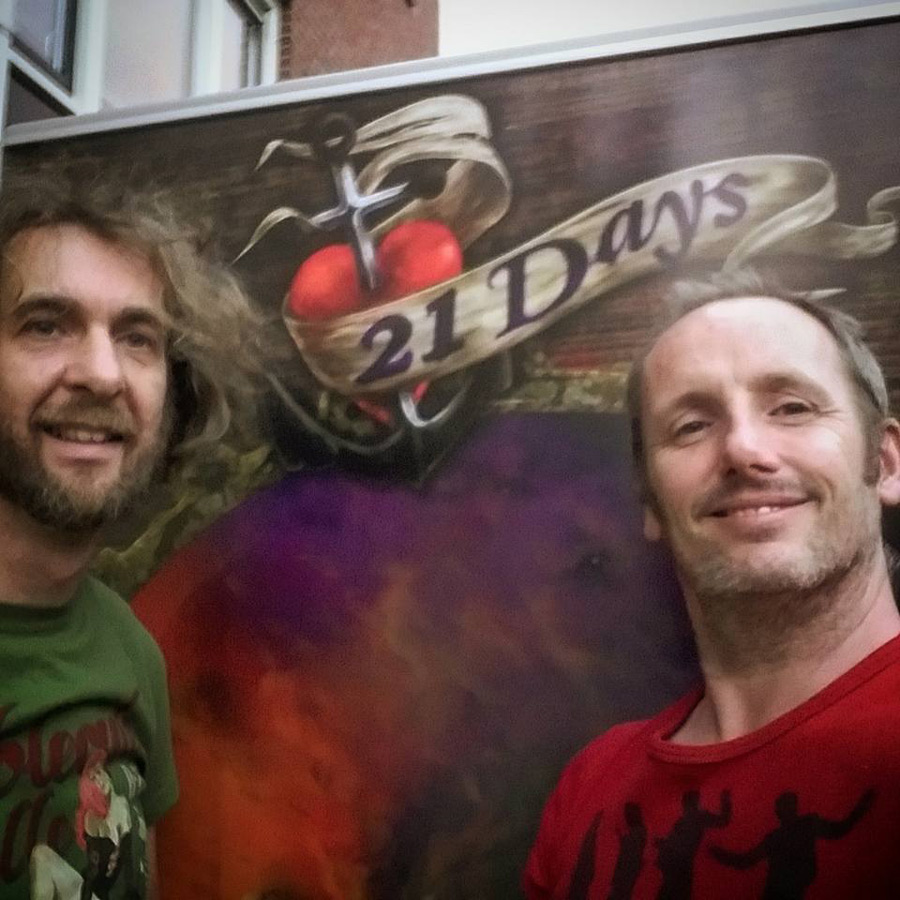 Designer Erik Winkelman (right) and artist Eric Kenter.
One night I watched a program on (I think it was) Discovery Channel; a story about four people lost at sea; for days and days they floated around in a small rubber boat, and that got me thinking. I pictured a game board, with in the middle a wooden raft, with loose planks. On this raft the characters; fighting against sharks, a giant octopus (why not?), hunger while also trying to keep the raft together. I started thinking. I started drawing. I started playing. And after a lot of 'construction work' I showed my friends what I had come up with.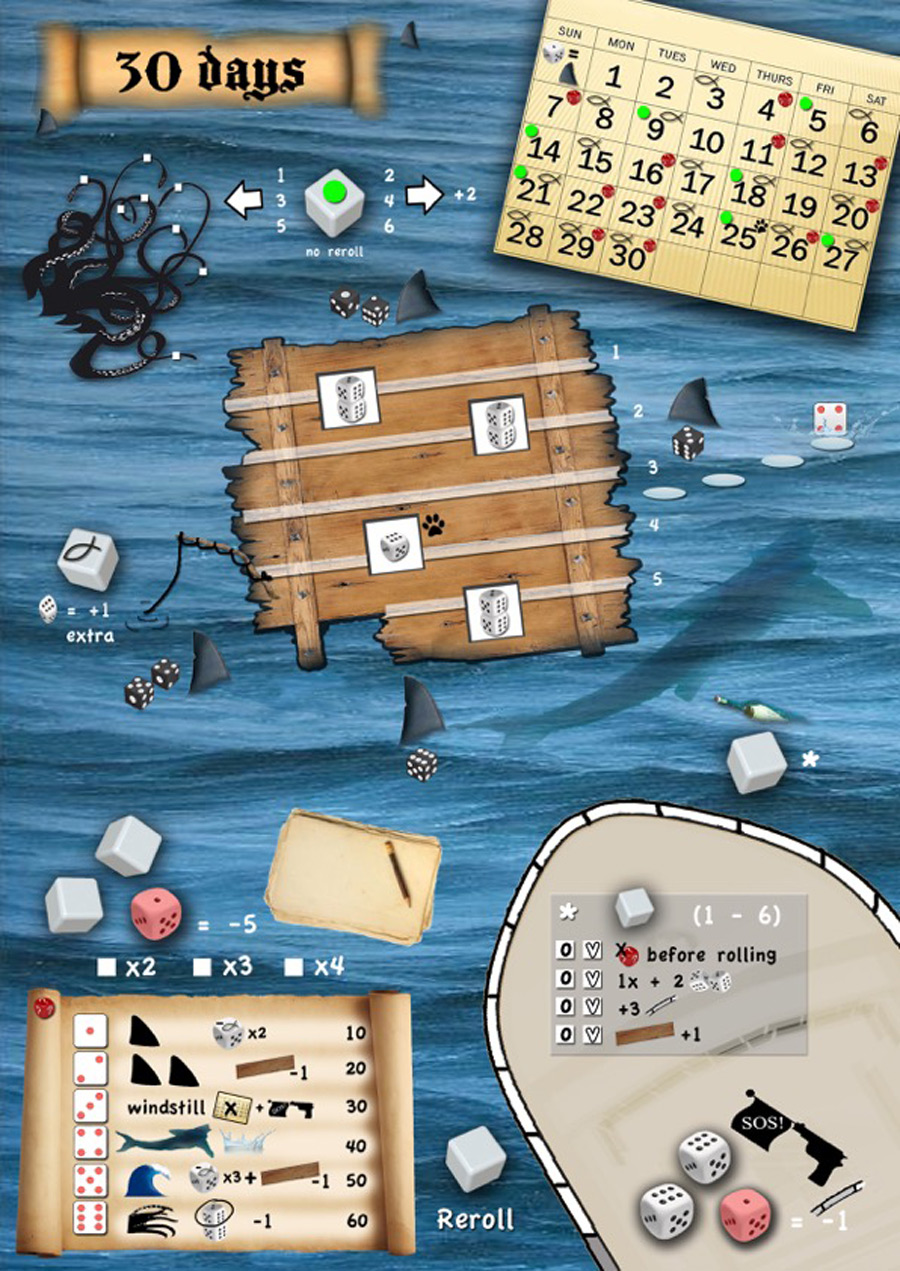 One of the first versions of '21 Days'; then it was still called '30 Days'
This got the ball rolling. I used the comments people gave me, trying to get the game better. Then, while helping a friend of mine move, I met Eric Kenter, illustrator, who offered his drawing talents. When I saw the work he did on the game board and on some of the characters (now called 'survivors') there was no turning back anymore. I decided to make a go for it. Kickstarter seemed like the ideal way to try and get this baby born.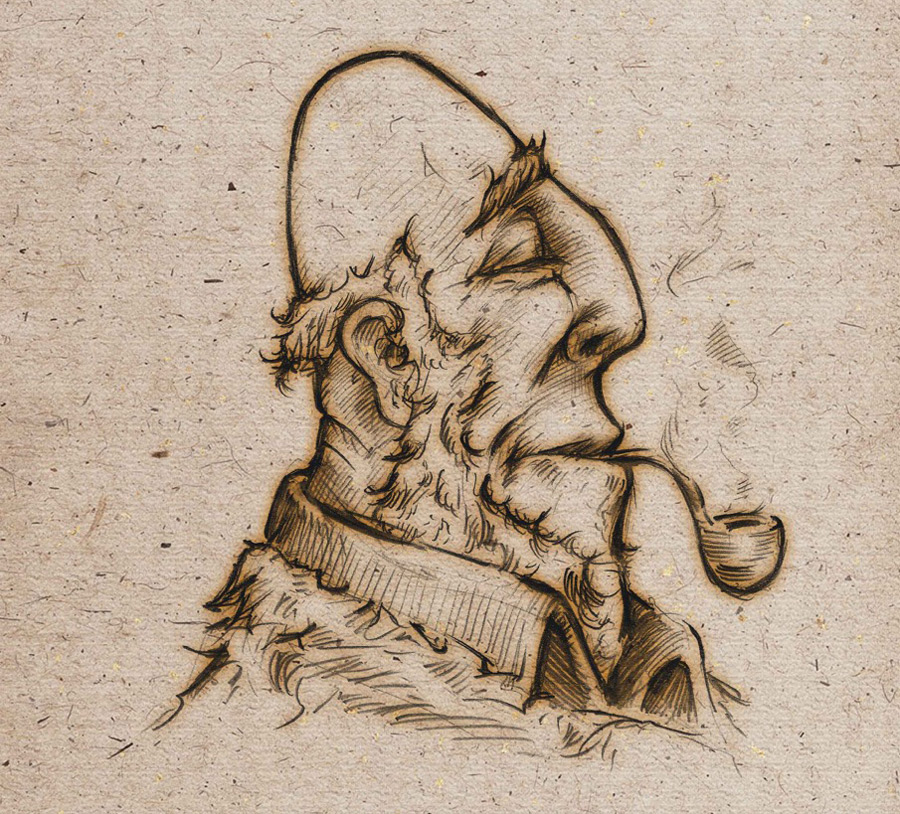 The first illustration Eric Kenter showed me. I was blown away!
What is '21 Days'? An Ameritrashy, dice driven, cooperative, adventurous, survival boardgame, for 1 – 4 players, with international characters, loose raftplanks, a (variable) logbook, a solo version, sharks, paranoia, a giant octopus, a kite and stinging jellyfish. You relive the events recorded in a found logbook, over a period of 21 days. The purpose of the game is to have (at least) one of the survivors rescued by a ship on the 21st day. You do this by following the events described in the logbook and having the survivors choose and perform actions on the various locations on the gameboard. It is also of great importance you keep the raft together. When you lose too many planks, you will lose some survivors as well.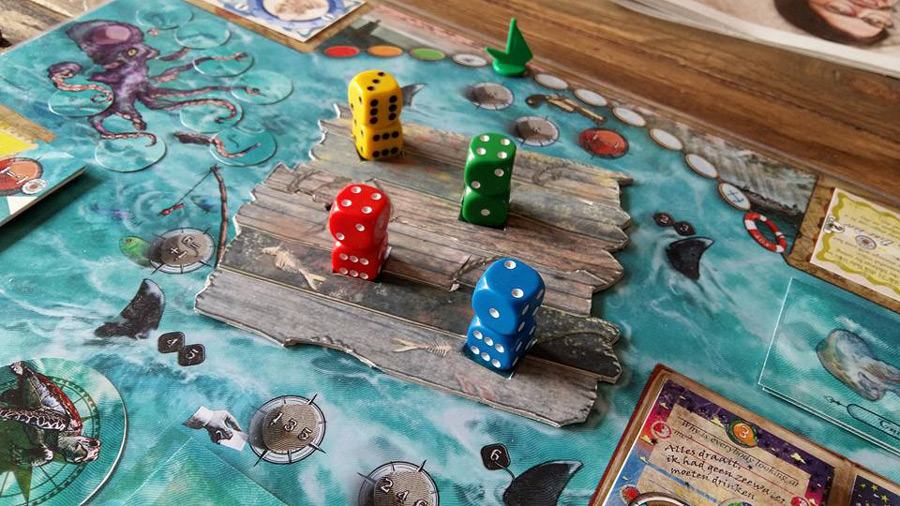 21 Days is a diceplacement game; each survivor on the raft is represented by two stacked dice. At the start of the game, throw the survivor's characterdice to determine his/her strength. Every survivor has a (smaller) placementdie. During the middayphase the players place their placementdice on the available locations, so they can fish, catch a turtle, grab a message in a bottle, shoot some flares. When all placement-dice are placed, players roll their dice to activate the various locations and find out if they have made the right decisions. Then, it's time for the night phase, where the survivors might endure a shark attack, lose strength (by adjusting that survivor's stacked dice) and /or try to survive all kinds of horrible disasters.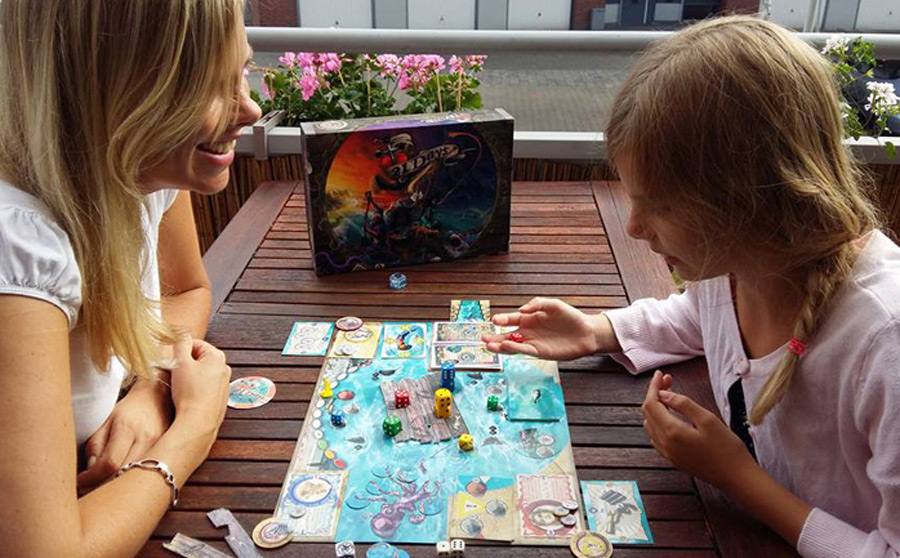 21 Days is very suitable to play with your kid(s).
This is the final week on Kickstarter. I am extremely proud and relieved the game got funded! The release will be at Spiel, Essen. I do hope you will take a look at the game and maybe find it interesting enough to make a pledge!

Did you like this story? Please share or comment. Go to this page to submit a story yourself. Subscribe to our online magazine here!