Chicago native Greg Burhop invented Knock Down Barns, a dexterity build-and-destroy game made of reclaimed barn wood. The game is handmade and assembled by Greg himself, and consists of a board, a divider, 52 building blocks and 20 marshmallow-like foam weapons.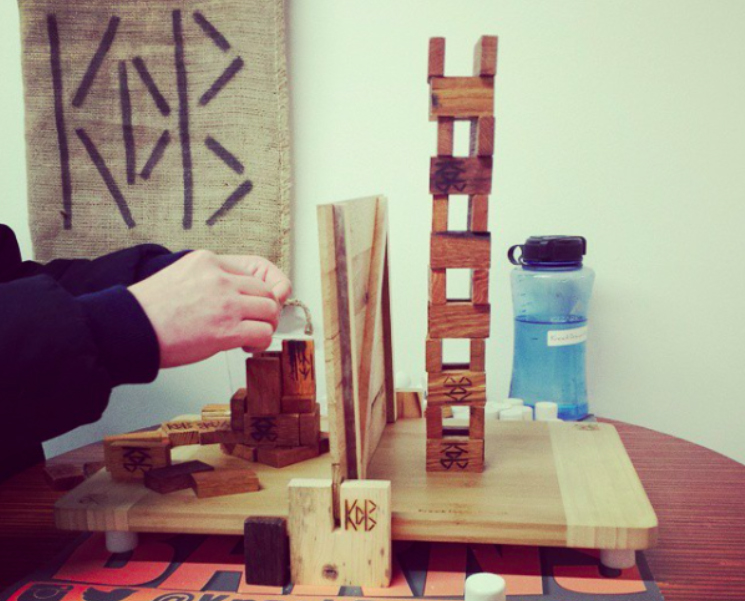 "Each game of Knock Down Barns begins with two players designing and building their own structure out of small rectangular blocks of reclaimed barn wood. Building is done in secret behind a divider that crosses the center of the playing board. Many strategies are used in building a solid structure as to withstand attack from your opponent. Once both players finish building a structure that is taller than the center divider, the divider is removed before the battle begins. Cylindrical foam weapons are fired by flicking them at each other's structures. The first player to completely clear the blocks off of their opponent's side of the board wins. Remember, you can always build again!"
Greg spent three years perfecting the rules and finding the right materials in order to build his game. But how did Greg come up with this great idea?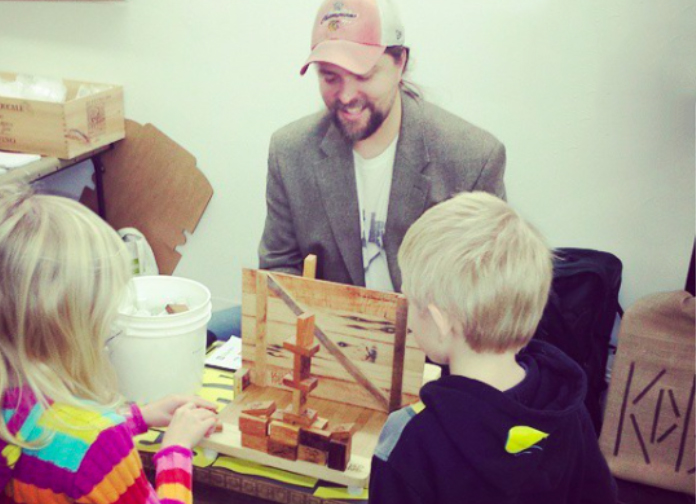 Hello Greg, please introduce yourself.
"I'm from Chicago Illinois, city by the lake. I currently live in Pilsen, an artist neighborhood just south of downtown. My folks still live here on the north side of town in Evanston and I have a pretty good dog named Puck."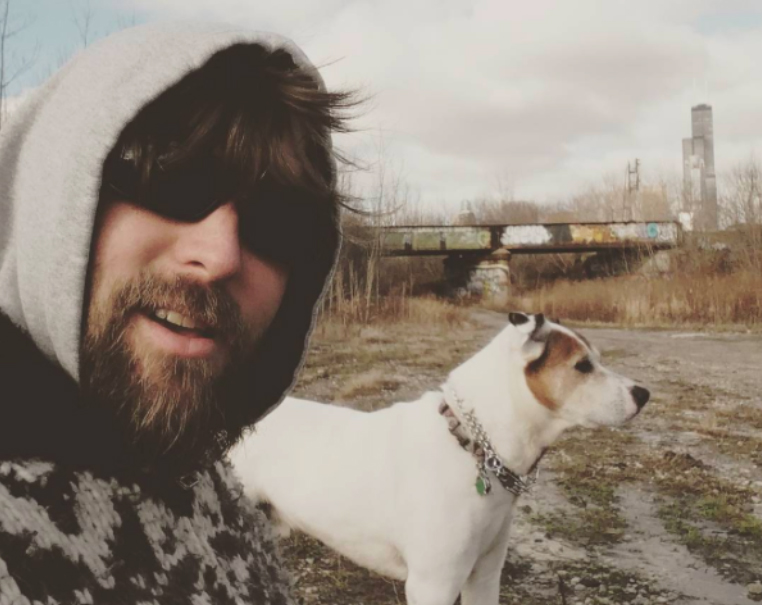 "Seven years ago I lived in the Emerald Den, a run down shanty with slanted floors a mile or so away from the Chattooga River in South Carolina. I was a white water raft guide and by all accounts a fairly decent one. This is where Knock Down Barns and my eventual company Emerald Den Games were born."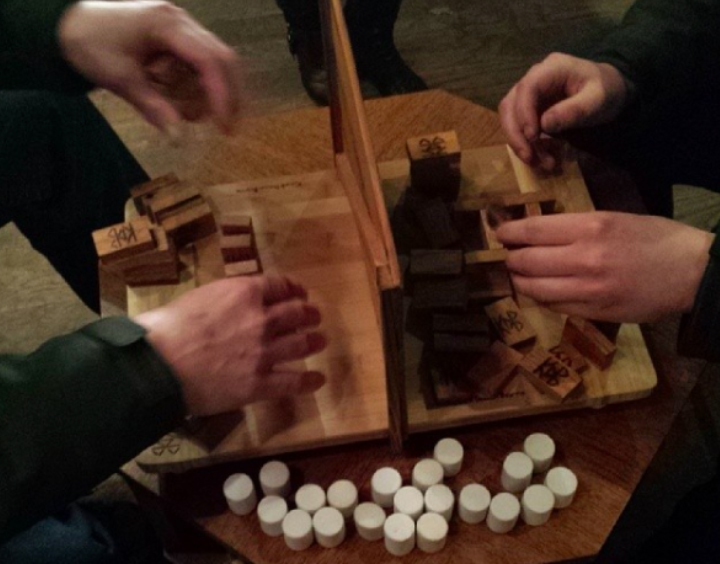 How did you come up with the idea of Knock Down Barns?
"Dominoes were the first blocks for my game. My housemate in the Emerald Den Camille had a great set of Double 9 Dominoes that I taught at least 10 raft guides how to play Bones with. After one of those games we built a tower out of the dominoes that stayed standing for a whole 24 hours before the dogs ran in and knocked it partially down. My buddy Sam was on the other side of the table from me at the time and we started throwing things we could reach at the remaining domino structure. We knocked it down but discussed what it meant 'to be knocked down' for at least 20 minutes. We tried figuring it out and I passed Sam some dominoes. I told him to build something and I will knock his building down before he knocks mine down. 'Knock Down Bones' was born. That summer we played almost daily and the rules flowed like the river. I knew the idea had legs but had to figure out if I could actually bring it to market."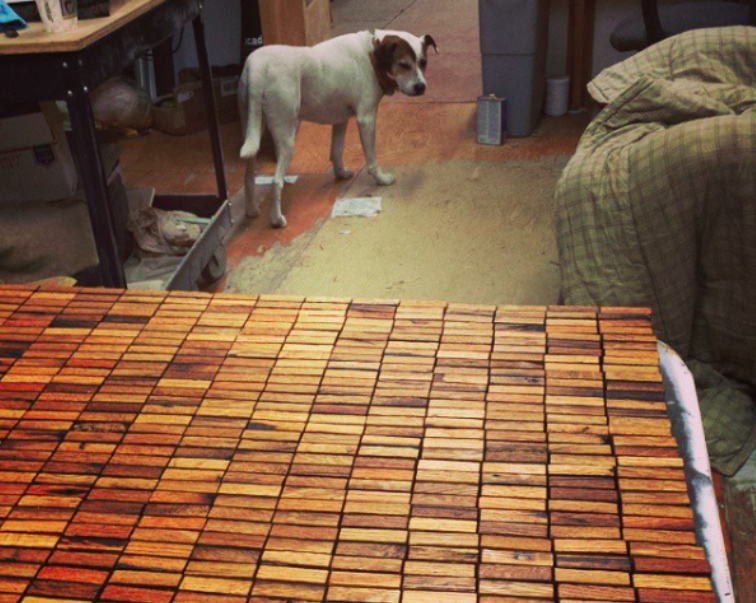 Why are you using (specifically) reclaimed barn wood for your game?
"I had such immediate success with the domino version that I started thinking about how to replace the dominoes with some other material that was easy to source. My friend Brian was already in the barn wood business in Asheville NC and I went up to visit him and his dog Curry (my dog Puck's mom) on the way home to Chicago that season. He loved the game idea and suggested I build a few sets in his basement out of the reclaimed barn wood he had in stock. Those first 6 games we built are now in the hands of the first folks that ever played. While we were producing the games Brian suggested that bones didn't make any sense if it was no longer dominoes being used and I agreed. It was the dawn of Knock Down Barns."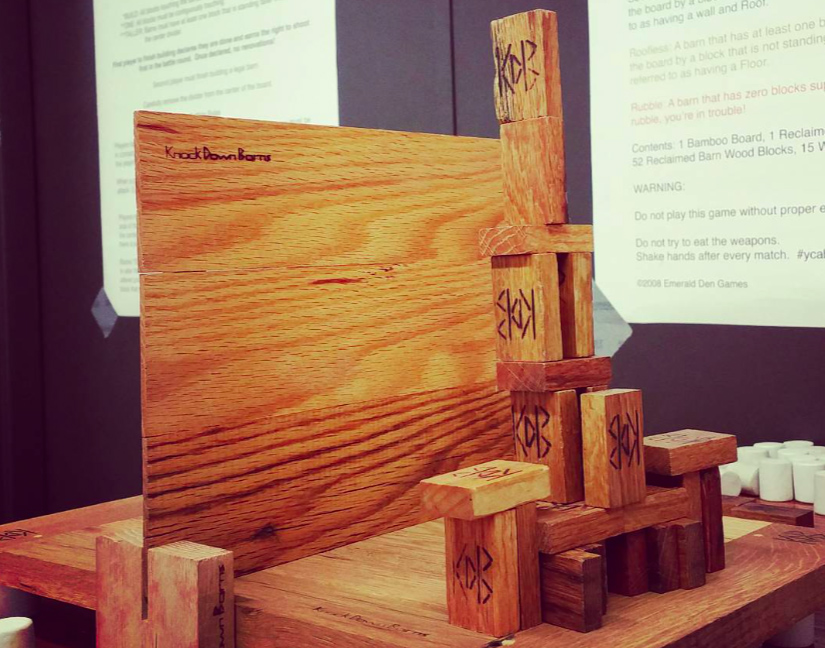 "The next year I spent a fair amount of time finding and taking down old barns around Asheville to get the materials I needed for the games. Some of that original barn wood I collected is still being used today in new games as I got way more than I needed at the time. The beauty of the wood is shown in the age and wear that you just can't fake. Repurposing a falling down barn into board games is both fun and environmentally sound so game on."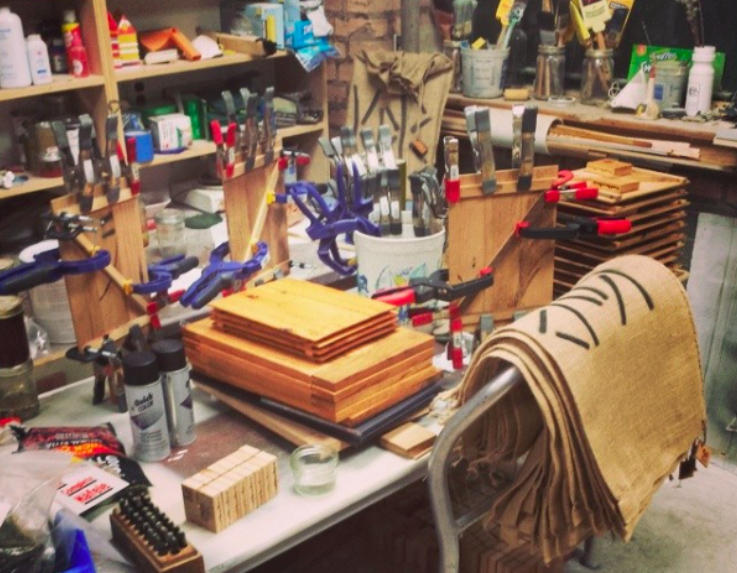 It seems like a lot of work to make some games. What gives you the satisfaction of doing this?
"Thank you for realizing that! This is a ton of work right now for me to keep this little business going. I get the most satisfaction when a new player steps up to the plate and builds a crazy creative tower and destroys their opponent. It doesn't hurt that 99.9% of everyone I've ever taught thinks that the game is fun. I did sell enough this holiday season to keep the fire going and will be in New York this February at Toy Fair 2016 to try and get some manufacturing and distribution partnerships."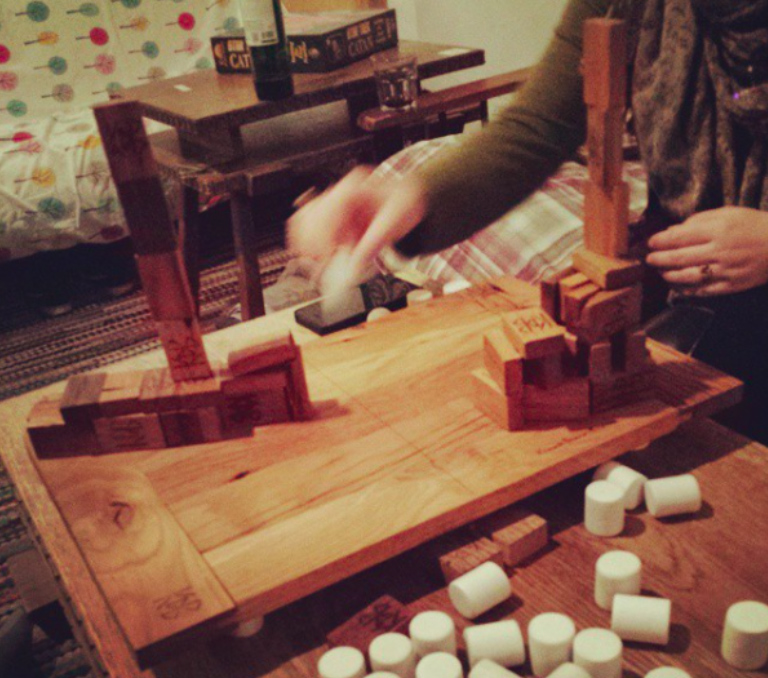 Do you think we are craving for high tactility in games?
"Parents are especially looking for ways to get their kids away from the screen these days as school and work are so based around computers. As for the dexterity games being craved I would say I see it growing in the hobby of tabletop gaming for sure. Knock Down Barns is really closer to a sport than a board game truth be told. Sports and gamers don't always mix so dexterity games have an uphill battle to become main stream."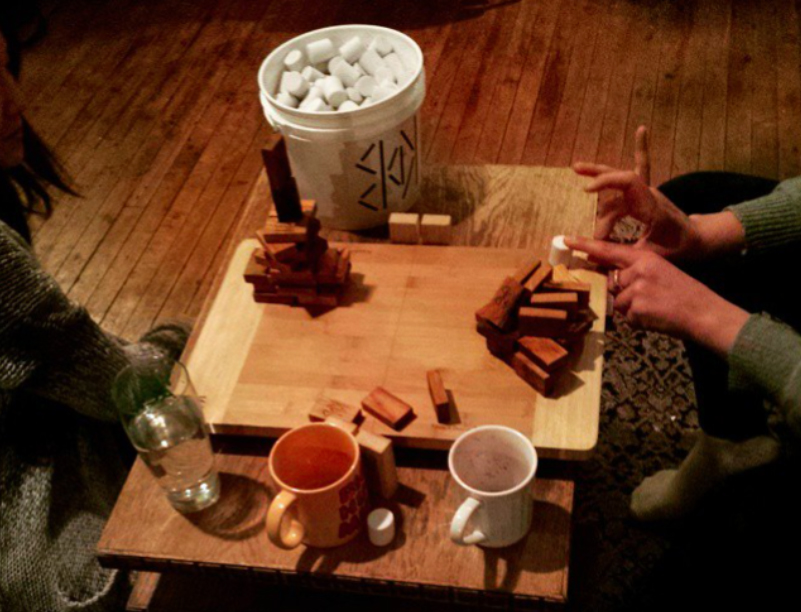 Are you already working on your next game?
"Yes! No details yet but another physical game."
Thanks a lot! Something you would like to add?
"Knock Down Barns World Championship will be held at Gencon 2016 in Indianapolis Indiana. I will be teaching folks how to play for the first few days and run the tournament as an official event the last day of the conference. Prizes will be plentiful and I will give a really nice hand made signed game to the winner."

Did you like this story? Please share or comment. Go to this page to submit a story yourself. Subscribe to our online magazine here!