Hi, my name is Phil, and I recently launched a board game on Kickstarter. It's called Wunderkammer: The Card Game of Curating Curious Collections. My reasons for making it have been motivated as much by my passion for the idea as a practical business endeavor.
The goal of the game is to collect item cards that feature rare and strange collectibles and use them to build up a Cabinet of Curiosities. The player whose cabinet is worth the most points at the end of the game wins.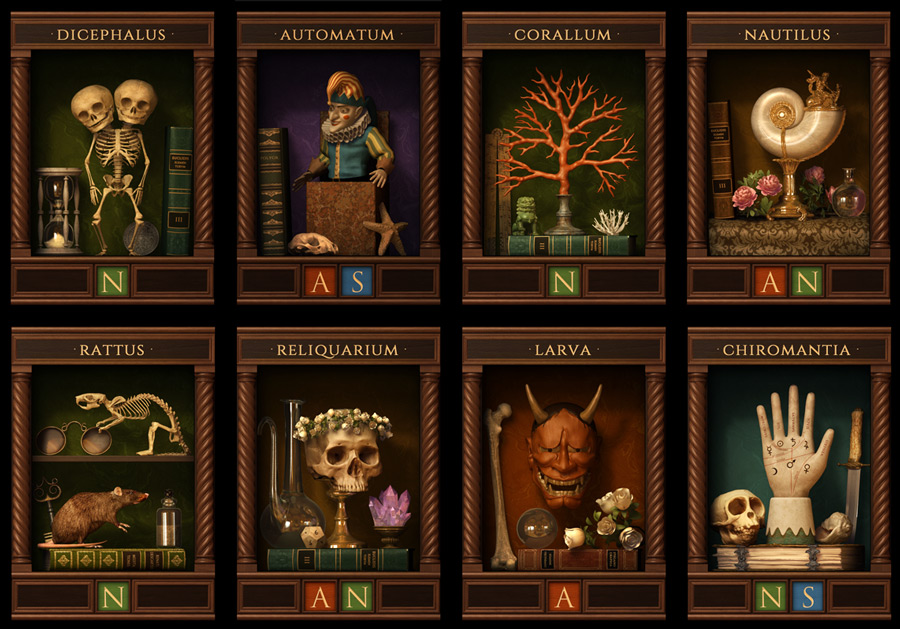 The gameplay has many parallels to how the world of collecting works. For example, to acquire item cards, players participate in several auctions. However, in this style of auction, players don't announce bids on specific item cards. Rather, they bid on Priority, or who gets to choose from a set of random item cards first. This uncertainty between bidders has interesting implications for social dynamics and strategy, and table talk can get very interesting at times.
The visual style is very much inspired by the Cabinet of Curiosity (Wunderkammer) tradition, and the items themselves have been carefully 'curated' and graphically represented. I happen to be a collector as well, and many of the objects are based on items from my own collection.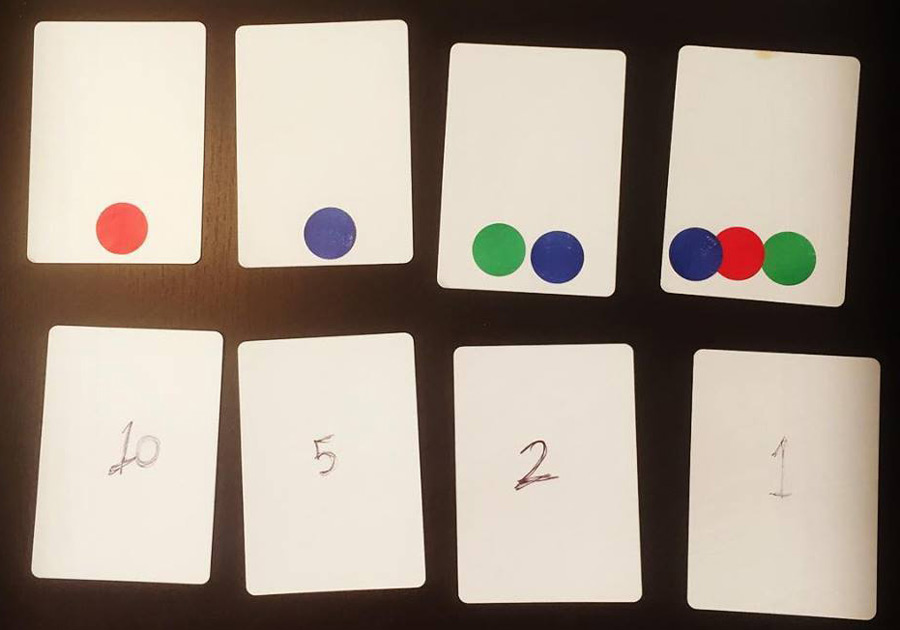 Early prototype.
"So why make a board game about collecting and curating weird objects?", you might ask.
There are a few things that inspired me to make this game, but if I can name just one it would be the sense of curiosity and wonderment that I had growing up in a small hamlet in northern Ontario, Canada. There was no shortage of woodlands and wildlife up there, and my parents weren't very strict with me and my friends wandering off into the woods for hours at a time, as long as we made it back for dinner.
And so being a kid surrounded by square miles of mystery, every day was a little adventure into the unknown. And as I remember, every expedition was always rewarded by at least one interesting discovery.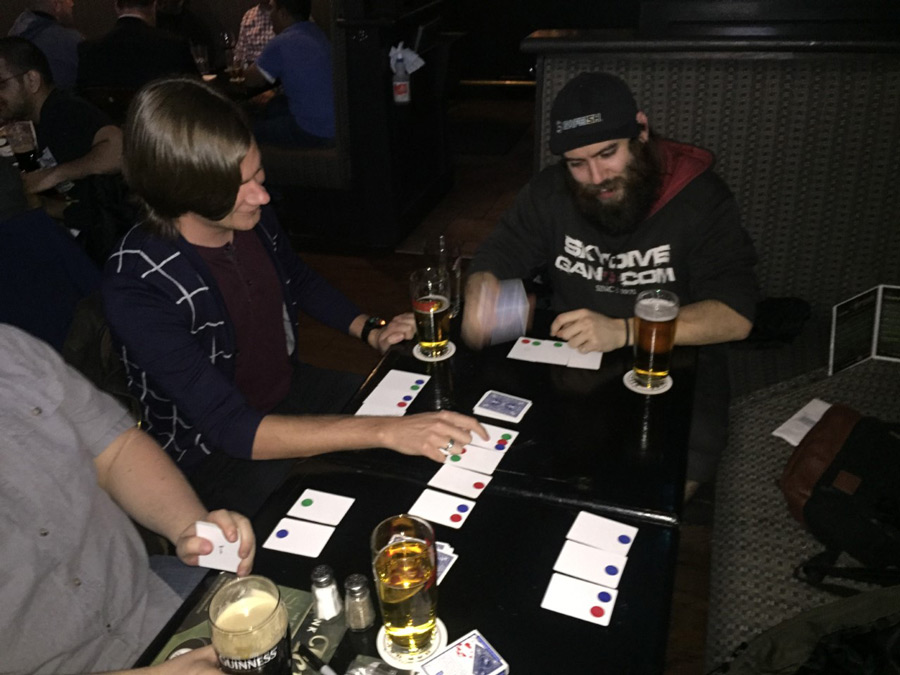 Playtesting at the local pub.
For example, on a Monday we might find an old fruit cellar in the middle of nowhere, hoping it contained hidden treasure (unfortunately nothing was to be found there but old broken pots). On the Tuesday we might come across a nest containing unusual eggs. Wednesday we might stand in awe at the gruesomely fascinating carcass of a dead animal lying by the train tracks. Thursday's discovery could be an alien-looking water scorpion crawling around the bottom of a creek.
It was fun! But these adventures were only during the warm months of the year. In a Northern Ontario winter, snow piles up high, so there were many days of being stuck inside the house. With three television channels and no internet (these were the late seventies and early eighties) a kid had to make his or her own fun.

On especially boring days I would sometimes flip through a set of encyclopedias we had on the book shelf, mostly to just look at the pictures. Aardvark, Achilles, Amoeba, Architecture, Ballistics, Bhutan, Carbon, Centipede, Cholera, Digestion, Doppler Effect…. man, this is dull…. huh, what's this? EGYPT! COOOOL!
One fateful winter day I discovered ancient Egypt. This may be the thing that sparked interest in both collecting and researching the unusual and esoteric.
Hieroglyphs, King Tut, the pyramids, mummies, the ankh and the eye of Horus; what these things were and why people invented them long ago was beyond my 7 year old understanding. But the pictures were so neat and weird and outside of my frame of reference that I couldn't get enough of it!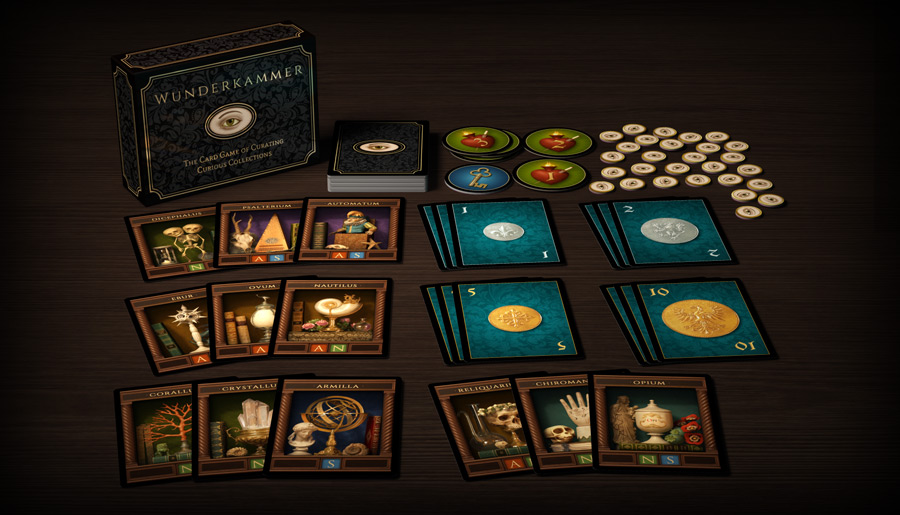 I'd spend hours armed with Volume 'E' of Funk and Wagnell's New Encyclopedia in one hand and a brown magic marker in the other, copying hieroglyphic cartouches onto cardboard packing boxes and stacking them to make my own obelisk (a word I couldn't even spell or pronounce at that age). I even attempted to build a small sarcophagus out of dried pasta noodles and Popsicle sticks.
Years later, when I "grew up" and followed my career path, I traveled a bit, learned how auctions work and spent a portion of my disposable income collecting the things that delighted me when I was younger. My interests would branch off into many areas, so now my collection is a mishmash of a wide variety of oddball things: a Wunderkammer.
So that's my story. Or a part of it anyways. If you are interested in learning more about the game, you can visit the Kickstarter campaign page here.
Or you can visit the Facebook page here.
Thanks for reading and I wish you a great day full of wonder and curiosity!

Did you like this story? Please share or comment. Go to this page to submit a story yourself. Subscribe to our online magazine here!