Hi there! I am Wouter, a game designer from The Netherlands. Last year I talked about my pirate game Wacky Pirates on Analog Games. Since I received quite a good response on that story, I would now like to show you how my third game came about: Sunflower Valley.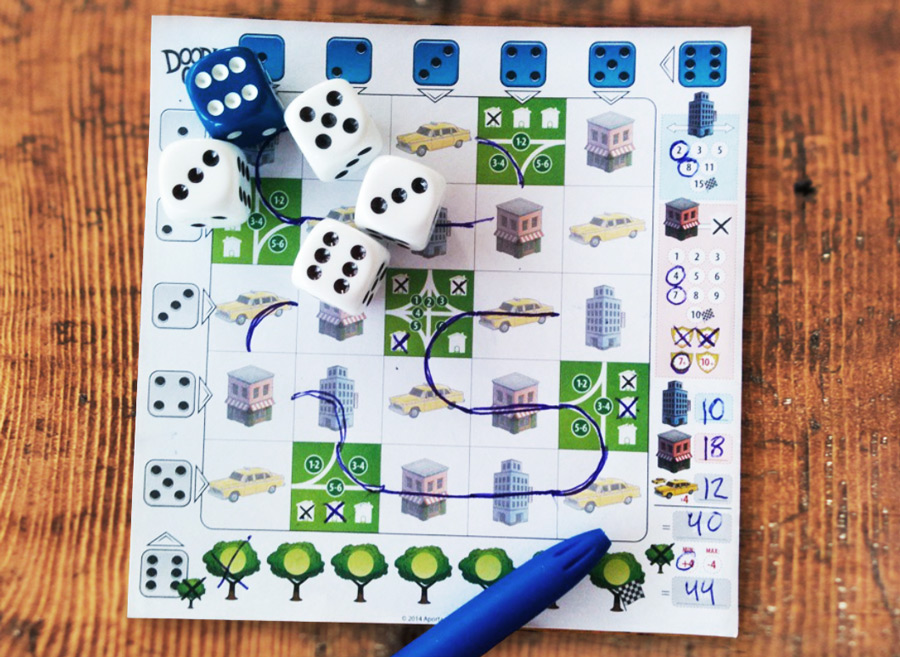 Doodle City, published by 999 Games.
When I heard about the dice game 'Doodle City' somewhere in 2015, I immediately became excited because of its title. Just imagine: a game in which you draw your own city! But frankly, I was a little disappointed when I actually played the game. In this pen-and-paper game you draw lines through city streets to score points. On a grid, players try to cleverly link their roads by making use of the dice. Don't get me wrong; the game is pure fun. But I missed the game element of 'doodling' your own world, which I had hoped for because of the title… This sparked my idea of creating a world-builder in which you truly doodle your own little world.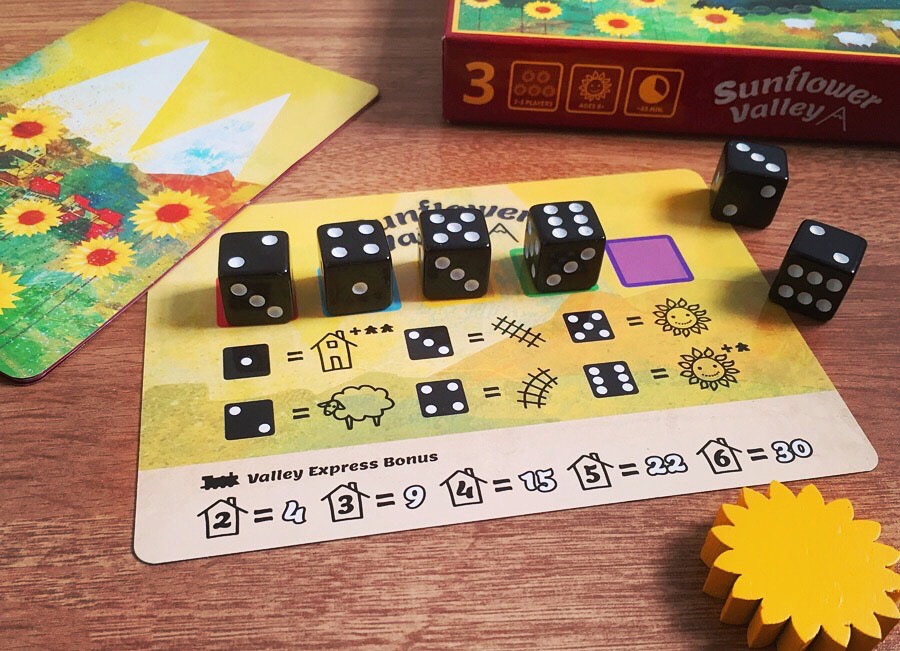 The Dice Card in Sunflower Valley.
One thing I love in Doodle City is the dice-drafting mechanism in which players compete over a pool of dice—everyone gets to choose just one die. I really wanted to implement this element in my game, because it works so well in building up tension during the game. Something I wanted to change, however, was the blue die that determines in which column you have to draw a line. I wanted to increase player options for determining where to draw. This led me to the idea of a Dice Card on which you choose a region you will draw in. On the Dice Card, you use your chosen die to occupy an unoccupied color. Then, you draw an icon in a region matching that color. Other than taking dice other people might want, Doodle City felt like a solitary game. The introduction of the Dice Card made the game a bit more interactive, since you can temporarily block a certain colored region for the other players as a strategy.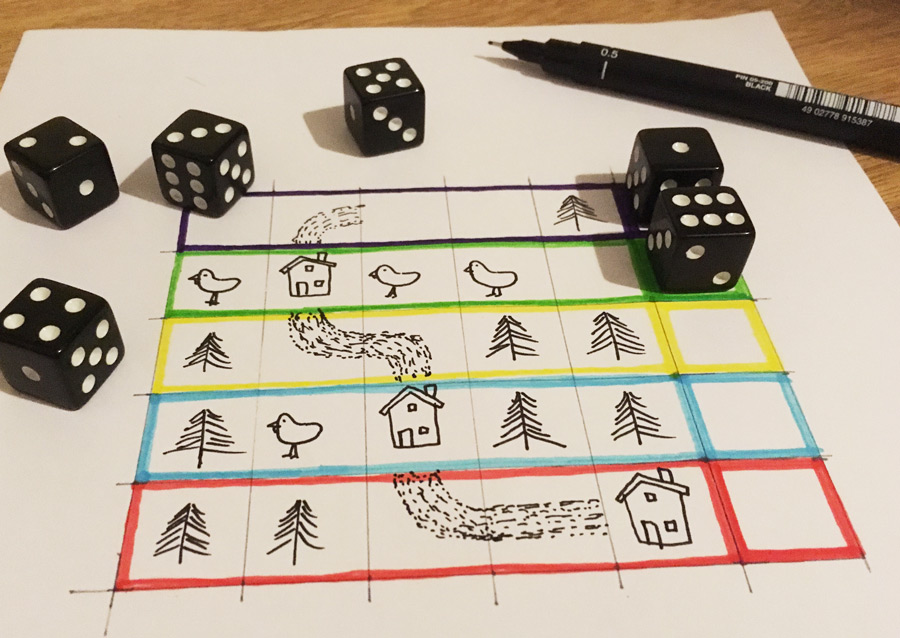 Early prototype of a doodle world-building dice game.
One of the first versions had a grid-like map as seen in Doodle City. In the different colored regions you could doodle icons matching the die value on your chosen die. You could build villages with chickens in wooded regions. By making the right combos of placement and amount, you could score points at the end of the game. At one point I came up with the idea of adding a puzzle-element. I developed a new rule giving bonus points for connecting your villages using roads. Remembering the rule from Catan where you have to build at least 2 streets between villages, I played with this new element, ending up with a combination of straight and curved roads. It worked well, and the link with Catan also inspired me to change the grid to hexagon tiles, opening up much more freedom to make combos with the icons.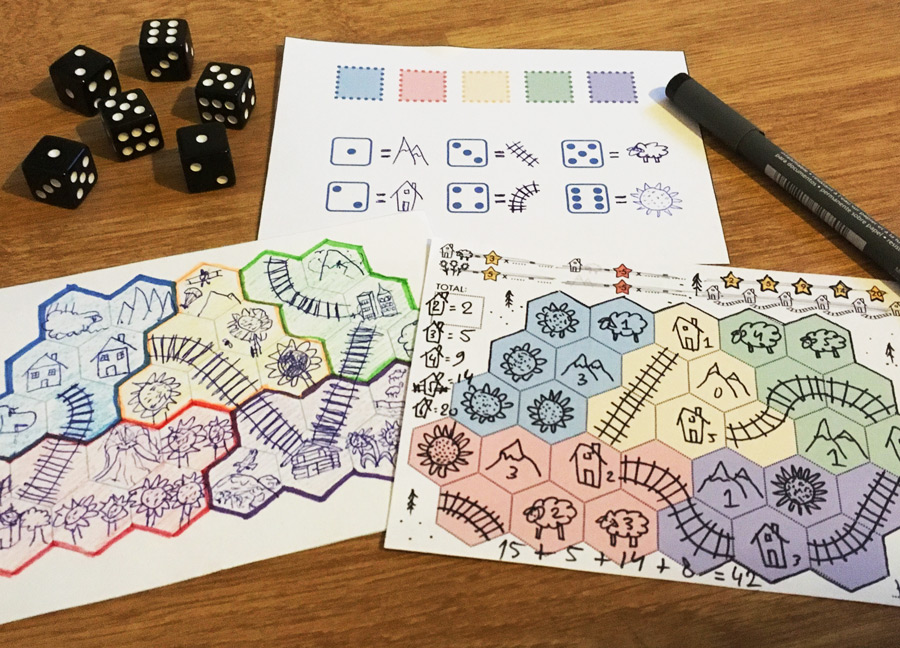 More prototypes with drawings by playtesters.
I was looking for icons that anyone could easily draw. This led me to the idea of using a mountain landscape as a game world. In this mountain valley, you draw villages and sheep, and try to connect villages using railway tracks. In addition, you can cheer up the valley and earn bonus points by drawing sunflowers around the preprinted mountains. Because I wanted to use regular 6-sided dice, the game uses 6 dice in total, so potentially every die value can be available during a round. Since the game features 5 colored regions, the last player can always choose between at least 2 dice.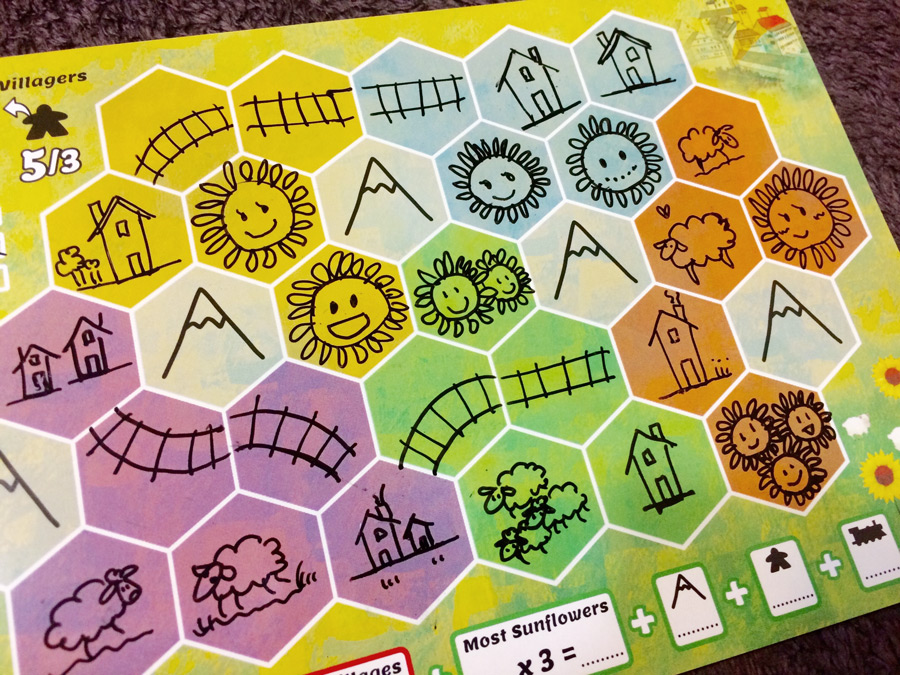 Lots of scoring opportunities in Sunflower Valley. Photo by Saya Lee.
I wanted to give the game depth by offering several scoring opportunities. After many iterations, in the final version you can score points in the following ways: by providing your villages with sheep; having the most sunflowers of all players in a colored region (interaction element); surrounding your mountains with sunflowers; attracting the most villagers to your valley; and connecting your villages with at least 2 railway tracks.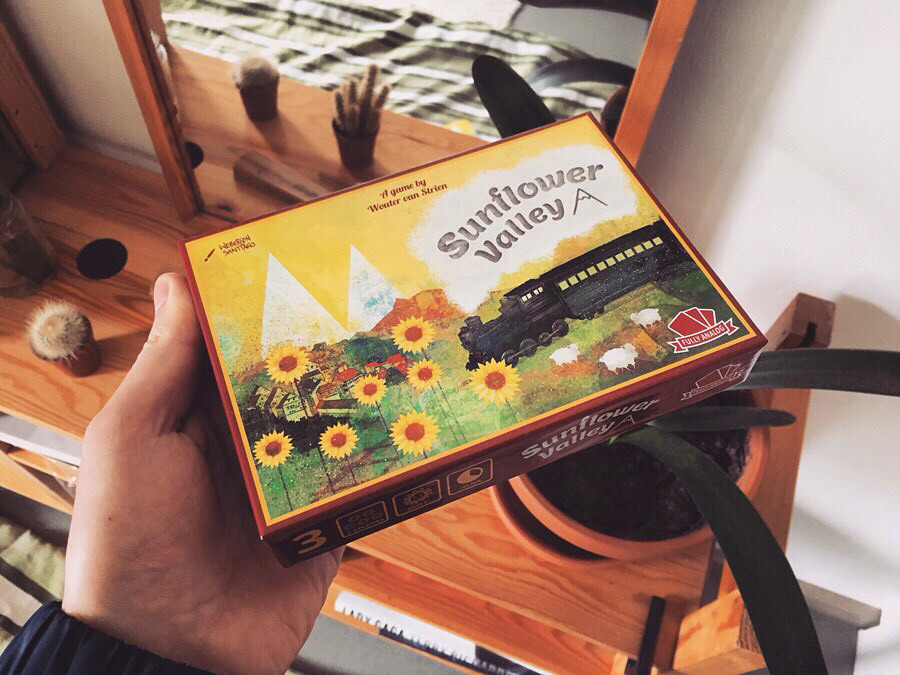 Box art by Weberson Santiago from Brazil!
I'm a big fan of artwork by Weberson Santiago. He did games like The Bloody Inn
, Coup and World Championship Russian Roulette
. When he agreed to work on my project I was on the moon!

For a long time, my game with villages and sunflowers in a valley didn't have a name—I always find game titles hard to come up with. Then, someone asked me: "hey, how is your Sunflower Valley game going," and I knew that this was the perfect title for my game!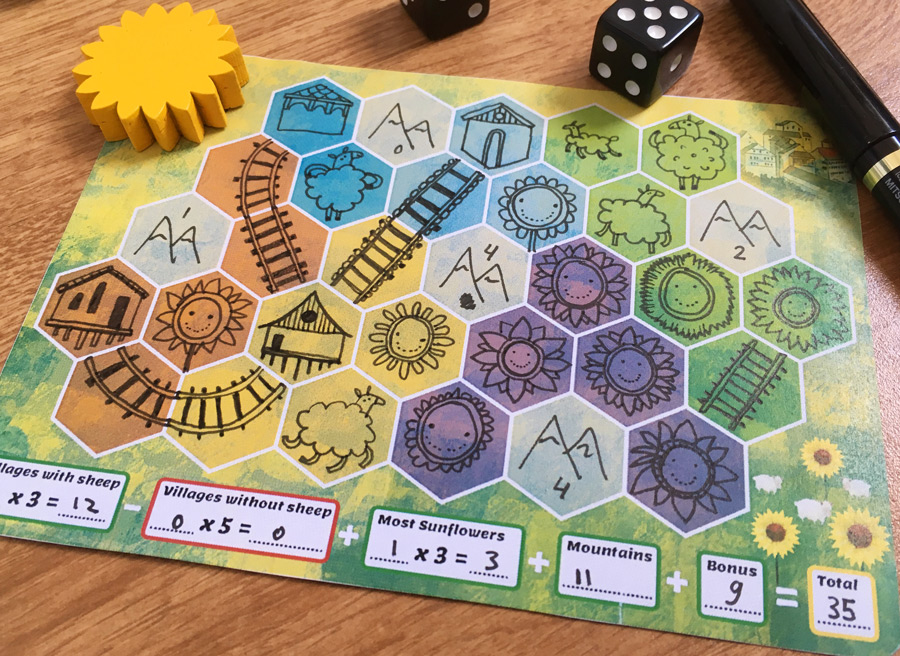 Lovely doodle by one of the playtesters.
I'm really happy about how the game turned out. It is always fun to watch how people start with the same empty valley but then come up with a completely unique one. In the rules I encourage players to draw the icons in their Sunflower Valley in any recognizable form they like. I hope that this way people can freely use their creativity and that they have the feeling that they're "doodling" their own little world.
If you're interested in Sunflower Valley, I've produced the game in a very limited print-run, there are still some copies for sale over here. Here. And don't forget to take a picture and use the hashtag #sunflowervalley 🙂 Thanks for reading my story and happy gaming!
Did you like this story? Please share or comment. Go to this page to submit a story yourself. Subscribe to our online magazine here!
stardew multiplayer release steam board dice game gameplay run-through review tutorial cheat free rules pnp pdf video stardew valley indie game designer release mod cheats gigamic hobbyworld