Analog Games aren't just fun. They also often come in interesting boxes featuring beautiful artwork. It's no surprise that a lot of us love to proudly showcase our board game collection on a shelf. In this series, every week one of our fellow board game enthusiasts will exhibit their board game shelf and tell us something about their favorite board and card games. Today we are going to look at the board game shelf of Kris from Indonesia!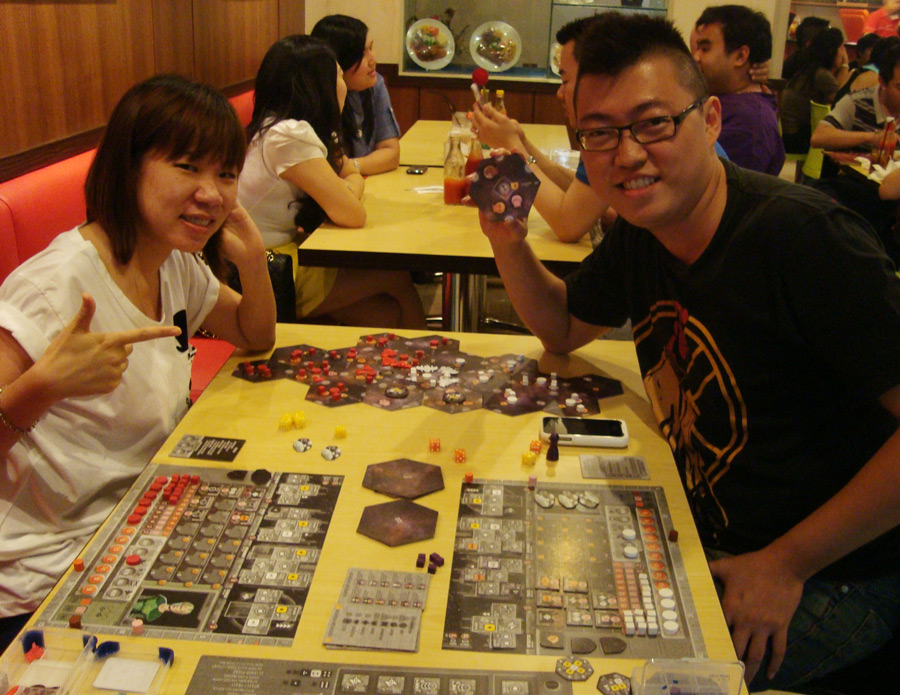 Hi Kris, please introduce yourself.
"Hi, my name is Kris (aka @vardamirnation on twitter and @angrodvardamir on instagram) and I am a board game enthusiast from Jakarta, Indonesia. I am still single but not for long, yes, getting married late this year with my girlfriend whom is also a boardgamer, though she's not as enthusiastic as me when it comes to playing games. I work around in the creative world, mostly doing graphic designs or creative concepts. So design and visual always have been something for me and in board games and these two are inseparable. Aside from playing games, I also often do re-themes print and play for games like Mass Effect The Resistance: Avalon, Anime Koryo, Watchmen Lost Legacy and many more. When I joined the hobby (around 5 years ago) board games were not very common, you couldn't find them anywhere (only at one place and the options were very limited) and almost everyone here doesn't know about them. When I told them about board games, their faces shown question marks, and I had to explain it with "you know, like Monopoly" and then they just "Ooh…" funny thing I guess. Getting new board games is kinda memorable, because we had to do a group buy for a consolidated shipment, which was somehow fun when I recall those days, the order process, the waiting and the arrival, fun shared with everyone else."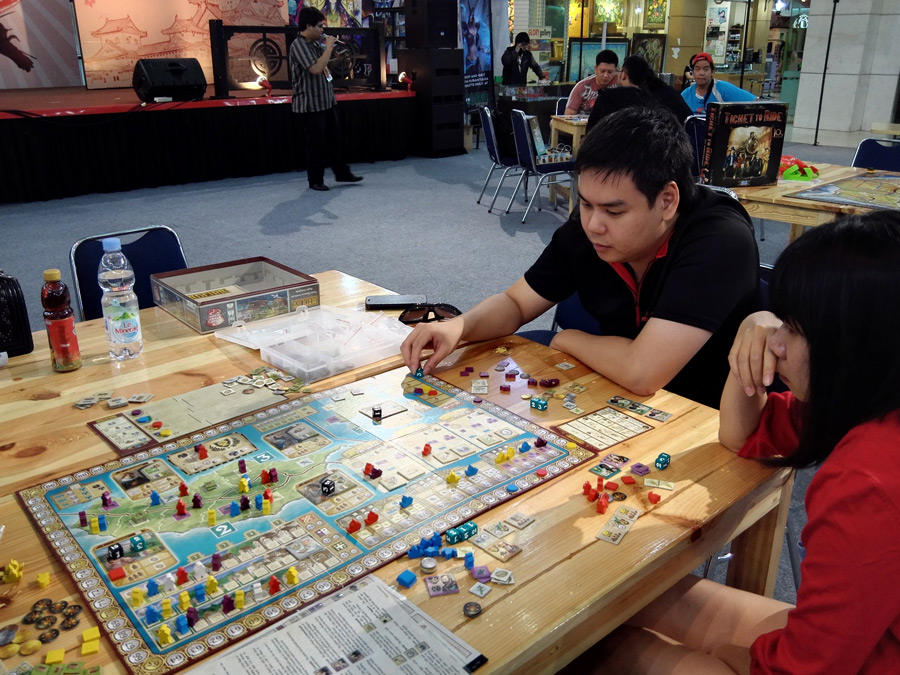 How did you get into this world of non-digital games?
"Well, in my past gaming was always been a part of me. I liked to play video games when I was young, mostly PC games. My favorite genre was Euro RPG (Baldur's Gate, Diablo, Arcanum and Mass Effect, those kinds of things). But all of a sudden I stopped playing video games. It's a funny story really, all of it because of Monopoly and the funny thing was I dislike Monopoly. In my country, Monopoly has been very common as a childhood game, along with Snake and Ladders, Chess, Uno and Jenga. And back in the day, we didn't call them board games, just games. Okay back to my story, once upon a time my friends asked me to hang out in a bookstore cafe. I arrived late and upon my arrival they're playing Monopoly. They invited me to join them but I refused (as I mentioned earlier, I don't like Monopoly). So as they were playing I watched them or I was doing something else with my phone. In the end, my friend said that we should find another game that I am willing to play, he mentioned board games. "What the hell is that?", turned out my friend searched and looked to find an online forum community of board gamers (IBG, which stands for Indo Board Games) and asked around which games that're suitable for new players like us. And he was reffered to Pandemic
and Arkham Horror
. So we went to a specific store and bought Arkham Horror together. We played and played and it was amazing. It was something new to us, very interesting. Our curiosities were tingling and we wanted to know more, so we joined the community meetup in a nearby café. We met several guys who were playing there and instantly we were playing games like crazy, they were so friendly and fun so it's quite easy to blend in and have some fun. For me, I was surprised by how interesting board games were, the possibilities were endless. So I officially knew about board games and stopped playing video games, and that was around 5 years ago."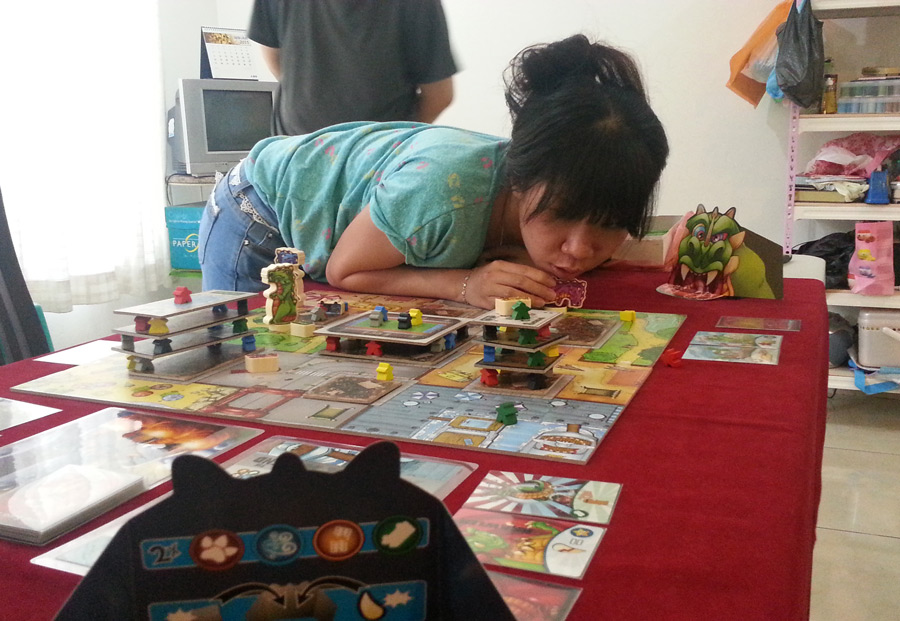 How often do you play?
"In the past, very often. I played 2-3 times on weekdays and in the weekends all day long, but those were the good old days. Now, I don't really have the time, my work has caught up to me, making it nearly impossible to play on weekdays. During the weekends I usually can play but not every time, so this isn't a good situation for my board game hobby, but the purchases keep coming. I've been managing a game night each Friday in a local café in my location and I'm still holding on to the tradition of the community that my seniors left me off."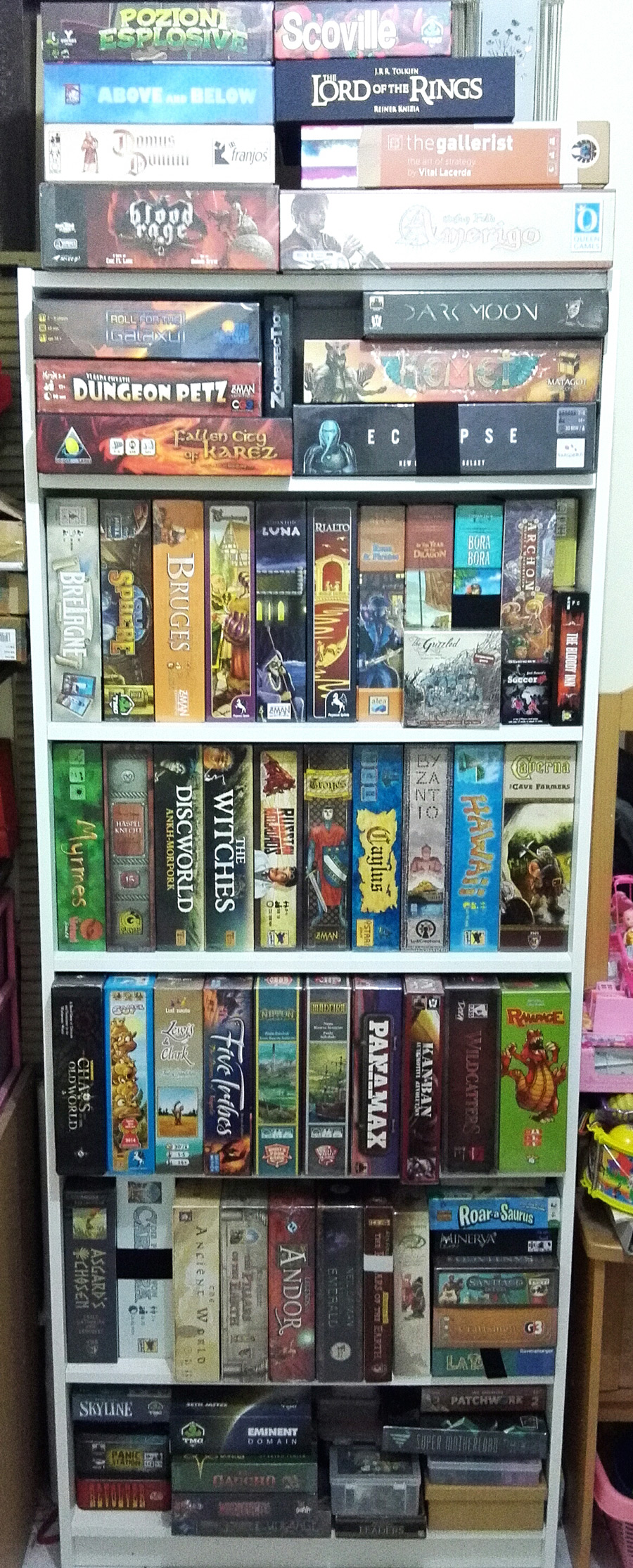 Can you tell us something about your shelves?
"Titles in my collection are mostly Euros, yes I like Euro games, specifically medium heavy games. There are many medium-to-heavy Euros and a very few Ameritrash titles in it. I've always drawn into Euro games with high complexity, though I know that it is difficult to find a time to play them very often. Though in truth I also like Ameritrash games in my own way (I am very picky about them), in fact some of my favorite games are Twilight Imperium
, Rex
, War of The Ring
, Dorn and many more. My shelves are right now overpopulated and I badly need more additional space, but the room doesn't allow it. So maybe when I have room for a new shelf I will get another one for the over-excessive game boxes in my collection. Most of my games are well treated, I sleeved all my games (the box) to protect them from scratches and water splashes. For organizing the games on my shelves as you can see I made a special arrangement for Stefan Feld's titles, though few of them are not in the picture (some of my games are either on my girlfriend's or my friend's place). Most people choose games to be in their collection because of the hype, the trends and such, but I usually keep an eye to strange and uncommon tittles (you can check it yourself in the pictures) which perhaps turned out to be hidden gems."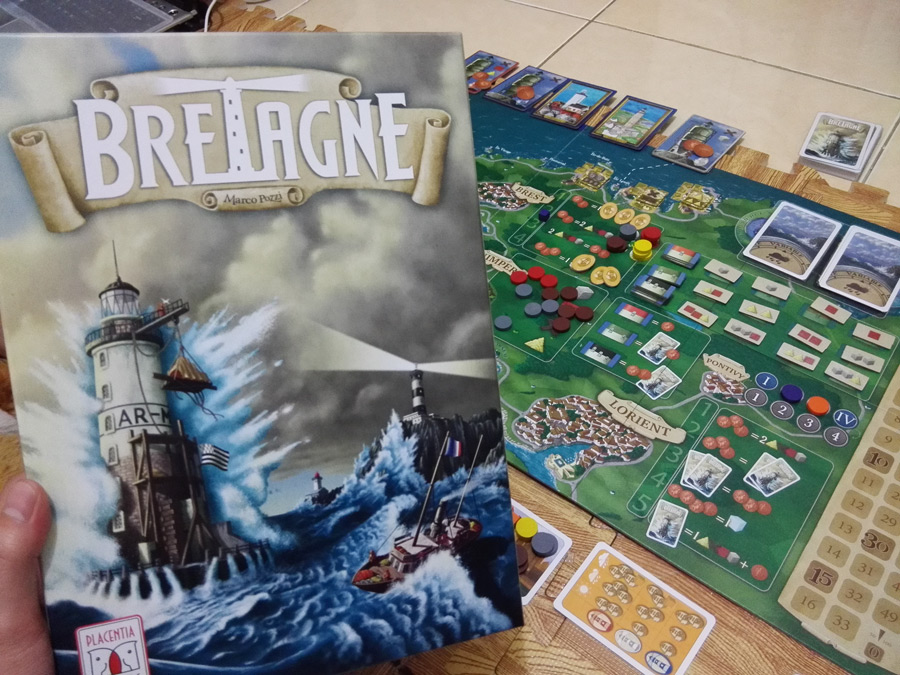 What is your favorite game at the moment?
"Wow, this is the hardest question of all. There are many games I like (even love), of course if I don't like it why even bother to keep it, right? Well, right now I am into Bretagne and The Grizzled
(coincidence or not, both of them are about France), but the real deal, my most favorite game is Eclipse
. This one is the game that I would choose if I only could keep one game. I love and adore Eclipse very much."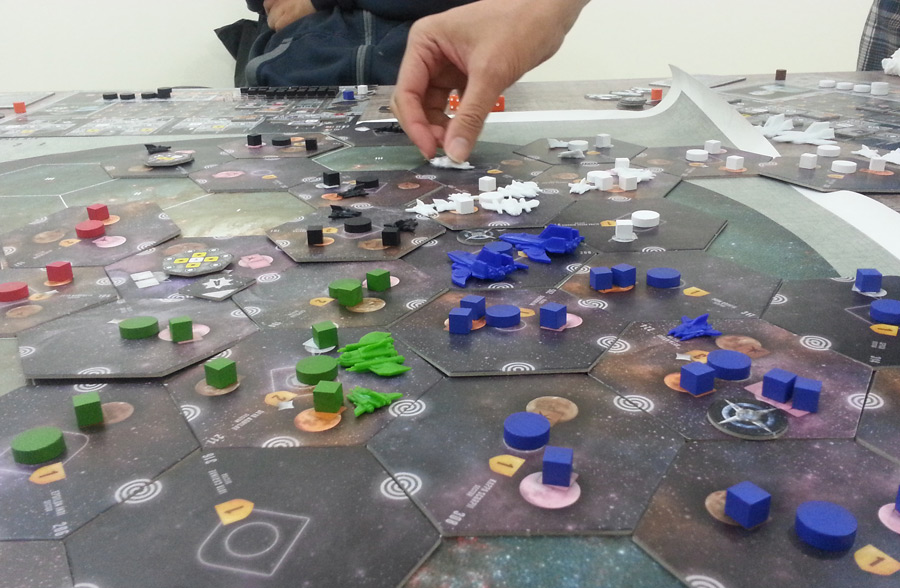 "I don't really like cooperative games but that's not keeping me to like a good cooperative game such as Robinson Crusoe
, Hanabi
, Legends of Andor
and The Grizzled
. And I usually avoid RPG dungeon crawling and miniatures games because my girlfriend doesn't like those kind of stuff. I bought and sold Descent
2nd edition because of this (deep inside I still want to play this game). "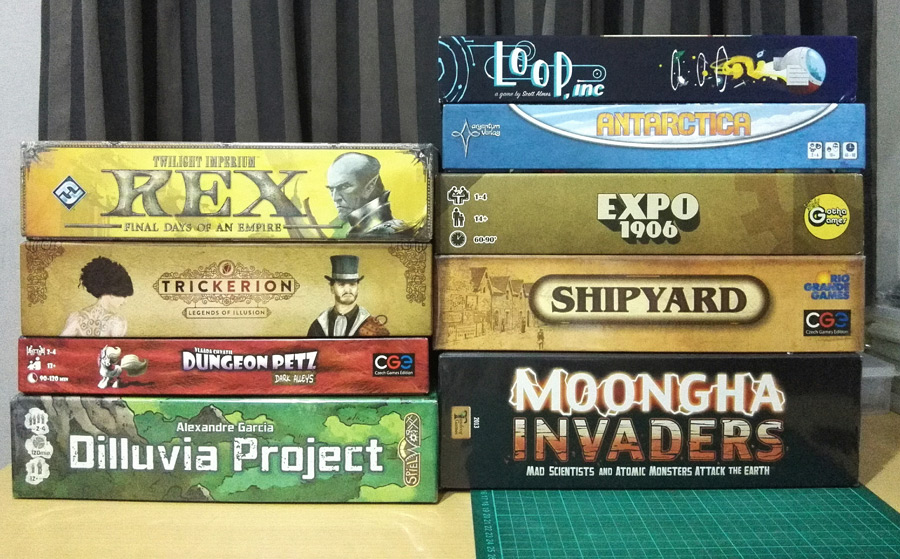 What is your most special or obscure game?
"I think I already mentioned my most special game in the previous question, but never mind. My most special game is Eclipse
. Why? Because I love its theme and background story. Before Eclipse, I played Twilight Imperium 3rd edition and it blew off my mind, it was epic, amazing, huge and very interesting. But the game's length would make this game played once a year and that's if you're lucky. But when Eclipse came out, it's like the solution arrived, shorter and more streamlined game play. I was in love suddenly, found a copy and bought it (this one was my most expensive game at that time) with joy. The unboxing was memorable, I remember all the details of that process. Now I assume special and obscure are two different things, so my most obscure game would be Wiraqocha. This game is not something that everyone would know. It's a unique game that deserves more love. It has high interaction between players, high luck on the dice roll and interesting area control."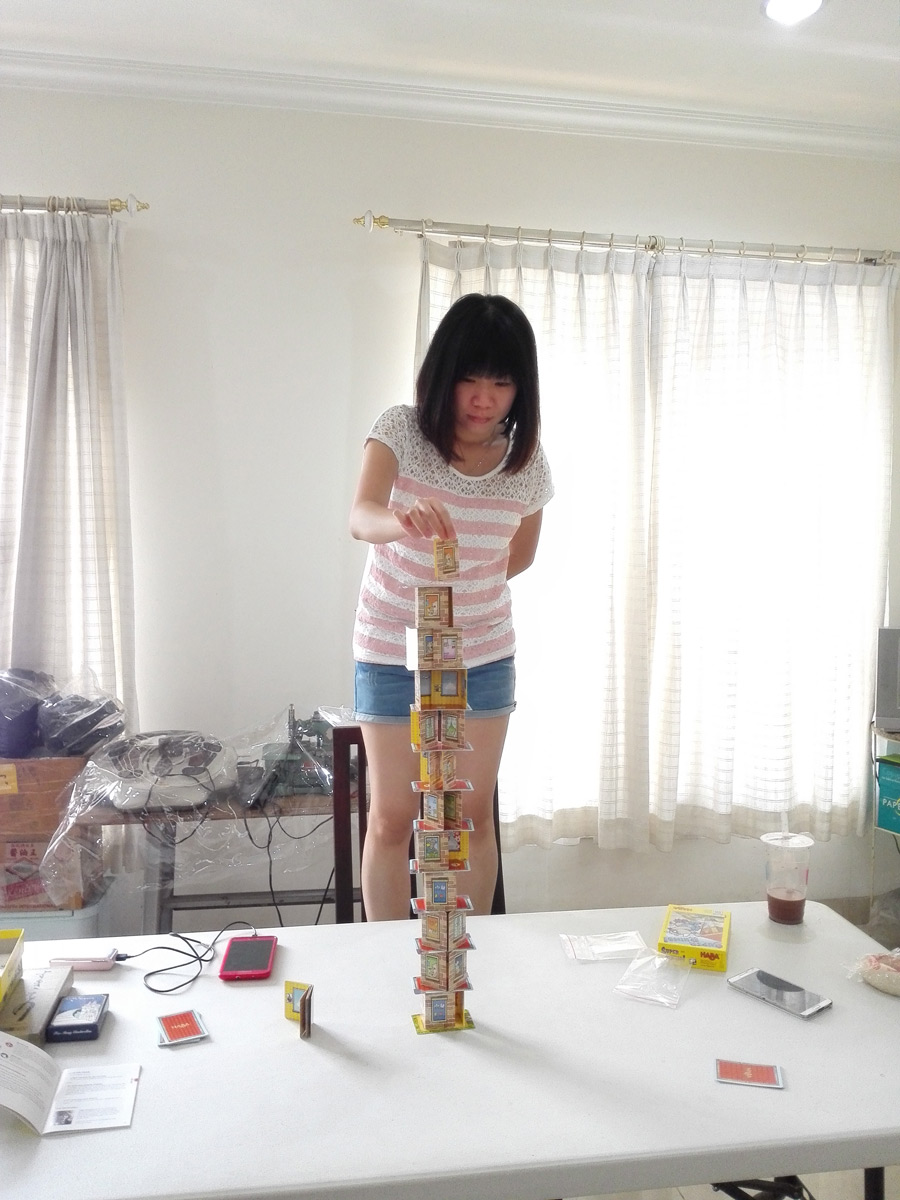 Thank you so much for sharing your story! Something you would like to add?
"Yes, aside being a board gamer and a collector, I also write game reviews on my blog and I'm also active on my community as one of the administrators on the Facebook group. I also did design board games, but none of them are working well right now (it's not an easy task to finish). Feel free to contact me through twitter, facebook, instagram, BGG (my user is vardamir), and email, I will be happy to connect with fellow board gamers around the world. To get to know better, share some stories and have a quality chat over board games. Thanks for reading my story and thanks to AnalogGames for inviting me to participate in this interesting article."
*This article contains affiliate links. For more details, please read our Affiliate Disclosure.
Would you like to present your board game shelf to the world? Please answer the above questions and include some good quality pictures to your story. Go to this page to submit your story. Subscribe to our online magazine here!