Analog Games aren't just fun. They also often come in interesting boxes featuring beautiful artwork. It's no surprise that a lot of us love to proudly showcase our board game collection on a shelf. In this series, every week one of our fellow board game enthusiasts will exhibit their board game shelf and tell us something about their favorite board and card games. Today we are going to look at the board game shelf of Willem from the Netherlands.
Hello Willem, please introduce yourself.
"Hi there—it's Willem here! I'm a Dutch board game enthusiast living in Amsterdam. At the moment I'm doing my clerkships in med school, so I don't exactly have limitless free time. But when I do have a day off I love to play board games with friends. On top of that luckily there's always time for a quick game of Agricola: All Creatures Big and Small
over a coffee with my girlfriend."
How did you get into this world of non-digital games?
"When I was a kid I was obsessed with Monopoly
. I wanted to play it so often, that most of the time I wouldn't be able to find anyone else willing to play. It got so extreme that I would just play by myself, playing all the different tokens. I would get so involved that my mom even sometimes thought I had friends over while it was just me doing all the players' voices haha. I guess it's rooted in that time that games for me are about figuring out the best possible moves, and really not about winning—in those solo games I would come out the winner regardless! Ever since then I've been into non-digital games, and thankfully my board game horizon has broadened since the days that all I played was Monopoly."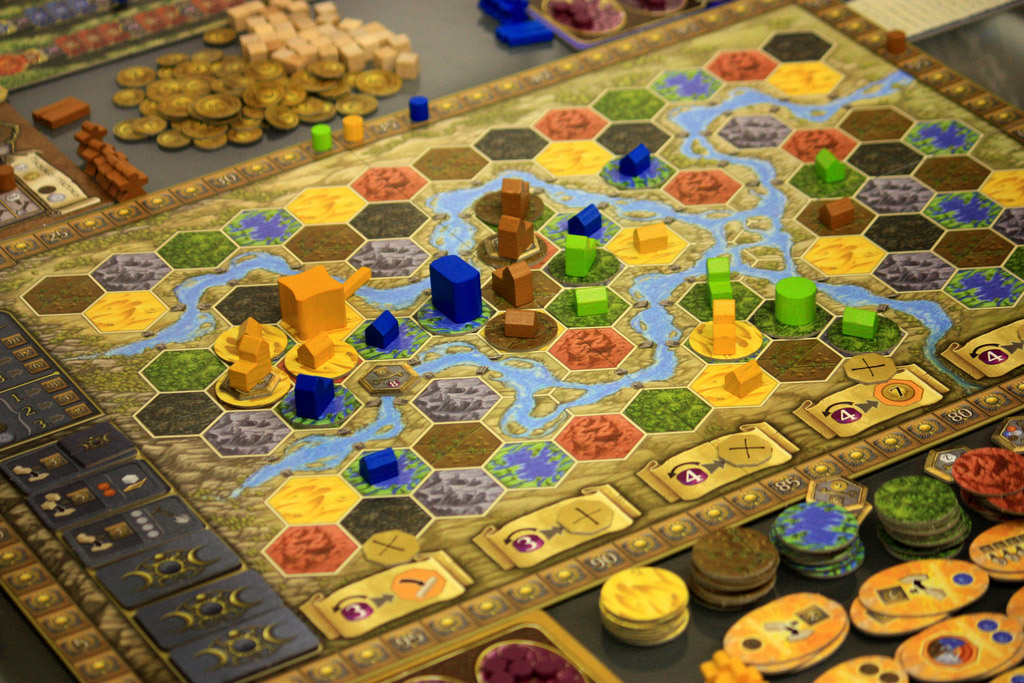 How often do you play?
"It depends. Epic Terra Mystica
marathon sessions with my hardcore gaming crew only happen a couple of times a year. But I usually manage to sneak in a game of No Thanks!
with beers during weekends. It's awesome to see that through a simpler game like that even my mainstream friends are slowly drawn towards more elaborate games such as Myrmes
or Alien Frontiers
. Some games truly are 'gateway games'!"

Can you tell us something about your shelves?
"I don't really own that big of a board game shelf. In my regular gaming crew there are some players with massive collections, so there's no need for me to buy duplicates. However, there are some games such as
Power Grid
and
T'zolkin
that I'm not able to play as often as I'd like because I don't have them myself. Maybe it's time to expand after all!"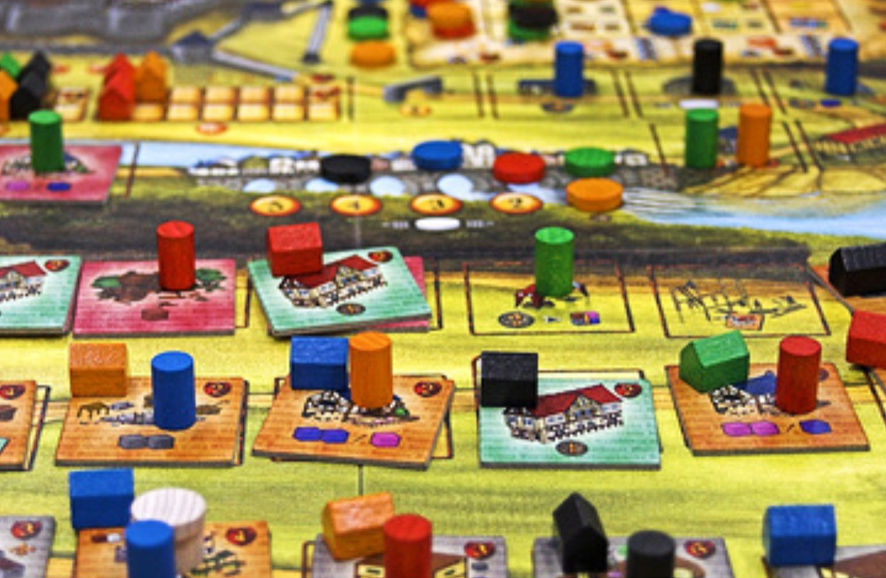 What is your favorite game at the moment?
"I'm gonna go with Caylus
. The sequential activation of the buildings is brilliant, and provides for crunching brains around the table—especially nearing the end of the game. It's not uncommon for players to suddenly shout "Aaargh!" mid-game the moment they realize they've miscalculated their tactic by one piece of cloth haha. Besides, there's no luck involved at all—it's all about perfect strategy, which I enjoy the most. And then there's the haggling about bribing the provost that has featured some awesome backstabs…"
What is your most special or obscure game?
"My autographed edition of Let's Catch the Lion! definitely feels most special. It's a westernized and simplified version of traditional Japanese chess. I bought it at the Spiel game fair in Essen, and haven't seen it anywhere else since."
Something you would like to add?
"Thanks for giving me the opportunity to ramble on about my board games. I'm looking forward to hearing from my fellow board game enthusiasts!"
*This article contains affiliate links. For more details, please read our Affiliate Disclosure.
Would you like to present your board game shelf to the world? Please answer the above questions and include some good quality pictures to your story. Go to this page to submit your story.