I am Justin Hillgrove, a 40 year old artist raised in the beautiful Pacific Northwest in Washington State, USA. I live in Snohomish with my wife and four children, a rabbit, a couple cats, and some chickens. I'm mostly self-taught though I did have that one year of art classes at a local community college.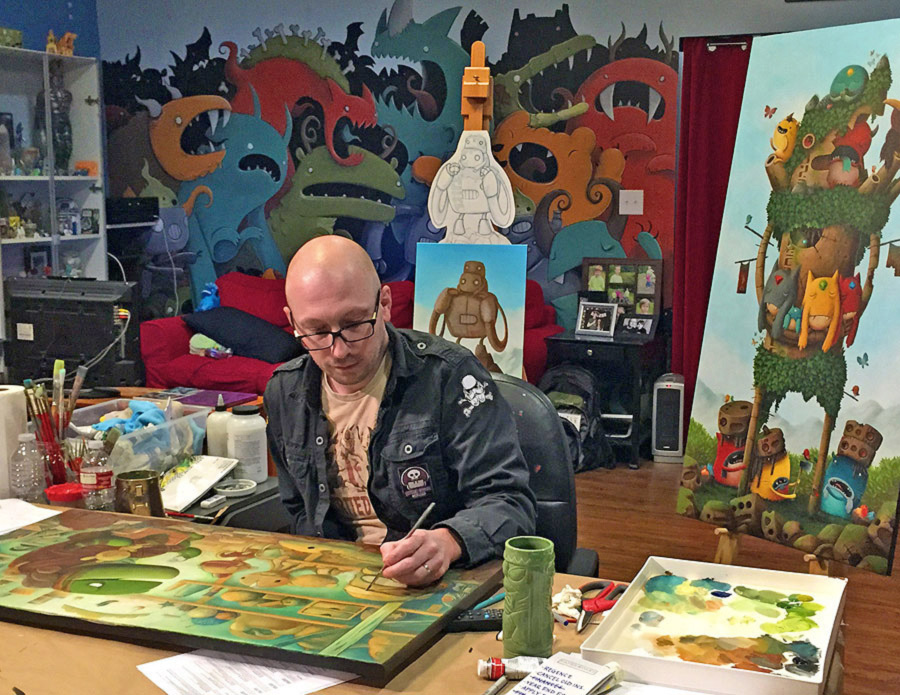 Like most artists, I spent most of my childhood and youth drawing and creating. In 2000 I landed a job as a full time graphic designer, mostly doing advertising, page layout and other miscellaneous design, but also moonlighting as a freelance illustrator—doing everything from book illustration to toy design. In 2005 I began showing my own personal artwork at galleries and art shows, and was able to quit my day job by 2010 to pursue my own art full time.
I have a whimsical, illustrative style with a focus on characters and emotion. I have always loved creating art and when I was nine years old I was submerged into the world of role-playing and table top war games. Countless hours were spent painting miniature armies and drawing characters for various pen and paper role-playing games. As time passed my art style became dark with occasional forays into whimsy. (I had always been subject to a sinister mix of insomnia and nightmares and oftentimes I used the images from those dreams as subject matter). But when my wife and I started having kids, I began creating art that my kids would be able to enjoy. I was still painting monsters and stuff, including some of those from my nightmares, but I made them approachable creatures that one could empathize with rather than just be afraid of.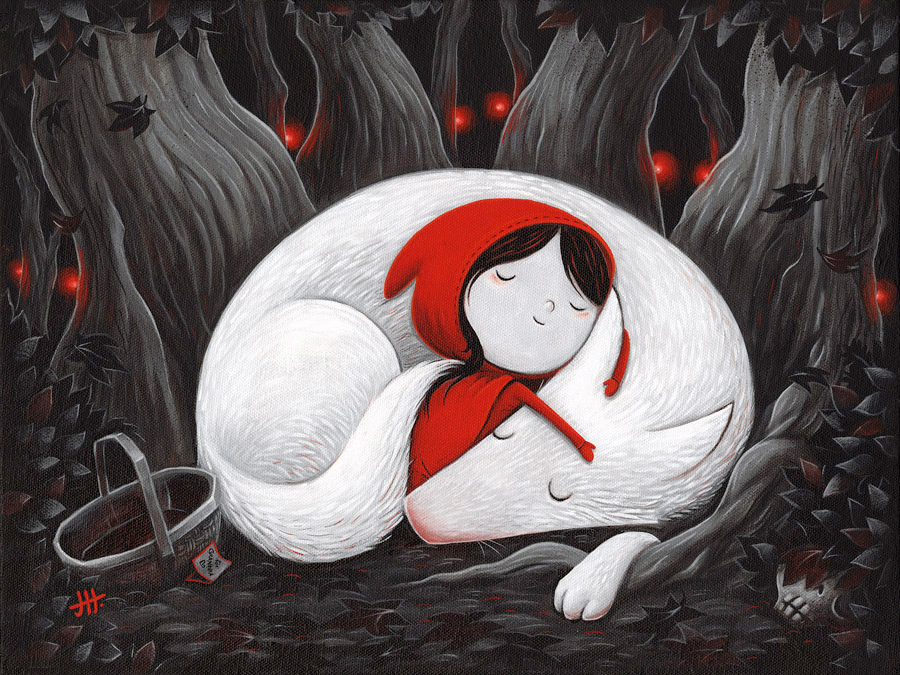 While working in my studio, an old acquaintance dropped by to pitch a game to me. David Gerrard and I went to High School together and he owned a local game store for 8 years after that. We had played Dungeons and Dragons together but weren't close. Anyways, he showed up out of the blue and said something to the effect of "I'm a game designer, and you're an artist. We should make games." And then he showed me just one of the many game ideas he had. The mechanics were really solid and I came back a couple days later with what I thought would be a good flavor and art direction for the game. We brought in Travis Torgerson to do the design and layout so I would be freed up to just focus on the art. A ton of play-testing, revisions, and work later, we ended up with a great filler game named JunKing
that was really something we could be proud of. Working on that first game, we already knew we'd want to make more and so "Junk Spirit Games," our little indie game company, was born.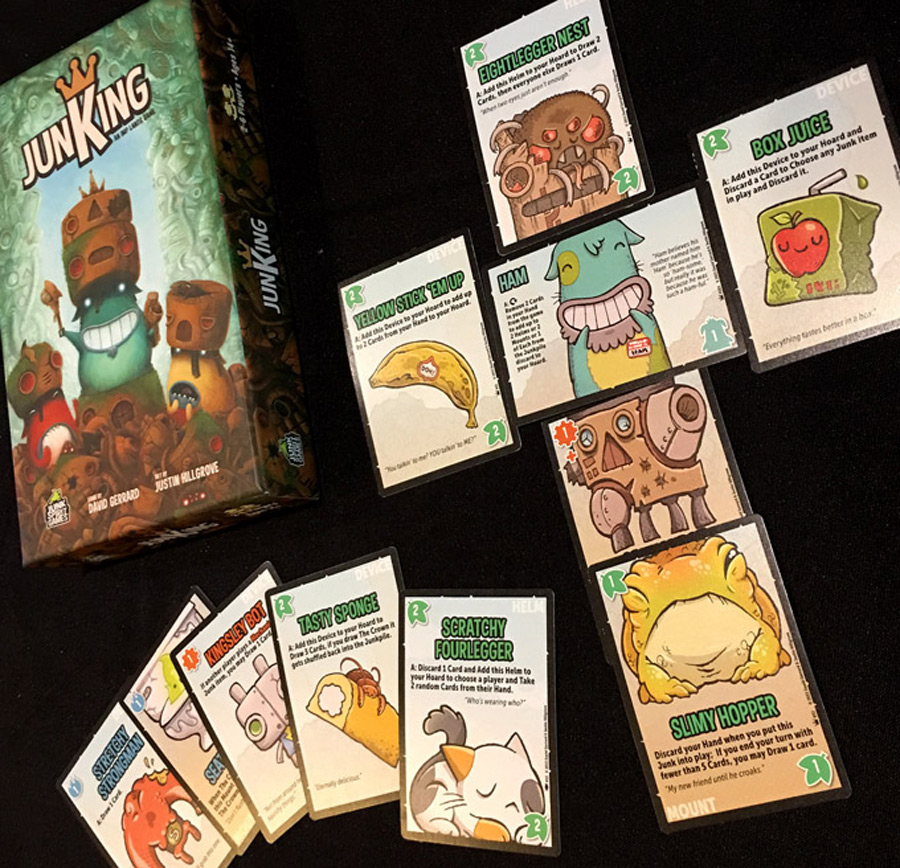 For my own fine art, or rather the art I show at galleries and art shows, I use pretty traditional tools—canvas, brushes, acrylic paints, etc. Painting in this way is very time consuming for me though so when doing game art I mostly stick to pen and ink, followed by digital coloring in Photoshop
. The exception is the art for the game box or cover. I like to do a full acrylic painting for that.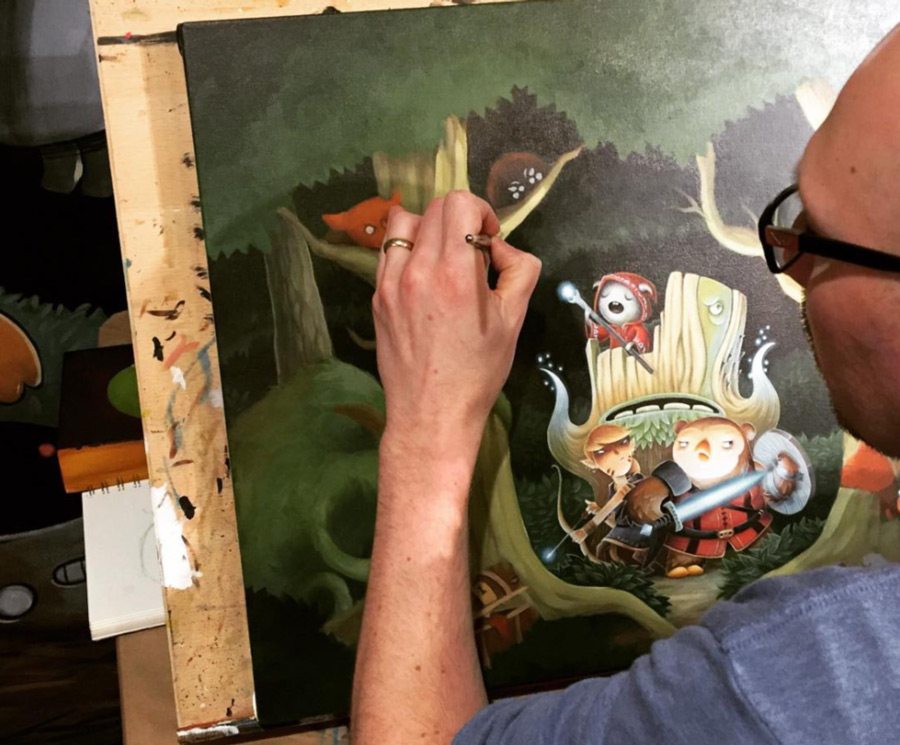 I love character design, especially when designing for a world as open as the one in our current board game "By Order Of The Queen." We decided to go with a fantasy theme but wanted to make the races unique, with a focus on representing a lot of strong, female characters that aren't just scantily clad eye-candy. I had at least 64 heroes to design, as well as a bunch of monsters—so basically, I was in heaven.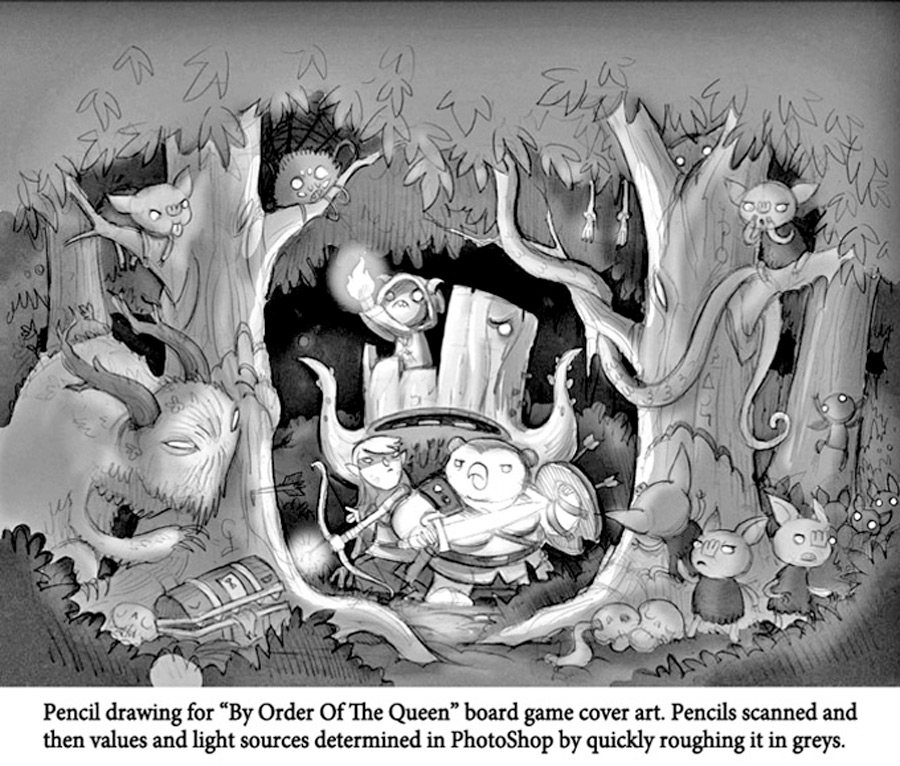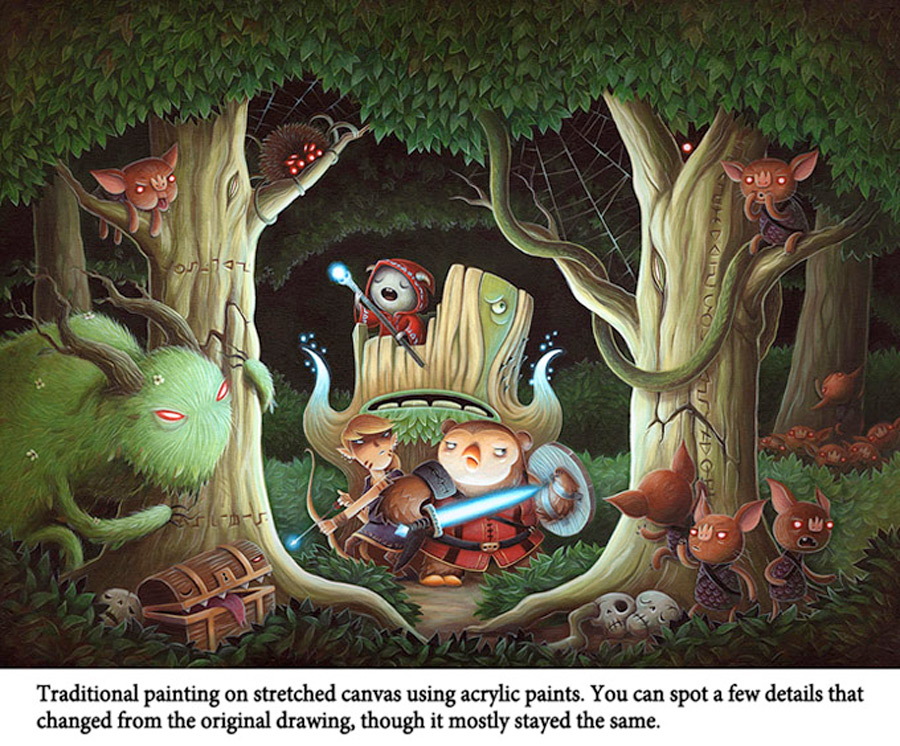 My approach for creating so many unique characters is to just start sketching. I sketched quite a few heroes and experimented with all sorts of unique races until I had a set we were happy with. From there I ink and scan the sketches, then pull them into Adobe Illustrator
, where I run a Live Trace on them (This cleans up the lines and removes any anti-aliasing or fuzziness). I open the characters in Photoshop and color them using my trusty Cintiq tablet. While I'm doing that, our designer is laying out quick, functional versions of each card type to help with play testing, but also so we know what other elements need to be created—like backgrounds and icons.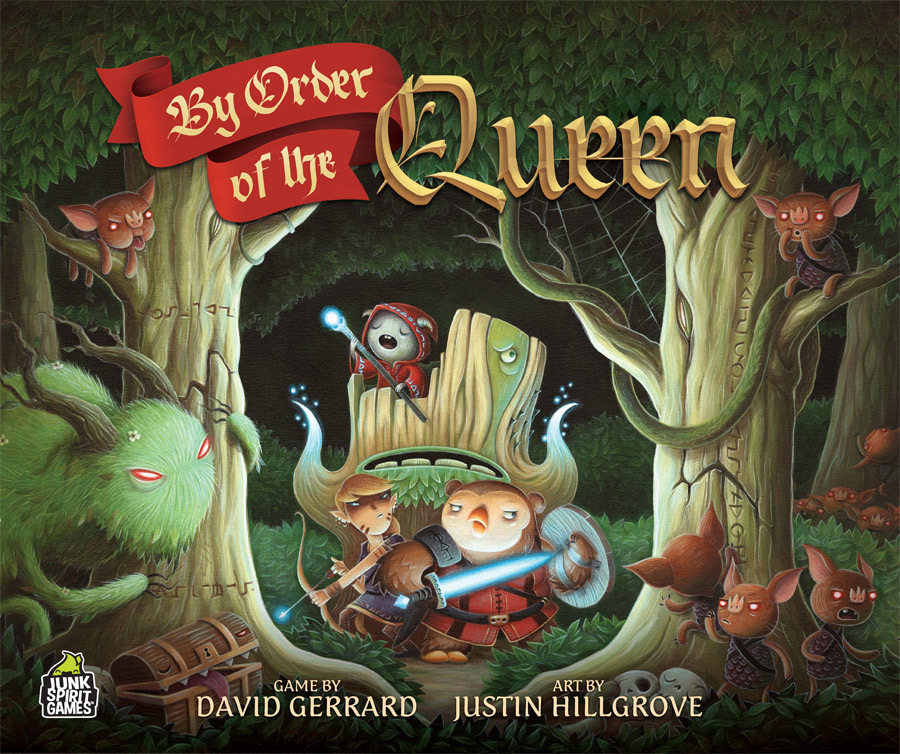 My influences include a lot of Saturday morning cartoons (like He-Man, Thundarr the Barbarian, Transformers and Voltron), and the movies I loved to watch over and over as a kid, (like Star Wars and The Dark Crystal). I also loved the cover art for the countless fantasy and sci-fi novels I read as a youth and the game art from the countless pen and paper role playing games we used to play (Dungeons & Dragons, Warhammer, Gamma World, and a host of others). And of course my kids inspire my art as well.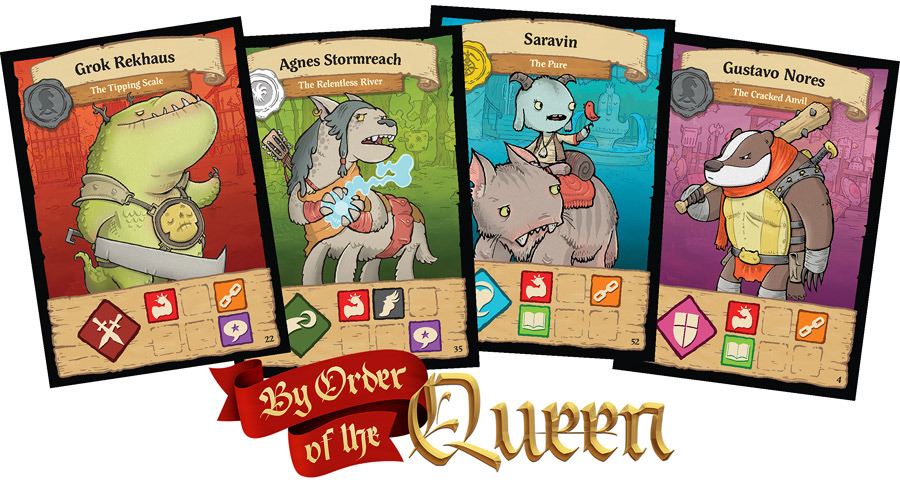 My favorite topics or themes involve creatures or monsters regardless of setting. I have just as much fun with fantasy monsters as I would with sci-fi and everything in between.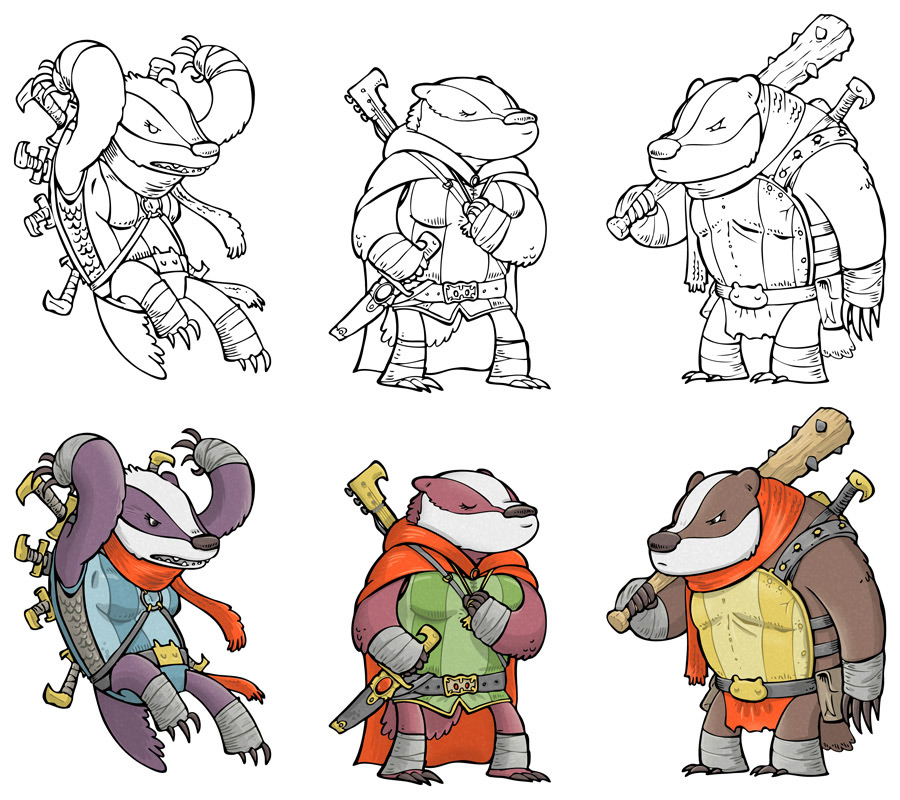 Being a big fan of tabletop games, I'd have to say that working on "JunKing" and now "By Order Of The Queen" has been my favorite project. Seeing and being part of all the steps involved in taking a game from just an idea to a real, retail-ready product, and then hearing how much people enjoy that game we worked so hard on—that is such a rewarding experience.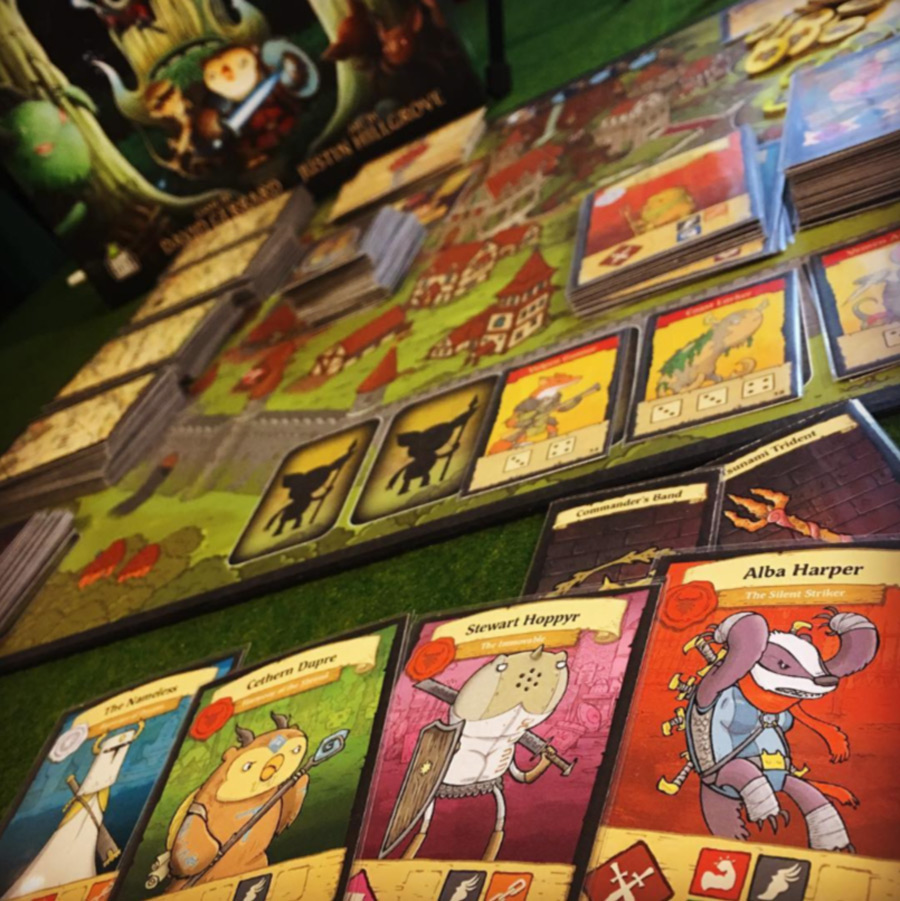 I enjoy and appreciate the artistry and cleverness of well-crafted games, and I'll spend a lot of time pouring over cards and manuals that include a lot of great art and design. I also love the social aspect of boardgames—interacting and having fun in the way that is unique to playing a physical, tactile game with friends and family.
Photo credits: Justin Hillgrove. Used with permission.
Did you like this story? Please share or comment. Go to this page to submit a story yourself. Subscribe to our online magazine here!