Three years ago, over a large oval table, David Petrie and I (Samantha Romage) met for the first time while playing games at a mutual friends' house. Both of us had extremely creative backgrounds and degrees in art and design as well as had a love of games both board and digital. So we hit it off rather well from the start. Little did we know but that small meeting would be the birth of Poisonfish Games.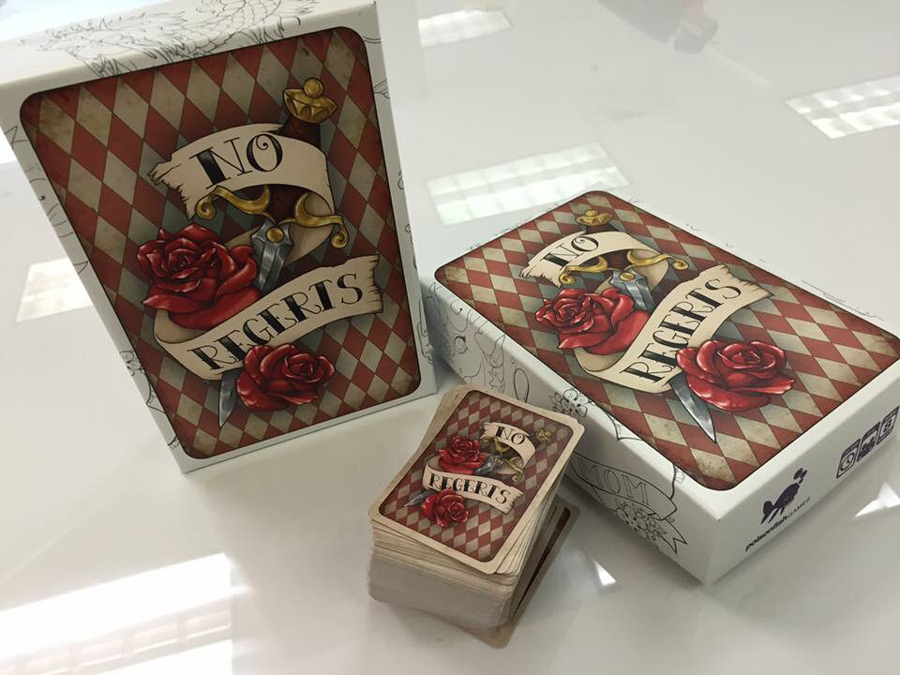 The thing about board games is that there is a face to face interaction that you don't get anywhere else. Over the last few years of blossoming ideas and testing we are preparing to launch our first game… No Regerts (and yes, I did spell that right).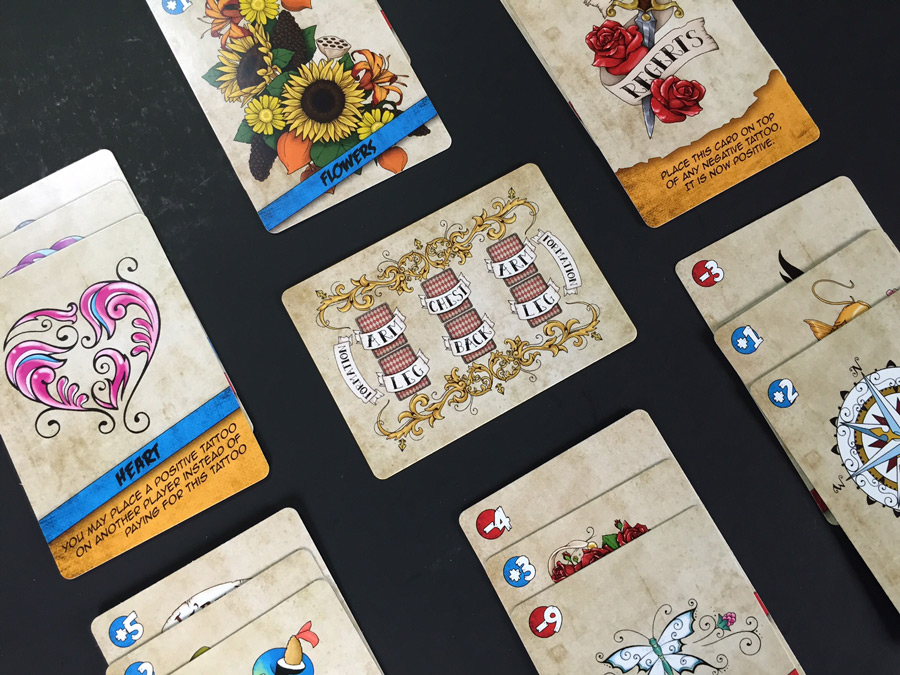 No Regerts: The Game of Art and Poor Life Choices is a fast pace, pvp style card game that based on the subject of tattoo design and plays 2-6 players and runs for about 25-40 minutes. The goal is to be the most badass at the end of the game. To do this, players must cover their bodies with sick ink. But be careful, it's not as easy as it sounds. As in the real world of tattooing, there are some that are epic and some that are lame. And with your fellow players attempting to give you bad advice on ever turn, you may end up with a few unfortunate tribals or the cutest little unicorn that your gym mates will love. Your goal is to be a badass, not a care bear.
No Regerts is a microgame that can be taken on the go or if your friends want that fun pre-game while you finish making your game night food and/ or wait for others to arrive if you are like me. We had a few basic rules when we designed this game.
1. It had to be fun. We enjoy laughing and sharing moments with our friends. Sparking up jokes and conversation while also competing with each other. We wanted people to get the same experiences that we enjoy and know why we love playing and creating games.
2. It had to be easy to learn. We are in our 30s so we play games with people of all ages…. Friends… family… Friends' families. We wanted to make sure (especially for our first game) that everyone could pick it up and play it with solid gameplay.
3. It had to be designed well. With Dave's degree in graphic design and my degree in illustration we wanted the game to be both mechanically sound but visually interesting as well. We wanted the visual contents to matter so that the game would be about more than just numbers. The card "koi fish" is a cover up tattoo because in tattooing, the koi fish can hide old designs because of its amount of scale details.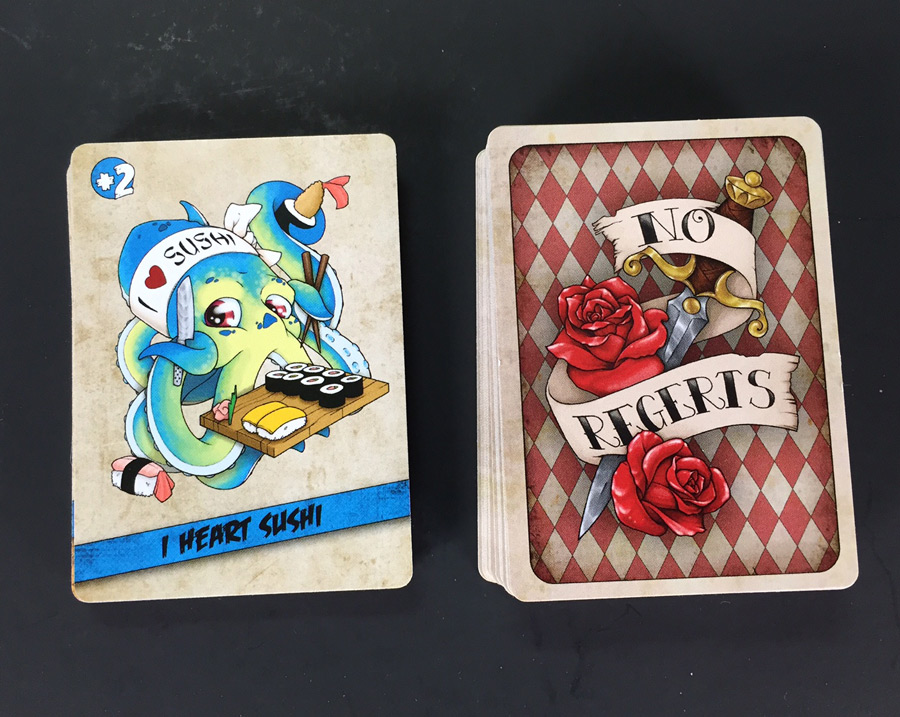 We decided to base No Regerts on tattoo design because it's a part of culture that hasn't really been focused on in the world of tabletop and yet is wide spread across the globe. It's extremely expressive visual, and no longer shamed or taboo. I wanted players to get the over all feel of multiple types of design (pinup, tribal, new school… Etc) while still making the game look polished and cohesive; and because tattoo design is relatively limitless, I wanted to show a definitely variety so there are over 60 different illustrations just in the base game alone with more room to expand (and yes we definitely have some game changing expansions in mind for more complexity).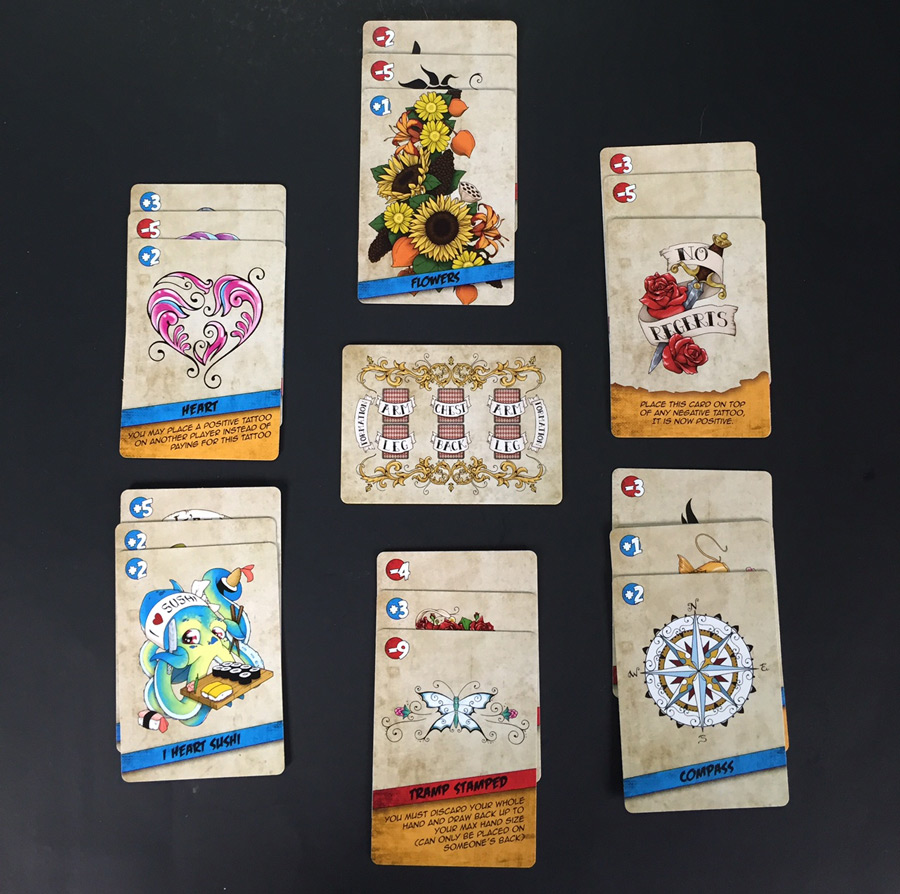 The game will consists of 206 cards and a small instruction book. Again we wanted the game to be easy to learn so the instruction literally fit on one typed page. And even though the game is simple to learn we wanted to keep strategy in mind, being the strategists we are. With Dave's favorite game being Tragedy Looper and mine being Lords of Waterdeep, we didn't want simplicity to compromise with the ability of thought. We made sure to completely balance the deck with cards of both negative and positive values to ensure that you have choices to make.
For example: While the "princess" card has a negative value of 4, it also grants you the ability to steal a card (at random) from every player that you can then use immediately giving you a huge upper hand while leaving your friends with an extreme disadvantage of one less card on their next turn.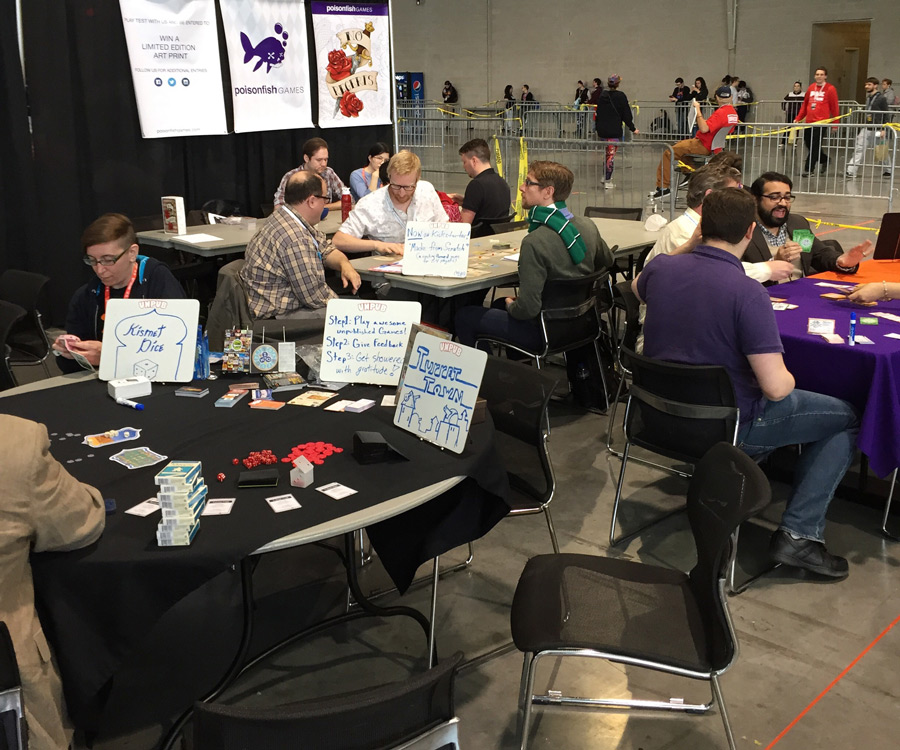 We have been working and testing the game for approximently a little over a year and a half and have had excellent feed back. Many people even asking to buy it on the spot. We hope to launch our kickstarter in early- mid September while we are (hopefully… We are in round 2 and will be receiving the results in August) at the Boston Festival of Indie Games.
For more information about the game or Poisonfish Games please visit our website, facebook page, Instagram, or Twitter; and if you like any of our social media pages, you are entered in a monthly draw for art prints from the game. Please stay tune for our first game "No Regerts: The Game of Art and Poor Life Choices". Will you become the ultimate badass? Or will you be left with Regerts?

Did you like this story? Please share or comment. Go to this page to submit a story yourself. Subscribe to our online magazine here!