I'm Joseph and I live with my wife Hannah, three kids, James (4), Geneva (2) and Karina (1), in Oregon City, a little south of Portland, Oregon. Life is busy! I spend my days teaching music lessons and driving all around the Portland area tuning and repairing pianos (and sampling all the hipster coffee).
My wife and I discovered gaming was a great way for us to spend quality time together, so we game together a lot, and I enjoy taking pictures of what we play. Instagram is my social media of choice for gaming. Under the name of BGamerJoe I post pictures of my kids, games and miniature painting.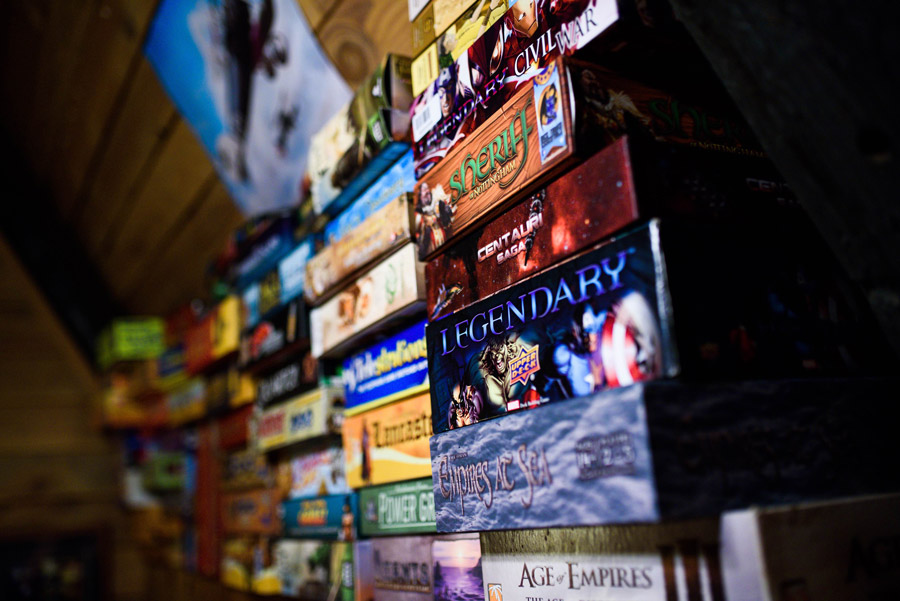 How did you get into this world of non-digital games?
It's in my genes! Before I was around my parents were working on designing a farming/trade/economic game set in ancient Israel until it became to complicated for them to even continue. They were into misery farming before it was cool! Growing up with 5 siblings, we did a lot of gaming together. I have memories of X-treme Monopoly games (which included racing around the house with fistfuls of pilfered $500 bills), trying to teach my 80 year old grandma to play chess when I was 6, playing all the Gamewright games to death, and swapping smuggled food from the pantry over a never ending game of Risk in the basement with my brothers. Once we discovered Axis & Allies
we became obsessed, playing all the editions we could get a hold of before the gaming went on hold when I started college.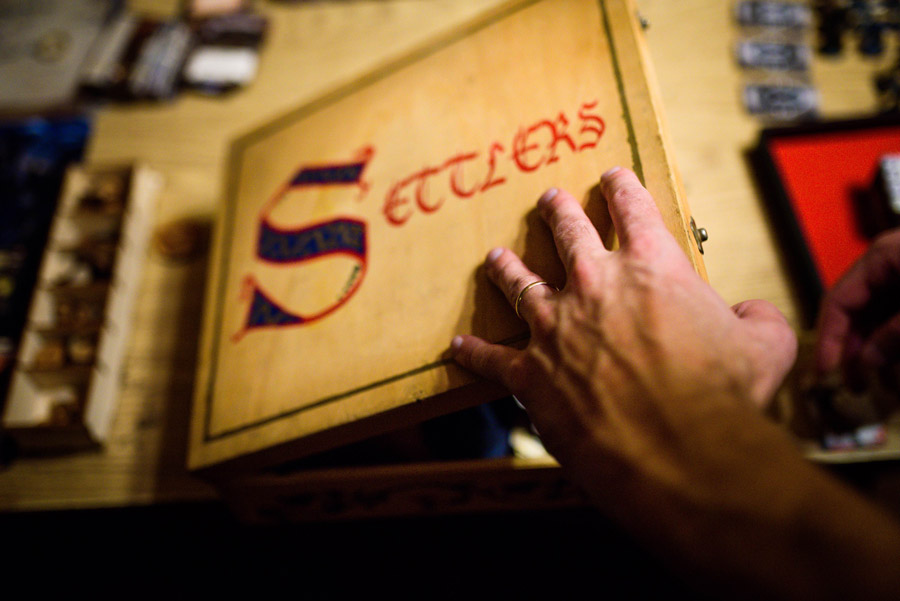 Like many other gamers, Catan
was the hook that really pulled me back in. On a weekend around my brother's birthday, we wanted to play Catan, but didn't have a copy, so we built one (we built 3 more copies as siblings moved out over the next couple years). It wasn't until after my (awesome) wife and I got married, that I really discovered the rest of the "modern game world." After playing Dominion
and a couple Catan expansions, I picked up Agricola
, the #1 game on BGG and my wife and I played it 6 times in a row on a Sunday afternoon. I've gone through the normal gamer life cycle: discovery phase, buy everything phase, slow down because of money phase, and now in the fully developed "carefully research, trade and buy" phase.

How often do you play?
It depends on how crazy life is at the moment, but usually 2-4 times a week. My wife and I will try to get a couple games in during the week after we get the kids to bed, and we almost always get a relaxed game in Sunday afternoon after church while the kids nap. I bought some of HABA's kids' games and my 2 older kids will happily pull those out to play with me every once in a while. I'm eagerly looking forward to sharing the rest of our games with them as they grow up!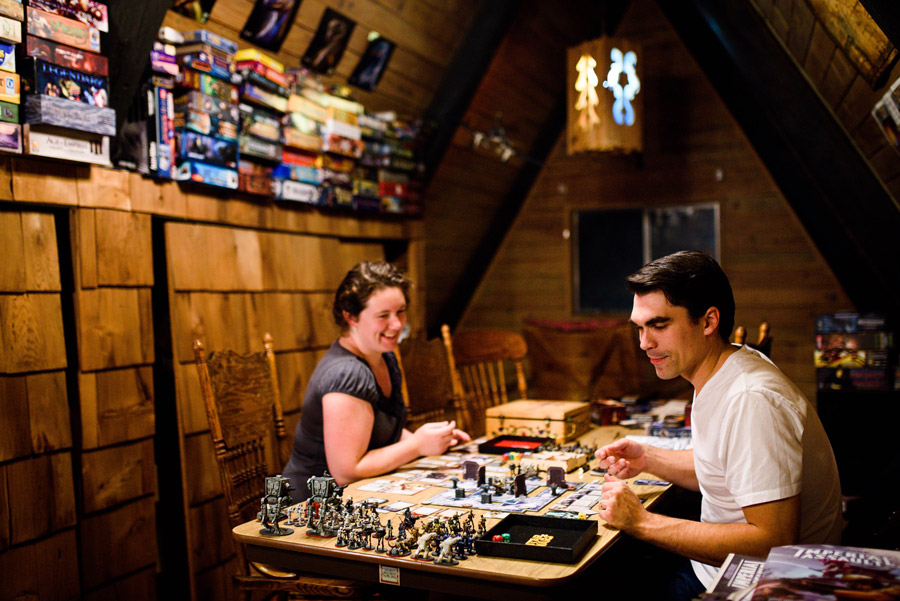 I don't get out a lot into the gaming community just because of how busy our lives are right now, but I occasionally host a community game night, a X-wing
night with guys from my church, a Lord of the Rings LCG
event at my local gaming store, or get together with 4 or 5 of our especially crazy friends for a Saturday filled with GMT's Here I Stand or Virgin Queen.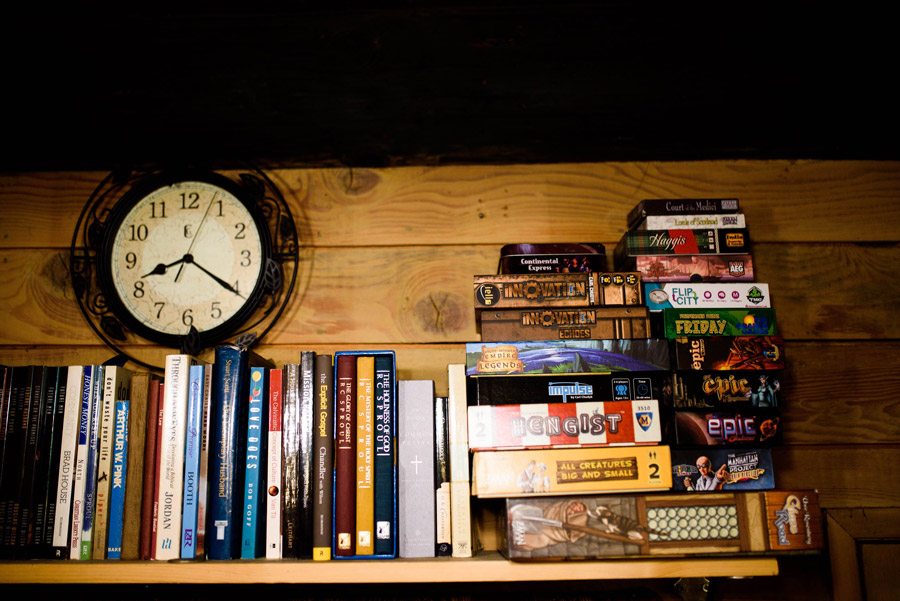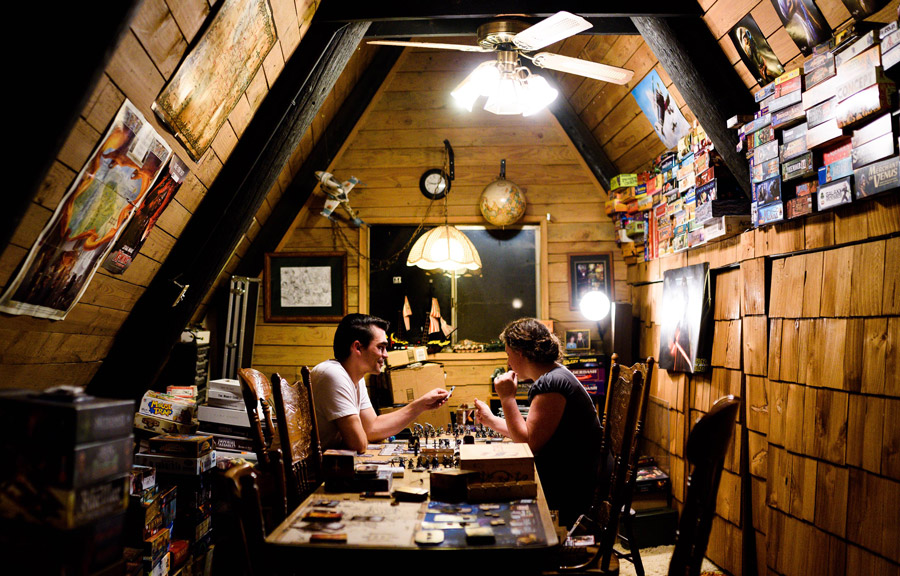 Can you tell us something about your shelves?
My shelves aren't the prettiest. I live in an A-frame cabin my grandpa built in the 70's. A-frame houses really don't have many flat walls to put shelves against, so no IKEA Kallux ,Expedit, Polux or whatever-ux for me. I have turned the tiny second floor of the A-frame into a gaming lair with games stacked along the slanted walls, and stacked in and on top of the built in closet, I also built some simple shelves above the windows downstairs to hold some of the more-often used games along with our books. Due to the slanted walls, I organize my games mostly by size, stacking the larger boxes at the bottom, the putting smaller and smaller games on top as the wall moves in.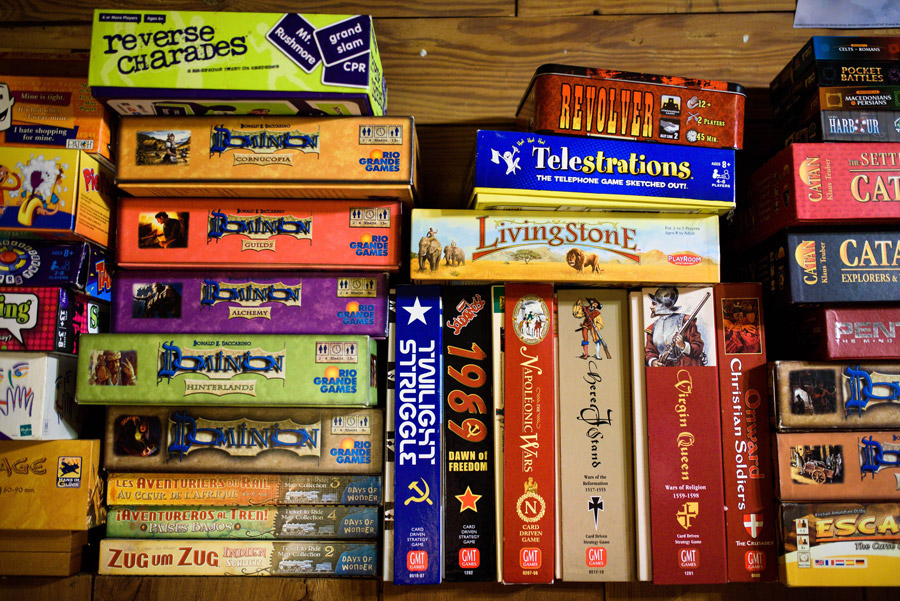 What is your favorite game at the moment?
The Lord of the Rings Living Card Game
has long held my "favorite game" slot. I started playing it when it came out and I've just kept up with it and enjoyed its depth and variability. My wife has been good enough to play a fair amount of it with me, including a campaign all the way from Hobbiton to the Pelennor Fields which is waiting for us right now! I've also been able to play a lot of it solo, and I'm working hard to bring the local players together a little more, which has been a lot of fun. How do you think Elrond, Sam Gamgee and Gimli will do going through the Paths of the Dead?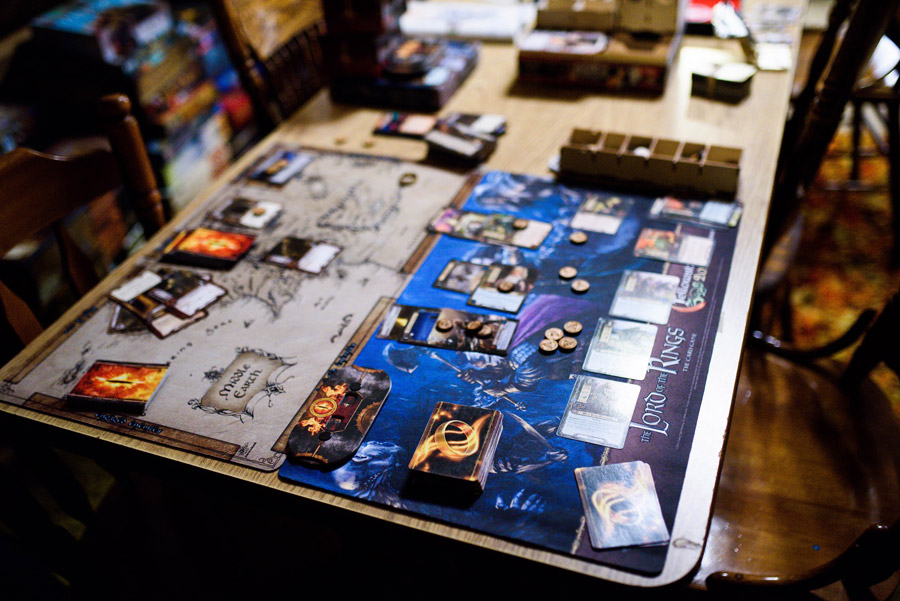 Imperial Assault
has been vying for that favorite game slot since I picked it up about a year ago. My perfect-wife-who-every-gamer-is-jealous-of has really gotten into it with me and we're about to finish our 6th campaign together. Imperial Assault and Sorastro's great painting tutorials pulled me back into miniature painting which I had dabbled in a little when I was a kid. Using all those painted minis just gives us a whole new level of gaming goodness on top of the normal awesome gaming fun.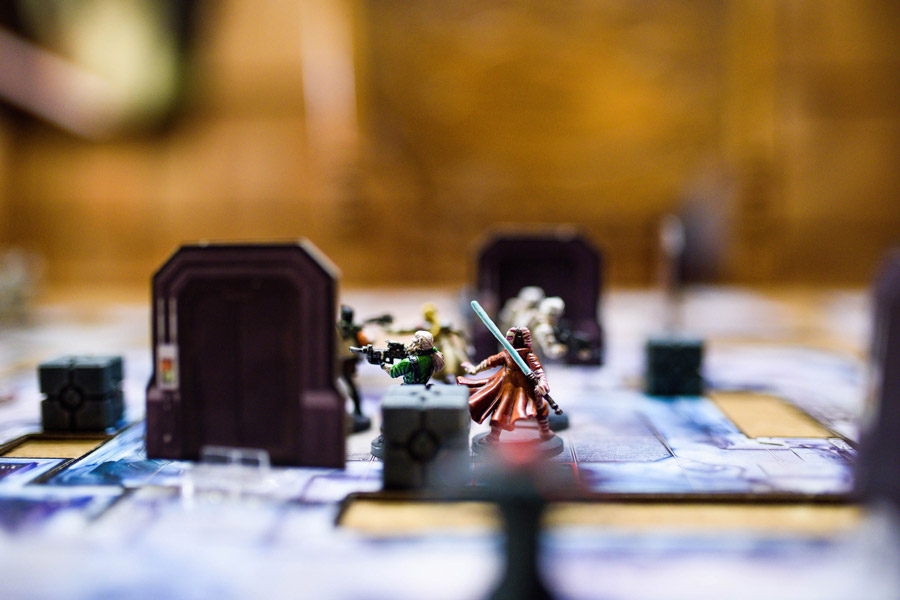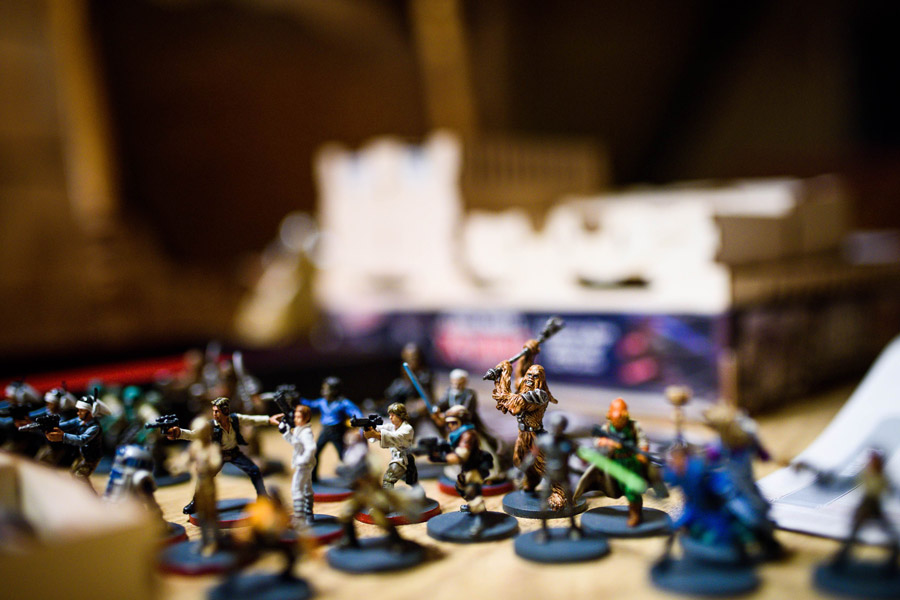 What is your most special or obscure game?
I guess it would be my homemade version of Catan. Different components are covered with art from my siblings and parents which makes it pretty special. My mom did all the fanciest art on the "largest army" and "longest road" card. All the player pieces are hand sculpted from clay in different colors and architectural styles. All the sheep my younger sister drew have different twists on the googly eyes. The landscape hexes all have little special details and little stories playing out in the fields. My version is the classic Medieval setting. We created a Colonial American version, a Scottish version and a zombie apocalypse version for my other siblings.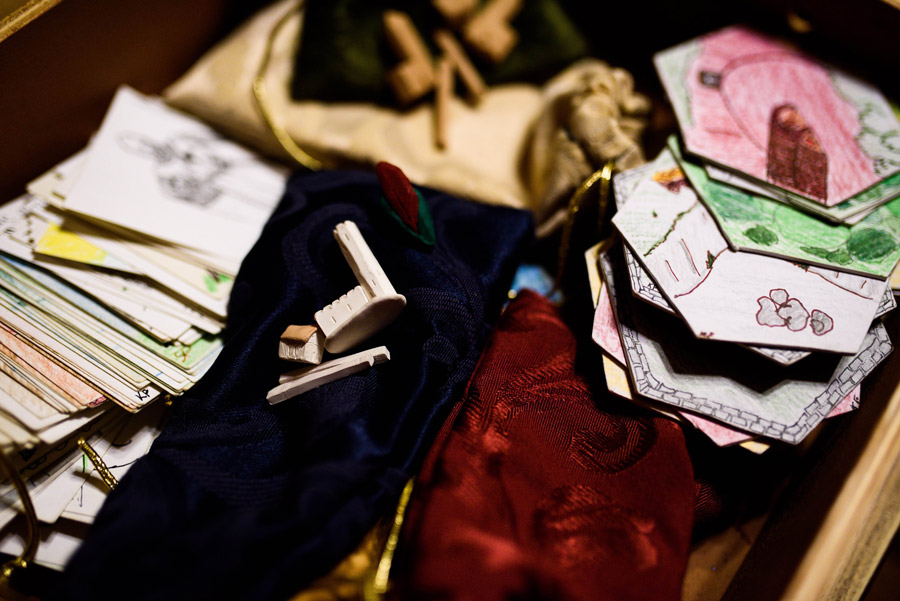 Thank you so much for sharing your story! Something you would like to add?
Gaming is a great hobby because it brings people together! It's been a great thing for my wife and I to do together. Its brought us closer together, my family and extended family closer and I've made so many other friends and connections through games! Thanks for letting me ramble here and thanks for promoting the hobby! Happy gaming!

Would you like to present your board game shelf to the world? Please answer the above questions and include some good quality pictures to your story. Go to this page to submit your story. Subscribe to our online magazine here!