Analog Games aren't just fun. They also often come in interesting boxes featuring beautiful artwork. It's no surprise that a lot of us love to proudly showcase our board game collection on a shelf. In this series, every week one of our fellow board game enthusiasts will exhibit their board game shelves and tell us something about their favorite board and card games. Today we are going to look at the board game shelves of Andy from the United Sates!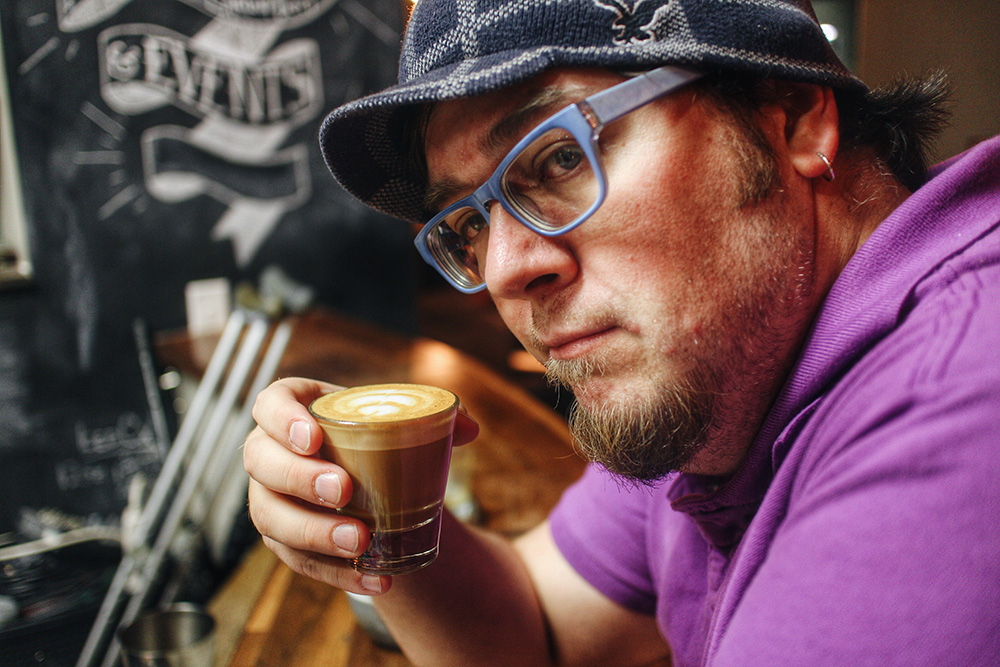 Hi Andy, please introduce yourself.
"My name is Andy (aka @includingtacos and @thetotallyboard) and I'm a board game enthusiast in the Kansas City, MO (USA) area. I'm married to the girl of my dreams, just recently celebrating our 9 year anniversary, and we have two boys (hopefully, future board gamers), at ages 4 and 2. My professional background, mostly the last 20 years, is steeped with technology, though recently I did some culinary school work. Also, I love taking pictures! Either with my DSLR or with my iPhone…if I can take a pic, I will."
How did you get into this world of non-digital games?
"For the better part of my life, I've been involved in doing something with technology, and used to always get heavily into video games, either on my PC or Console…but I've always been infatuated with board games. When I was a kid, I was always trying to play a game with someone, but it always seemed to circumvent around having a special occasion as a requirement, and as a result, most of our cardboard games collected dust over the years. I remember when Settlers of Catan
came out and having some sort of draw back into the hobby, but never actually getting the game until about 2009. Nevertheless, it hit me how tired I was of playing my console games, and by myself. Even if I was online, I still felt like I was running solo all the time. Well, a boring day sometime in 2007 led me to BoardGameGeek.com. See, I was doing some searching for a board game around Lord of the Rings. I had LotR Risk…but even among non-gamers, the name 'Risk' is a bit scary or daunting. It's one of those words that deviates into broken relationships and bitter feuds. Lo and behold, I stumbled upon the Fantasy Flight Games edition of War of the Ring
. At this point, it was already 3 years past its printing, so finding a copy for less than $300 was impossible. Somehow, though, my in-laws got me a copy of it for Christmas that year, which only led me to begin digging even farther…what other games are out there? 8 years later, my collection went from 4 or 5 games to over 100 (I keep a tight culling schedule). And I don't need a special occasion to play games…for some reason, that's the biggest thing with my family and friends. It's fun to play a game just because it's Tuesday."
How often do you play?
"My family and job always keep me busy for sure. And frankly, nothing stands in the way of my family. So if my family wants to play a game, then we will…if they don't, we won't. I don't ever want to push anyone into doing something they aren't willing to do with me (as far as entertainment goes anyway). That said, I get a game to the table a few times a week. I'd like to get a weekly game group going. Kind of ashamed that I haven't done that yet!"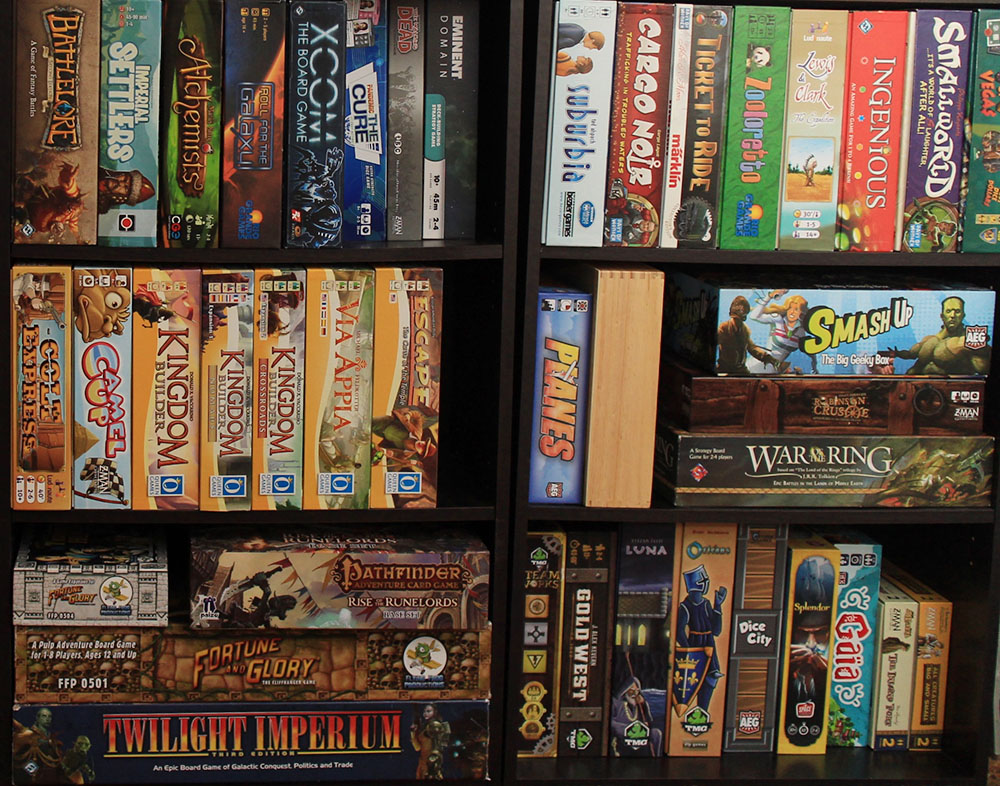 Can you tell us something about your shelves?
"I love open-ended questions like this! First, I have them organized relatively by box size and then by audience (family games or heavier-strategy games). It's not perfect, but it works, and my shelves are full. I refuse to buy more shelves, actually, because I want to keep my game collection at it's current state. If I want a new game, I gotta pick one to go out. Overall though, I'm a solid omnigamer. I love big ol' stinky Ameri-trash games, and love big nasty cube pushing brain burning Euro games. I'm all over the place. My collection definitely has something for everyone."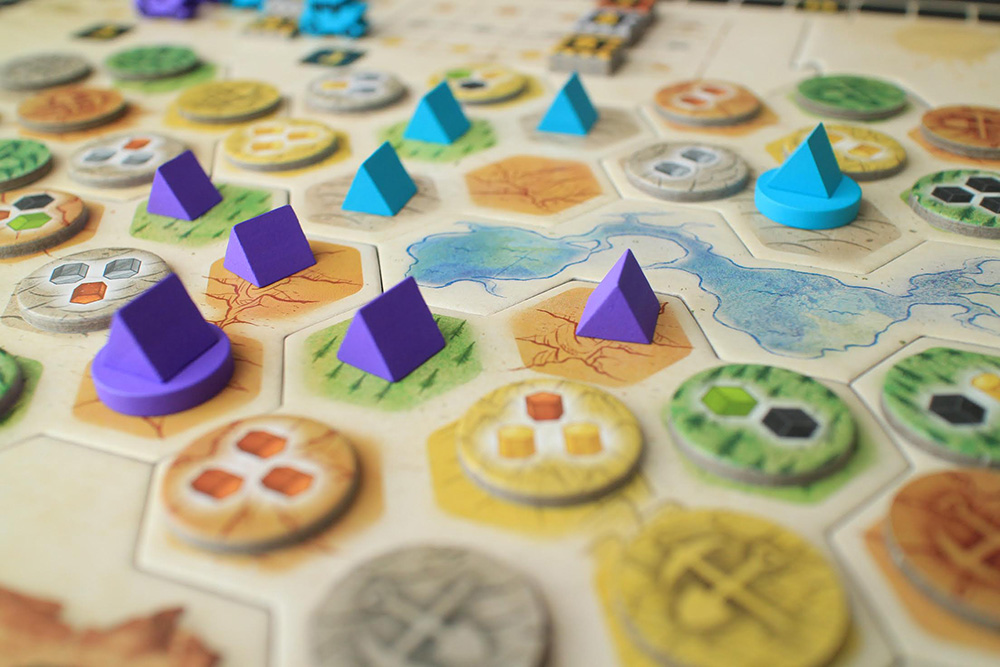 What is your favorite game at the moment?
"I'm leaning towards Smash Up
. While it's not my most absolute favorite game of all time, it's certainly one of my favorites. As a recovering Magic: The Gathering player, games like Smash Up help deliver a fix that would otherwise lead me to a deep and dark place of stacks of cards and no one to play with. I've been collection Smash Up since the beginning, and have all of the expansions. I think my current combination is the Time Travelers w/ Mad Scientists. Just a really powerful combo. Honorable mentions would be: Armada
, Ashes
, La Granja
, and Gold West
."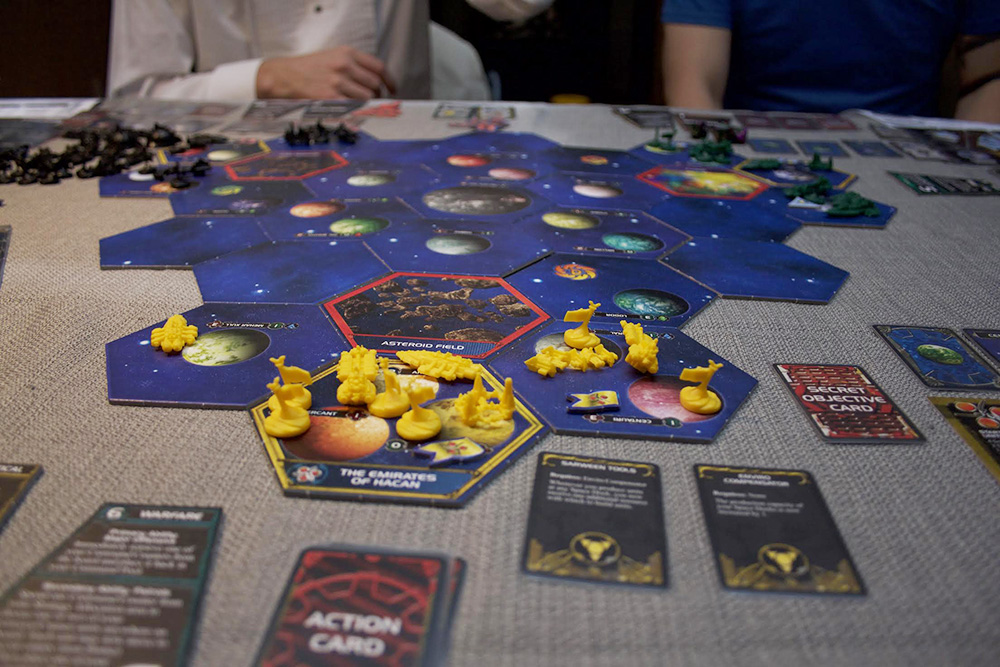 What is your most special or obscure game?
"This is tough to answer…so, I'll pick Twilight Imperium
, 3rd Edition. In 2010 I had some kooky health issues that resulted in my staying a couple of nights in the hospital. As a cheer-me-up gift, someone gave me an Amazon gift card, which I blew in the middle of the night during my stay on Twilight Imperium. I remember when it showed in the mail, and the night I clipped the ships and pieces from the sprues, organized and sleeved cards, and read a rulebook that for the first time, had me scratching my head. I may have worn a bald-spot in the side of my skull reading through this thing, but I was committed to it. Even though it hasn't hit the table in a year or more, it's definitely a special game to me because it reminds me of my recovery time."
Thanks a lot! Something you would like to add?
"My instagram account (@includingtacos) is dominated with my kids and my wife, food I eat, coffee I drink, and games I play. These are the 4 most important things to me! You can check me out there, and I'd also like to send you to my blog, thetotallyboard.com. There, I post commentary and reviews of games. The holidays always cause a posting interruption, and we're in the process of selling our house, so free time is limited for just about everything. But I'd still love it if you visited me and reached out. You can also follow me on twitter, @thetotallyboard. If you're lucky, maybe I'll explain what 'includingtacos' actually means. Thanks for reading, and thanks to AnalogGames for the opportunity!"
Would you like to present your board game shelf to the world? Please answer the above questions and include some good quality pictures to your story. Go to this page to submit your story. Subscribe to our online magazine here!