Analog Games aren't just fun. They also often come in interesting boxes featuring beautiful artwork. It's no surprise that a lot of us love to proudly showcase our board game collection on a shelf. In this series, every week one of our fellow board game enthusiasts will exhibit their board game shelves and tell us something about their favorite board and card games. Today we are going to look at the board game shelves of Anicia from Texas!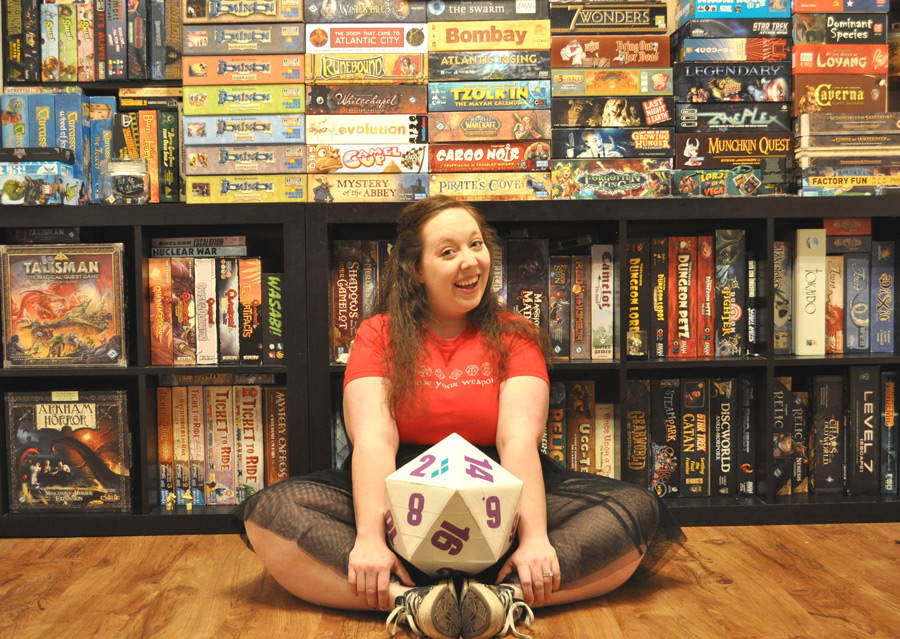 Hi Anicia, please introduce yourself.
"Hi! I'm Anicia (aka @time343 on Instagram, Twitter, BoardGameGeek, and pretty much anywhere else you could look) and I live in Lubbock, Texas in the United States. Currently I work in research and development for a large corporation and I love working in science. My job allows me to be the lead of a program that does community outreach to increase science education in my area. This means I get to spend some of my time out of the office and lab working with kids, teaching them about what it means to be a scientist, and doing fun experiments! My passion outside of science is (in case you couldn't tell already) board games. I love board games for so many reasons! I feel that they bring people together socially, teach us skills that are useful in everyday life, are amazing works of art, and they are fun to top it all off! My big dream now is to open a board game café so I can share this amazing world with people and really help them find a reason, even if it's just one, to fall in love with board games in the same way that I have."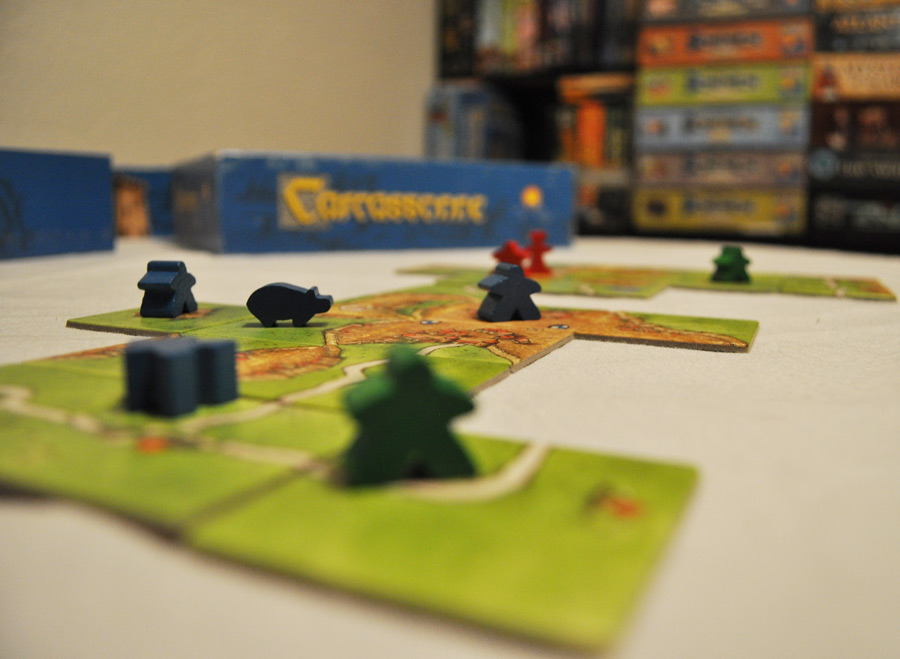 How did you get into this world of non-digital games?
"I have always been in the world of non-digital games because both my parents are. I can remember their friends coming over for gaming sessions over the weekends when I was very young and it really instilled in me the idea that even as adults you never have to let go of this passion just because you have 'grown up', which is good since most of my family feels that I should have outgrown my interest. They taught me how to play Magic the Gathering and Dungeons and Dragons before I hit middle school, so I've always known about these types of games. It wasn't until I was in middle school and high school that I really stopped playing games. I went to school in a small town outside of Lubbock. Because it was a small town, there wasn't much interest for hobbies like mine. When you are at that age and the options are play games with your parents or go hang out with friends, it isn't a tough decision. It wasn't until college that I re-entered the non-digital gaming world again because the availability of people with the interest was suddenly open to me. It was a bit of a shock to me for a few reasons: 1) MtG was way past the Ice Age edition which was the last one I had remembered coming out, 2) Dungeons and Dragons was on version 3.5, and 3) I had missed it so much that I went a little crazy at first with my buying. Now my collection is approaching the 300 mark. I am so glad that I found my way back to this world though, because I truly feel like I belong here."

How often do you play?
"Whenever I can! I do have dedicated days, usually Tuesday and Friday evenings, but I've found that in the ever changing world of being an adult, schedules don't always work out as planned so that doesn't always pan out. So basically if anyone asks me to play a game when I'm free, I will jump at the chance. I also have a large group of friends now who also enjoy board games, so I usually have options when I need to get my gaming fix."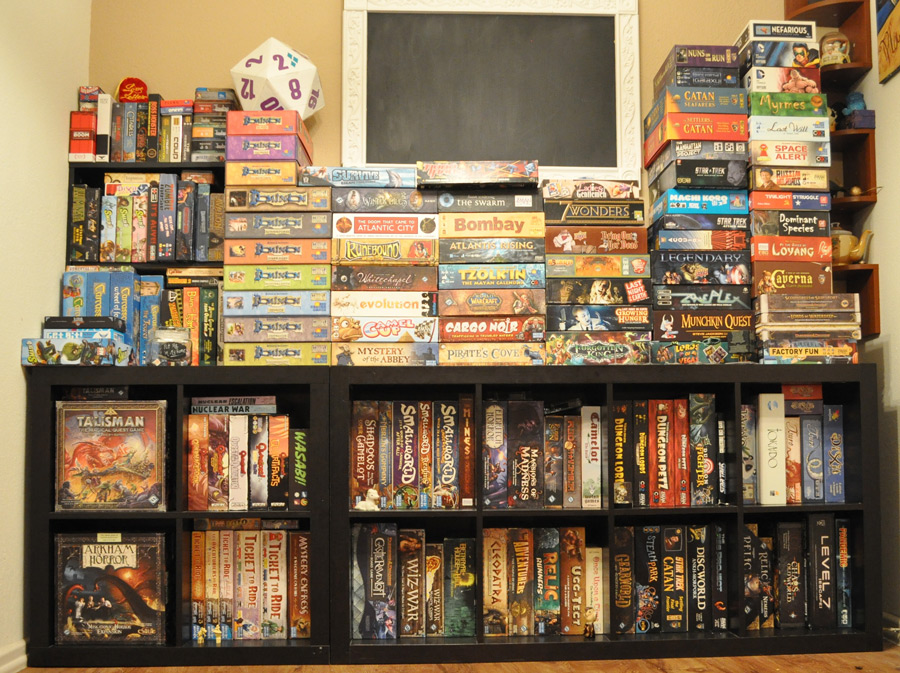 Can you tell us something about your shelves?
"The shelves themselves are nothing special, they are Expedites from IKEA, and, as you can see, I clearly need more of them. I tend to be very organized in most aspects of my life, but when it comes to my games I don't keep them in any particular type of order on the shelf. I actually spend more effort and energy trying to make sure everything stays organized inside the box of each game. I try to make sure that everything gets to hit the table so I'm constantly pulling things off the shelves and then putting things back so I feel like trying to keep them in any type of order would be an exercise in futility. The only games that stay slightly organized are Arkham Horror and Talisman; since they take up so much space, they have dedicated spaces on the shelves."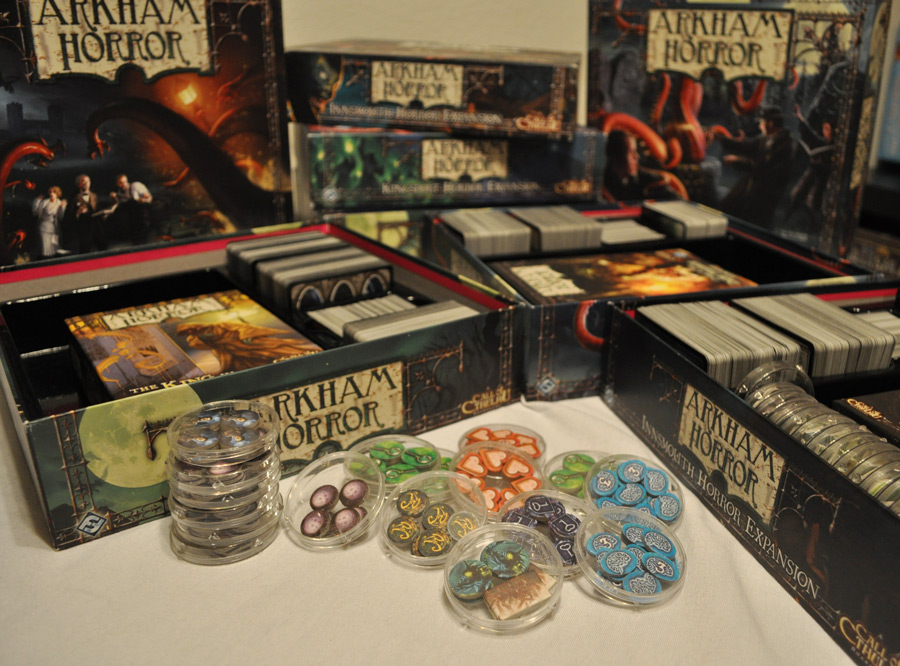 What is your favorite game at the moment?
"I always struggle with this type of question because I can usually find something to love in any game. Currently I love Ladies and Gentlemen
because the satire is great and the sheer absurdity of it is just so funny! My group also makes this game way more fun than you could imagine! I have also really been enjoying Coup
, because lately my family has been taking on more challenging games than what they would normally play (they tend to only like mainstream party games) and Coup has really caught on with them. This has given me a great way to connect with them on my favorite topic so that hopefully they see the value in it the same way that I do."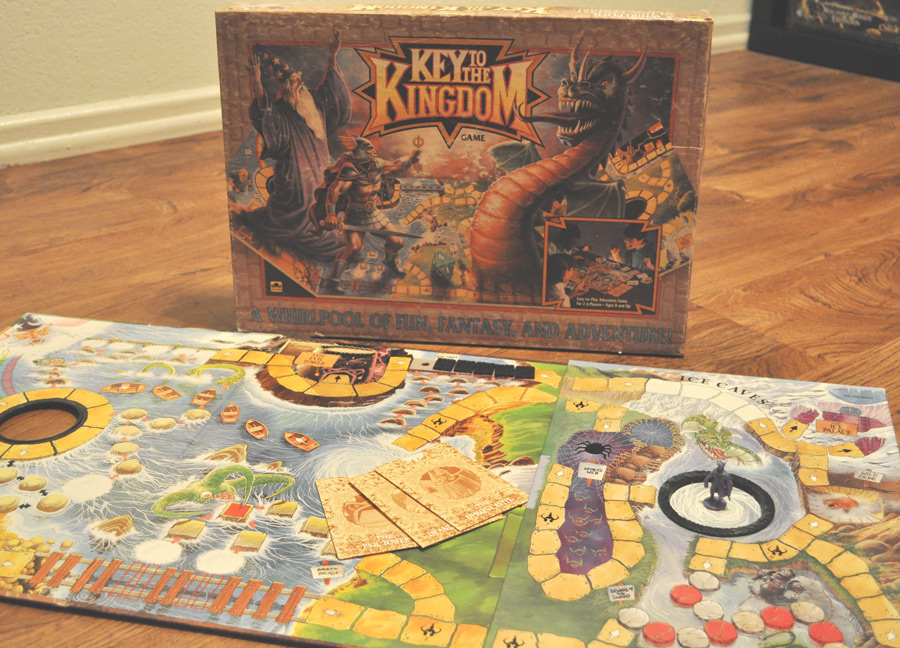 What is your most special or obscure game?
"The game I hold most near and dear to my heart is Key to the Kingdom. It was one of the first board games that my mom bought for my sister and I to play and I always have fond memories of us playing together: fighting the monsters and getting the treasures from all the castles. I'll never forget the first time I brought it to the table now that I'm older and know a little bit more about what makes up a good game. The rules are not well written, the game itself is not amazing by any standard, and to top it all off my copy is missing pieces from being played with so much by two young girls! Despite all of that, this game will always be one of my all-time favorites because, in a way, this was my gateway game way back when everyone else was playing Sorry or Candy Land."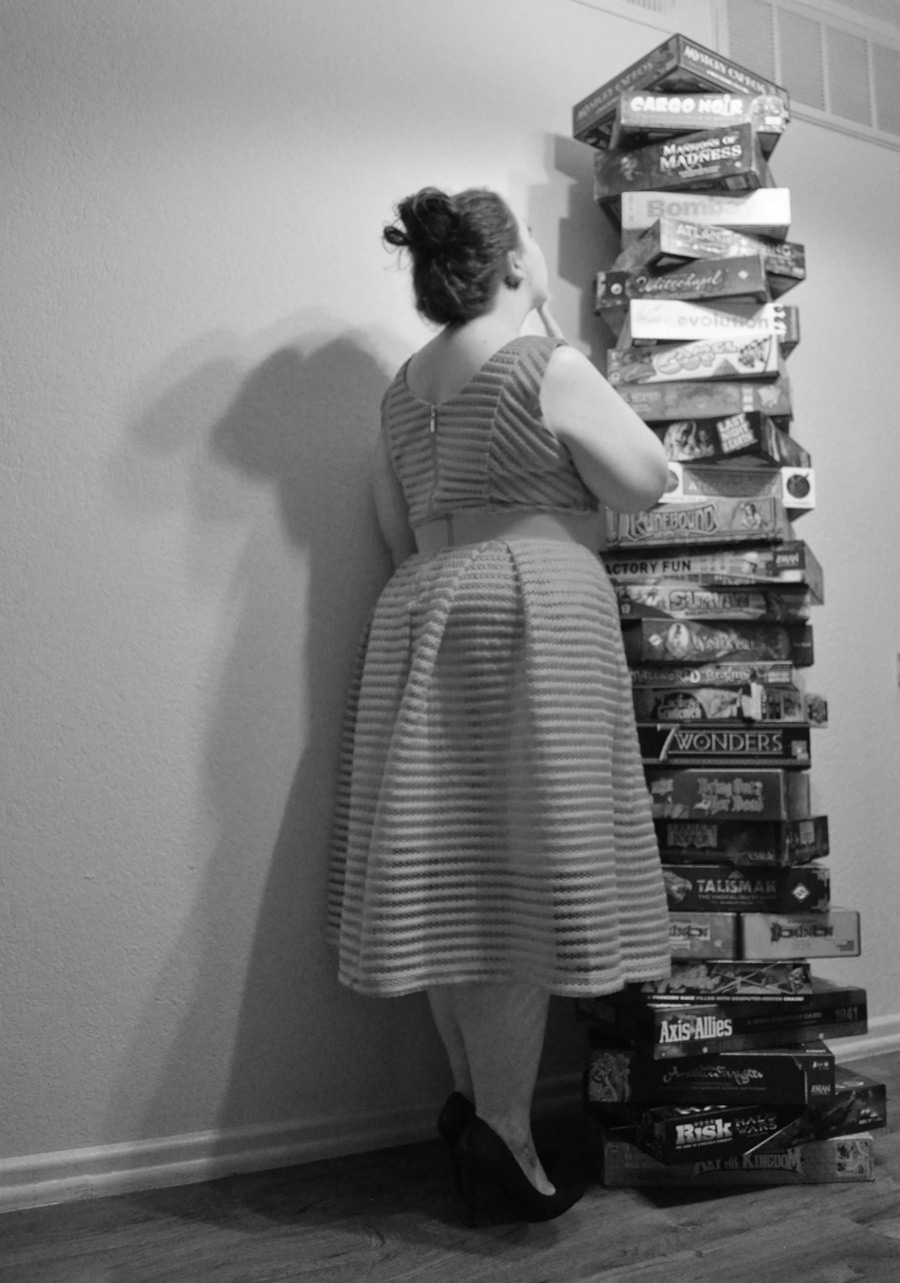 Thank you so much for sharing your story! Something you would like to add?
"I'd like to thank Analog Games for the opportunity to share my story! I've really enjoy reading all the other stories and it really helps to keep me motivated to not give up on my dream, so I hope it is doing the same for others as well. Sometimes it's hard to imagine making any sort of viable career out of something you love so whole heartedly, but seeing that there are people out there doing it and that the community behind them is so supportive is awesome. It really does inspire me to keep my passion for board games alive and to keep working toward my dream!"
*This article contains affiliate links. For more details, please read our Affiliate Disclosure.
Would you like to present your board game shelf to the world? Please answer the above questions and include some good quality pictures to your story. Go to this page to submit your story. Subscribe to our online magazine here!